Knights defeat Northeast, move on to state playoffs
It's wasn't a perfect win, but it was decisive, and it secured a No. 2 seed heading into the state playoffs this Friday
With a 20-0 shutout of the Northeast Raiders, the varsity football team clinched the No. 2 playoff seed in District 14-5A-2 and home-field advantage for the first round of state playoffs.
While the win was decisive, it wasn't perfect. The Knights gave the Raiders 160 yards in penalties.
"We need to focus on ourselves and how we play the game but at the end of the day this game are behind us," junior safety Ez Guenther said. "We have to stop being sloppy and look ahead."
Junior safety Jake Hissey echoed those sentiments praising the pass protection but bringing attention to the penalties and communication errors that will cost the Knights against a playoff opponent. Hissey opened the scoring in the first quarter with a 60-yard punt return for a touchdown.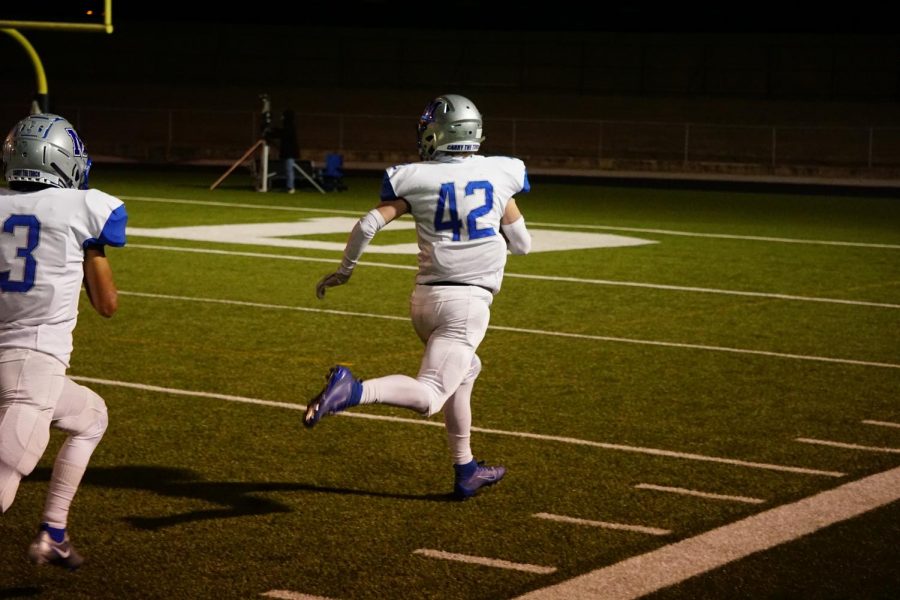 After a scoreless second quarter, the Knights put the game away in the third quarter on a seven-yard touchdown pass from Rosales to junior Brock Fanning and a Rosales QB keeper.
Senior running back Andres Rodriguez led the Knights in rushing with 118 yards. Rosales and Fanning rushed for 90 and 36 yards respectively.
"We didn't have any turnovers, which is a step in the right direction, and we ran the ball well," Rosales said. "We are going to have to analyze film and step up everything about our game to prepare for next week."
Rosales had 94 passing yards, the bulk of them going to junior wide receiver Nate Davidson who had 83 receiving yards. The Knight defense held the Raiders to 32 total yards of offense.
"We did well in stopping the passing game except for the screens," Hissey said. "We kept all of our hats on the run game, which helped."
The win extended the team's win streak to four after wins over Navarro, Marble Falls and Crockett. A decisive 58-0 victory against Navarro let the starters rest for most of the second half. The 14-0 win over Marble Falls was a signature win that turned the team's season in the right direction after losses to Anderson and Liberty Hill to start the season.
The Knights corralled the Mustang offense and created two critical fumbles. One of the fumbles, forced by Caleb Green, resulted in a McCallum touchdown after Hissey scooped it up scored. The other trip to the end zone came on a nine-yard pass from Rosales to Davidson. The Crockett game was a little bit rougher with a sloppy first half and two offensive turnovers. Despite these troubles, the Knights conquered the Cougars, 38-14.
The Knights will face the third-place team from District 13-5A-2, Georgetown East View, 7 p.m. Friday, Dec. 11 at House Park.