50 Mac musicians named TMEA All-Region 18
Fine Arts Academy students are well represented on elite orchestra, choir and jazz ensemble; junior Santiago Ortiz named to choir and orchestra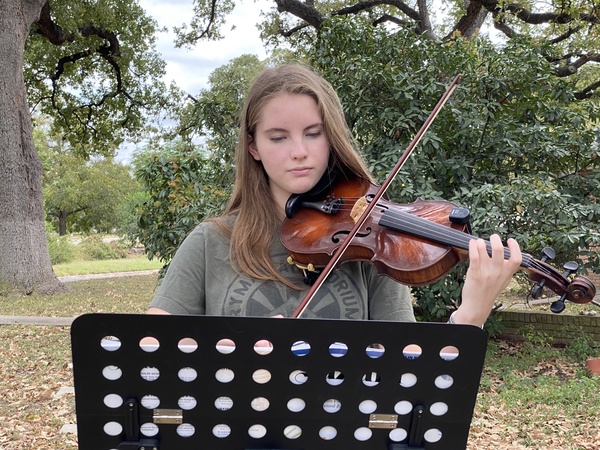 The Texas Music Educators' Association holds competitions that progress from regional all the way to statewide in each musical discipline, including orchestra, choir and band. Usually the progressive contests are hosted by high schools in the area. Musicians trek to the host high school early one Saturday morning and do their audition in a classroom to a curtain that hides a panel of judges.
The format was revised this year to work virtually. TMEA announced on July 1 that all TMEA auditions through Jan. 10 would be conducted through recording uploads by students in order "to support excellence in student musical development and promote health and safety," according to the TMEA website. The TMEA Region 18 auditions took place from Oct. 10-14 and results were released on Monday Oct. 19.
ORCHESTRA
At the 2020 TMEA Region 18 orchestra auditions, McCallum's orchestras had 28 string players earn spots in the region orchestra, more than any other high school in our region. McCallum placed 12 violins, six violas, four cellos, and six bass players.
Violin: seniors Kai Cole, Iris Horn and Mia Sandberg; juniors Ileana Nicholson, Lucy Hamre, River Seidel, Pascale Easterday and Santiago Ortiz; sophomores Thea Krische and Hazel Tounsand; and freshmen Georgia Halverson and Ingrid Smith.
Viola: senior Cosette Hendrickse; juniors Mason Shackelford, Sydney Nabhan and Jacqueline Saunders; sophomores Zoe Campbell and Brigid Haikola.
Cello: seniors Vincent Perez, Iason Traweek and Aolani Wheeler; and junior Julian Casas.
Bass: senior Jackson Hendrix; junior Calder Carey;  sophomores Peter Wiseman, Sam Hoke and Mirabai Weatherford; and freshman Sullivan Banks-Gilmore.
Piano: senior Luke Lozano.
Calder Carey, Luke Lozano and Mason Shackelford were selected first chair of their sections. Last year, Lozano was the first piano student in AISD in a very long time to make the All-State Orchestra, and he is hoping for a repeat this year.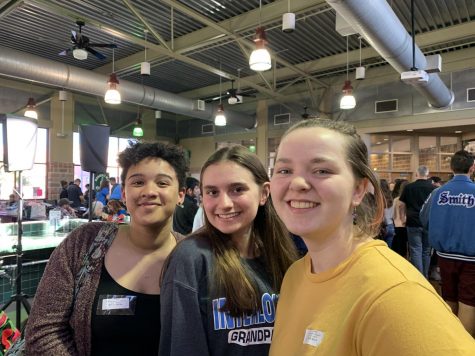 CHOIR
Choir students also had a great showing at our virtual Region Choir auditions last weekend.
Soprano 1: junior Chalotte Bearse (second chair), senior Eleanor Hemenway, junior Samantha Powers and freshman Ellie Loudermilk.
Soprano 2: junior Abigail Leman (third chair), sophomore Sidney Weaver and junior Evelyn Griffin.
Alto 1: junior Carden Arellano and senior Erin Whitney.
Alto 2: sophomore Lauren Ryan-Holt (first chair), junior Keely McNab (second chair) and junior Jewel New.
Tenor 2: junior Garrett Michulka.
Bass 1: junior Santiago Ortiz and junior Griffin Rans.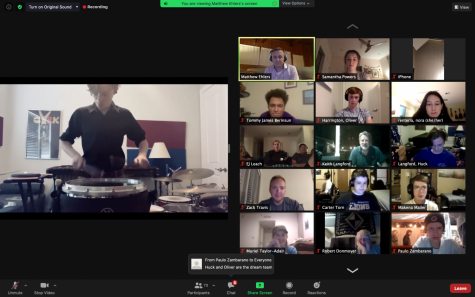 JAZZ ENSEMBLE
The MAC jazz ensemble had a great  showing at the TMEA Region 18 Virtual Jazz Auditions this past weekend.
Six students placed in the TMEA Region 18 Jazz Band.
Alto sax: junior Will Sharp and senior Gavin Owens.
Trombone: senior Jacob Martinez.
Bass Trombone: senior Jonah Brown (first chair).
Guitar: senior Gabe Nixon (first chair).
Drums: sophomore Huck Langford (first chair).
Martinez, Brown, Nixon, and Langford placed in the TMEA Area Jazz Ensemble and will record for the TMEA All State Jazz Ensemble on Oct. 31.