An informal Capital of Texas taco tour
Some tortillas are luckier than others. Read over this review to see which tacos shredded the competition.
With avid taco eaters Bella Russo and Ellen Fox by my side, I was ready for the Battle of the Best Taco to begin. In one corner, corporate chain Taco Cabana; in the other, food trucks, Arlo's and Kitchen for the Soul, and opposing them, local franchises Tacorrido and Taqueria Los Jaliscienses.
Taco Cabana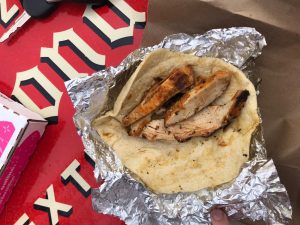 For a chain with taco in the name, the taco selection was lackluster. The tacos come naked, not even a shred of lettuce to grace the chicken fajita. For 40 cents, add vegetables. For free, add salsa. 
"The salsas are free, but in reality they take away value from the taco." says Bella Russo "They're watery, bland, and do not make up for the fact that literally nothing but meat is inside the 3 dollar taco. 
As recommended by our cashier, the steak taco was above average. Simply put by Ellen Fox, "It delivers." 
The brisket taco chosen by myself, was below average. Flavor and texture were hardly stunning. 
"This is a lot of tortilla. The meat-tortilla ratio is off," Fox says.   
Taco Cabana provided the bare minimum to us. It reminded me of what a serf would eat in the 1500s if they were lucky, an unflavored carbohydrate-meat combo. We deserve better in 2020.
However, the ambience was better than other fast food restaurants. The patio was nice and offered an unbeatable view of Lamar and the empty lot next door. The undeveloped field is a picturesque break from the industrial mess of the street. The bustle of the Lamar and North Loop intersection provided calming white noise adjacent to rain sounds. 
Taco Cabana rated on taste is underwhelming. However, the location is great. Points for proximity to school. If you're looking to catch lunch during the 40 minute allotment, Taco Cabana is fine, but if you have other choices, we wouldn't recommend it. 
El Tacorrido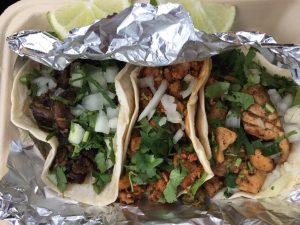 "What's the most striking part of El Tacorrido?" 
"The colors."
As we opened our tacos in Bella's Honda Odyssey, they seemed to glow with natural light. It might have been one o'clock, but these tacos were experiencing golden hour. The al pastor taco in particular was arresting, with colorful reddish meat.
"A little spicy, a little tangy. That's a good taco," Fox says.
The barbacoa was delicious as well. Covered in cilantro and onion, this taco is a classic. 
"Not too crazy but that is enough for a great taco," Russo says.
The chicken fajita was our least favorite. The chicken was chewy, and the simple toppings did not save it. 
"Maybe it was just my bite, but I didn't love the chicken fajita," Fox says, "In general, it was good."
The atmosphere of Tacorrido doesn't stand out, but its location is stellar. We made it back with time to spare. 
Tacorrido is relatively cheap, although the tacos are small. Compared to other Austin meals, they're cost effective. 
Arlo's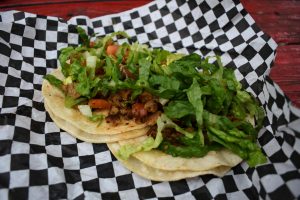 After searching the drag for "Cool Beans," an unfindable vegan food truck, we found ourselves sitting down at the picnic tables next to Arlo's. Arlo's is a plant based food truck stationed next to what was probably the most terrifying part of our adventure, Spider House Cafe and Ballroom. The journey to the bathroom of Spider House began with a labyrinth of smoky hallways and dusty paintings. The bathroom floor was soaking wet and covered in mud. I left feeling gross and with my Vans dripping. 
Next, we struggled with the price and content of the taco. We ordered the "Street or Chik'n" taco, which included a meat substitute called seitan. We later learned that seitan is pure gluten, much to the dismay of our gluten free reporter. I still do not understand what "Street or Chik'n" means. Is "Street" a different taco than "Chik'n"? 
Look, I hate vegan food as much as the next guy, but the seitan taco was delectable. Perhaps to make up for the lack of meat, the substitute was beautifully flavored. The accompanying chipotle ranch was so good that Russo took it home. 
"I'm not missing the meat," Russo says.
"Wait, I'm actually impressed." Fox says.
"And the corn tortilla is freaking good," adds Russo.
Two tacos for seven dollars was certainly a reasonable price, especially considering the quality of our meal.
Kitchen for the Soul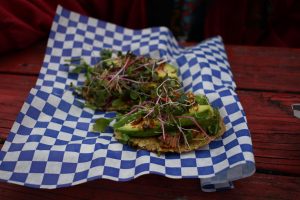 Across from Arlo's was another plant based food truck, Kitchen for the Soul. The jackfruit al pastor taco was almost absurd. Inventive, I would say. It was definitely the farthest away from a traditional taco out of all the sampled meals. 
The first thing that stood out about the eight dollar tacos were the ingredients. Shrouding the jackfruit was a heaping of avocado, sprouts, and a sweet sauce. 
The jackfruit mimicked meat in texture, but not in taste. If you haven't had jackfruit, it's reminiscent of pineapple. 
"It's too sweet," Fox says. 
"There's a lot happening here," Russo says, "The presentation is good until you get to the bottom and it looks like the Krabby Patty that killed the inspector in SpongeBob."
The sweetness of the cooked fruit overwhelms the taco, so it's more of an innovative salad than anything else. I personally have no beef with this taco, considering there's no meat. The chef just took creative liberty with it!
As for ambience, I find it important to point out I could distantly hear the buzz of a tattoo needle from next door. Is that a health code violation? 
Taqueria Los Jaliscienses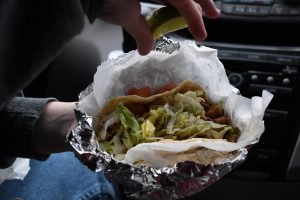 "Olivia!"
"Huh?"
"We need pictures, stupid!"
I looked down to realize I had begun eating without pausing to capture the barbacoa taco in its full glory. I mumbled an apology with a full mouth. 
The tacos, barbacoa, al pastor, and chicken pechuga, were all good. They were pretty average tacos. 
"It's very much like a stewed meat," Russo says on the barbacoa taco, "It's very fatty."
"It's just a chicken taco. It really is just a chicken taco," Fox says about the pechuga. 
The corn tortilla from Los Jaliscienses was light but didn't crack. It complemented our tacos well. 
The highlight of Taqueria Los Jaliscienses was the horchata. The horchata was served in a gargantuan styrofoam cup that looked like a prop from "Honey, I Shrunk the Kids." That cup had a larger gravitational pull than Pluto. 
In taste, the horchata had a distinct cinnamon flavor. 
All in all, Taqueria Los Jaliscienses was an average authentic Mexican restaurant.
The winner of the McCallum taco tour is Arlo's. Arlo's was impressive in terms of creativity and taste. If your wallet is feeling light and you don't want to be late to third period, however, Tacorrido might be your best bet.