Greg Anderson's musical anthology includes Green Day, the Foo Fighters, Devo and the Ramones
If you thought the first half of our rock 'n' roll interview was a virtuoso performance, give part two a listen and learn how to survive a mosh pit at age 11 and how to get all the members of a band to sign your copy of their album
In the previous episode of the S-Word podcast, McCallum world history and geography teacher Greg Anderson brought hosts Anna McClellan and Grace Nugent into the world of heavy metal music.
In this episode, Anderson continues his deep dive into this confounding and interesting landscape of music with a setlist that includes the history of metal, interactions with band members, and most importantly, his first mosh pit. 
"
I don't think I could ever create something that was not indirectly or directly influenced by Devo."
— history teacher and metalhead Greg Anderson
Since he attended his first concert, the Riverdales and Green Day, when he was just 11, Anderson was encouraged by his mother to attend concerts. Since then, he has attended over 1,000 concerts and has succeeded in acquiring a plethora of signed vinyl records over a span of 25 years. He goes on to describe the true personality under all the makeup and crazy persona rock musicians represent.   
"They're usually very appreciative, humble, and aware of where they are and who put them there," Anderson said.
Anderson describes the unique interaction he has had with the members of Devo, during which he had the corner of his vinyl cover bitten off by Mark Mothersbaugh, as well as his interactions with other bands like Slayer. 
"I don't think I could ever create something that was not indirectly or directly influenced by Devo," Anderson said.  
He enlightens us with his vast knowledge about Devo, their past, and their secret nerd-hood.
He also discusses his meeting with Slayer, during which Anderson offered lead guitarist Kerry King a joke in return for an autograph. The band member replied that Anderson could only get the autograph if he audibly laughed at his joke. To find out whether or not he succeeded and learn about well-known bands–some of which only gained recognition after the death of the members–you'll just have to listen in.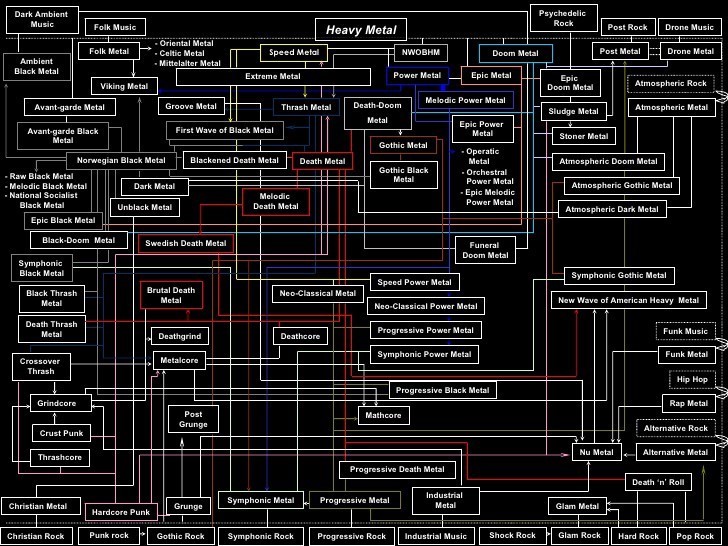 Anderson's Spotify metal playlist is 34 hours long, and his chart showing different metal genres and their relationship to each other looks like a constellation of stars. Illustration courtesy of Greg Anderson.