After a summer and a month of school apart, Blue Brigade can finally dance (together) if it wants to
Veteran drill team members delight in reuniting with old teammates, meeting new ones and getting to work together
After a frustrating summer of cancelled traditions and an interminable four weeks of school without a face-to-face team gathering, the Blue Brigade finally held its first in-person practice on Monday morning on the baseball fields.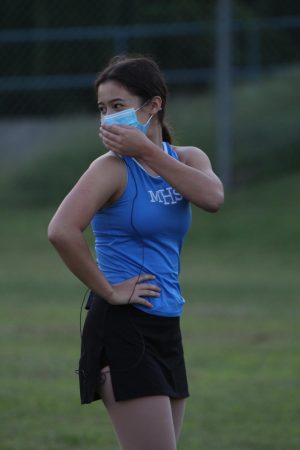 After a temperature COVID screening and a team warm-up, co-captain Addie Seckar-Martinez arranged the squad into the formation they will use for their field pom routine set to "We Got the Beat." Seckar-Martinez and senior lieutenant Valentina Paredes wore microphones as they coached the squad in a number they have been rehearsing together during first-period Zoom sessions.
After rehearsing the field pom, the team broke into squads so they could get to know each other better. With COVID wiping out the summer line camp and kiddie camp, the squad is still getting acquainted.
"My favorite part [of the practice] was probably seeing everyone walking in at 7:15 and being able to finally dance as a team," Seckar-Martinez told MacJournalism. "It was also so nice to finally see all the new members face to face and get to know them more."
She also said she was impressed at how smooth the practice went and with how flexible the team was with the change in routine. The Blue Brigade has been unable to practice until Monday due to a district policy stating the fine arts programs were not allowed to practice until Oct. 5. Even though the Blue Brigade is not a Fine Arts Academy program, it is considered a fine art by the district because it receives fine arts funding.
While the delay in in-person practice has been frustrating Seckar-Martinez is still hopeful that she and her teammates can have a successful year together. "I hope we can continue to dance even if it stays like this all year, and I hope the freshman have a great first experience on Blue Brigade because I remember how new and exciting everything was. And I hope seniors will have a last dance at the end of the year. But the main goal is to have fun and stay motivated."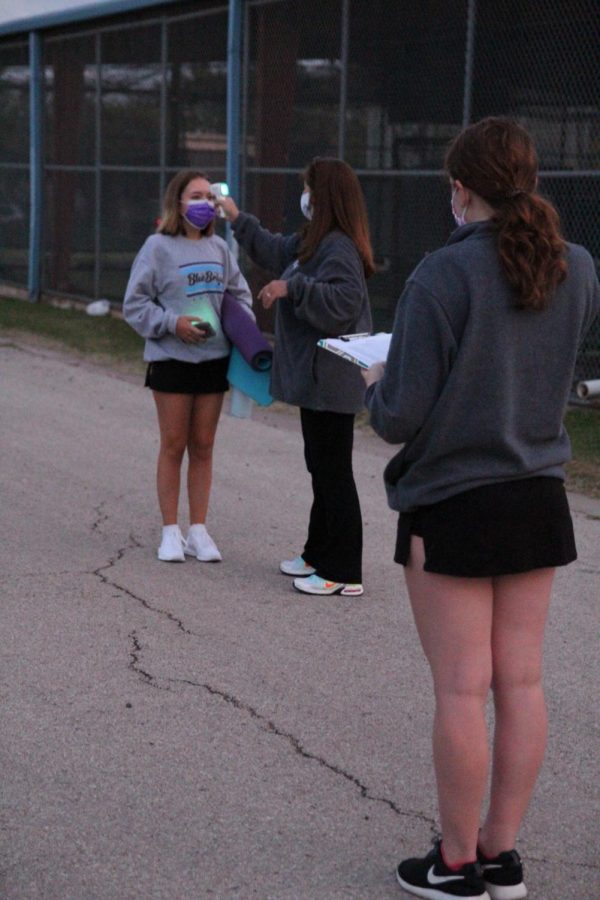 After having to wait for the green light from the district to practice, the Blue Brigade met for their first in-person practice of the 2020-2021 school year on Monday. "The first thing I did as I got to practice wearing my mask was to get my temperature taken and hand in my signed COVID-safety form," sophomore member Parker Mitchell said. The team had their first non-virtual stretch together and then got on with their dancing. The new members "blended in as if they had been there the year prior," Mitchell said. "It felt good to be back because I hadn't seen most of the team since March." Caption by Paige Massengale.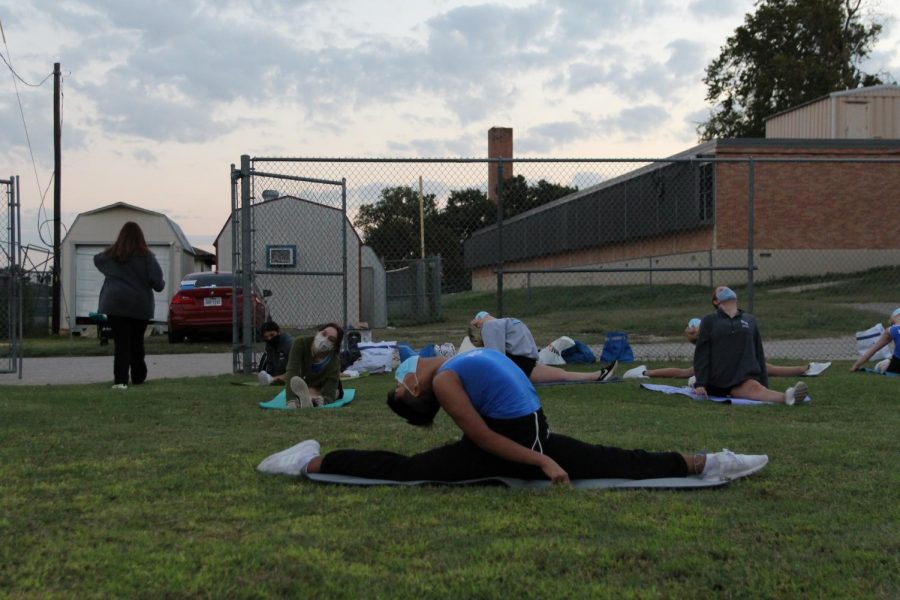 After being relegated to the role of onlooker as football, volleyball, and cheer were permitted to train and after having to endure Zoom practices, , the Blue Brigade participated in its first face-to-face practice session Monday morning. Co-captain Matthew Vargas stretches into the splits before leading the team in a rehearsal of their football halftime pom performance on the overgrown baseball field where the team practices. Vargas said that the lagging over Zoom calls made it difficult to clean and perfect routines, but after one in-person practice, they got a routine nailed down while following safety protocols including social distancing and wearing masks. "A lot of us were very upset with the decision to not let drill team practice made by AISD," Vargas said. "We felt it was unfair because we would be creating an extremely safe environment for the team." Caption by Mia Gomez.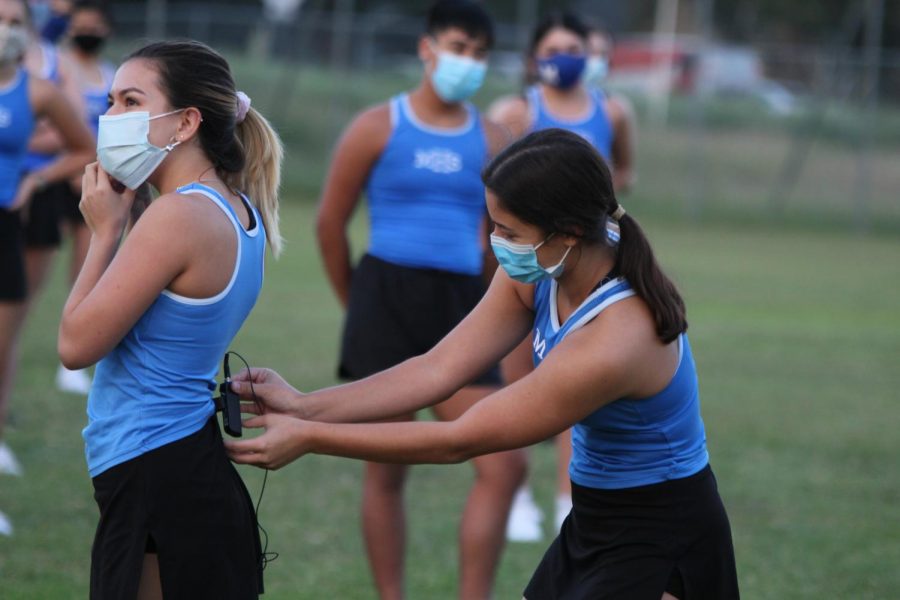 During the Blue Brigade's first in-person practice on Monday, the team worked on a field pom routine to "We Got the Beat." The Monday morning practice was led by senior officers, co-captain Addie Seckar-Martinez and senior lieutenant Valentina Paredes. "It was so exciting and relieving to finally get to practice with everyone in real person," Parades said. "It was awesome to see that the team was super prepared! Our expectations were blown out of the roof." Caption by Harper Cummings.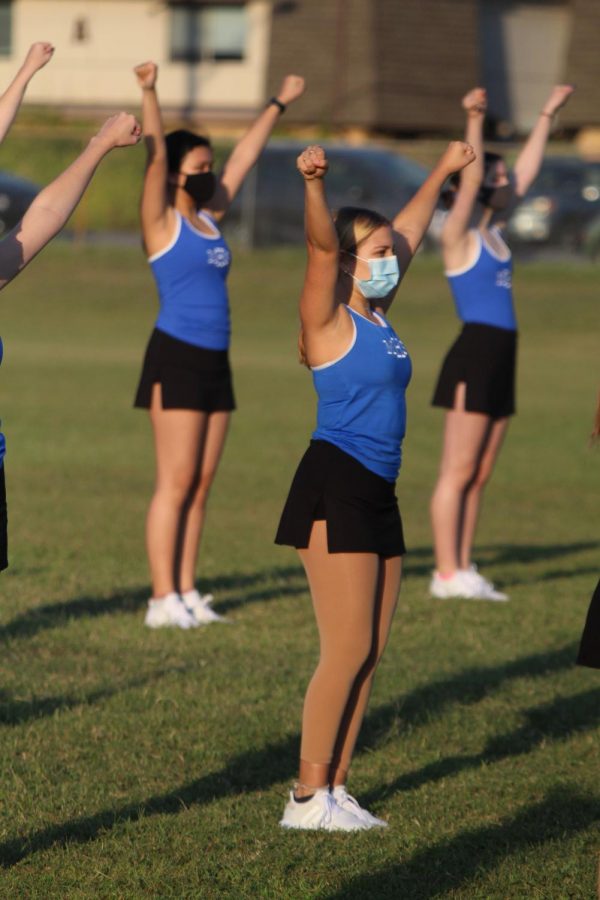 Before being able to dance on real grass with her teammates, sophomore Sophia Cramer had to strictly practice for Blue Brigade on Zoom until Monday morning when she was finally able to dance in-person with her teammates. According to Cramer, it was hard to perfect the routines while learning remotely.  "It felt so good to finally practice in person again," she said. "It was a little weird because everyone had to be super spread out, but I had a really fun time." Caption by Liliana Rodriguez.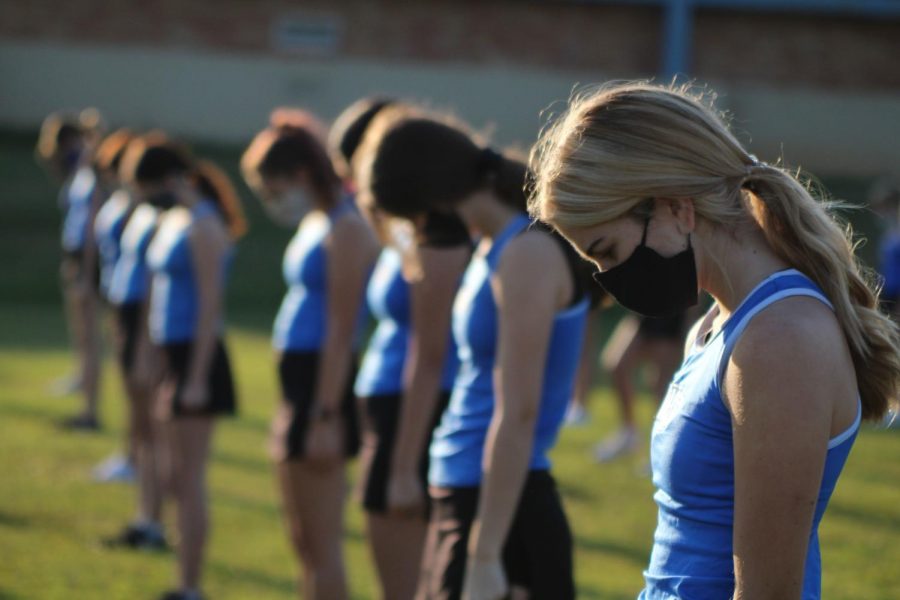 During the first in-person Blue Brigade practice of the year on Monday, junior Ava Guerrero stands tall with her head down ready to start a full-out run of the team's pom dance to "We Got the Beat." After months of practice exclusively on Zoom, the team finally got to execute the dance in-person that they had learned virtually. "Practice was very different than our typical ones, but it was so fun to be back together," Guerrero said. Caption by Sarah Crow.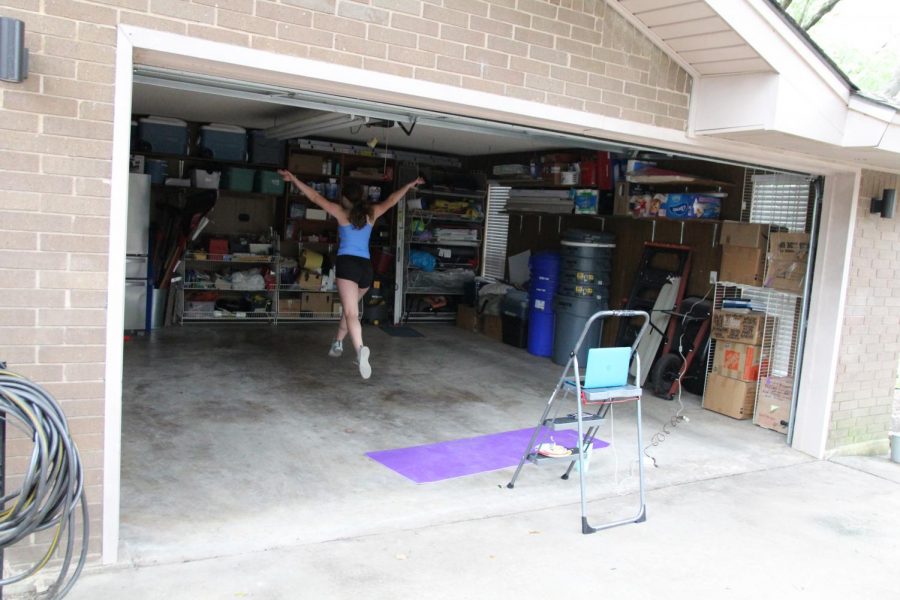 Prior to Monday's practice, the drill team was relegated to practicing together over Zoom. Here, junior lieutenant Annabel Winter demonstrates a routine to her squad during a first-period Zoom class on Sept. 30. Junior Blue Brigade member Ava Guerrero said, "It was really difficult to learn dances on Zoom because there was lag and the screen is mirrored, so it's hard to tell what arm or leg to use, so I was really glad to be back." Caption by Sarah Crow.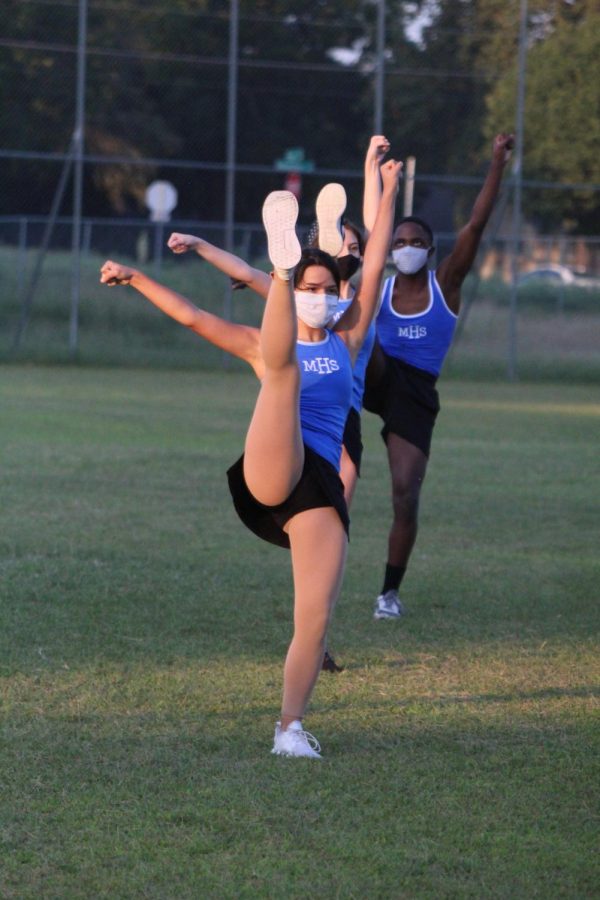 Junior lieutenant Charlize Cevallos high kicks while running the field pom routine to "We Got the Beat" at the Blue Brigade's first in-person practice of the school year on Monday. Cevallos is a new Blue Brigade officer this year and has had to overcome many challenges with online practices. "Teaching and cleaning dances through Zoom was tough because there is always lags in music and Internet connection problems," Cevallos said. "It feels so good to be able to interact with the team and especially meet all of the new members. It also feels good to dance with everyone again in a bigger space than our houses!" Caption by Kennedy Weatherby.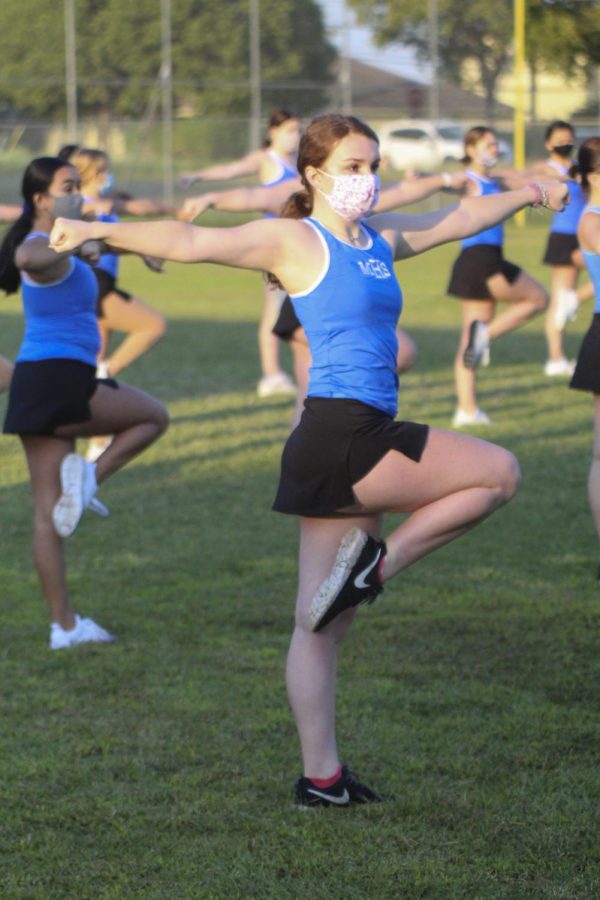 Junior Annabel Winter dances through Blue Brigade's field pom routine to "We Got the Beat" at the team's first in-person practice of the year on Monday. After making the position of junior lieutenant in March, Winter (because of the pandemic) has missed out on many of her duties as a ranking member of the team, including officer camp and leading the team in practices. "I was bummed to not get to participate in any of the officer activities this summer and beginning of the school year," Winter said, "especially, going to officer camp and developing closer relationships with the officers and social officers." Blue Brigade will continue practicing, preparing for their football halftime performances under the UIL and AISD safety precautions. Caption by Anna Schlett.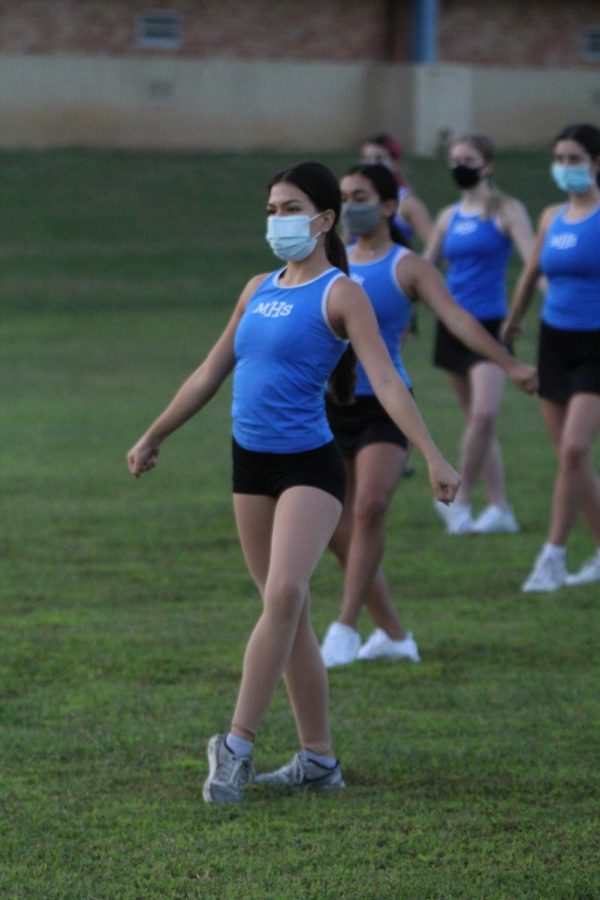 Up early with the rest of the Blue Brigade, senior lieutenant Andrea Paredes practices their first field dance, a pom routine to "We Got the Beat" by the Go-Go's. While the team was able to meet via Zoom over the summer to introduce new members and learn stand routines, Monday was their first official, in-person practice. "I am super grateful and excited to finally be able to meet with our girls and get to dance together in person," Paredes said. Caption by Zazie Bryant.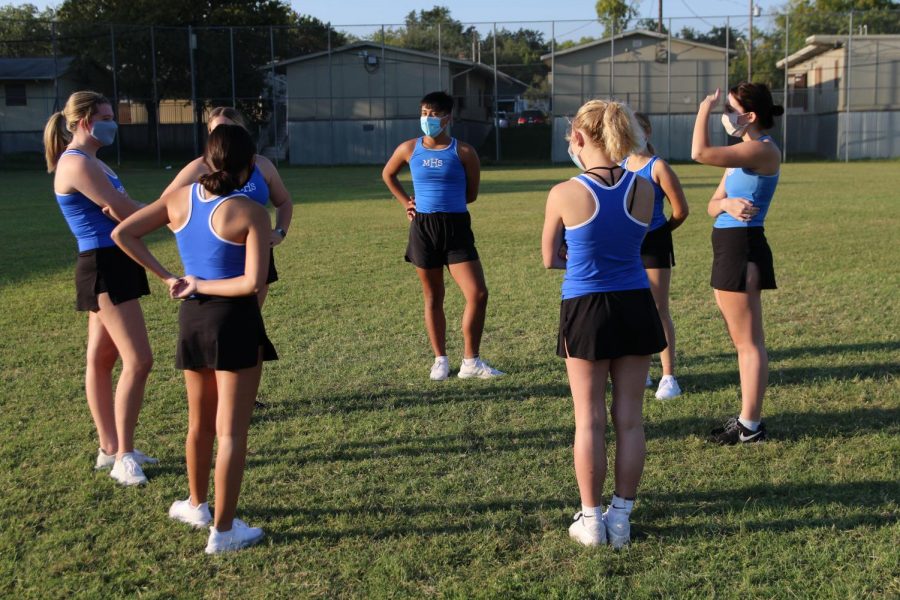 At the first in-person Blue Brigade practice of the school year, senior Matthew Vargas talks to his squad: Sarah Crow, Anna Schlett, Sophia Kramer, Georgia Dover, Ellie Collard and Gabriella Smith. The Blue Brigade squads all met face mask to face mask for the first time since March, each member got to officially introduced themselves to their peers. "We haven't had the chance to meet the new members since quarantine," Dover said. "It was definitely easier for the upperclassmen because we already have our places on the team, but we all did our best to be welcoming and make everyone comfortable. It was fun!" Caption by Isabella Dietz.