3 MacJournalists win at-home UIL academic contest
UIL sports teams may have lost their spring playoffs, but when it came time to cancel UIL journalism, ILPC director Jeanne Acton got creative instead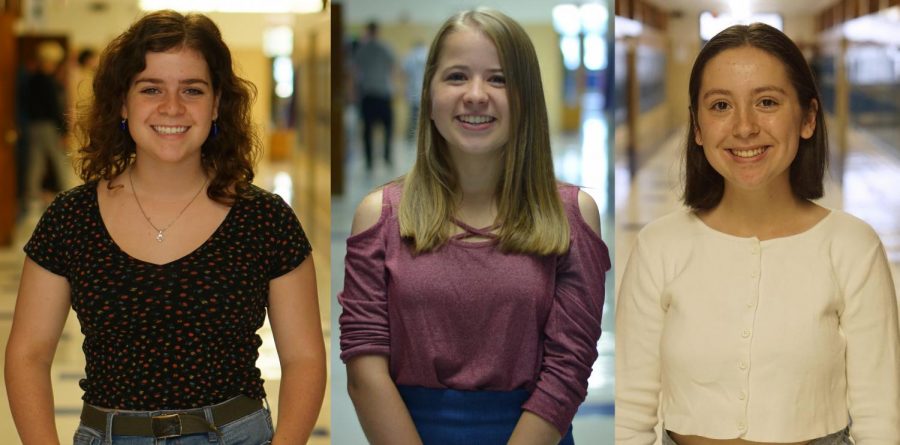 MacJournalism news team
May 8, 2020
MacJournalism students met virtually with students from 10 other schools all across Texas today in order to compete in what University Interscholastic League officials called the UIL Academics At-Home Experience. Like sports teams, UIL academic teams also had their district, regional and state competitions canceled due to restrictions on social gathering made necessary by the spread of COVID-19.
But Interscholastic League Press Conference director Jeanne Acton, who heads up UIL journalism, decided to get creative rather than let the coronavirus cancel UIL academic competitions entirely. Schools were invited to make up their own UIL journalism competitions by scheduling whatever competition they could find.
With Acton's help and the collaboration of other high school journalism programs, MacJournalism created an 11-team four-event academic competition with schools divided into three groups (kind of like the World Cup but without athleticism and flopping).
View this post on Instagram
The UIL called these competitions Level One competitions, and each of the four first-place winners in each Level One group today advanced to the Level Two competition, which will be coordinated by the UIL State office. Since UIL State officials are coordinating it, we might as well call Level Two of the competition the UIL State Journalism Competition.
We are proud to report that McCallum won the Group 1 team competition today and that three Shield staff members, senior editor-in-chief Kristen Tibbetts, junior visuals editor Bella Russo and sophomore staff reporter Madelynn Niles placed first in an event today and will advance to the Level Two competition later this month.
"
Everybody in the competition who stepped up today is a winner because they refused to let the coronavirus and the social separation it has inflicted on us prevent them from competing at UIL."
— MacJournalism adviser Dave Winter
Tibbetts finished first in feature writing; Russo, in headline writing; and Niles, in news writing. Shield staff members also earned second-place finishes in three categories: Tibbetts in editorial writing, junior operations manager Ellen Fox in feature writing and sophomore staff reporter Samantha Powers in news writing. These three will be alternates to the Level Two competition.
MacJournalism would like to congratulate our friends at Bowie High School for winning the Group 2 competition, and our new friends at Weslaco East High School for winning the Group 3 competition. In addition to winning their groups, both Bowie and Weslaco East had a pair of students earn first-place finishes and bids to compete in the next round of the state competition.
Other first-place winners today in the competition hailed from Vanderbilt Industrial High School, Little Elm High School, Palmer High School and Los Fresnos High School.
Senior Alex Dowd and sophomores Evelyn Griffin, Grace Nugent and Alysa Spiro also placed in events in today's competition.
Adviser Dave Winter, who coordinated today's competition, is shown in the above picture checking the Google folder to make sure that students entries were saving properly in the Google folder he created for student submissions.
"I am proud of the students who advanced today and of those who placed," he said. "But honestly, everybody in the competition who stepped up today is a winner because they refused to let the coronavirus and the social separation it has inflicted on us prevent them from competing at UIL. We had 10 Shield kids represent McCallum today. That's more kids than any other school. Today reminded me just how lucky I am to teach these kids and work with them as MacJournalism colleagues."
Shout out to Weslaco East journalism teacher Joe Ramos for his invaluable help and Jeanne Acton for her endless encouragement in making today's competition happen.
Group 1 Results
NEWS WRITING
| | | | |
| --- | --- | --- | --- |
| Place | Number | Student Name | Team points |
| 1 | 2.9 | Madelynn Niles / McCallum | 6 |
| 2 | 2.7 | Samantha Powers / McCallum  | 5 |
| 3 | 2.10 | Alysa Spiro / McCallum | 4 |
| 4 | 2.6 | Evelyn Griffin / McCallum | 3 |
| 5 | 2.2 | Bella Russo / McCallum | 2 |
| 6 | 2.5 | Grace Nugent / McCallum | 1 |
FEATURE WRITING
| | | | |
| --- | --- | --- | --- |
| Place | Number | Student Name | Team points |
| 1 | 2.1  | Kristen Tibbetts / McCallum  | 6 |
| 2 | 2.3 | Ellen Fox / McCallum | 5 |
| 3 | 2.9 | Madelynn Niles / McCallum | 4 |
| 4 | 2.2  | Bella Russo / McCallum | 3 |
| 5 | 2.10 | Alysa Spiro / McCallum | 2 |
| 6 | 2.4 | Alex Dowd / McCallum | 1 |
EDITORIAL  WRITING
| | | | |
| --- | --- | --- | --- |
| Place | Number | Student Name | Team points |
| 1 | 3.3 | Max Geiser / Little Elm | 6 |
| 2 | 2.1 | Kristen Tibbetts / McCallum | 5 |
| 3 | 12.1 | Zachary Patterson / Robert E. Lee  | 4 |
| 4 | 2.7 | Samantha Powers / McCallum | 3 |
| 5 | 2.4 | Alex Dowd / McCallum | 2 |
| 6 | 2.6 | Evelyn Griffin / McCallum | 1 |
HEADLINE WRITING
| | | | |
| --- | --- | --- | --- |
| Place | Number | Student Name | Team points |
| 1 | 2.2 | Bella Russo / McCallum | 6 |
| 2 | 3.1 | Fidel Beraki / Little Elm | 5 |
| 3 | 2.3 | Ellen Fox / McCallum | 4 |
| 4 | 3.2 | Parker Fergeson / Little Elm | 3 |
| 5 | 14.1 | Fiza Baqai / West Lake | 2 |
| 6 | 12.1 | Zachary Patterson / Robert E. Lee  | 1 |
SCHOOL RESULTS 
| | | |
| --- | --- | --- |
| Place | School | Point Total |
| First | McCallum | 63 |
| Second | Little Elm | 14 |
| Third | Robert E. Lee | 5 |
Group 2 results
NEWS WRITING
| | | | |
| --- | --- | --- | --- |
| Place | Number | Student Name | Team points |
| 1 | 7-1 | Caedon Spencer / Bowie High School   | 6 |
| 2 | 7-6 | Dylan Ebs / Bowie High School | 5 |
| 3 | 7-3 | Tricia Caggiano / Bowie High School | 4 |
| 4 | 7-4 | Arushi Sharma / Bowie High School | 3 |
| 5 | 8-2 | Dawn Gardner / Palmer High School | 2 |
| 6 | 11-1 | Karina De La Garza / Los Fresnos High School  | 1 |
FEATURE WRITING
| | | | |
| --- | --- | --- | --- |
| Place | Number | Student Name | Team points |
| 1 | 7-2 | Faith Lawrence / Bowie High School | 6 |
| 2 | 7-1 | Caedon Spencer / Bowie High School | 5 |
| 3 | 8-3 | Emma Jones / Palmer High School | 4 |
| 4 | 11-2 | Caitlin Cavazos / Los Fresnos High School | 3 |
| 5 | 11-1 | Karina De La Garza / Los Fresnos High School  | 2 |
| 6 | 11-3 | Iris Lugo / Los Fresnos High School | 1 |
EDITORIAL  WRITING
| | | | |
| --- | --- | --- | --- |
| Place | Number | Student Name | Team points |
| 1 | 8-5 | Benjamin Lancon / Palmer High School  | 6 |
| 2 | 8-3 | Emma Jones / Palmer High School | 5 |
| 3 | 7-6 | Dylan Ebs / Bowie High School | 4 |
| 4 | 8-6 | Elijah Morgan / Palmer High School | 3 |
| 5 | 11-3 | Iris Lugo / Los Fresnos High School | 2 |
| 6 | | | 1 |
HEADLINE WRITING
| | | | |
| --- | --- | --- | --- |
| Place | Number | Student Name | Team points |
| 1 | 11-2 | Caitlin Cavazos / Los Fresnos High School | 6 |
| 2 | 8-4 | Alexandria Holmes / Palmer High School | 5 |
| 3 | 11-1 | Karina De La Garza / Los Fresnos High School   | 4 |
| 4 | 7-2 | Faith Lawrence / Bowie High School  | 3 |
| 5 | 8-3 | Emma Jones / Palmer High School | 2 |
| 6 | 7-1 | Cade Spencer / Bowie High School | 1 |
SCHOOL RESULTS 
| | | |
| --- | --- | --- |
| Place | School | Point Total |
| First | Bowie HS | 36 |
| Second | Palmer HS  | 27 |
| Third | Los Fresnos HS  | 17 |
Group 3 results
NEWS WRITING
| | | | |
| --- | --- | --- | --- |
| Place | Number | Student Name | Team points |
| 1 | 10.1 | Kaylee Henson/ Industrial | 6 |
| 2 | 5.2 | Eve Stogner/ Veterans Memorial-CC | 5 |
| 3 | 5.5 | Miranda Martinez/ Veterans Memorial-CC  | 4 |
| 4 | 1.1 | Ahitza Roque/ Weslaco East | 3 |
| 5 | 1.3 | Amanda Cabrera/ Weslaco East | 2 |
| 6 | 1.2 | Larissa Rodriguez/ Weslaco East | 1 |
FEATURE WRITING
| | | | |
| --- | --- | --- | --- |
| Place | Number | Student Name | Team points |
| 1 | 1.2 | Larissa Rodriguez/ Weslaco East | 6 |
| 2 | 1.1 | Ahitza Roque/ Weslaco East | 5 |
| 3 | 1.3 | Amanda Cabrera/ Weslaco East | 4 |
| 4 | 5.1 | Michelle Shin/Veterans Memorial-CC  | 3 |
| 5 | 5.2 | Eve Stogner/ Veterans Memorial-CC | 2 |
| 6 | 10.1 | Kaylee Henson/ Industrial | 1 |
EDITORIAL  WRITING
| | | | |
| --- | --- | --- | --- |
| Place | Number | Student Name | Team points |
| 1 | 1.1 | Ahitza Roque/ Weslaco East | 6 |
| 2 | 5.4 | Darcy Stineman/ Veterans Memorial-CC  | 5 |
| 3 | 5.1 | Michelle Shin/ Veterans Memorial-CC | 4 |
| 4 | 1.5 | Luis Zuniga/ Weslaco East | 3 |
| 5 | 9.3 | Piper Short/ Fort Worth Southwest | 2 |
| 6 | 10.3 | Kate Peters/ Industrial | 1 |
HEADLINE WRITING
| | | | |
| --- | --- | --- | --- |
| Place | Number | Student Name | Team points |
| 1 | 10.2 | Dillon Fellers/ Industrial | 6 |
| 2 | 9.1 | Yoselin Hernandez/ Fort Worth Southwest   | 5 |
| 3 | 5.4 | Darcy Stineman/ Veterans Memorial-CC | 4 |
| 4 | 1.1 | Ahitza Roque/ Weslaco East | 3 |
| 5 | 1.2 | Larissa Rodriguez/ Weslaco East | 2 |
| 6 | 5.3 | Lauren Rhamy/ Veterans Memorial-CC | 1 |
SCHOOL RESULTS 
| | | |
| --- | --- | --- |
| Place | School | Point Total |
| First | Weslaco East | 35 |
| Second | Veteran's Memorial | 28 |
| Third | Industrial | 14 |
| Fourth | Fort Worth Southwest  | 7 |