Sherwood a Bear to watch
Senior yearbook editor, photojournalist to study communications at Baylor University in the fall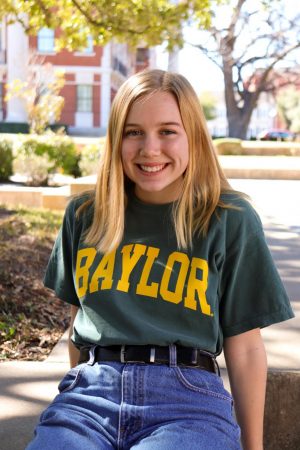 When current senior Gabby Sherwood first began taking photos, it started as a fun hobby. Over the years, as she taught herself more about the art and learned to combine it with her love of storytelling, it grew from a hobby to a passion.
In the fall, Gabby will take her talents to Baylor University, where she plans on continuing to grow her craft by majoring in communications with a focus on photography. The senior yearbook editor has worked on The Knight since her junior year, taking photos and writing captions and stories and hopes to continue to do the same at Baylor by joining their yearbook or magazine staff.
"I want to continue pursuing journalism in college because it's like telling a story," Gabby said." Whether you're writing a report or taking photos, you are capturing moments that others will get to read and see, and I love being able to do that!"
Yearbook adviser Dave Winter knows that whatever Gabby decides to pursue in Waco, Baylor will be lucky to have her.
"Gabby is an ideal staff member because she is always willing to do her part and then more," Winter said. "A lot of her best work is stuff that is for the newspaper or for the Instagram account when she's the senior yearbook editor."
Those that know her know that her work ethic and versatility are just one of the many factors that make Gabby shine as a photojournalist, athlete, student and friend.
Winter went on to say that she is an even better person than she is a journalist, which is certainly saying something considering how accomplished she is in both fields.
"She is considerate, friendly, empathetic," Winter said. "Never has a bad word to say about anyone. Never seems flustered or unable to cope with the stress of journalism or anything else. Being her teacher and her colleague is a gift. Truly."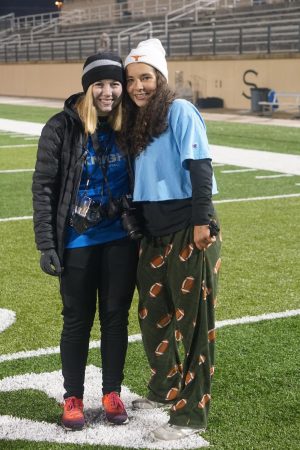 Also a visual arts major and captain of the cross-country team, Gabby hopes to continue to study visual arts, and also plans on joining a running club at Baylor to keep her active and help her meet new friends.
Ultimately, she is most excited to be able to throw her focus into photography.  Gabby was also accepted into Colorado State University and University of Colorado Boulder for journalism, but she knew Baylor was the school for her because it allowed her to focus on photography and journalism specifically.
That, and it was close to home and had a beautiful campus, all while giving her the space to be free and independent.
The end goal for Gabby is to tell other's stories as a sports photojournalist, a goal that she has realized and worked towards every day as a reporter and photographer.
"One of my favorite things about being a part of MacJournalism is covering everything from football games to musicals," Gabby said. "Getting to take photos that capture special moments that other students can enjoy, that's super meaningful to me."