Formerly taught, currently teaching
Elder returns to Mac as assistant orchestra director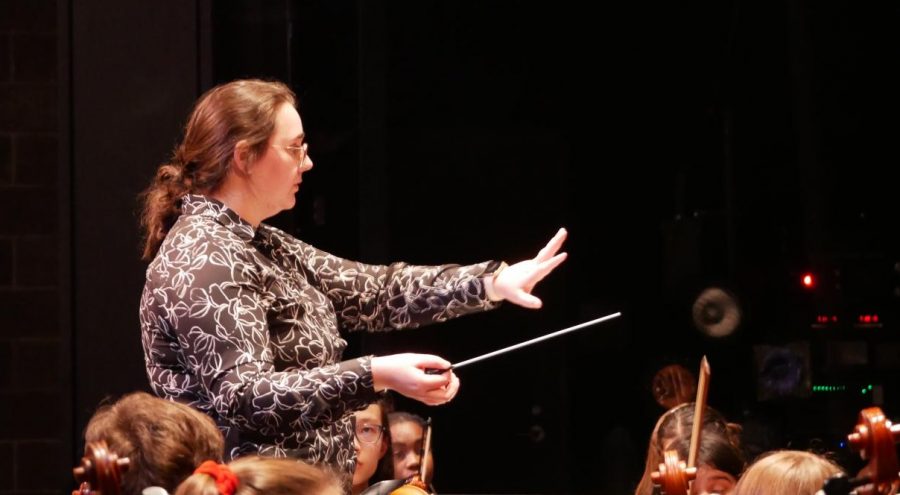 A decade ago, eighth-grade Lamar student Erika Elder walked into the McCallum Fine Arts Building with her violin, nervous but ready to audition for the Fine Arts Academy in front of orchestra director Ricky Pringle. Flash-forward to just last summer, and Elder walked into the same school, perhaps even more nervous, but ready for her first staff meeting as the McCallum assistant orchestra director, now working alongside her former teacher.
"
Now I'm coming back and teaching to younger people the same kind of musicality [that I learned here]."
— First-year orchestra teacher Erika Elder
"I walked in and immediately the smell of the school just took me right back," she joked.
Elder began playing violin when she was five years old. Before being a part of the Fine Arts Academy, she played at the Monarch Suzuki Academy and performed with the Austin Youth Orchestra. Elder credits her decision to go to McCallum to her older sister, Elise.
"She was part of the orchestra program also, and she was also part of the theatre program, which everyone knows is outstanding," Elder said. "I remember going to all her concerts and theatre productions and loving it and wanting to come here."
At McCallum, she spent her first year in the freshman orchestra and then moved on to chamber, the top orchestra, as a sophomore.
"She was very kind, she was very courteous, [and] very polite," Pringle said. "She worked hard."
Outside of class, Elder participated in nearly every performance or event she could. From playing in the pit during theatre shows to playing scores from popular movies in Mueller Park, she earned a reputation as a student deeply involved in the orchestra program.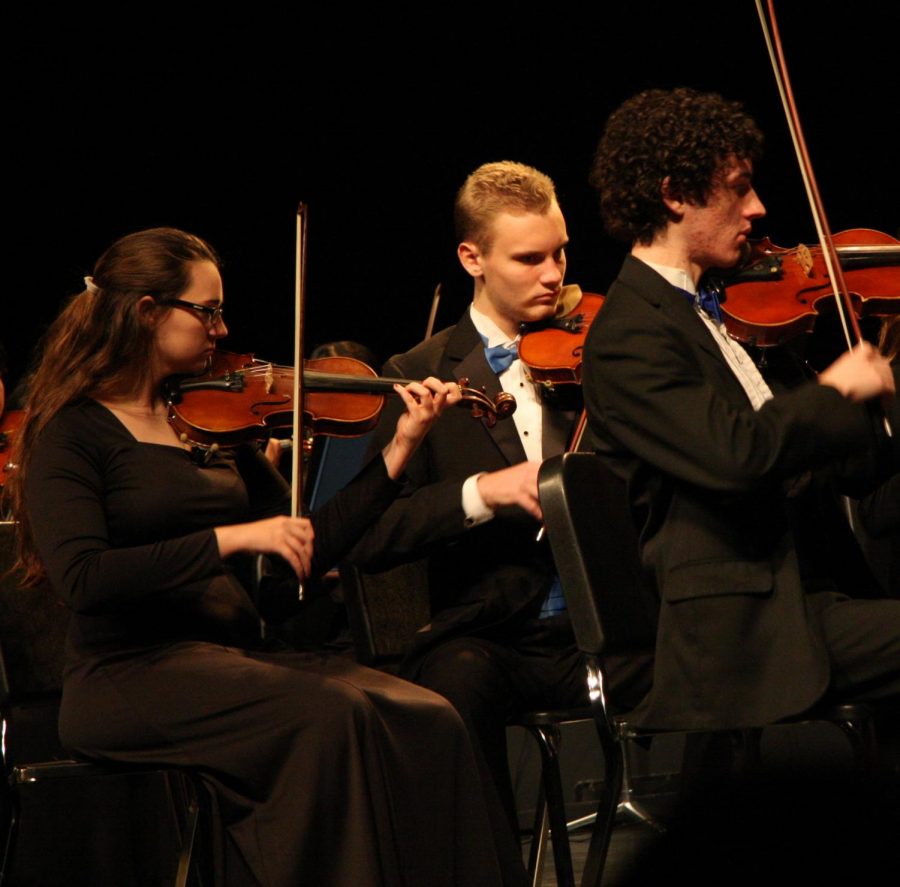 "I think the cool thing I learned from those events is that there's just so much more to being a musician than just what happens here in the classroom," she said. "There's a wide range of things that we can do, from classical to fiddling to pop music and rock."
Elder also states that the orchestra program at McCallum reignited her passion for music.
"Right before I came to McCallum … I was starting to feel a little burnt out, kind of disinterested," she said. "But, when I got [here], I was introduced to [a lot of] new stuff that I didn't even know we could do, that was a huge thing for me."
By her senior year of high school, Elder knew that she wanted to pursue music in college, but she didn't know what she would major in until the end of the year.
"
The first thing I did was come on campus for a staff meeting and immediately walk into a room full of teachers that used to be my teachers. It was kind of scary, I'm not going to lie."
— Erika Elder
"I remember Mr. Pringle saying there will always be jobs for music educators because they're always looking for good music educators," she said. "I think that was kind of the turning point for me."
Elder attended Stephen F. Austin State University and graduated last spring with a bachelor or arts degree in music education. Before coming to McCallum, she gained experience by student teaching at Kealing Middle school and LBJ High School. When Georgeann Shockley, the previous orchestra director, decided to retire last year, she and Pringle reached out to Elder and encouraged her to apply.
"I knew that she was student teaching at LBJ and Kealing, and so I asked the teacher over there how she was doing," Pringle said. "She said she was doing great. Things just kind of worked out. … She went through the application process and did a great interview for the job. We knew that she was the right fit."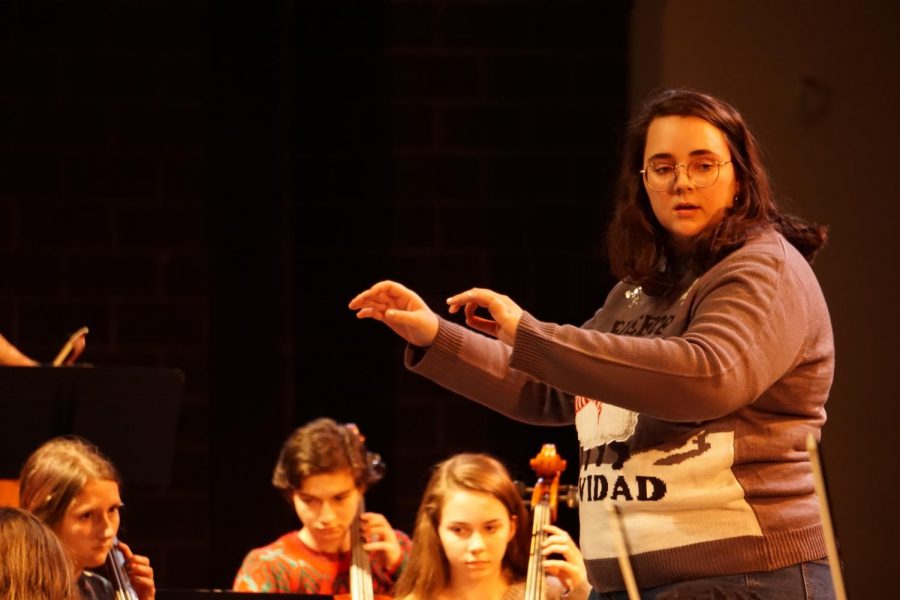 For Elder, the interview, led by former principal Mike Garrison, was accompanied by a mixture of nostalgia and fear.
"I think I blacked out," she joked. "It was my first real job interview because I just graduated college, but everyone was so nice. … [Garrison] was principal when I was in school here too, so it was very comforting to see [him]."
Pringle and Garrison were not the only familiar faces that Elder saw during her transition back to McCallum.
"
She came in with her own skill set that was unique to what Mrs. Shockley had and what I have, so it's really good. She brings something new."
— orchestra director Ricky Pringle
"I remember the first thing I did was come on campus for a staff meeting and immediately walking into a room full of teachers that used to be my teachers," she said. "It was kind of scary, I'm not going to lie."
Though excited, Elder also felt intimidated on her first day teaching.
"I was terrified. I didn't know any of the kids yet," she said. "I felt like I needed to put on a show. I just went in there thinking, 'I'm going to try to build as many relationships as I can.'"
As the year has progressed, Elder has become more and more comfortable in her teaching role.
"When she first came, she was very nice and was a little bit more soft-spoken, but she is finding her voice," Pringle said. "She tells them things that she remembers [from when she was a student]."
Pringle also stated that Elder has brought more to the program beyond her ability to relate to the experiences of her students.
"She came in with her own skill set that was unique to what Mrs. Shockley had and what I have, so it's really good," Pringle said. "She brings something new."
Though she may be biased, Elder believes that there is something special about McCallum and McCallum students.
"This program does way more advanced music than almost any other school in Austin," she said. "Now I'm coming back and teaching to younger people the same kind of musicality [that I learned here]."
Even though she might not have known it when she was a student first walking through the faded blue doors of the Fine Arts Building, Elder is happy with the place she has found back at McCallum.
"I love music, so I love bringing all these kids together to create music," she said. "I can't wait to work here for a long time."