What to do this February
Four things to eat, do, enjoy that will make your four-day weekend brighter
Elizabeth Street Café: a vibrant restaurant that has left me craving Vietnamese cuisine time and time again, and wishing that I didn't have to conquer traffic in order to get another taste.
The restaurant, located on South First Street, just a six-minute drive from the Texas State Capitol, is a favorite among locals and tourists alike. After entering through the café's pastel pink doors, you will find yourself in a chic dining room, complete with a tantalizing pastries case.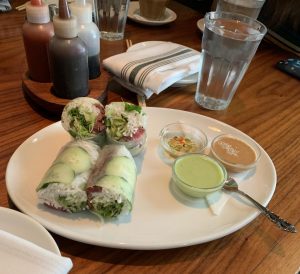 I found myself strolling back to it in order to gaze upon the multitude of macaroons and mini-opera cakes after finishing my food. There is also the option to dine on an outside patio adorned with lovely sycamore trees.
Whatever option you choose, the café is as easy on the eyes as it is on the pallet. Between the dishes, I tried, the shrimp and pork crepes proved to be my favorite dish. The crepes were crispy, crunchy and delicious. The combination of the crunchy crepe shell with the sprout and meat filling formed a savory and satisfying entrée.
For drinks, my friend and I ordered a Vietnamese coffee and a mocha: both tasted strong and full-bodied.
Although it isn't the kindest to your wallet, Elizabeth Street Café is a great place to visit, not only for the unique design but of course the cuisine, which has definitely impacted my opinion of Vietnamese food.
—Scarlett Houser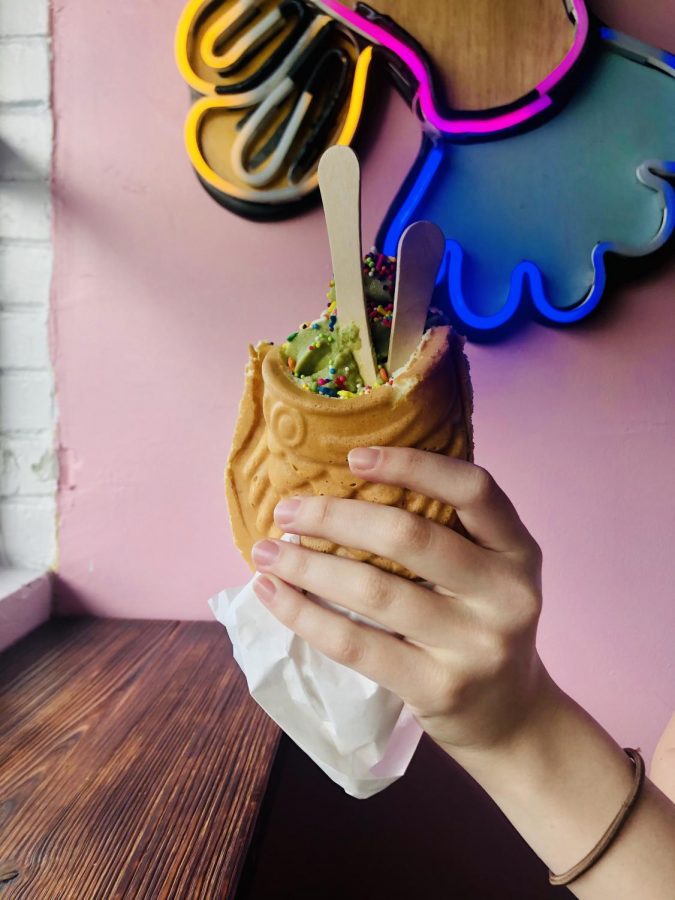 If I told you there was a place in Austin that served delicious macaroons, jiggly cheesecake, and elaborate Taiyaki sundaes (pictured above), and all made gluten-free, you'd probably say "What's the catch?" No catch at all, except that this small-batch, "Tex-Asian" bakery in East Austin is only open on Saturdays and Sundays, and when they are open, they sell out fast.
OMG Squee Club is known for its fluffy, soufflé-style Japanese cheesecakes that tower over their squat New York-style siblings like a cumulonimbus cloud and their Taiyaki sundaes served in fish-shaped cones reminiscent of a Belgian waffle. The sundaes are filled with a rotation of soft-serve flavors like vibrant purple ube, classic matcha, strawberry, chocolate and cereal milk, as well as the occasional vegan option. You can choose to fill the tail of your cone with Nutella or red-bean paste, and top your swirl of ice cream with a variety of sauces such as marshmallow fluff, Fruity Pebbles, sprinkles and Oreo dust, or for those who have to have it all, a mini-slice of cheesecake or a macaroon on top.
If all those baked goods made you thirsty, Squee Club also offers a variety of drinks to wash it all down. Choose from Thai iced tea, matcha lattes and coffees and pair them with one of the club's signature macaroons or cakes. The shop seems to attract customers for both their treats and their ambiance. You'll see quite a lot of photo taking as the whitewashed storefront and rainbow neon signage make for quite the photo opportunity. No matter why you come to Squee Club, the bakery is just the place to share a treat with friends and family.
—Bella Russo
You've spent the day hiking through the Barton Creek trail, eating great food and have just polished off a slice of cheesecake or a cone of soft serve. What's next? We recommend heading just up the road from Squee Club to the outskirts of the Mueller district to find the Austin classic that is the Blue Starlite Mini Urban Drive-in Cinema. You can start your four-day weekend off right with a showing of Say Anything Thursday night, celebrate Valentine's Day by watching Breakfast at Tiffany's at the drive-in and come back on Saturday to see a showing of The Princess Bride. What better way is there to enjoy these three classic films than at Blue Starlight's unique drive-in experience? Just like the drive-ins of the past, you and your Valentine(s) can enjoy the movies from the comfort of your cars, all while enjoying classic movie theater snacks like popcorn, sodas, candy and hot dogs. Pro tip: if you've got a truck (Or even an SUV) at your disposal, we recommend pulling into your spot backwards and camping out in the tailgate for an even cooler outdoor movie-watching experience.
—Bella Russo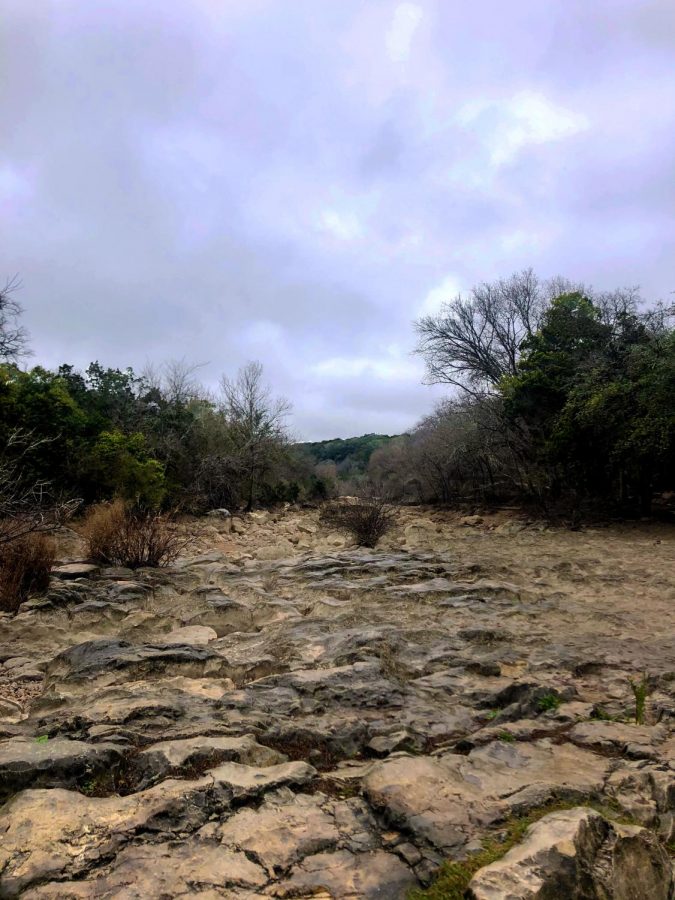 Though crowded during spring and summer, the Barton Creek Greenbelt during the winter months is serene and as always, a much-needed escape from the bustle of the city. To explore Sculpture Falls, park by the trail head off of the south Mopac frontage road, and take the trail north. After a short walk, hikers will find the Barton Creek creekbed. Normally filled with water, the creek runs dry in the winter, leaving lots of terrain great for walking, and the occasional limestone formation perfect for bouldering. Along the trail in both the north and south directions are tall live oaks, limestone cliffs and even small cave formations cut through the rock.
—Bella Russo