Soccer season starts here
In honor of the boys resounding 5-0 victory today, the Shield revisits the start of a promising soccer season
In honor of the boys varsity soccer team's 5-0 victory over Canyon Lake today at Nelson Field, we are pleased to dedicate today's Tuesday Top 10 photo essay to McCallum soccer. We take you back to the very first week of the soccer season and show you how the season started for the defending area champions who are now 2-0 on the young season. Photos and reporting by Thomas Melina Raab.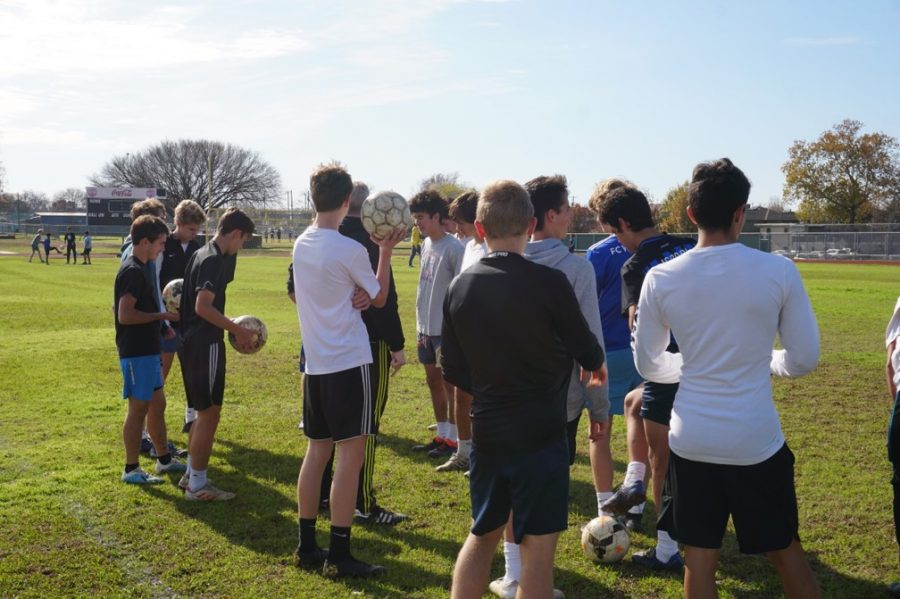 MONDAY MADNESS: This Monday was quite the challenge for the varsity boys soccer team. Not only was it the first day of finals, but they also had to go straight from sitting in a desk to running around and working hard. Thankfully for the boys, they had Coach Martin to give them some words of encouragement not just for the field but also for the classroom. When I asked sophomore Reed Smith what it was like getting to see coach after a long day of finals, he responded, "It was really nice. Coach Martin is one of those coaches who just gives off a really good vibe."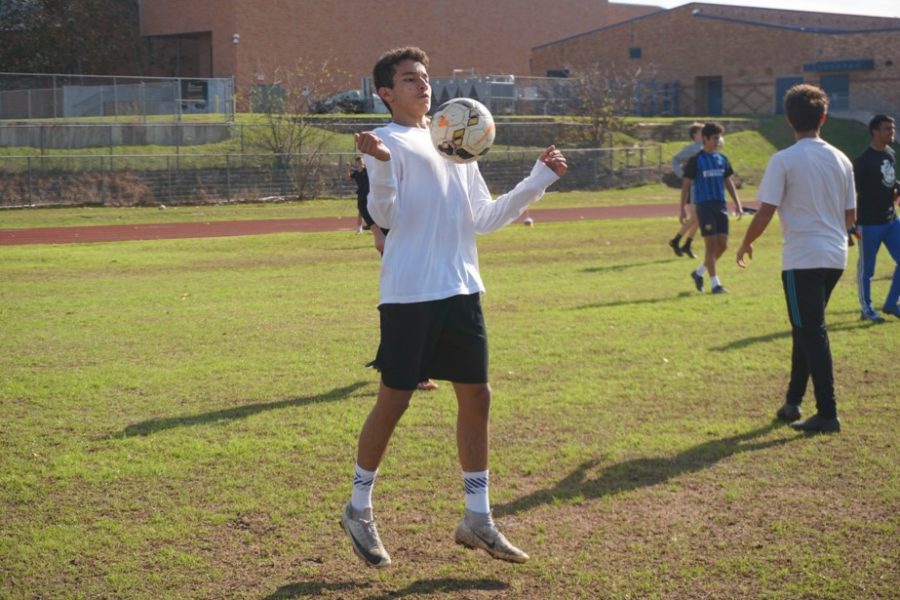 GETTING TO GAME TIME (Dec. 16): Junior Felipe Perez III traps the ball against his chest during warm ups. After a long day of finals, the team needed to keep loose. This drill helps with touch and just in general gets the team ready for the day. When I asked Perez how important it is to take warm ups seriously, he said, "It's extremely important. If you don't warm up then it's impossible to do well in practice." It's especially important for the team to take warm-ups seriously this week, as it's a game week. Every player on the team knows that they have to take every step to get ready for the game.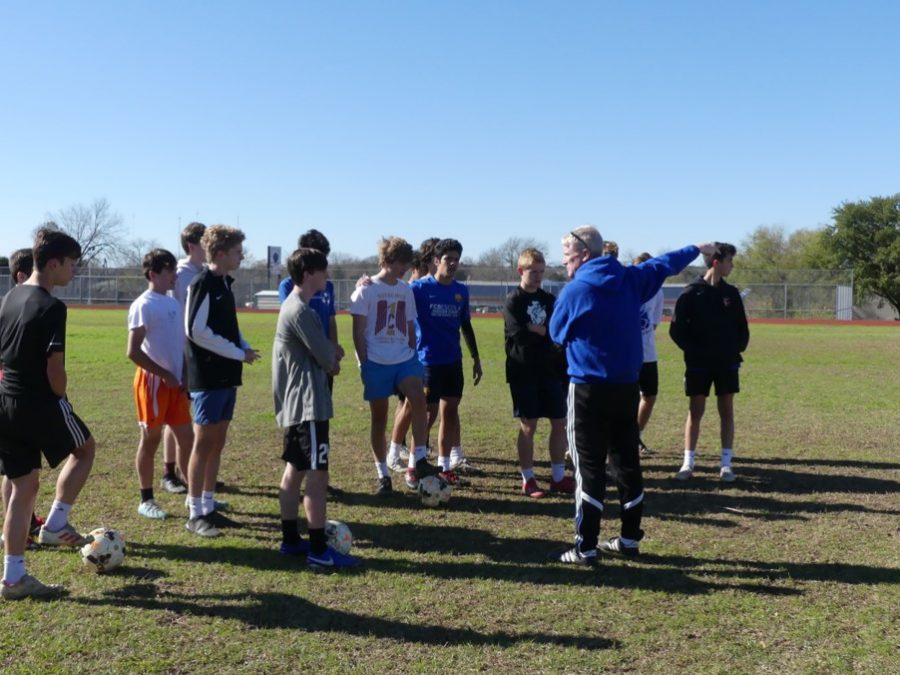 ANOTHER DAY ON THE PITCH (Dec. 17): Tuesday marked another day of practice for the varsity team. Despite the sub 50-degree temperature, the boys still managed to go out and have an even better day of practice than the day before. The team had a bit of a rough day on Monday, but even at the beginning of practice on Wednesday, it was obvious that it was going to be a much better day. When I asked junior Moss Gillespie what changed, he said, "I'm not 100 percent sure, but if I had to guess, I would say that we're just slowly getting more comfortable with each other." Even though the team only just started practice, most of them were already friends and they are quickly forming a bond with each other.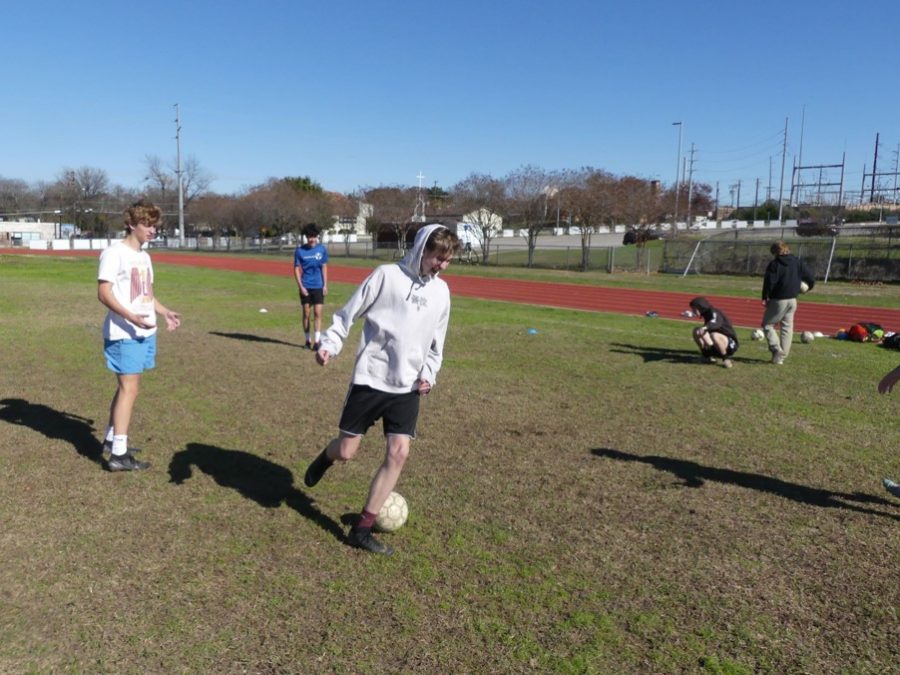 HAVING A LITTLE FUN (Dec. 17): Just because the boys take practice seriously doesn't mean they don't have their fair share of fun. Ian Juul Hansen is pictured here laughing while dribbling the ball during warm-ups. His teammates don't look so pleased, but he's happy so I'll let him have this one. When I asked Ian how he balances the fun and the work, he said, "You can have your fun, but when it's time to get to work, it's time to get to work."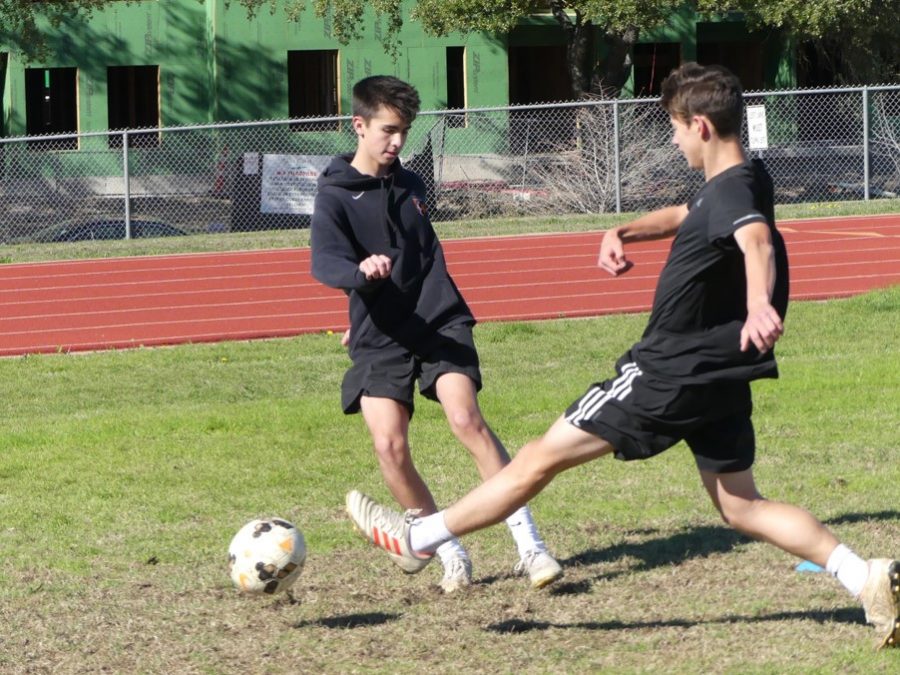 FRESH MEAT (Dec. 17): Sophomore Cooper DeMont blocks a kick made by freshman Noah Dainton. For both players, this is their first year on varsity. For most, joining a team where most players already know each other can be scary. But for Dainton, it was a little bit different. "It's been great. I already feel like just another guy on the team." DeMont and Dainton will make their varsity debut on Thursday against Anderson.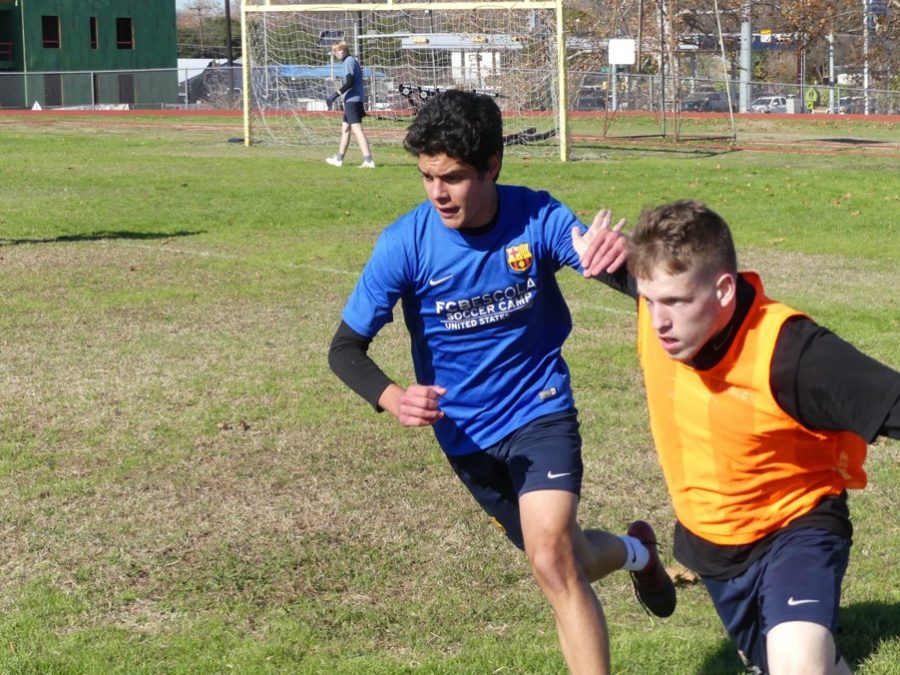 ONLY FRIENDS OFF THE FIELD (Dec. 18): During Wednesday's practice, the varsity and JV boys scrimmaged each other to get ready for the game the next day. As you can see, even though it's practice, no one takes it lightly. Especially not Silvio Guzman. Guzman is one of, if not the, hardest worker(s) on varsity. He never takes a drill lightly and is always encouraging his teammates to go harder. When I asked him why he does it, he said, "Because that's the only way I'm gonna get better. Just by always giving 100 percent."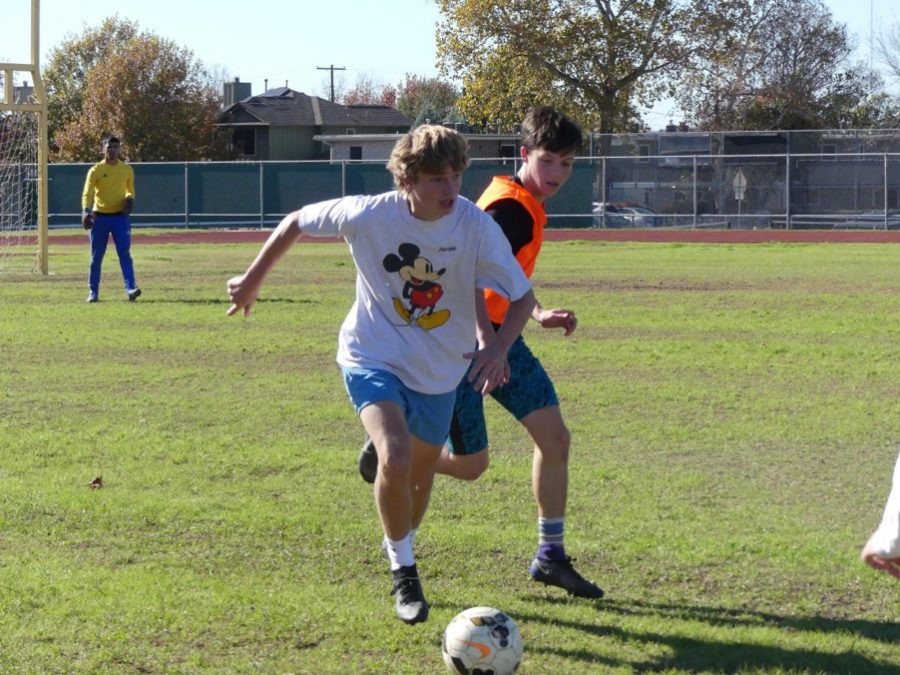 DON'T DOUBT JV (Dec. 18): Junior Jackson Carpenter dribbles around sophomore Caleb Andrews. Despite Carpenter being on varsity and Andrews being on JV, it's super important for them to scrimmage so both teams can stay sharp and get some play time in instead of just drills. I asked Jackson if scrimmaging JV is too easy and he said, "No definitely not. Obviously they're not quite at our level, but they manage to keep it close, and it helps us stay fresh." Both teams will face their real competition on Thursday.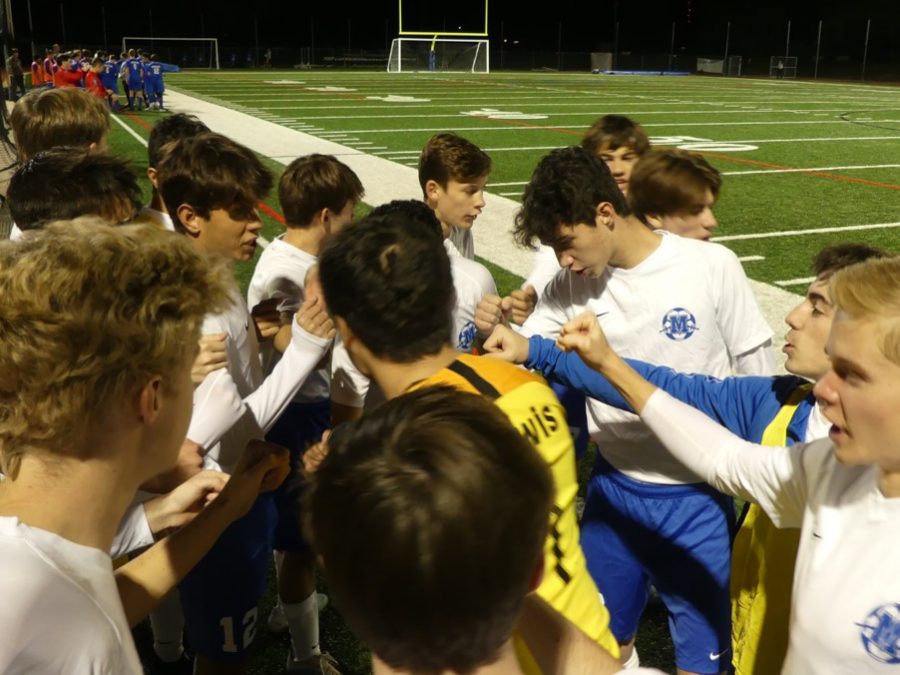 HYPE MAN (Dec. 19): Goalie Bryn Lewis (in yellow) gives the team a pep talk after a disappointing loss at the hands of the Trojans. Lewis is a clear leader on the team. He is always telling his teammates where to move on the field and giving them words of encouragement. He also had a couple of very nice saves that could have made the game much more one-sided. When I asked Lewis how he keeps such a positive attitude even after losing a hard fought battle to Mac's rival school, he responded, "It's important to me as one of the older guys on the team to make sure everybody keeps their head up and doesn't dwell on the loss."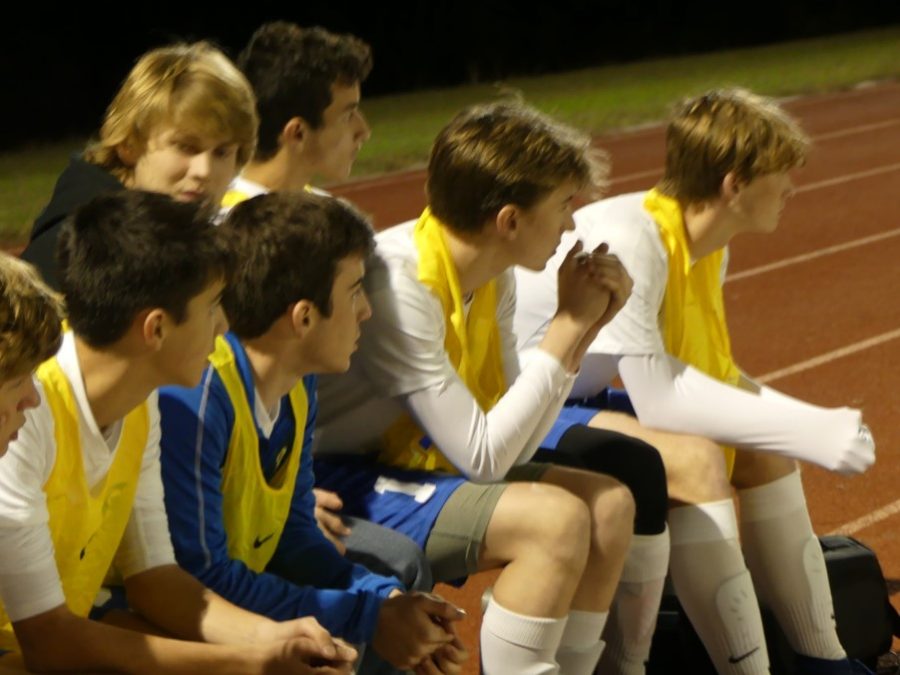 BENCH JOCKEYS (Dec. 19): Some of the players warming the bench watch the game in anticipation. The players on the bench were extremely vocal all game. Shouting assignments and words of encouragement to the players on the field. I asked sophomore Moss Gillespie (far right) why the players sitting the bench did this, and he said, "Communication is key. Sometimes if a player is doing something wrong we gotta let them know. Also it's just kind of fun to shout at the players and poke fun at them a little bit."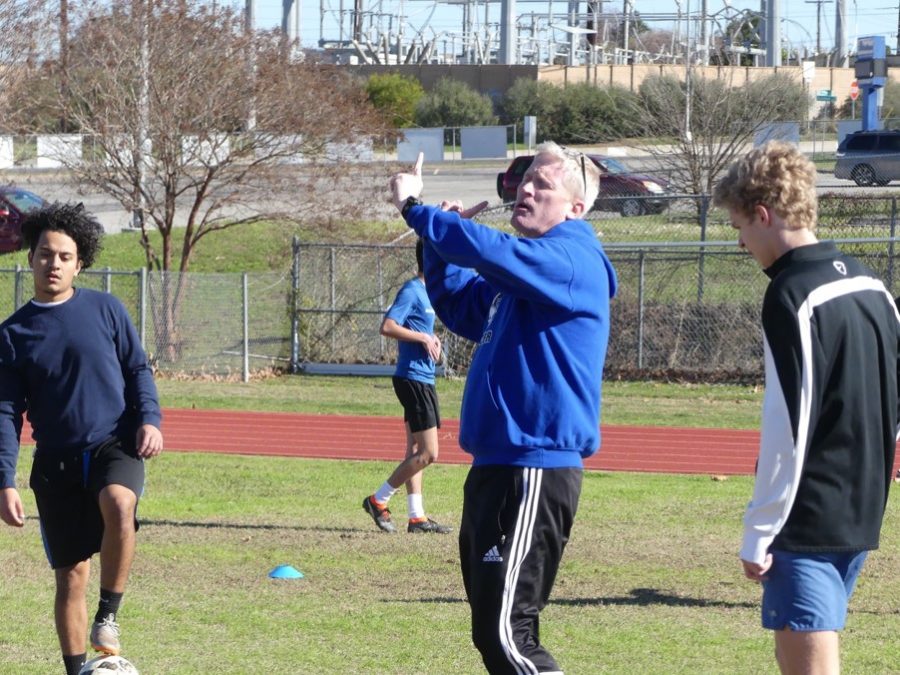 THE MAN BEHIND THE MACHINE (Dec. 17): Coach Nick Martin explains a drill to his team. Coach Martin is not only an elite soccer coach, he is also one of the best people to be around, according to sophomore Moss Gillespie. "Coach Martin is just a really great guy. Not only that but he's also a great coach."