This film is 'Rotten' but not rotten
McCallum duo that delivered thrice award-winning 'Cravings' aims for more with second film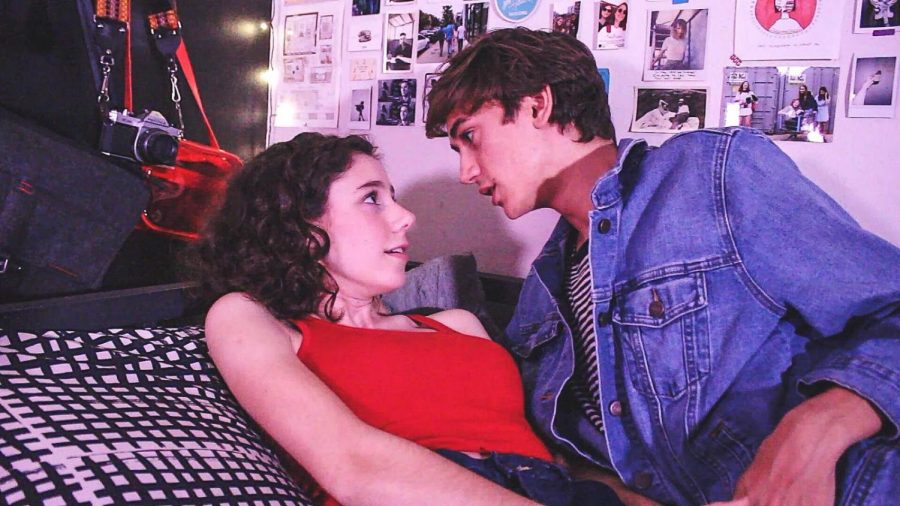 Rotten: A film by Maryanna Tollemache and Emily Steinbomer
The purple and pink-tinted LED lights are set. The handheld DSLR camera rig is rolling. The boom pole is propped over the awaiting actors, and the sound is recording. The director of photography, Bella Rothenflue, films in her bedroom, which is covered in '80s posters and paraphernalia and filled with a dead silent film crew, braced and prepared for the next shot.
Action…
Co-directing the film with Emily Steinbomer, a Griffin School student, senior Maryanna Tollemache intently watches lead actress Katherine Holmes' performance as she envelops the role of Veronica, a young girl who falls back into the trauma of an abusive past relationship. The crew holds their breath as Ryan, played by senior Edward Fotinos, aggressively grabs Veronica's hair and menacingly growls in her ear.
"Do you like that?"
Those four words echo throughout Tollemache and Steinbomer's film like the unwanted demons of abuse that the film reflects. Rotten, a collaboration between the two directors, is an experimental short film produced by the students of Youth Cinema Collective about the haunting effects of a traumatic sexual assault episode. The film is set to come out at around 6 minutes long, but despite its brevity, the film is packed with disturbing imagery reflecting the reality of sexual abuse with a Midsommar type feel.
"It is an introspective look on modern sexual assault and how just one bad experience can really ruin your entire life," Fotinos said. "That can be, obviously, hard, so it's just some way to deal with that and let other people know that they're not alone."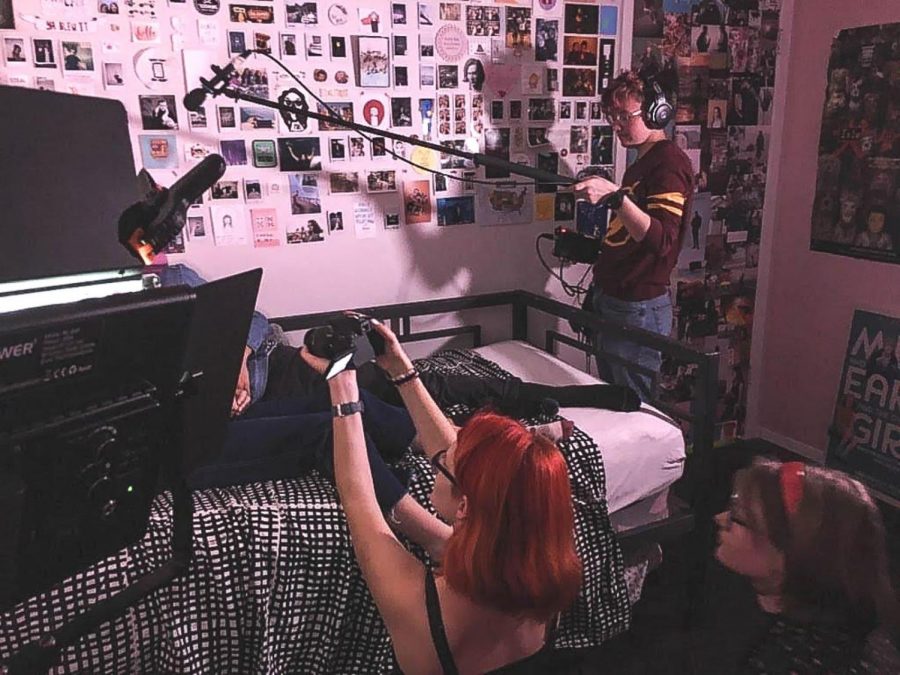 This process of creating a story to influence other people's lives is an important element of filmmaking to the YCC crew.
"Film is such an important and visual storytelling process that can affect how people view each other," Tollemache said. "Some people's purpose, like myself or Bella Rothenflue, is to make films that create change or influence society to think about a new perspective. We make films about people's voices who are not being heard that then everyone can hear them."YCC member and senior Zion Flores said it takes courage to tell stories about traumatic experiences.
"It is important to not be afraid to tell the stories that people don't know about," Flores said. "It's hard to be open about trauma that happens in your life. If you're open about your trauma, it helps another person open up, and it helps other people feel seen."
This idea about filmmaking a societal impact is a central value for the Youth Cinema Collective. Creative Action, the mother program to YCC and two other social change-oriented art programs, is a nonprofit, arts-based youth development organization which pays ninth through 12th graders each semester to create art about social justice.
"I think YCC is an incredible place to get involved due to YCC's intense encouragement to find diverse voices within their program," Tollemache said. "There is every type of person that there could be in Austin."
"
Some people's purpose, like myself or Bella Rothenflue, is to make films that create change or influence society to think about a new perspective. "
— Maryanna Tollemache
Students from all over Austin meet at Creative Actions center twice a week to work on various projects assigned to them.
"The two times I get to go there a week is probably the most refreshing time for me," Rothenflue said
Rotten isn't the first YCC film to be produced by this crew. YCC's 2018 fall film Cravings, an experimental horror about the gruesome realistic details of eating disorders, was also written and directed by Maryanna Tollemache and filmed by Bella Rothenflue. Despite it being Tollemache's first film, it was quite successful at Austin Youth Film Festival, winning an impressive three awards: Best of Fest First Runner-Up, Best Experimental and Best Cinematography. Despite the three-award standard Cravings set, the crew is confident that Rotten will perform even better at AYFF in the experimental film group this year.
In past years, films with deeper societal messages have been more likely to win more awards at the festival so the YCC crew members are especially optimistic about the outcome.
"I am really hoping that we win Best of Fest due to the powerful message of the film and all the hard work that went into it," Tollemache said.
The film will be entered into the Austin Youth Film Festival in early spring where it will compete against a vast variety of other different short films. The crew hopes that the film will stand out from the pack with its disturbing experimentalism, powerful message and important purpose.
"I think everyone's purpose in film is different," Rothenflue said. "I think some people's purpose is to create and tell stories that are entertaining; I feel my purpose is to tell stories that give insight to other people's lives or to make a difference."
With this optimism and hopeful spirit in mind, Tollemache, Rothenflue and Steinbomer look over the raw footage. Settled back at the Creative Action YCC building, the three gather in front of their computer, replaying the listed shots over and over again.
It is the first time Rothenflue has seen this footage since she needed her editors to distance it from her before she viewed it in its entirety.
They are pleased with the results of the shoot. They start sorting and arranging the takes in chronological order before sifting out the unfortunate clips that didn't quite make the cut. No matter how raw, you can see the story take shape through these unedited clips compiled onto a desktop folder. With big plans in mind, the three begin the editing process.
A story with so much social depth emerges one clip at a time.
Creative Action's Youth Cinema Collective will hold their screening of the fall's five original films this Saturday at 7 p.m. at 1023 Springdale Road, Building 3, Austin, TX 78756.