Welcoming immigrants to America
Club launches multiple projects to provide help, encouragement to refugees crossing Texas border
Many people think of the refugee crisis on the Texas border say, "Well, what can I do about it?" The McCallum Refugee Club has found the answer—just about anything they can think of trying. From a poster campaign in the hallways to donating pounds of canned food, the group has thrown everything they have at the problem.
"
We were inspired by the refugee crisis at the border. We thought we could do something to raise awareness, especially here and locally in Texas."
— Refugee Club co-president Georgia Dover
Refugees are people who face violence in their own country and are forced to flee. Many asylum seekers cross at the Texas border. Trump policies have been attempting to slow immigration to the United States, particularly at the southern border.
According to Refugee Services of Texas, resettlement of refugees decreased 79 percent between 2017 and 2018. In a grassroots attempt to reach out to refugees seeking asylum, co-presidents junior Georgia Dover and Peyton Dashiell founded the McCallum Refugee Club.
Dashiell says the group's goal is to simply "just do what we can to help."
"We were inspired by the refugee crisis at the border," co-president Georgia Dover said. "We thought we could do something to raise awareness, especially here and locally in Texas."
The club, also known as Students Together Assisting Refugees or S.T.A.R., regards themselves as a student-run movement.
"People definitely came out and were interested in the club and were interested in what we wanted to do," Dover said.
Last year, the club organized a book drive for the organization My Brother's Brother, which provides educational, medical and humanitarian aid around the world.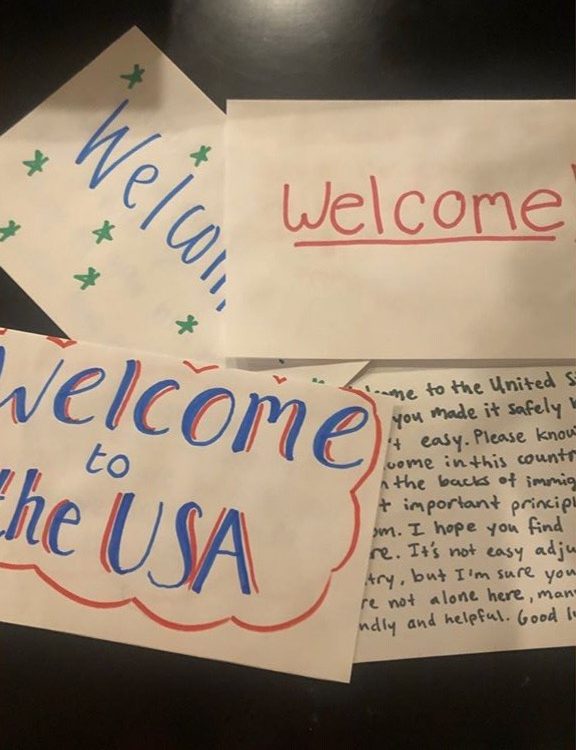 "Currently we're having a canned food drive, the bins right out there [in the main hallway], for an organization called Raices that helps people coming from the border," Dashiell said.
To organize charity events, the group reaches out to nearby organizations in need of donations that cater to refugees.
The group also writes cards to welcome refugees and make posters to spread awareness. The letter writing was started after Dashiell's friend suggested a way to directly contact the refugees.
"We write cards to welcome refugees. We thought it would be a fun and rewarding activity," Dover said. The posters range from infographics detailing an unaccompanied child's journey in the United States to loud advertisements for the canned food drive.
Whenever the club members do not know how to continue helping during the refugee crisis, they participate in other community service events.
"We're trying to do community engagement type stuff even if it's not specifically related to refugees," Dashiell said. "So, in the spring, we're going to volunteer at the food bank."
One challenge the group has faced is the difficultly of volunteering as a minor. Even for the food bank event, the club members need to be accompanied by two adults.
One way to get involved directly in helping migrants in Texas is to volunteer at Foundation Communities. They provide a range of services, including housing, education, financial stability and health care. Volunteers can translate for migrant families, serve meals and even help with seemingly mundane activities like applying for scholarships or filing taxes.
As for how to get involved with the club, students can talk to either Dover or Dashiell or reach out on the club's Instagram account, @macrefugeeclub.