Say hey to Glossier
While it was here, the Glossier pop-up store earned glowing reviews in more ways than one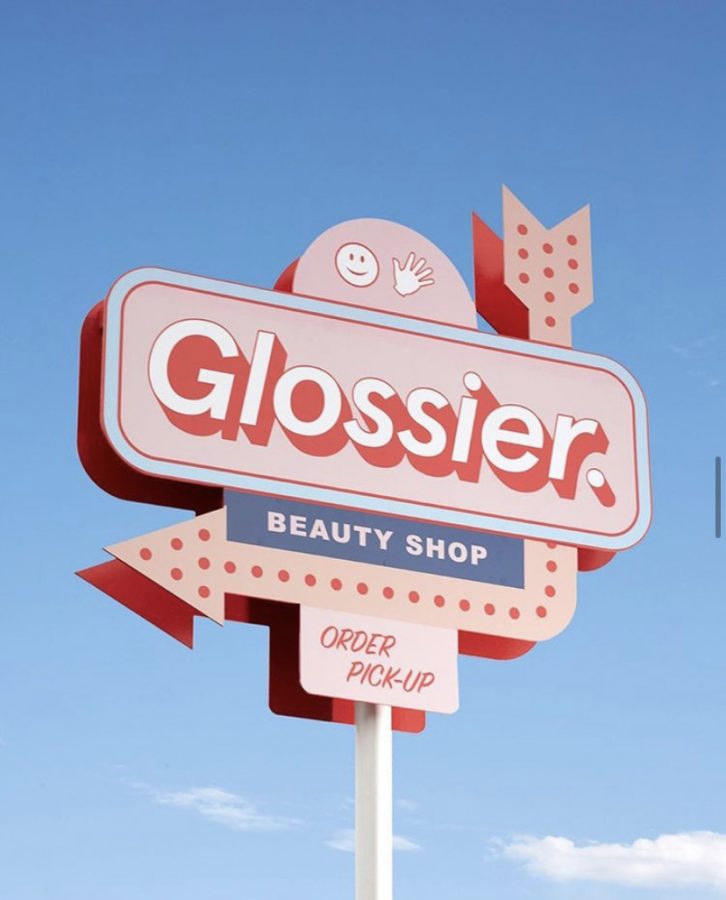 What's pink, clean, and currently on South Congress? You guessed it! The Glossier pop up store is here, and it's everything you could ever imagine. The interior design, lighting and people combine make the space an exciting experience.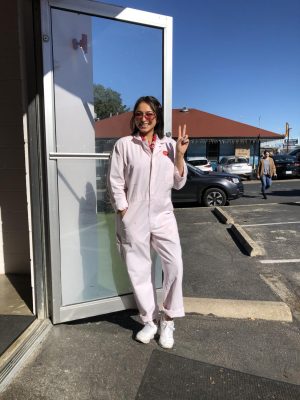 The company started as the beauty blog "Into the Gloss," quickly building into the multi-billion dollar brand it is today. Glossier intends to be a minimalist makeup brand that works to include a diverse group of people with both their makeup and skincare. The brand is mostly online, only having a few permanent stores in more prominent cities such as Los Angeles and New York City; however, Glossier opens pop-up shops around the world in order to attract a wider audience, especially those in urban cities with large art-and-beauty communities like Austin.
The new store downtown attracts such a large crowd that there is often an hour-long wait along the pink velvet ropes outside the storefront. The package deal of an original experience as well as high quality products attracts masses of young customers, specifically high schoolers.
Several students at McCallum who are avid users of the brand made the trip to the store to see if it was everything they hoped it would be.
When asked what makes the brand so appealing, senior Emmaline Benson explained that she loves the aesthetic.
"I really love the whole aura of Glossier," she said. "I like their idea of working towards the best version of yourself, not trying to change your face but rather embracing it."
One of the main company values is to empower their users, not trying to cast any sort of extra-commercial image onto their patrons. The products themselves are intended to to fight heavy-duty makeup and create glowy, natural looks with a minimal amount of product.
"
I really love the whole aura of Glossier. I like their idea of working towards the best version of yourself."
— senior Emmaline Benson
Like many other teenagers, senior Apollonia Ferrante finds solace in the brand and its products.
"I really like the aesthetic of Glossier because it's so simple," Ferrante said. "It makes me feel like a calm, clean, put-together person when sometimes that's not really the case."
Not only does Glossier produce makeup, but they also have a wide array of skin-care products. From acne serums to face wash to sunscreens, the brand intends to supply products that are simple and clean as to not unnecessarily irritate its users' skin. At such a young age, many high schoolers find it difficult to find products or routines that work for them and their skin.
"It makes you feel clean," junior Aydan Howison said. "The skin care is mainly what I lean towards because it does its job without the harsh breakouts and oily skin that other brands give you."
With so many regimens on the market, many people look to Glossier as their final solution to skin problems.
Another aspect of the clean and simple aesthetic are the employees. A favorite sight of many Glossier shoppers are the iconic pink jumpsuit uniforms, making it easy for customers to know who to ask about the products. McCallum alum Sophia Bastidas steps into her light pink jumpsuit every day to go to work at the pop-up shop.
"It's a really fun environment because everyone that comes in actually wants to be there," Bastidas said.
Glossier employees play the role of living out the company's values in real life. Each customer-service representative is ready to help new shoppers who are nervous about trying new products and getting involved with makeup.
"
It's a really fun environment because everyone that comes in actually wants to be there."
— Mac alum Sophia Bastidas, a Glossier employee
"I also really enjoy makeup itself, and I think it's cool to be able to express myself in that way," Bastidas said. "A lot of people that come in are new to makeup, and I enjoy being able to give them tips and get over their fear of makeup."
The Glossier pop-up store in Austin has been an interesting experience for many residents, especially those who are still in high school. In order to get the attention of young shoppers in this day in age, companies must mean much more than just their products.
Glossier is the perfect example of a brand that has turned such simple products into cult classics by their attention to detail and limited physical presence. Even though the brand only parked itself in the rapidly growing urban city of Austin for a brief period of two months, the fact that Austin has this kind of attention speaks to the growing arts and beauty community's respectively. As well as affecting the Austin community as a whole, the brand's presence has turned many students into loyal Glossier shoppers.
Apparently, the only thing more glowing than the faces of satisfied McCallum Glossier shoppers are the reviews of those Knights who shopped at the pop-up store while it was here.