EAST side stories
With her trusty camera and audio recorder, photojournalist Sophia Dawson sought to tell the stories of 10 artists at the East Austin Studio Tour
The East Austin Studio Tour, or just EAST, is an annual self-guided art event that spans two weekends in November. The event allows people to explore local artists in their creative spaces. The Studio Tour is located in different parts of Austin, but its central location is on Cesar Chavez Road. Mac photojournalist Sophia Dawson headed EAST on Nov. 24, the last day of the 2019 tour, armed with her camera, her audio recorder and a mission to tell the stories of 10 artists at this year's tour: what made them pursue art and why they create in the style they have developed. The stories of the artists were as varied as the art that each of them created. Some artists pursued art to follow in their parents footsteps, others to try something new. We are pleased to share Sophia's photo essay as a special winter holiday edition, #TuesdayTop10.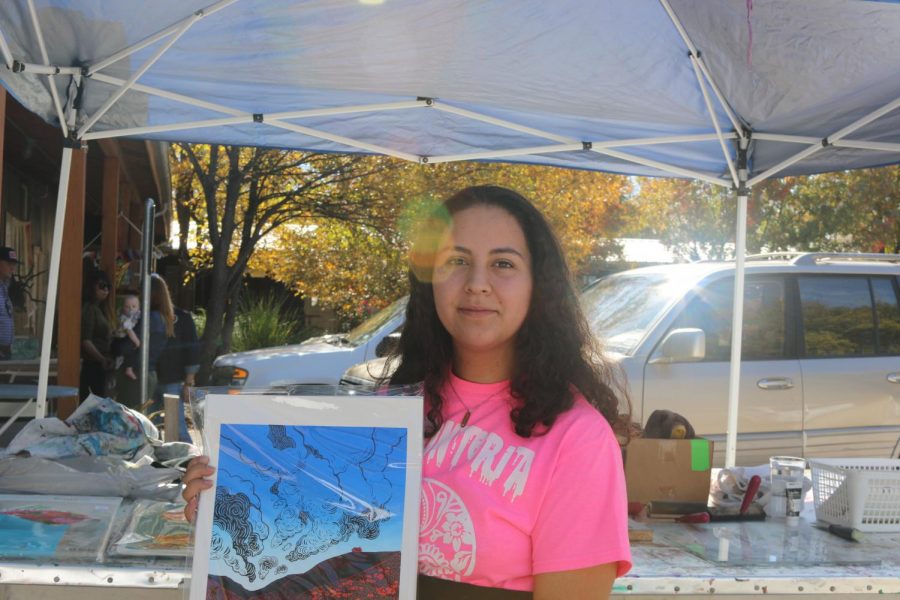 Maria Sendejas
Sendejas, a self-taught printmaker and screen print artist, has done many different types of art works without any prior formal education. "I started this art program in my junior year of high school, and I've done many other art programs for about three or four years. I just wanted to stick with something that I love." It is Maria's first year at the East Austin Studio Tour. "I was invited based on the art program I'm with so, La Printeria invited me out to enjoy this really awesome experience as an artist." Sendejas hopes to show her artwork for many more years to come.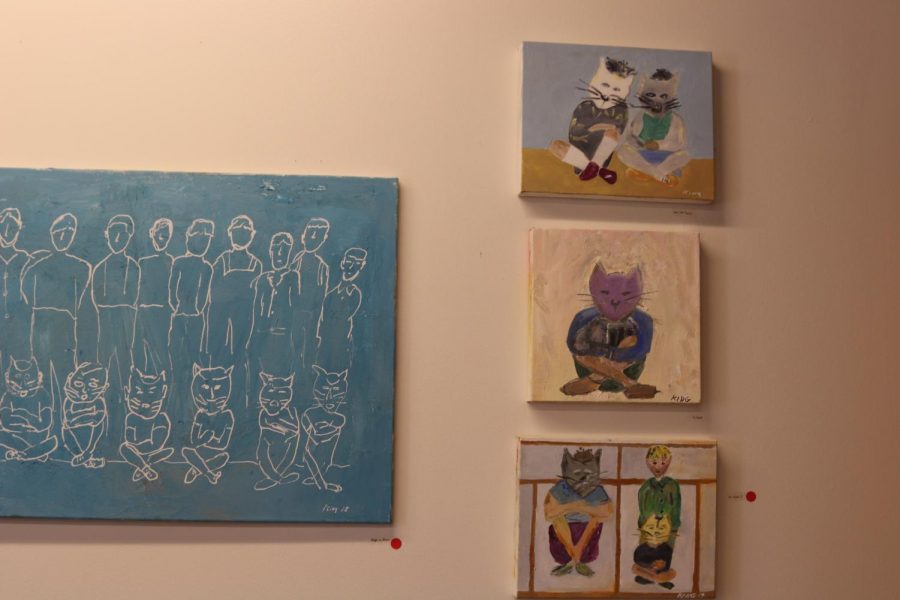 Jack King (and his assistant Amanda)
King is a retired psychologist who has been painting for 20 years. While I was walking in throughout his room, I noticed that all the paintings had cats heads on them instead of human ones.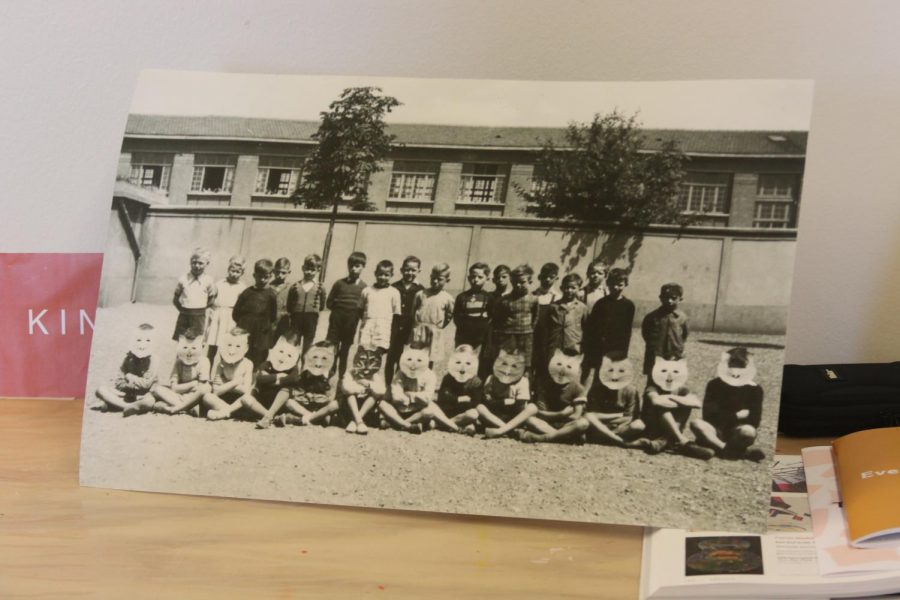 Amanda, who was working King's booth, explained their significance. "It's all based on this photo. He was in the air force in the '50s during the Korean War, and this was in Libya on a military base. These were military kids, but Jack wasn't able to get the story behind why half of the kids in the photo were wearing masks. And why they were posed rigidly."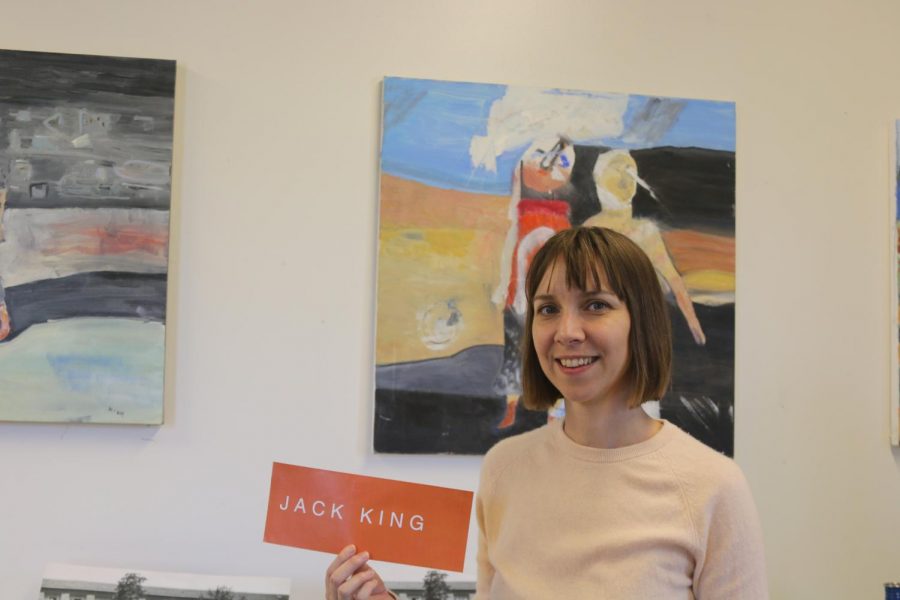 "As a psychologist, [King] is interested in the inter-working gates of their experience," Amanda said. "These kids were probably going through a lot of chaos. The meaning of cat heads dive in deep, so he took this idea of the masks and created pieces of artwork that resemble things they might have done or [things that] affected them." King splits his time between Austin and New York, showing off his work.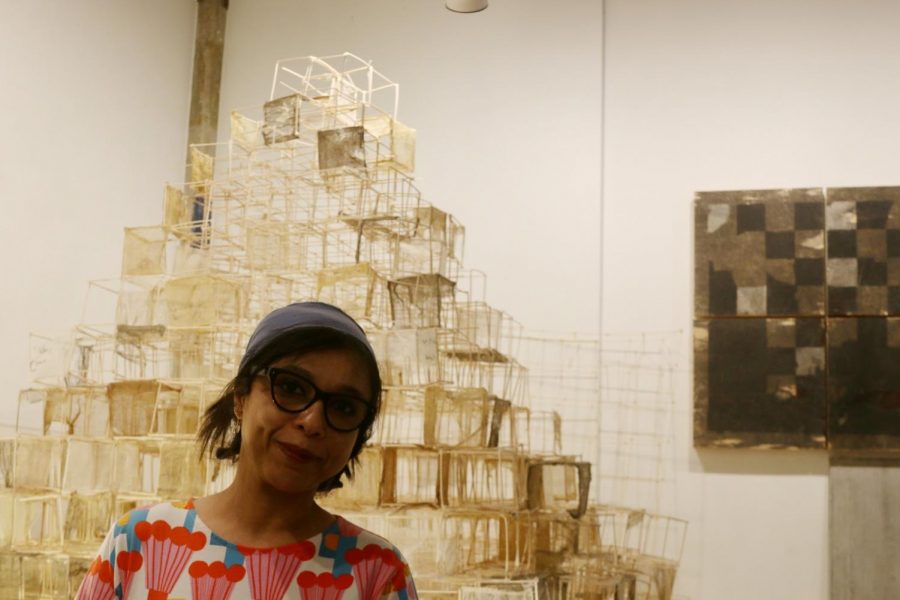 El Sadek entered art school in 1989 and she studied printmaking, sculpture, painting and drawing for five years. She has produced artwork for many years, but she had a piece that caught my eye, "The Memory Palace." "Well, this piece was part of an exhibition called the Memory Palace, which for me is one of the pieces I wanted to explore the memories I had when I was away from home, " El Sadek said, " I was making a new home here, and I never felt like I wouldn't miss it [Egypt] because it was available every day. But now I use the form of the pyramid as meditative to keep my memories with me through art." El Sadek hopes to keep expressing her aspects of home into an eye-catching piece of artwork.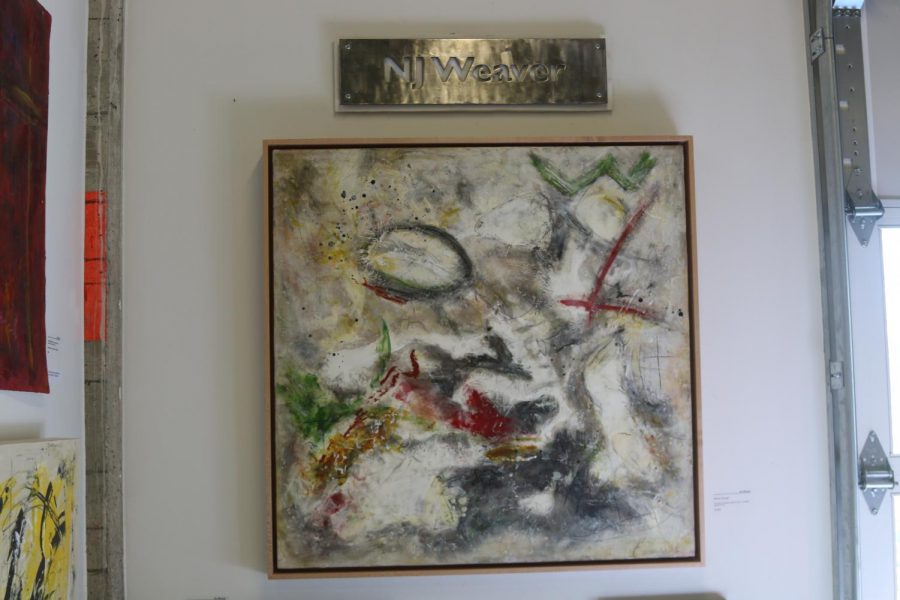 Weaver, a painter/media artist for about 12 years, likes her paintings to be abstract and encaustic with lots of blended colors.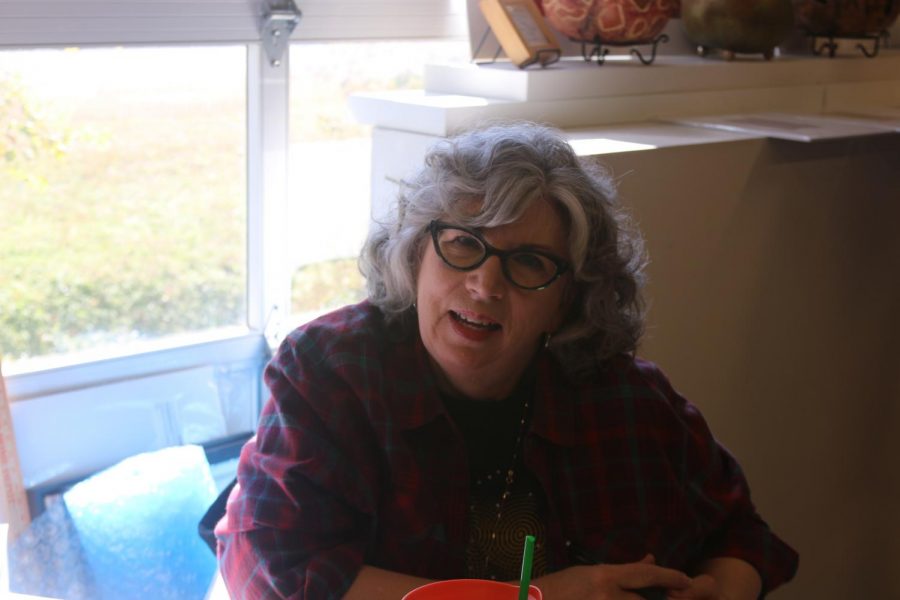 I asked her about how she started with these types of abstract art. "As I child, I didn't grow up in a family who valued art," Weaver said. "I think my family not valuing art as much as I did make me gravitate more to it. Later in my mid-life, I was around people who were very creative which lead me to love what I do even more." Weaver is excited to keep continuing showing how art has value through her exemplary abstract work.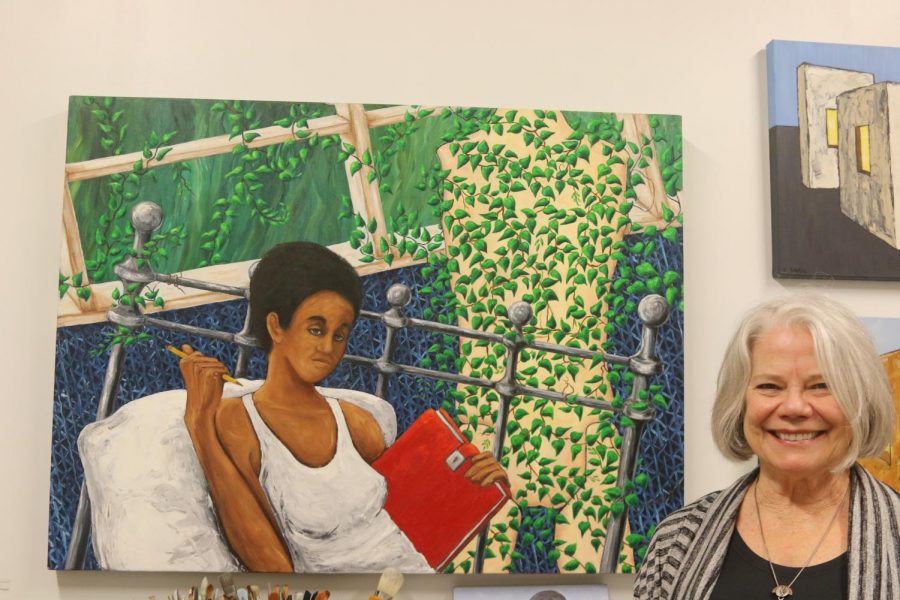 Small works in oils canvas and hand pull prints. She started working with paintings and printmaking in college with her degree in graphic design that she earned at the University of Texas Austin. Small shifted her focus more to oil canvas after college. One of her pieces "Morning Pages" caught my attention.  "It is from a series called Another Side of Girl,'" Small said. "This piece is based on personal experiences because I took what I learned as a young girl of what not do and what to do. I used this painting to express the turmoil of what is right and what's wrong through different angles. The vines represent life taking over things we can't change." Small told me her main goal in every painting is to symbolize something whether that something is a concept or a thing.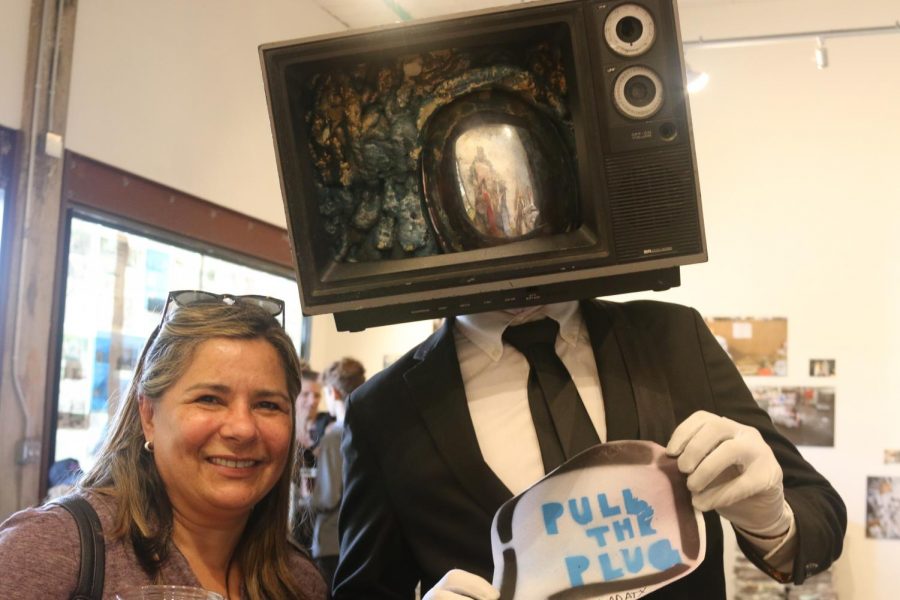 This is TV HEAD ATX (shown here with Magna Sampaio, who visited his booth along the tour). He is a man of mystery I would say. I came up to him to get a photo, and he just handed me his slip of paper that read "pull the plug." Not knowing what that meant, I searched for clues about him online, where I found this statement by the artist. "The purpose of my artwork is to show how technology is really taking over us, and we need to 'pull the plug.' One of my well-known pieces, 'This ain't living,' shows how having technology take over us isn't how we should live our lives. There are so many other things to do out there." TV HEAD hopes he can channel you to see how much richer your life can be if you live it without technology.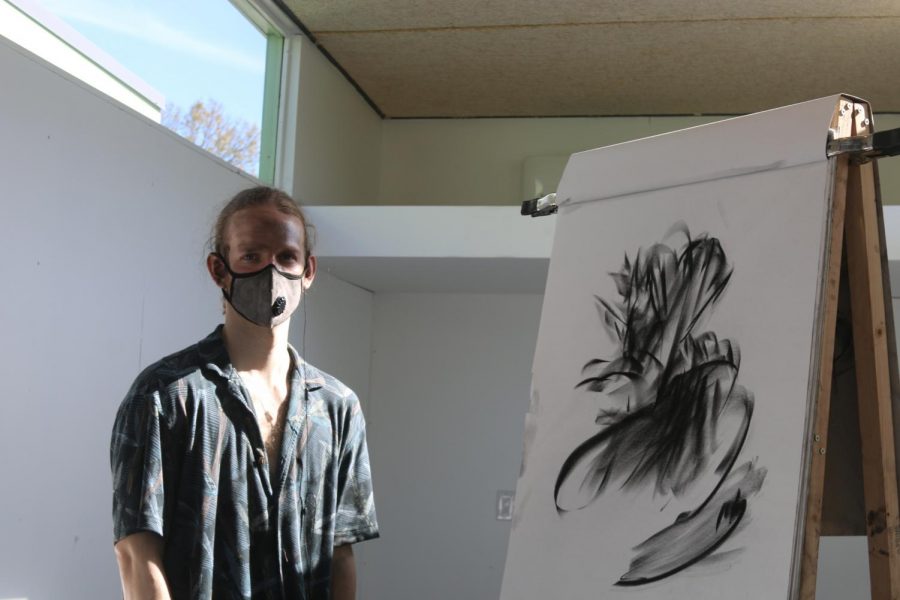 Summerlin works with depressed charcoal on newsprint to show abstract figures figuratively. He wears a mask so he doesn't inhale the charcoal that he uses as his primary medium. He grew up in an artist household so art was a huge influence on him."My mother was a painter, so art was just a part of my life," Summerlin said. "I didn't want to follow my mom's footsteps in painting, so my main thing in high school was theatre. I didn't stick with it, so when I went to college I majored in engineering at Georgia Tech. It was the worst year of my life. Basically, the thing that got me through the year was [the thought] in the back of mind [that] maybe I was supposed to be an artist. I put it to my mind that this has to be right, so I just need to see where it's gonna take me. Art to me was like a reward." Summerlin continues every day to see the rewards that a life making art can offer him.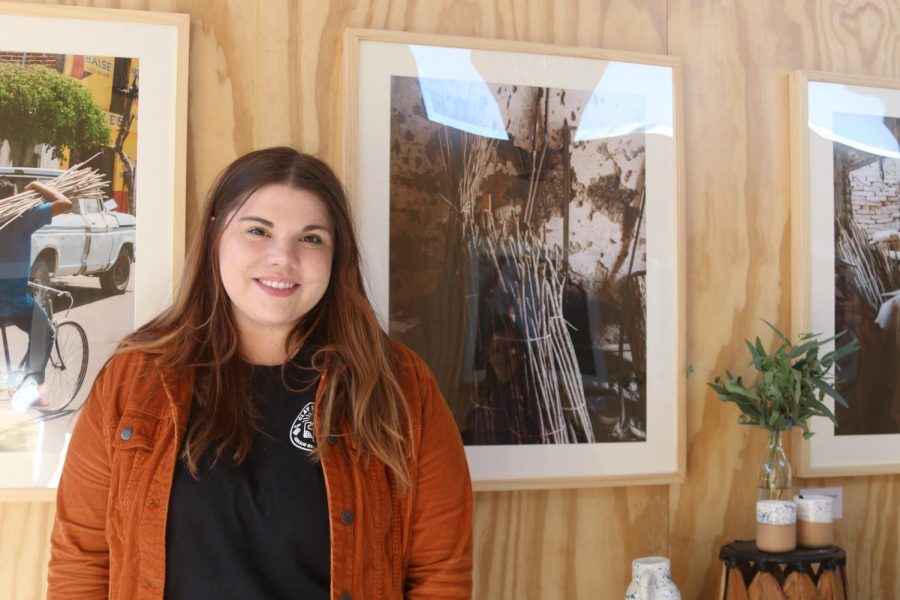 Devin Smith works for a company called Clay Imports. This company brings in tile from all over the world. At the East Austin Studio Tour, they were doing a pop-up to show what their company is all about.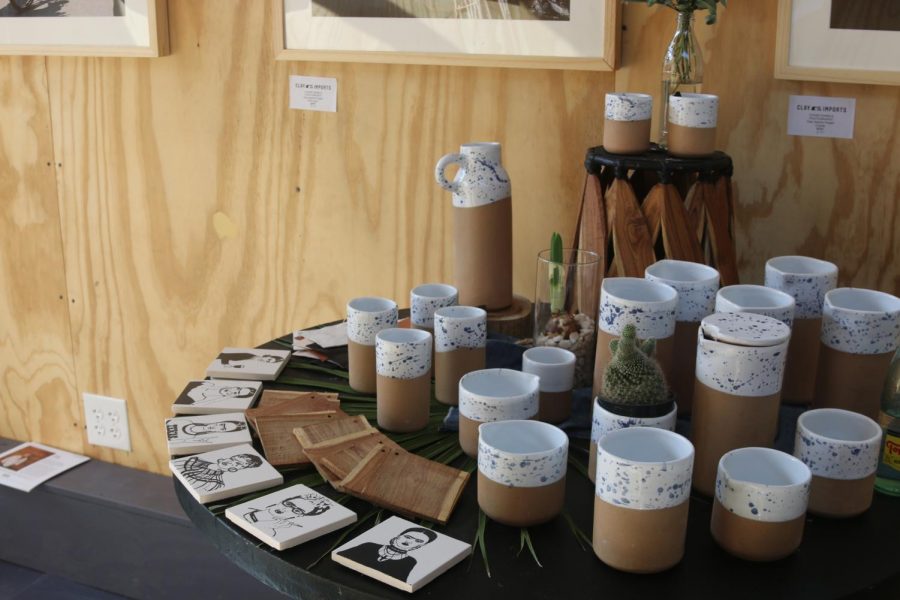 "We are taking the leftover materials from the clay tile that we produce in Mexico, and we are making them into ceramics," Smith said. "We try and use every little bit of leftover material to make our ceramics, basically recycling." The company's main philosophy is working with other countries to create ceramics that have a little spice of the country where the clay came from.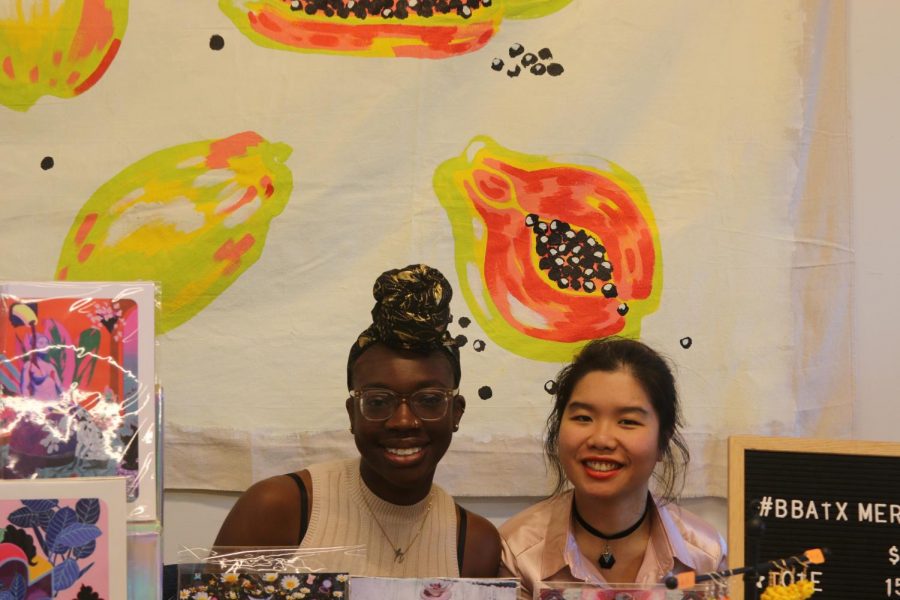 Boss Babes ATX is a volunteer program that upholds the values of diversity, equality, art empowerments and creative entrepreneurship. Helen Oyeniyi, at left, is part of this organization. She is getting her bachelor's degree at the University of Texas Austin in Anthropology and Human Dimension for Organizations, so she was able to connect with Boss Babes quickly. " I know for me and my career I always have striven to uplift women," Oyeniyi said, "so when I came across Boss Babes I really liked their mission and goals." The types of artwork that are part of this program range from graphic design to painting to some photography. But each piece represents a fight for women's equality. Helen and the Boss Babes team hopes to change women and non-binaries future of equality.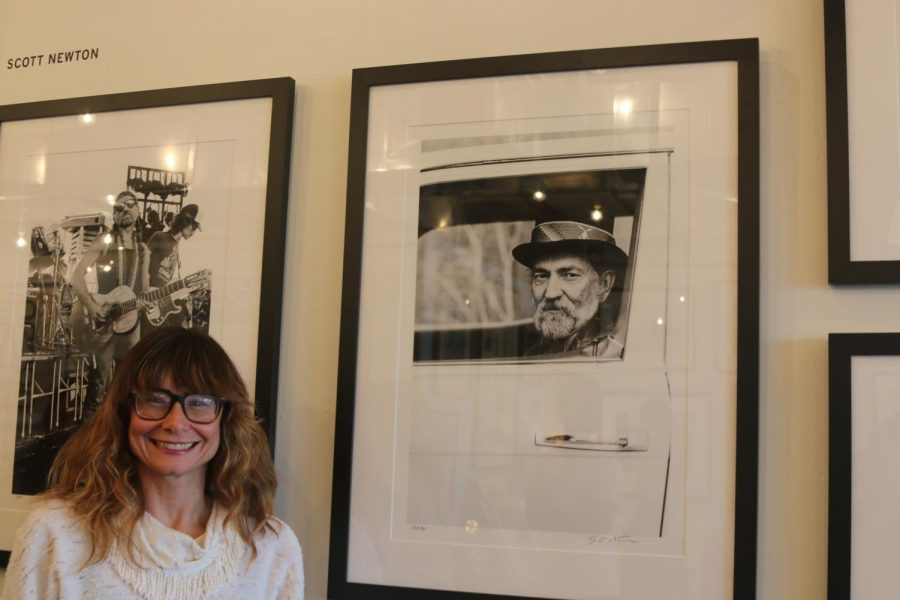 Scott Newton (and his assistant, Laura)
Scott Newton is a local artist and has been work since the '60s. He's the official photographer of Austin City Limits. I asked Laura, one of Scott's assistants, whether she thinks that Newton if there is a larger significance to the photos he takes. "I think so cause A he's really good at it, and B he's been doing it so long that I think he just has a very natural connection to the artists he photographs. You can see the one of Willie Nelson looking out the car window is just sparks flying." Newton has photographed hundreds of different artists ranging from '60s to present-day icons and he hopes to keep making more striking images.