A whole lot of holiday music
Who needs Alexa to play festive tunes when you have the Fine Arts Academy music groups hosting a live music concert every night this week?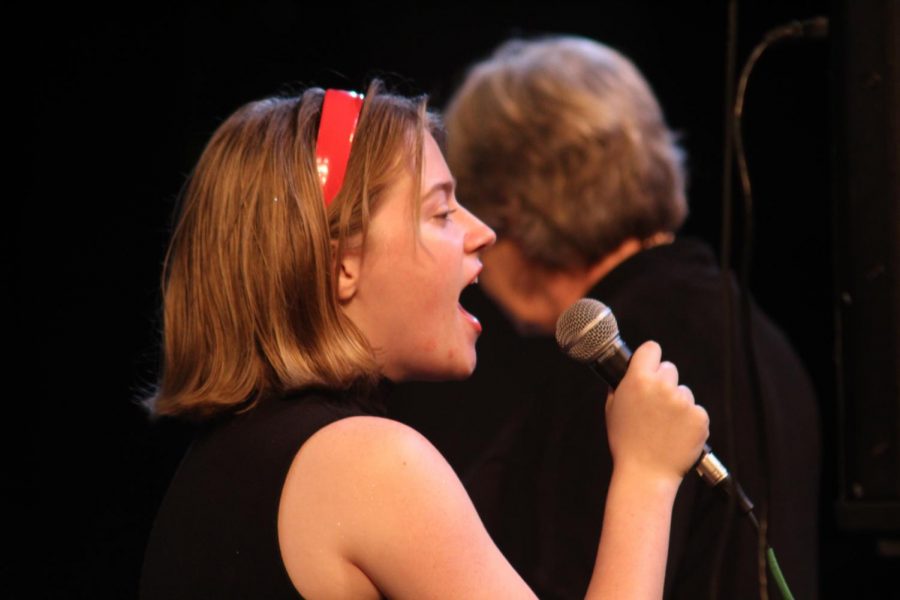 JINGLE BELL JAZZ: As finals and winter break rapidly approach, band celebrated the festive season with its annual holiday concert on the of Monday Dec. 9. Many band members even dressed up in red and green to add to the holiday spirit. The evening started off with a selection of songs from jazz band featuring their vocalist Maryanna Tollemache. Photo by Bela Tapperson.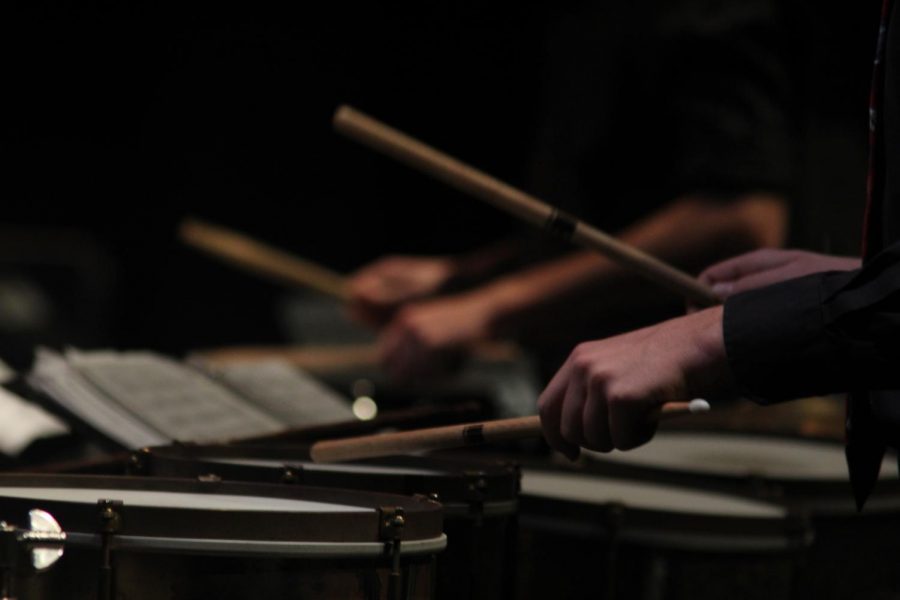 DESTINATION CHICAGO: After the jazz band performance, the percussion section performed a few pieces they've been working on. They will also be performing at the Midwest Clinic in Chicago next week. Their send off is this Saturday at 7 p.m. in the MAC. "It was crazy to see how much they have on their plate," clarinetist Isobel Buffum-Robbins said, "and still put out such a good product." Photo by Bela Tapperson.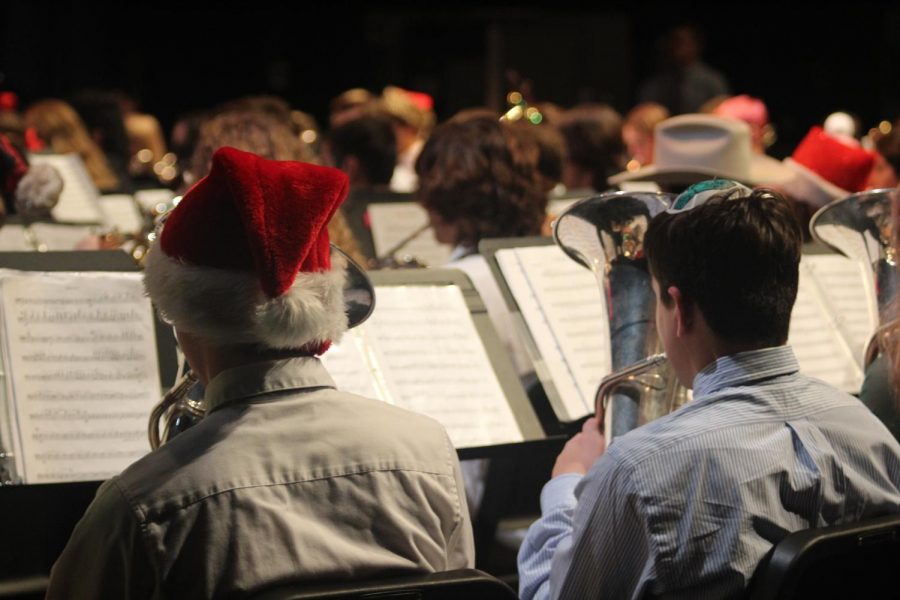 TOGETHER FOR THE HOLIDAYS: Finally, the full McCallum Band went on stage with five pieces: "Sleigh Ride," "Polar Express," "Still Still Still," "Three Moods of Hanukkah," and "Christmas Festival." "I've always had fun during winter concerts but this year was different," junior Kyle Davis said. "The audience was massive compared to years previous and that helped build a lot of people's confidence. To know that every person out there is excited to hear you play just makes you feel so happy and more in spirit." For many students, this concert is especially meaningful this year. "I never realized that this is such a sentimental moment for the people leaving, but the holiday concert really means a lot," Buffum-Robbins said. "It's one last thing we can all do together before we all separate band by band." The concert season will be in full swing for the McCallum Band once they return from winter break. Photo by Bela Tapperson.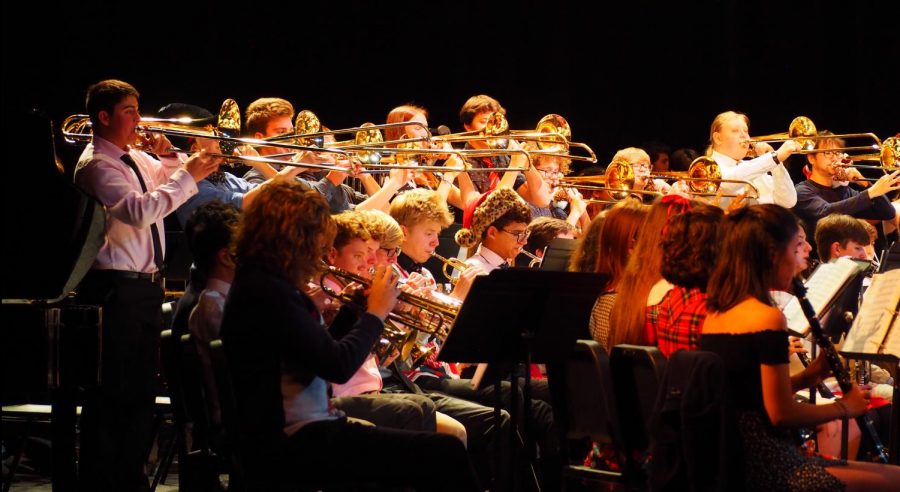 LET IT SNOW! In the Band Holiday Concert, the band played an array of Christmas, Hanukkah and jazz selections. The set list ranged from "Georgia on my Mind," written by Hoagy Carmichael to "Let it Snow" written by Sammy Cahn and Jule Styne. The variety of music included classics and lesser known songs, leading to a range of favorite songs within the band. "I really liked A Christmas Festival," junior trombone player Nicholas Reedy said. "It was fun to play and learn." Photo by Lydia Reedy.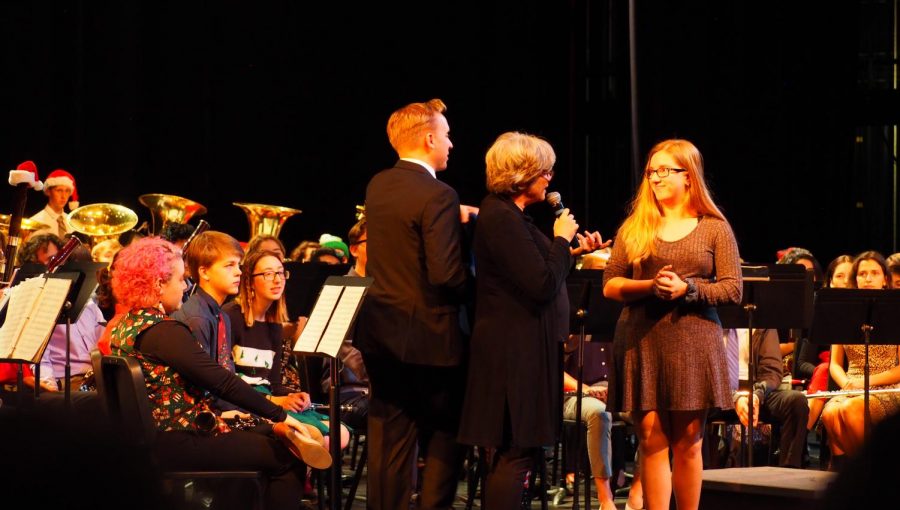 THE ADVENTURES OF LETTERWOMAN: Junior Abigail Jones is honored on the night of the Band Holiday Concert with a McCallum Band letterman jacket decorated with patches. Most members of the band have to wait for their senior year to get their letterman, but Abigail Jones earned hers early. When asked how she got it early, she responded "I placed in Area band, and I also got a one (the best score you can get) on my solo for Region and Area." Photo by Lydia Reedy.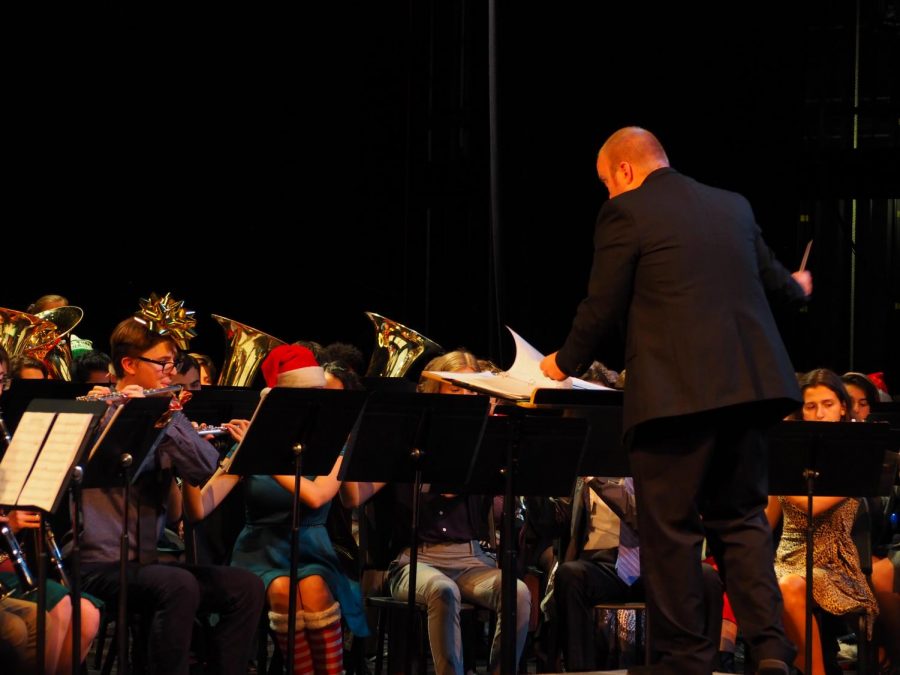 A FESTIVE GOODBYE: First-year band director, Zackary Travis, conducts the full band in its holiday concert. For many of the members of the McCallum band, this concert marked the end of an era. A lot of people just recently finished the marching band season. Although this means no more early morning call times, it did mean the last time that the upperclassmen in the band get to go through the Texas marching band competition cycle. The band will not stop playing though; instead, they made a fast transition into UIL season. This includes working towards sweepstakes and placing at state. "I really like the holiday concert," freshman Tyler Mankinen said. "It was like kind of sad because we're done with marching but it's exciting because we get to do competitions now." Photo by Lydia Reedy.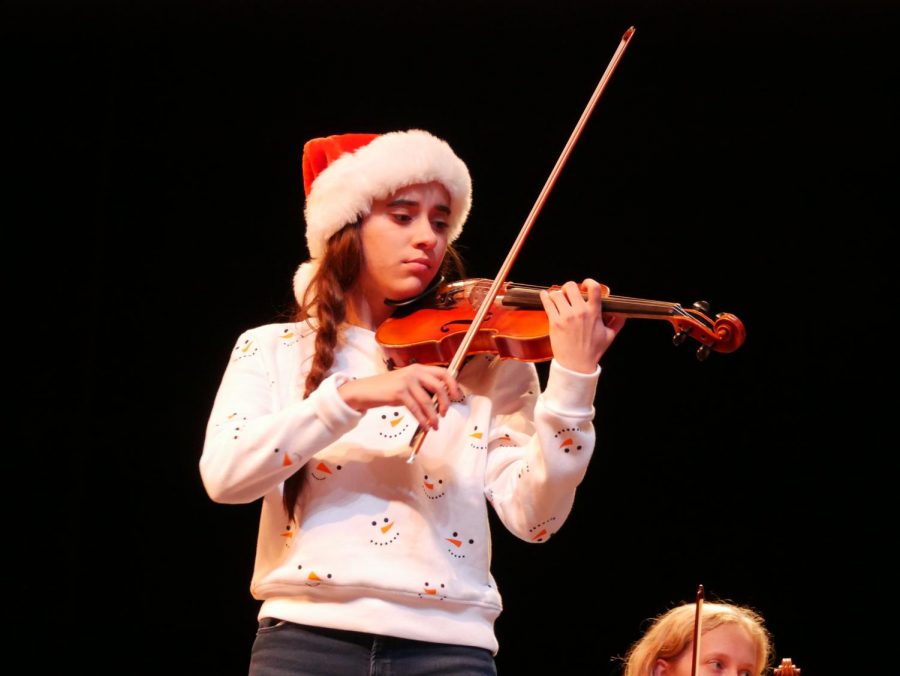 SOLO AND ENSEMBLE: To continue the week of festive concerts, orchestra had their annual winter concert in the MAC theater on Tuesday Dec. 10. All orchestra levels performed, co-conducted by Ricky Pringle and Erika Elder. The concert began with the sub non-varsity ensemble, then the non-varsity, freshman, concert and finally the chamber orchestra, where violinist Isabella Demoss played a solo. "I liked Isabella's solo because we got to do [a cool thing with the violin's interaction]," senior violinist Kaya Fagerstrom said. "Also, it was cool to have Ms. Elder conduct us because that was like the first major piece she's done with us." Photo by Kristen Tibbetts.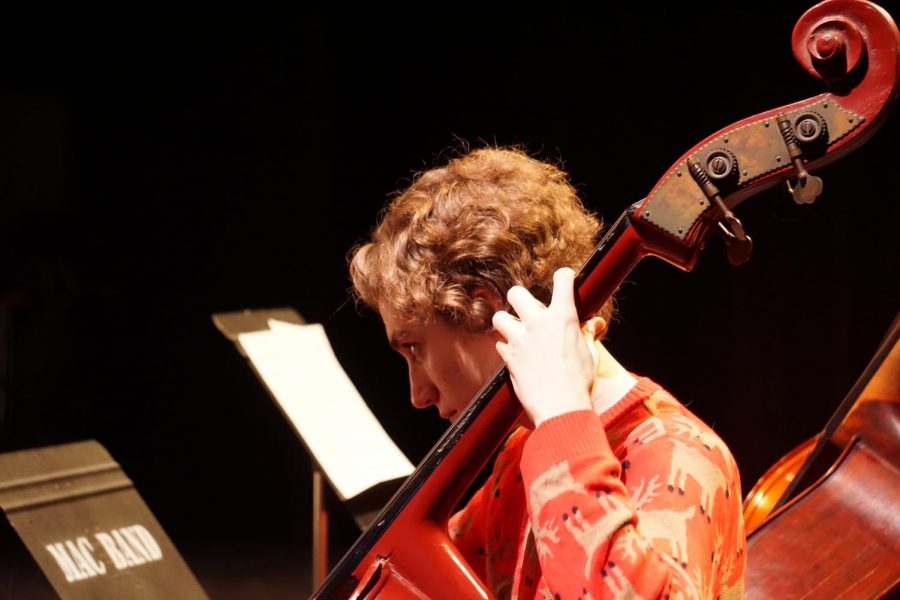 FROSTY THE BOW-MAN: Luke Lofton plays the bass in the orchestra holiday concert under the direction of Ms. Elder. The orchestra used this concert as a springboard for its upcoming string UIL competition, which is a collaboration with the band and will take place after full orchestra UIL. "Some of [the music] is for our string UIL later in the year," Lofton said. "I play bass. It's good, we play the lower stuff, the foundation of the music. It's fun." Photo by Samantha Powers.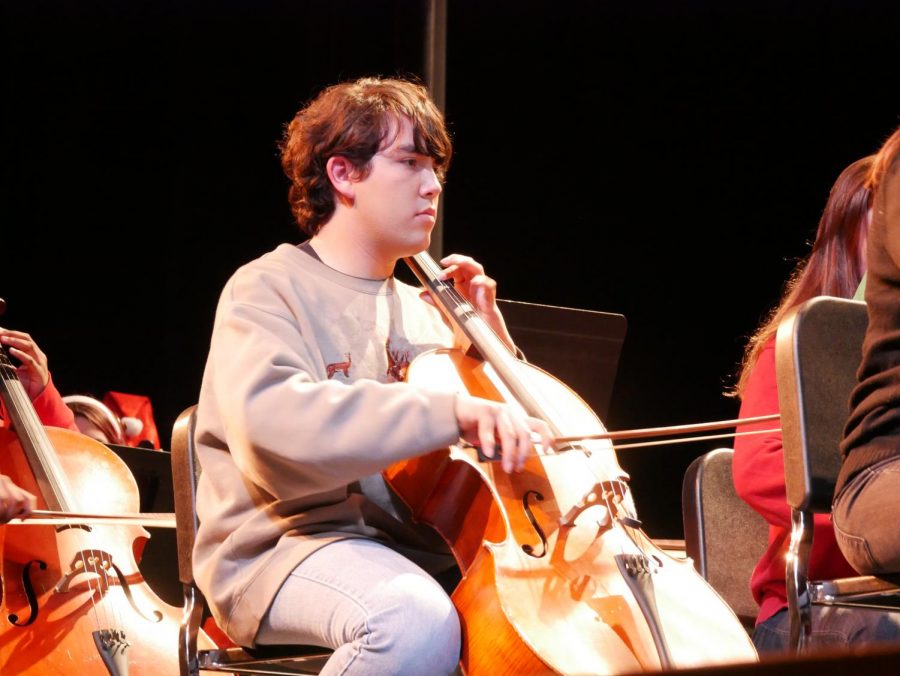 NOT A WARDROBE MALFUNCTION: Senior David Foradori plays the final song of the night: the McCallum Knights school song. Instead of their usual all-black attire, orchestra members wore jeans and their most festive holiday sweaters. "I was really relieved this morning when I realized we had a concert, and I did not in fact have my tux, but I was already prepared with the Cristmas sweater and jeans," Foradori said. "It was amazing, it was really a good day. We had a lot of fun with it. It was overall a really festive concert." Photo by Kristen Tibbetts.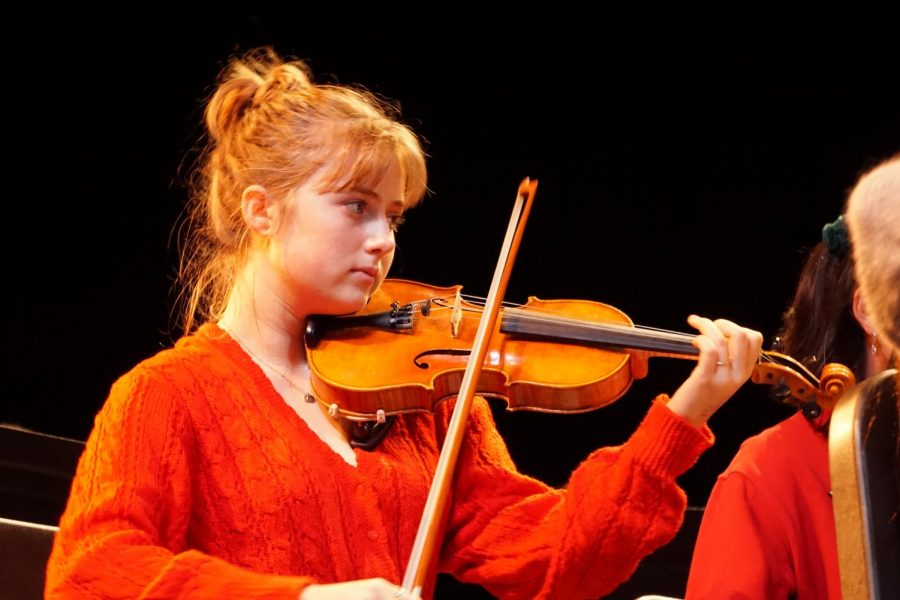 DECKED OUT FROM HEAD TO (MISTLE)TOE: Sophomore Carden Arellano plays her violin during the McCallum Orchestra holiday concert. The concert took place this past Tuesday and showcased what the orchestra students have been working on since October. "I remember playing [the music] during Halloween and thinking that was really wrong," Arellano said. With the holiday season afoot, however, students eagerly brought their holiday cheer to this concert, sporting Christmas sweaters and other festive attire. "I think it's a tradition," Arellano said. "It happened last year, and I've only been here for two years, so it's at least been a tradition for two." Photo by Samantha Powers.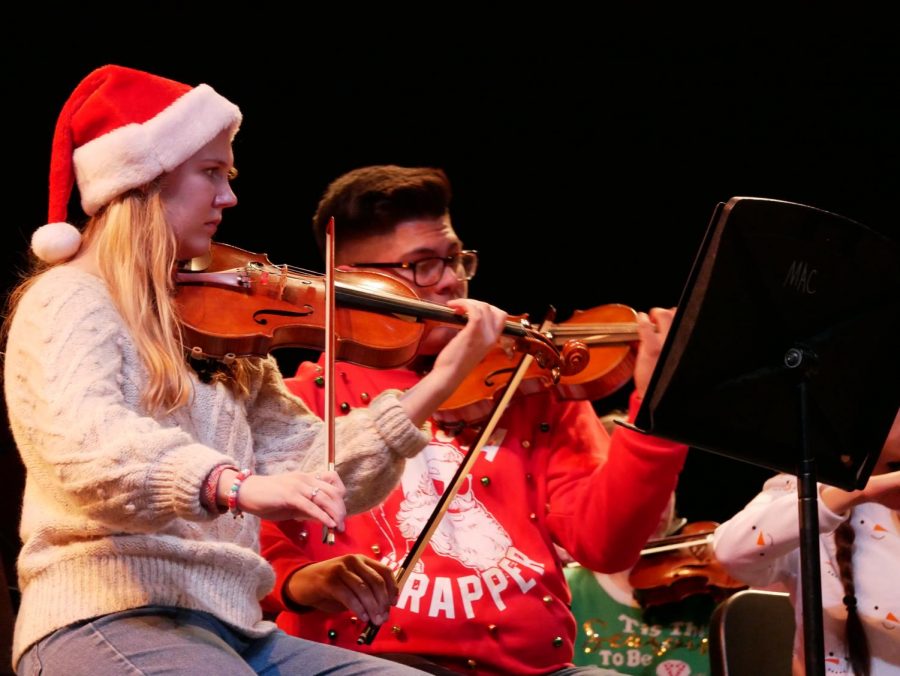 MERGING MUSICIANS: Seniors Kaya Fagerstrom and Gabe Salinas play along with students from every orchestra during the final two songs of the evening: "Happy Hanukkah" and the McCallum Knights school song. "My favorite part was joining with all of the orchestras," senior violinist Parker Stavely said. "I love interacting and playing with my friends of all grade levels all orchestras." Photo by Kristen Tibbetts.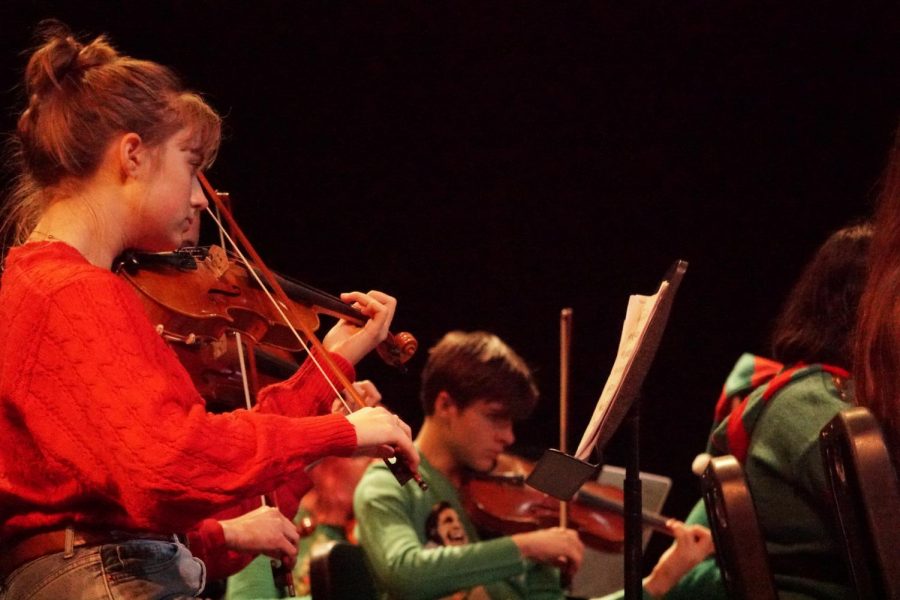 A LEARNING EXPERIENCE: Sophomore sub non-varsity ensemble orchestra student Carden Arellano plays first chair second violin alongside partner Emily Lacour during Tuesday's winter concert. The concert included a multitude of different holiday tunes from multiple holidays including Christmas, Hanukkah and more. Arellano admits that while the group was successful, the concert didn't go as well for her and Lacour. "It was honestly kind of horrifying because me and [Emily], we play second violin, and we're the first chairs, but I had the first violin music," she explained. "I didn't know that I had the wrong music, so we were sitting in second violin and playing first violin music and we got a zero for the concert." Arellano hopes to use the concert as a learning experience, however, and says that she enjoyed other aspects of the concert despite that mix-up. "Watching chamber is always really inspiring," she said. "It makes me want to practice [more]. I liked the non-varsity music [as well], it was really good." Photo by Elisha Scott.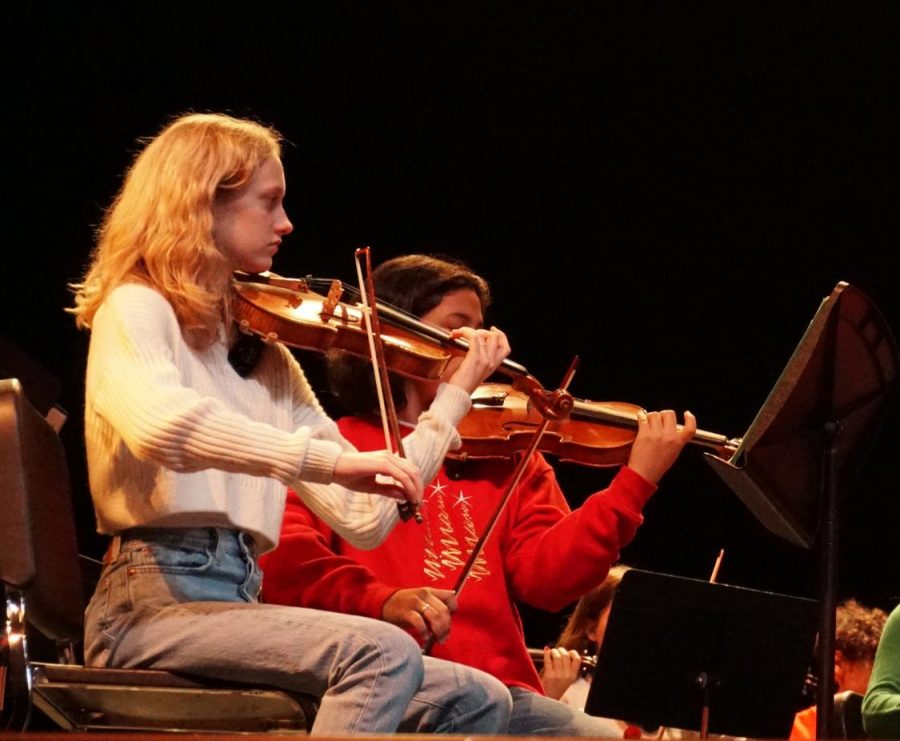 HAMRE'S HOLIDAY SPIRIT: Lucy Hamre, a sophomore chamber orchestra student, plays second chair violin during the concert. The chamber choir's performance followed the sub non-varsity ensemble, the non-varsity freshman and the concert orchestras in the holiday event. The students were allowed to wear festive holiday sweaters and other gear for the event, which Hamre very much enjoyed. "My favorite part of the concert was getting to wear Christmas sweaters," she said. "It was fun to get in the holiday spirit." She does wish, however, that there was more time to prepare for the concert to help perfect it. "If I could change anything, I would add more rehearsal time," she explained. But she believes they did well despite it all. Photo by Elisha Scott.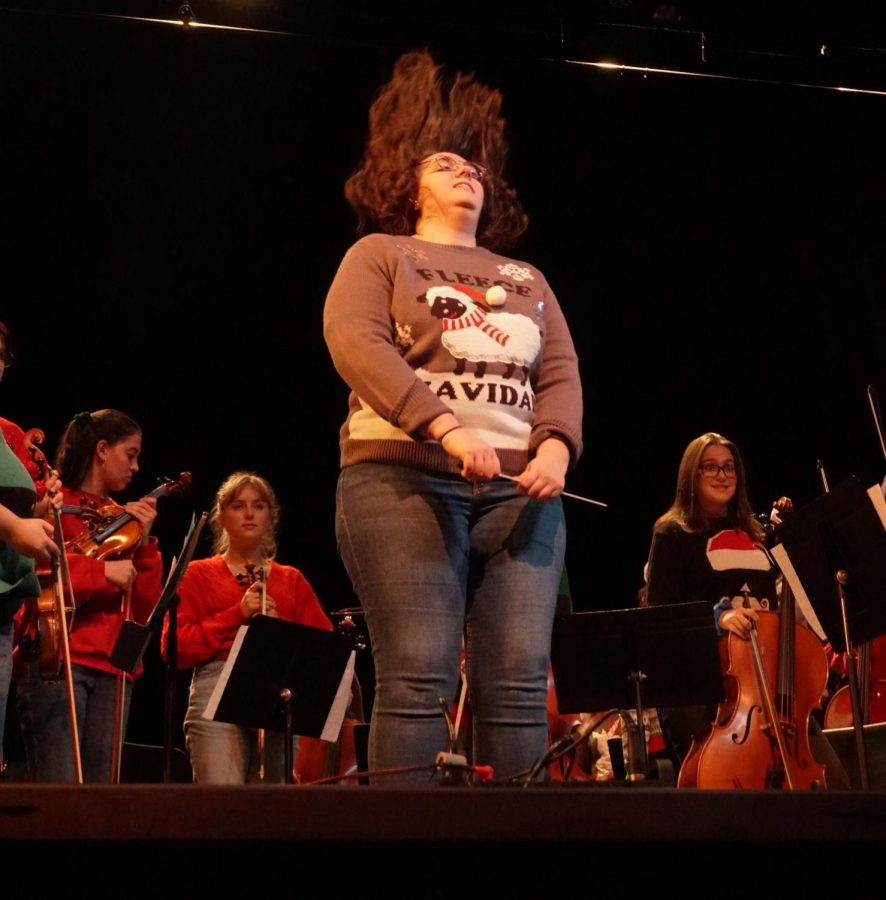 A FLIP-WORTHY PERFORMANCE: First year Mac orchestra teacher and associate director Erika Elder bows, succeeded by a not as intentional hair flip as the non-varsity ensemble stands for applause behind her following their performance at Tuesday's concert. She, along with director Ricky Pringle, led the students through their songs and bowed between each performance she directed, as is customary. Despite their lack of rehearsal time, Elder feels that they were successful, particularly because the time restraint didn't stop them from organizing and preparing the entire event. "I think we did well, especially considering that we didn't have a lot of time to learn the pieces we played," she said. "I learned that we can work as a team to put a concert together in a short amount of time." The night ended with a final Hanukkah song and "McCallum Knights," the school song played by a mixture of the orchestras. Photo by Elisha Scott.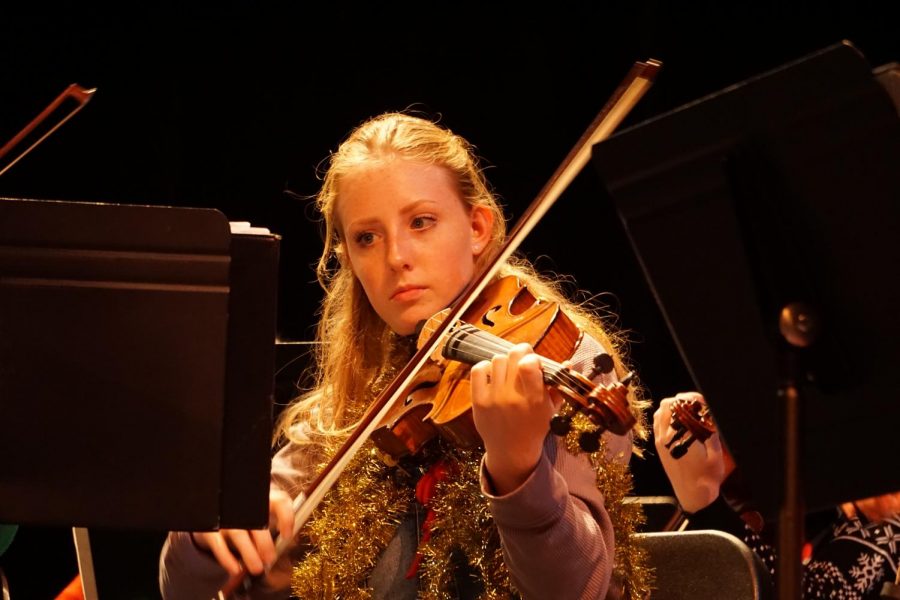 FISH SWIMMING UPSTREAM: Freshman Zoe Campbell performs with her classmates at the winter orchestra concert. Although she is in the freshman orchestra now, Campbell hopes to advance into one of the upper levels next year, where she will be greeted with many friends. "It's great because it doesn't matter what orchestra you're in, people just all know each other and hang out and stuff," Campbell said, "and they're all really nice." Photo by Samantha Powers.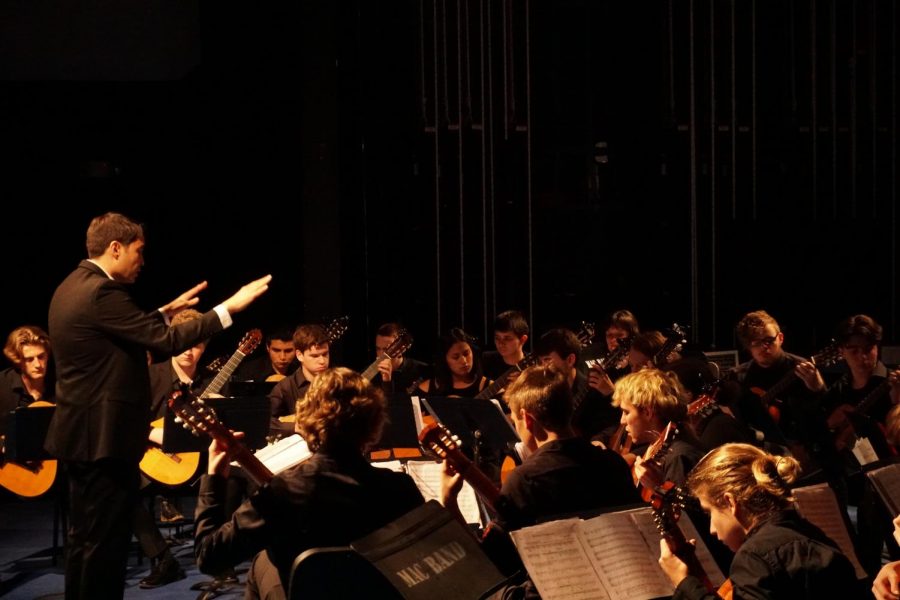 SHOW SAVERS: Classical guitar teacher Andrew Clark conducts his students during their combined concert with Lamar Middle School on Wednesday in the Fine Arts Building Theater. "It went really well, all things considered," Clark said. He and Lamar guitar teacher David Conger faced a few setbacks prior to the concert, but they knew that the show must go on. "There was a double booking at the venue, but we managed to get the Fine Arts Building Theater," Clark said, "and it's always hard to scrounge up 50 chairs and stands. Mr. Pringle was generous enough to lend us his room for rehearsal, and Mr. Denning was generous enough to let me use the theater immediately after a [musical] rehearsal." Once the concert began, Clark said it was smooth sailing. "It was all really crazy, but we managed to start and finish on time and play well," Clark said. This concert was the first to showcase both Lamar and McCallum guitar students. Photo by Evelyn Griffin.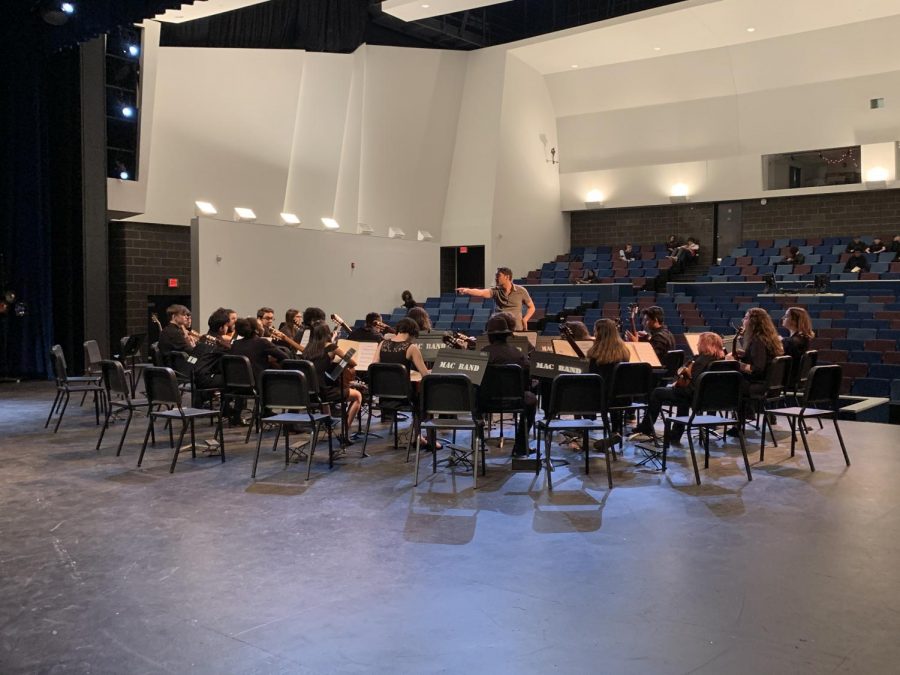 BEGINNER'S PLUCK: Guitar teacher Andrew Clark rehearses with the beginning guitar ensemble before the classical guitar program's holiday concert in the MAC on Thursday. "I was kind of nervous for my first performance," freshman Emma Wilson said, "but it turned out really well." Photo by Regan Sims.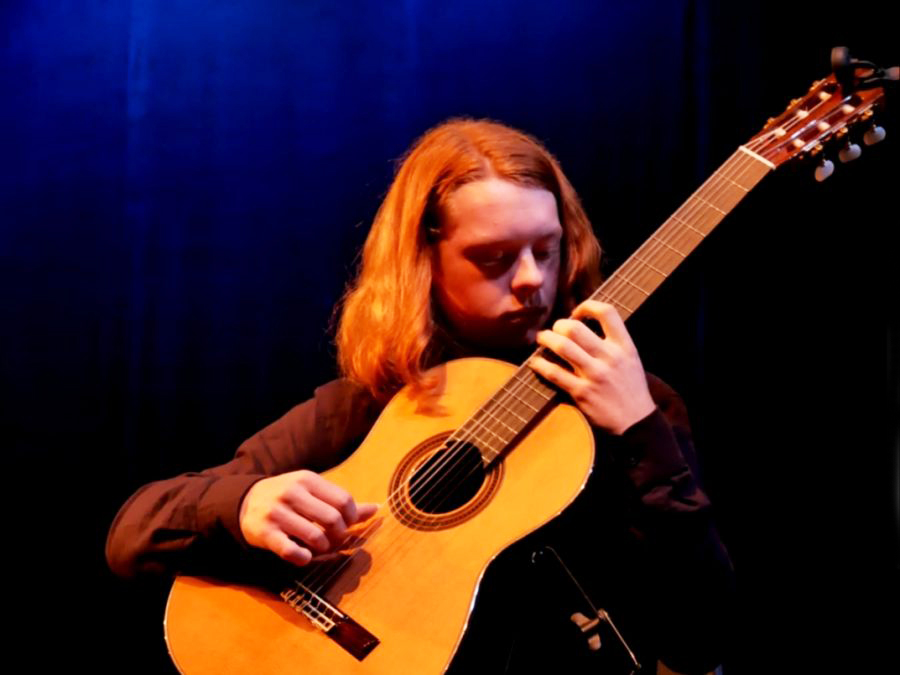 TAKE TWO: Two nights. Two theaters. Two concerts. Chamber ensemble member sophomore Max Hoff performs during the classical guitar program's holiday concert in the MAC on Thursday night. The chamber ensemble performed with their counterparts at Lamar Middle School in the Fine Arts Building Theater on Wednesday night then joined the rest of the Mac classical guitar program for the annual holiday concert in the MAC on Thursday night. Photo by Grace Van Gorder.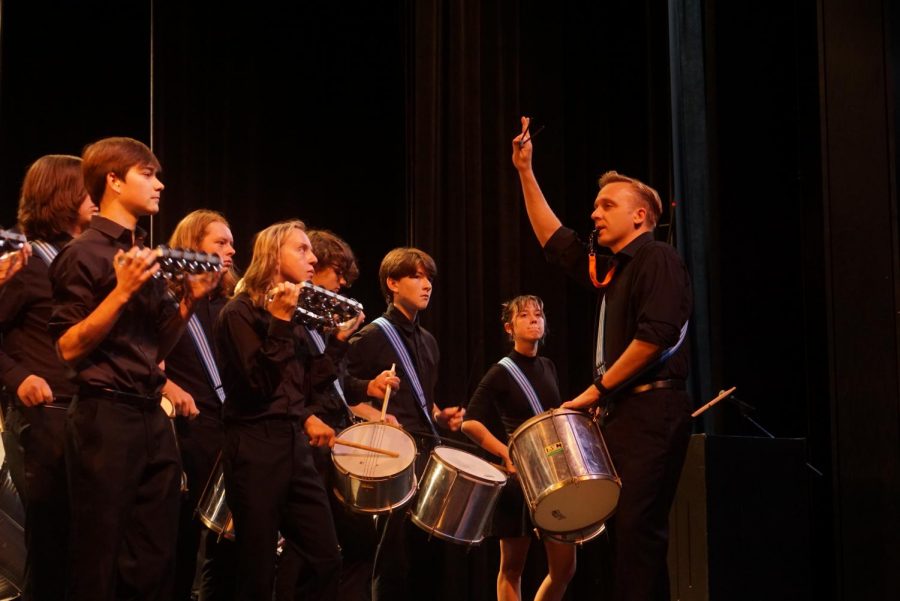 DRUM ROLL PLEASE: Under the direction of percussion director Matt Ehlers, percussion students focus in on their music at the Midwest Clinic send-off concert, held Saturday night in the MAC. They performed nine pieces that will all be played again at the Midwest Clinic in Chicago. The McCallum percussion section is one of three percussion sections that got invited to perform at the clinic. They left for Chicago on Monday morning bright and early and will be returning from their trip Thursday. Photo by Scarlet Frese.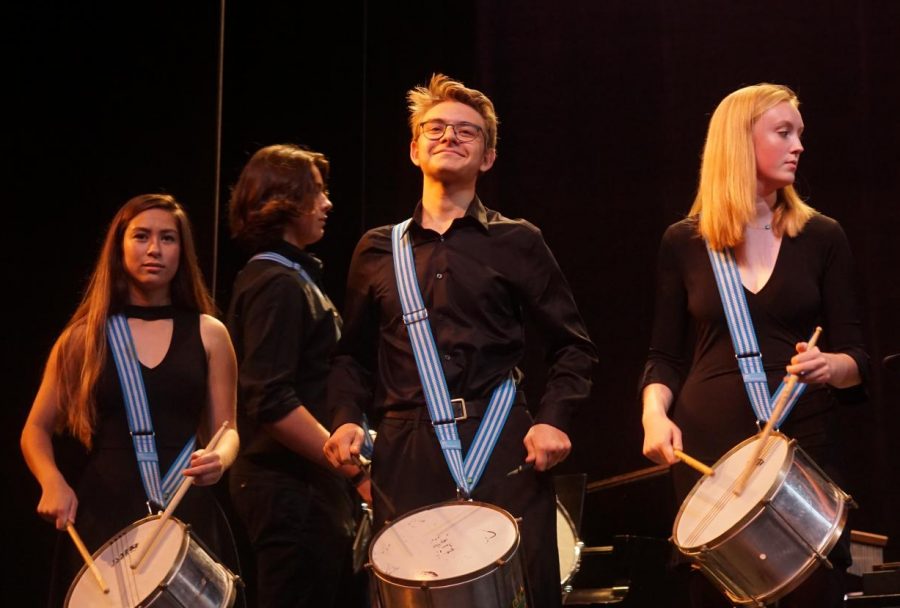 PREPARATION BUILDS CONFIDENCE: Among those percussionists making the trip to Chicago for the Midwest Clinic is senior percussionist Ani Collins shown on stage (at left) with percussion section colleagues Johan Holmes, Zeke Bennett and EJ Leach. "There are so many moving parts to our concert, but we've worked really hard," Collins said. "I think our performance is going to go really well in Chicago." Photo by Scarlet Frese.