In rivalry rematch, Knights start slow, finish strong
It takes 'an unusally tired' varsity volleyball five sets to sweep LBJ in district play
Trailing 1-0 and 2-1 against arch-rival LBJ tonight, the varsity volleyball team rallied to win the fourth set and a fifth-set tiebreaker to edge the Jags 3-2 in an instant classic match, played before a large, loud crowd featuring a faculty section that came to cheer on the Knights on Teacher Appreciation Night and a large contingent of Jag fans who traveled with their team.
The Knights trailed in the first set 20-12 before cutting the deficit to one at 24-23, LBJ. The Jags were able to close out the set, 25-23. From there, the Knights rallied to tie the score at 1 by winning the second set, 25-18, but then lost the third set, 25-21.
"We were all kind of down on ourselves," junior hitter Grace Werkenthin said. "We just had to get out there and play like it was the game of our lives."
Facing defeat if they lost another set, the Knights rallied to take the fourth set, 25-22, on senior Janael Copeland's serve and seemed poised to extend their momentum into the tiebreaker set, but the Jags won the first two points to take a 2-0 lead.
As they had all night long, the Knights started the fifth set slow, then picked up the pace, seizing control of the match to win the tiebreaker, 15-9, and the match, 3-2.
"Our energy was really low," senior middle hitter Shaine Rozman said. "We were just unusually tired but we pushed through."
Libero Brienna Martinez also said that renewed energy was the key to turning the match around: "I just really wanted to win, so I didn't want to let a ball drop and wanted to leave it all out on the court."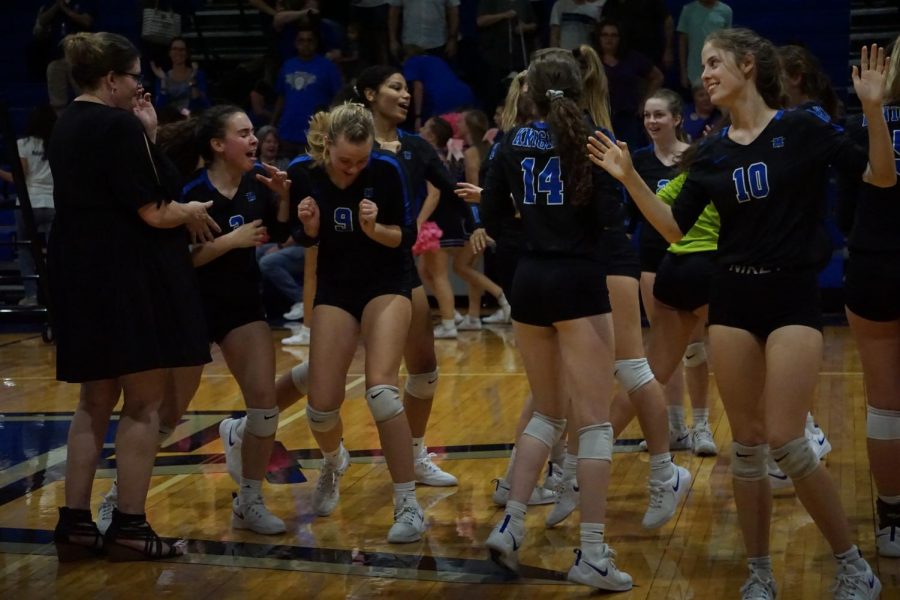 The team played better in their victory at LBJ earlier in the year, but Martinez said tonight's outcome was still special.
"It was a really great moment, and it really helped to build our team more." With the win, the Knights' record improves to 7-1 in district and 25-14 overall.
The Knights next face a tough road test at Lockhart on Friday.