Calling out for change
McCallum joins schools worldwide in climate strike
Video directed by Stella Shenkman, edited by Dylan Hildebrandt.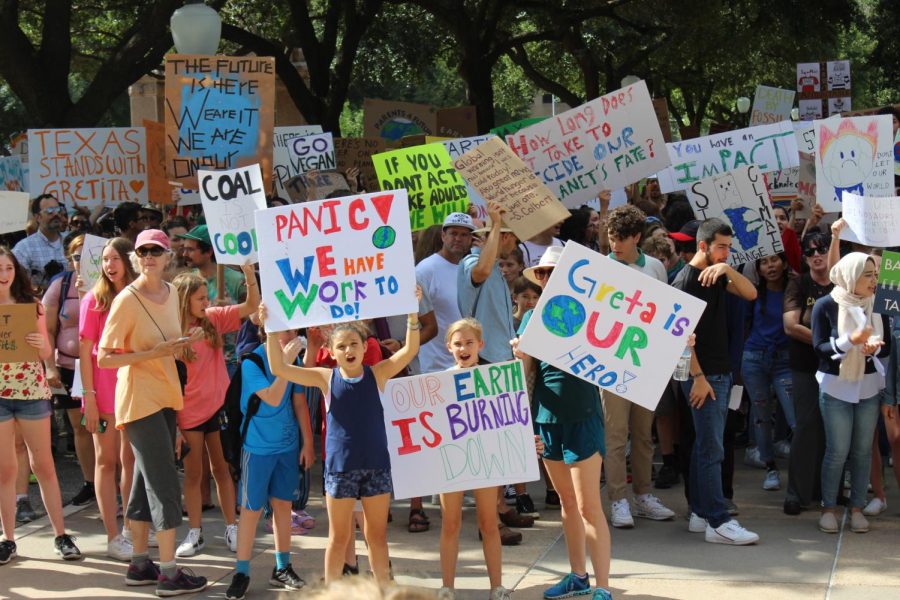 A CRY FROM THE YOUTH: The morning of Friday, Sept. 20, over 300 students and adults alike gathered at the steps of the Texas State Capitol to protest climate change. The strike, which was organized by the Austin Climate Coalition, had students all over Austin walking out of their first-period classes. During the rally, many volunteer speakers took turns leading the group in peaceful chants. "I think it's important for students to attend rallies because we don't have any other choice for a voice. The biggest way to influence politics is through money, and students don't have those means," senior Elise Cook told MacJournalism. "We have to verbally demonstrate and protest; it shows politicians that we do actually care. I don't think one protest can change the whole system, but repeated action is the best way we can make change." Photo and reporting by Stella Shenkman.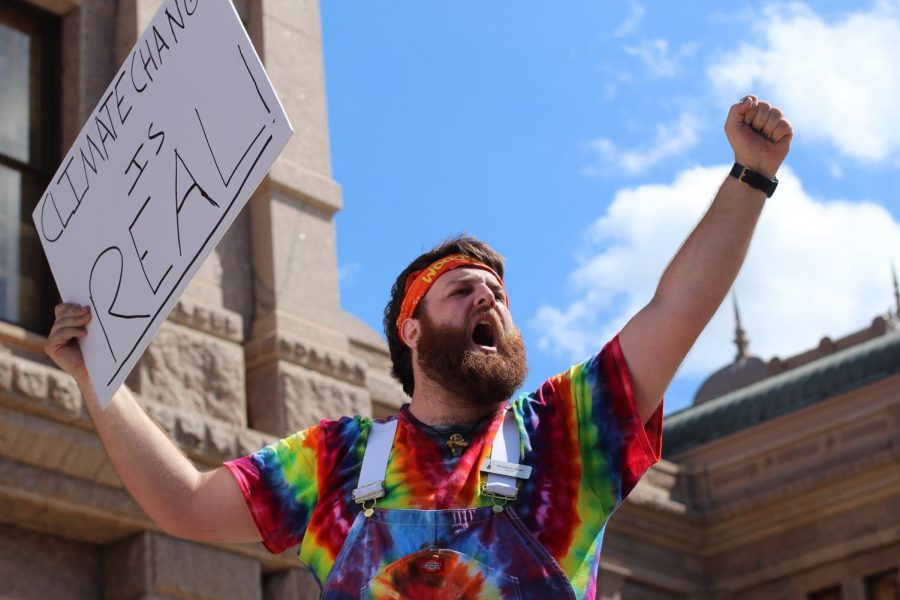 A CAUSE WORTH DYING FOR: Austin resident and climate activist Woodstock James stands above the crowd at the Austin Climate Strike holding a sign that reads, "Climate change is real." Disappointed by the lack of action from the Texas legislature in the face of the impending climate crisis, James hoped to spur lawmakers to action by joining the strike. "It's a huge issue that we should all be paying attention to right now," he said. "The people who need to listen to us are being paid not to, and it's very unfortunate." The downtown Austin event drew hundreds of protesters as part of a worldwide protest that occurred in more than 150 countries worldwide. Reporting by Samantha Powers. Photo by Risa Darlington-Horta.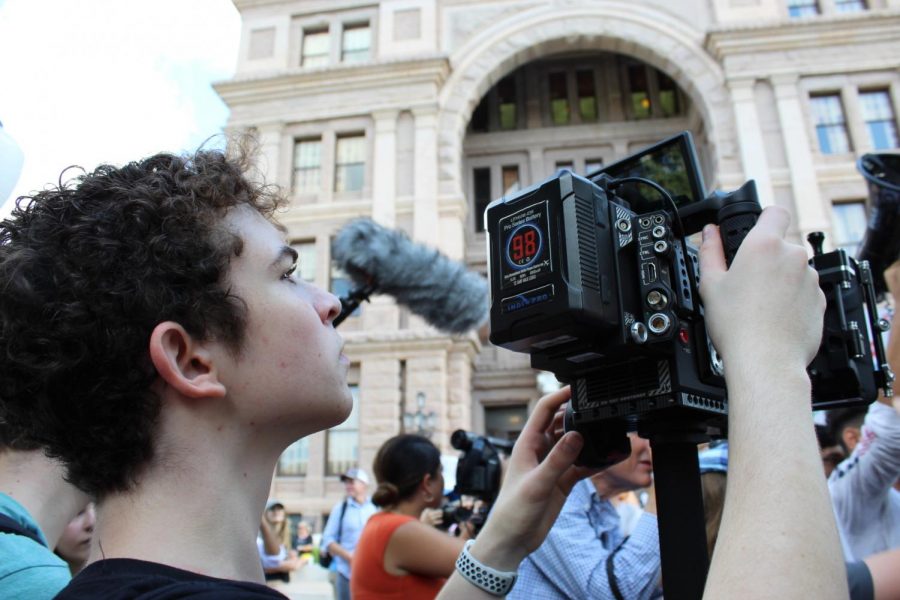 PRODUCTION TEAM GOES GREEN: Members of the McCallum Cinematic Arts program joined the crowd of students and adults striking against climate change in downtown Austin. Amidst the crowd, the McCallum students filmed B-Roll and interviews for their upcoming project in conjunction with Macjournalism. "It's important to document these protests in order to draw further attention to our cause," junior Jay Mathias said. "We want those who couldn't be there to see just how much we care." Photo and reporting by Stella Shenkman.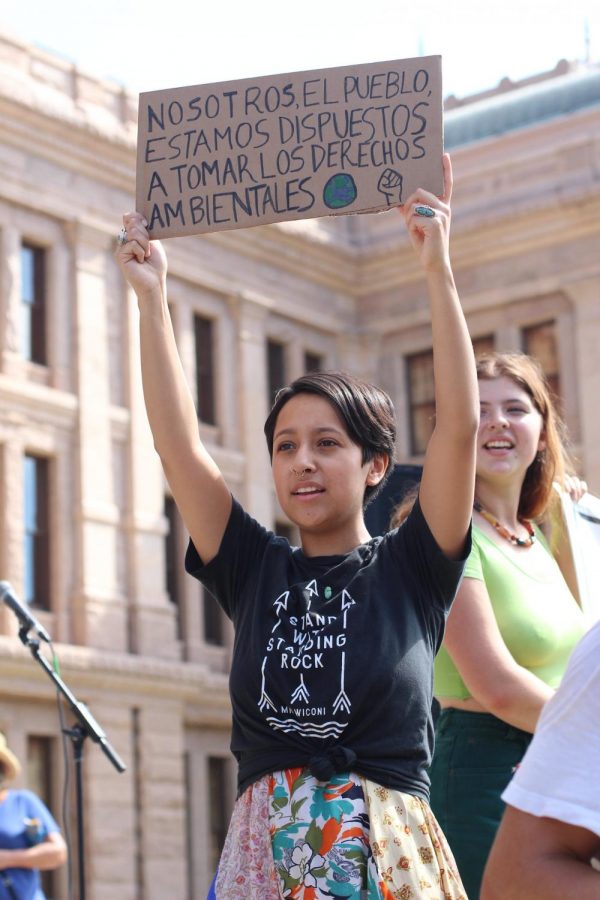 READY TO DO WHAT IT TAKES: A rally protester hold up her sign stating that "We, the people, are willing to take on environmental duties." Photo by Risa Darlington-Horta.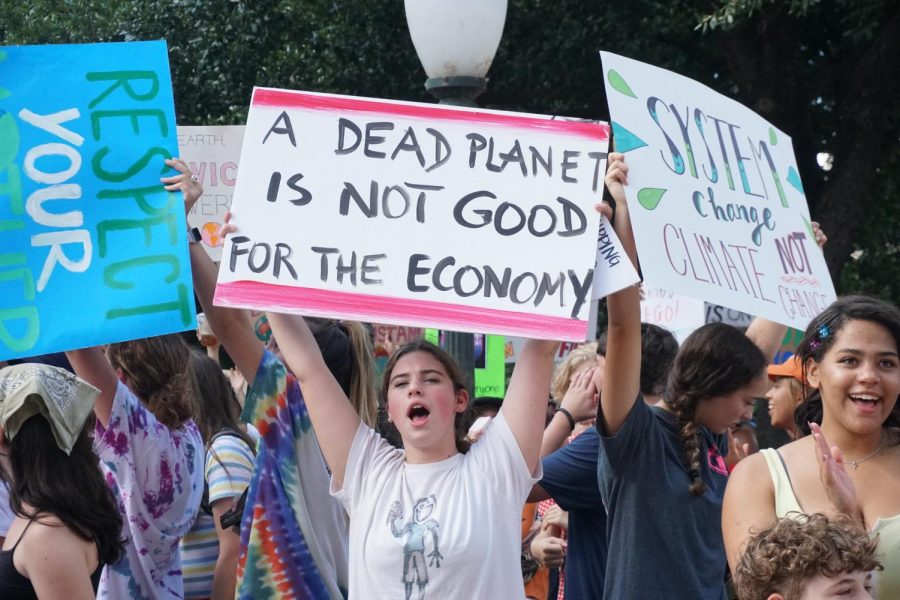 FUTURE FIGHT: "You had a future, we want one too." That was the message Dripping Springs High junior Ariana Bentz (center) had for the legislators working inside the Texas Capitol. She and two of her classmates, juniors Carmen Comparan and Sheridan Brandt, and hundreds of other Texans swarmed the front grounds of the Capitol building to protest and spread awareness about climate change. "We don't have a lot of time left," Bentz said. "We only have one planet, and it's up to us to save it." They also began a chant in honor of Greta Thunberg, the 16-year-old Swedish environmental activist who started the school climate strikes. "This is all inspired by her. She's a huge voice in the eco-friendly community, and she's trying to get change started even though she's only 16." Bentz, Comparan and Brandt made sure to stand near the front of the crowd of people to raise their signs to the windows of the Capitol building where Congressmen were gathered inside and made themselves seen as well as heard. They hoped to spread their message through the open windows of the building and showed off their support for the planet and the changes that need to be made to stop the ever-growing climate change crisis. Bentz stressed the importance of the movement and these protests for the future of our planet. "It's spreading awareness," she said. "It's really showing people the importance of not using oil, gas, coal, and it's really exposing the corrupt side of politics. It shows that citizens can make a difference in something that's important to them." For these students, the issue and what should be done about it is plain and simple: the world needs to change … now. "I want to live for more than 20 years," Brandt said to the politicians: "Take better care of our planet." Photo and reporting by Elisha Scott.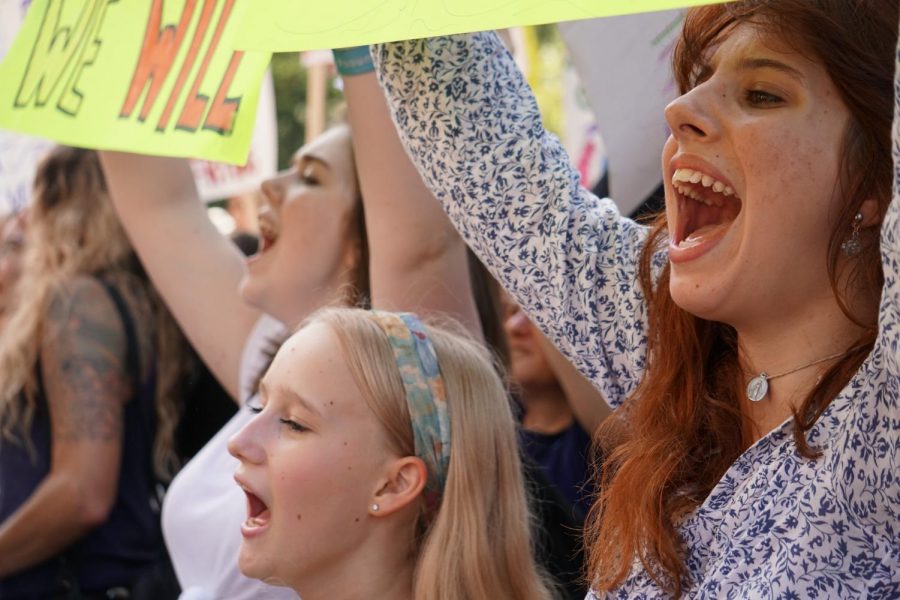 STAND WITH MOTHER EARTH: Sophomores Ivy Golyzniak, Chloe Gervais and Alba Perez chant "Mother Earth, I'm with her!" along withthe crowd in front of the Capitol. "This is our future world," Gervais said. "We have the chance to change it." Her advice to students wanting to join in the fight against climate change is simple: "The littlest things make a difference." Photo by Alysa Spiro.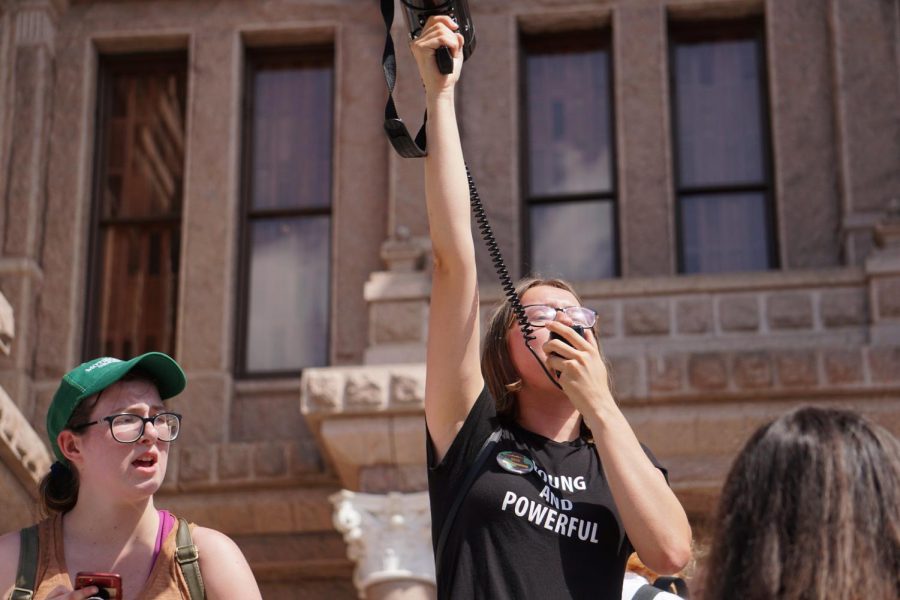 THE WORLD IS HER CLASSROOM: One of the head organizers of the Austin Climate Strike, Michelle Van-Doom, leads one of several chants during the rally at the Texas State Capitol on Friday afternoon. The leaders of the event said that the purpose of Friday's strike and rally was to get people talking and to start building an Austin community of students fighting against climate change. As far as missing school goes, the Westlake High School senior explained that it was a struggle to get some of her teachers on board with her skipping school to protest. "I had a teacher ask me 'I know you're trying to send a message, but think about the message this is sending to me.'" Her response was blunt but spoke volumes to where her heart lies: "Of course I value your class, but I value my planet more." Photo and reporting by Alysa Spiro.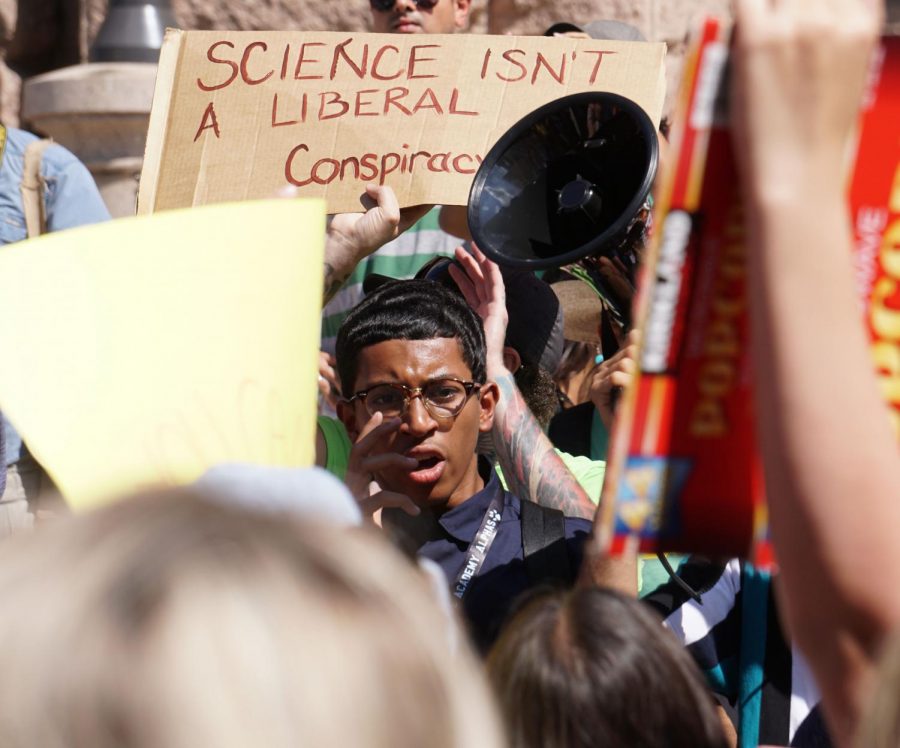 LEADING A GENERATION: Hashem Trattori (right), an Austin Peace Academy student, took the initiative to lead the strikers in a few chants and boost morale prior to the speeches at the Capitol. Trattori believes in strength in numbers, stating, "In order for us to actually [have] some change, we have to have everybody pitch in." Photo by Samantha Powers.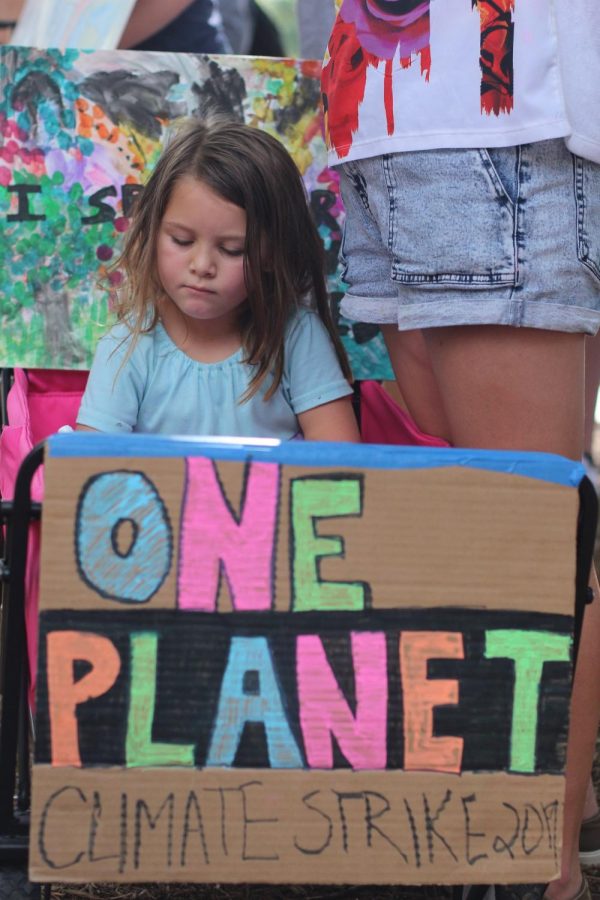 TRUE COLORS: A girl attending the Austin Climate Strike with her family creates posters promoting the cause. The Austin event was part of a worldwide coordinated effort in more than 150 nations to demonstrate against climate change. Photo by Risa Darlington-Horta.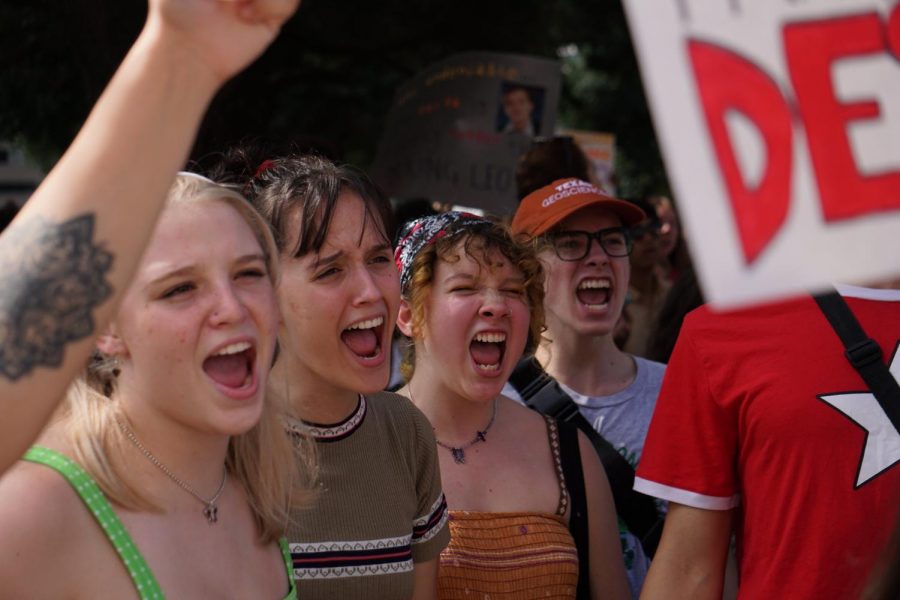 HEAR OUR CRY: Standing before the capitol, McCallum students Ruby Henson, Abby Green, Louisa Najar and Sabri Armani participate in the rally cries at the Austin Climate Strike. "This is our climate; we are the change," Najar said, who added that she believes that our planet and the climate crisis is a cause that unifies people all over the world. "Global climate change is universal. It affects all people. [It affects them] at different levels, but it affects everyone, no matter what." Photo and reporting by Samantha Powers.