Prom was a senior 'Soiree'
Hang on for a minute...we're trying to find some more stories you might like.
We are pleased to showcase here an extra special Wednesday Top 10 photo essay plus our complete archive of candids from the 2019 prom,"A Gatsby Soiree," which was sponsored by the senior class and held on Saturday evening from 8-11 p.m. at the Sterling Events Center.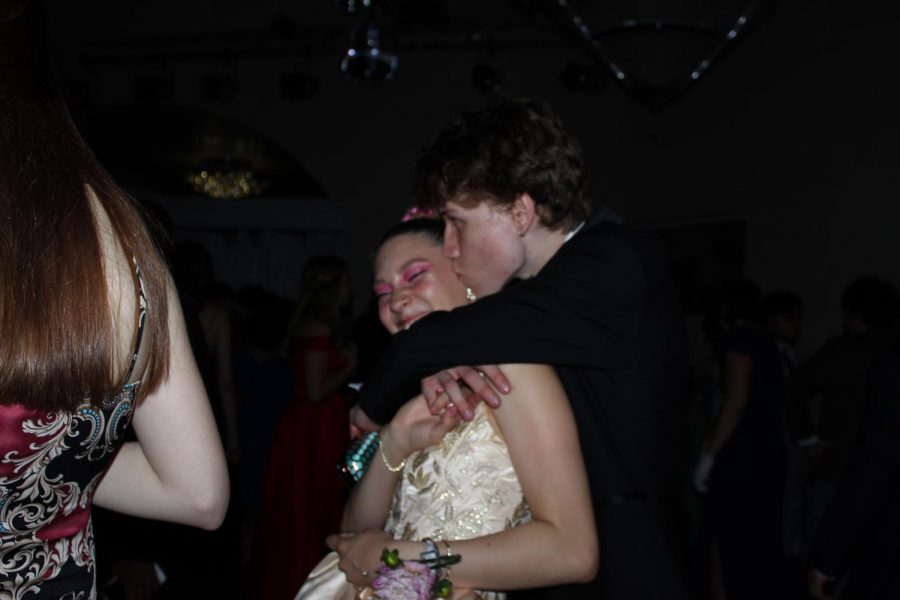 JUST THE TWO OF US: Seniors Henry Martin and Jadyn Kinney share a sweet moment apart from their busy prom night packed with friends, cheese platters and a treehouse. "It was a lovely night I will never forget with the most beautiful, lovely girl around," Martin said. "[It was] a night to remember for sure." Reporting by Alex Dowd. Photo by Risa Darlington-Horta.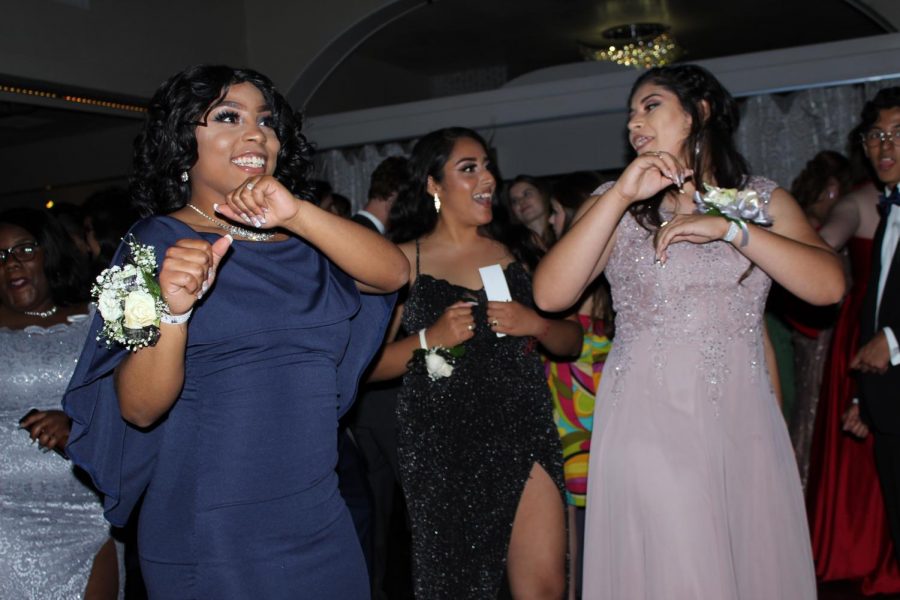 LIGHTEN UP: Seniors Elesia Zarzoza, Crystal Suarez-Vasquez and Melany Reese dance together to the "Wobble" as it got closer to prom king and queen being announced. "I really liked how everyone was so glammed out and open to having fun," Reese said. "It was a good mood and feeling to be around." Reporting by Celeste Montes de Oca. Photo by Risa Darlington-Horta.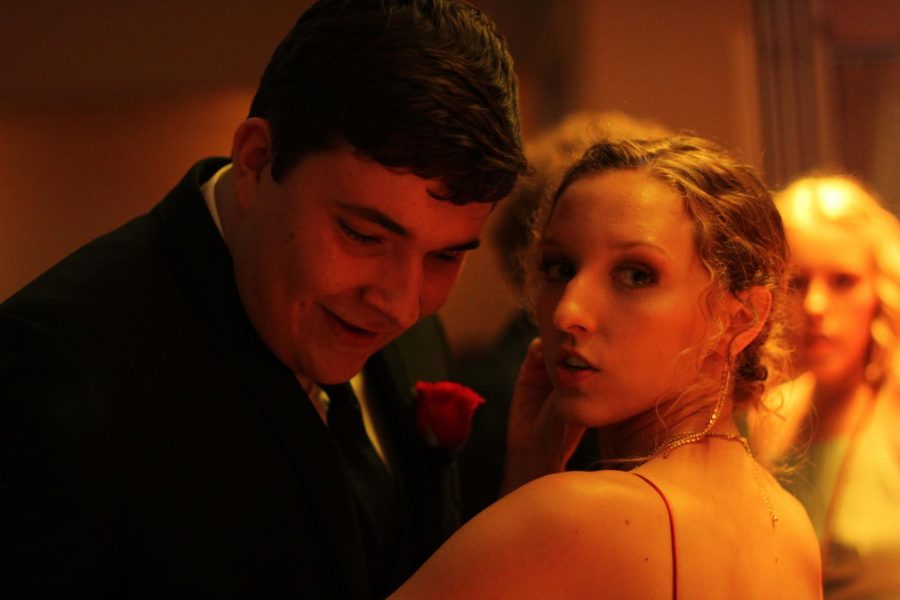 THE GOLDEN HOURS: Seniors Christian Rogers and Signi Johnson share a moment away from the dance floor at the 2019 McCallum Prom. "Prom was really fun," Johnson said. "Everyone looked really nice all dressed up." Reporting by Diamante Diaz. Photo by Risa Darlington-Horta.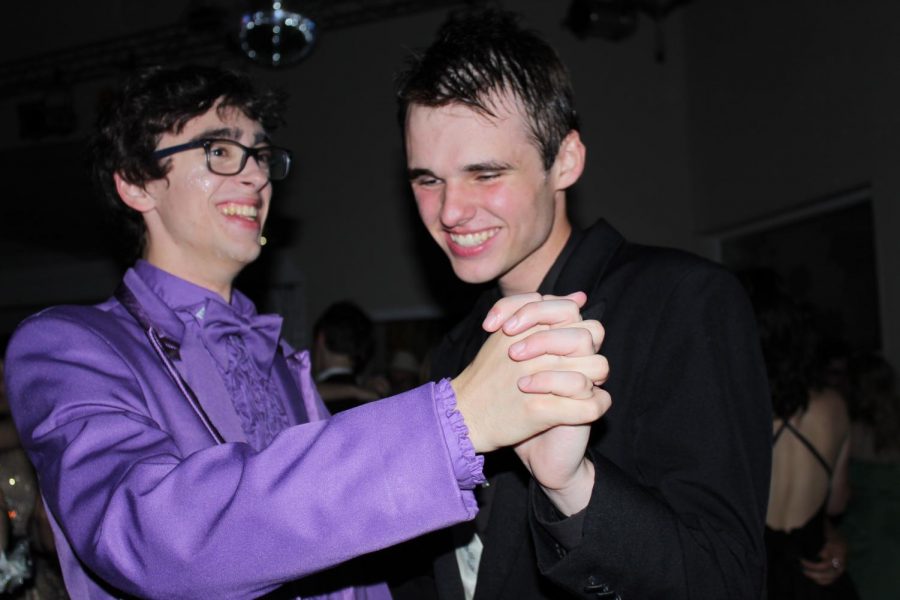 DANCE THE KNIGHT AWAY: Senior Ian Shaw and junior Joe Roddy slow dance during prom at the Sterling Events Center on Saturday. Shaw was surprised by how much fun he had at prom. "My favorite part about prom was getting to see all of my friends that I've spent the last four years with all having a blast together in one place at the same time," he said. Reporting by Steven Tibbetts. Photo by Risa Darlington-Horta.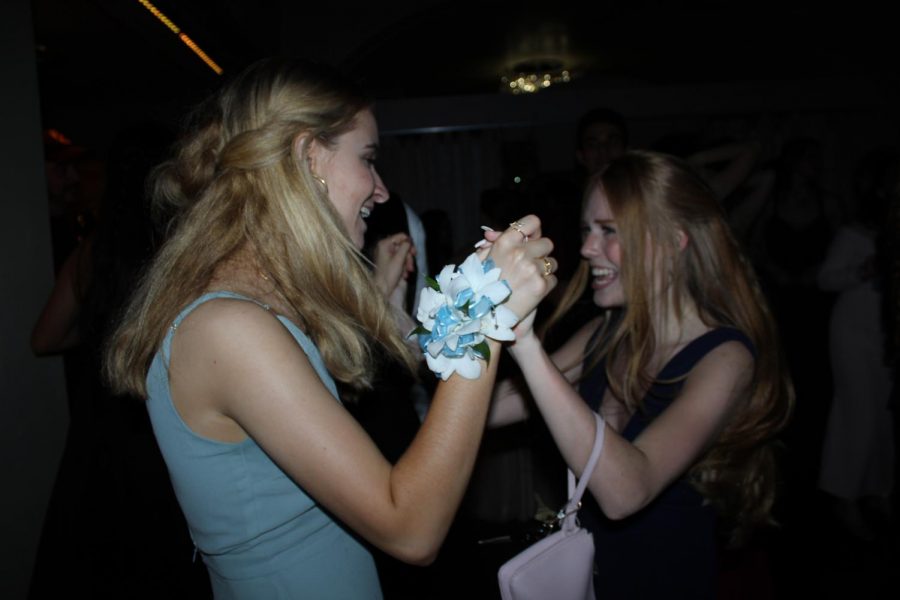 CLOUSE FRIENDS: Seniors Coco Clouse and Kimberly Cochrane share a dance together at the prom held last Saturday at the Sterling Events Center " We were each other's date and we both enjoyed ourselves and had a great night," Clouse said. "It was really special going with my best friend instead of someone I wasn't familiar with." Reporting by Gregory James. Photo by Risa Darlington-Horta.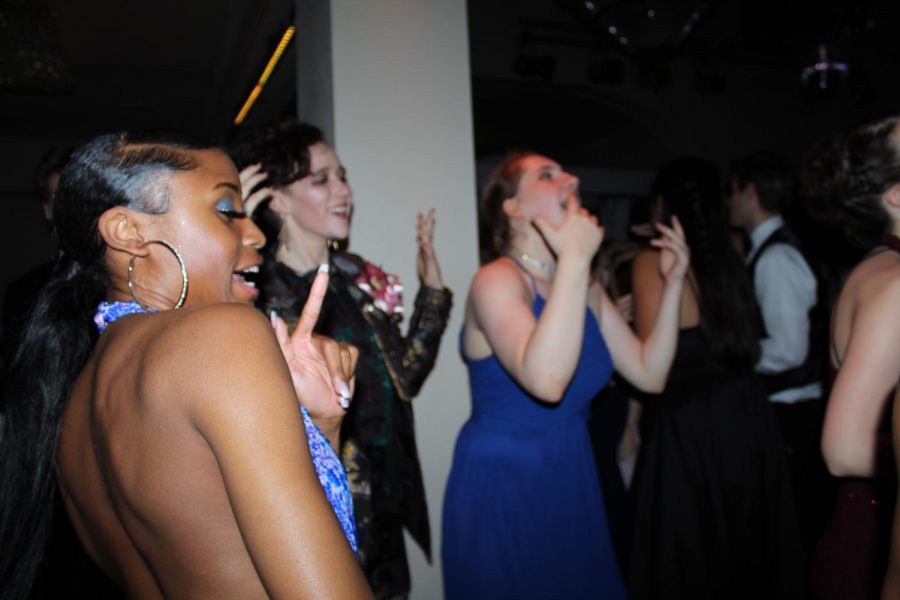 THE DEAN OF THE DANCE FLOOR: Senior Kiana Dean joins a group of prom-goers on the dance floor. Although she didn't know the other girls beforehand, that didn't stop them from having a great time together. "I had a really good time [at prom]," Dean said. "It's my first year at McCallum, but it was a really good experience partying and rocking out with them and stuff. It was so quick; time goes by fast when you're having fun." Reporting by Bella Russo. Photo by Risa Darlington-Horta.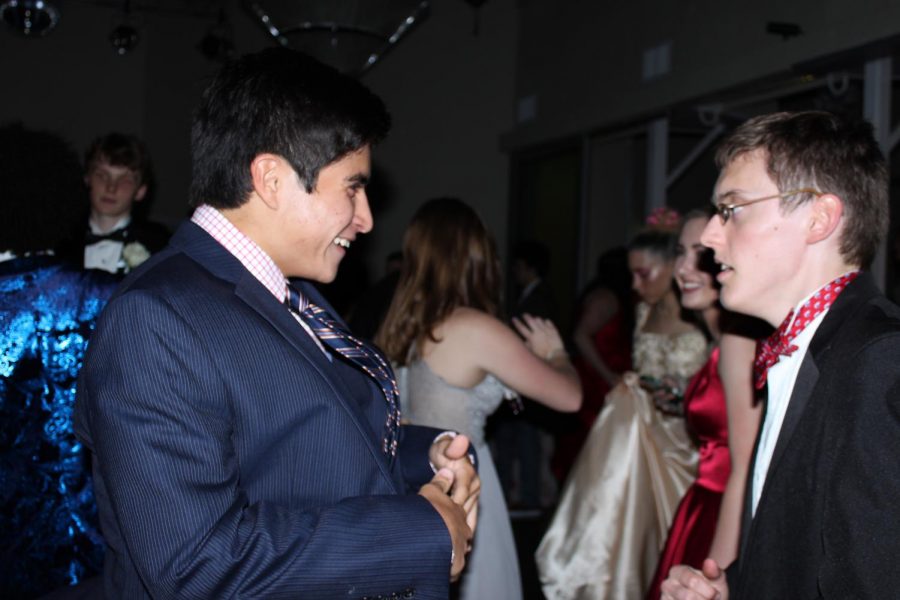 A PROM-ISING KNIGHT: Seniors Marcel Lopez-Reed and Quin Aldridge joke and laugh together, surrounded by other prom attendees. The two seniors have been friends since sophomore year. "Really, we've been closer this past year," Aldridge said. "He's in my AP music theory class, and we both watch soccer. I love Marcel." As for the prom, Aldridge said simply: "Prom was lit." Reporting by Liam Wilson and Ella Irwin. Photo by Risa Darlington-Horta.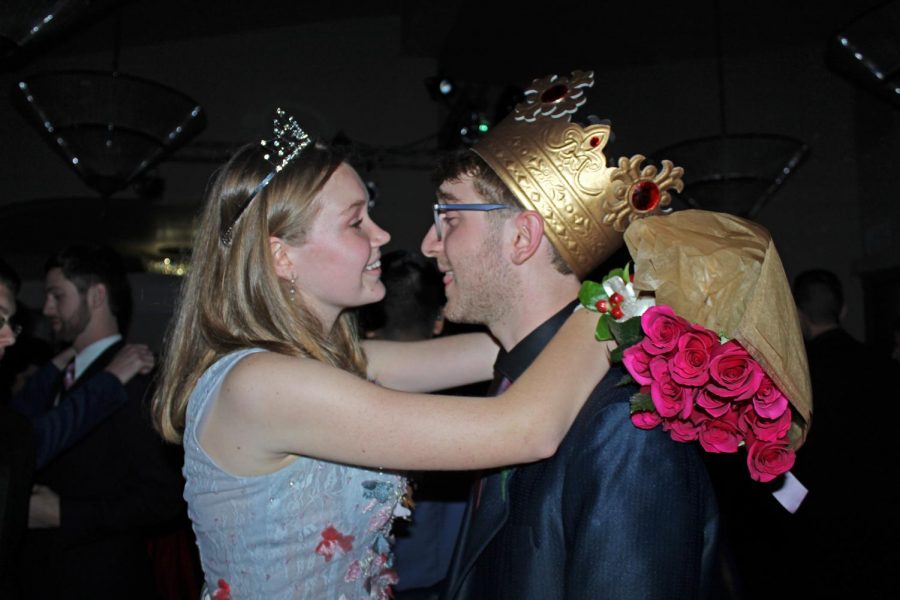 A ROSY MOMENT FOR ROYALTY: Right after they were announced as the prom queen and king, newly crowned Ardis Warrenfells and Reid Ronsonette share a slow dance. "It felt really cool to win the award with someone I love, and it was really exciting and super sweet," Warrenfells said. "It was a perfect way to end the night." Reporting by Ellen Fox. Photo by Risa Darlington-Horta.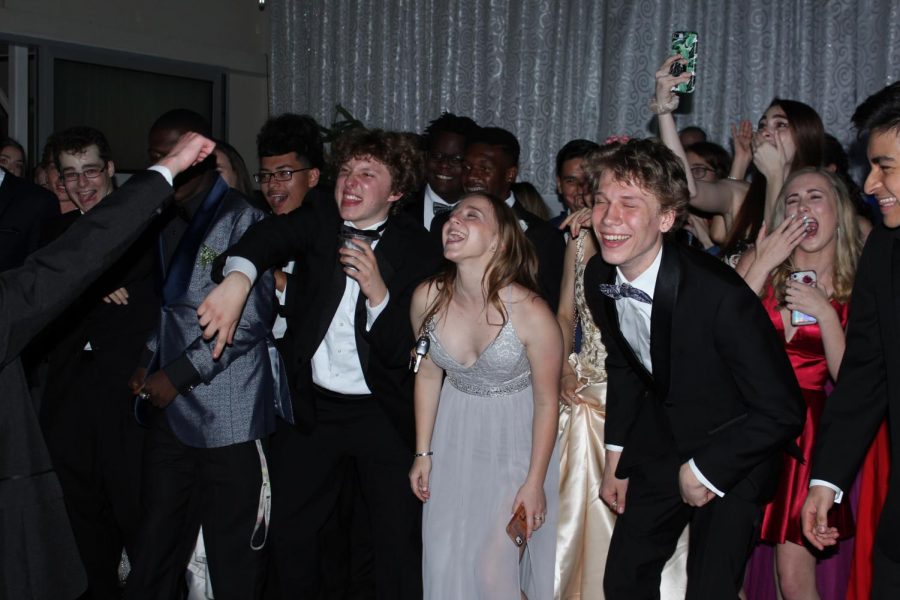 SMILING SENIORS: A group of seniors form around a dance circle to watch as students trade off going in the middle to show off their moves. Senior Olivia Boggs is shown in the center cheering alongside her peers, Richard Salinas and Lyle Caudill to Olivia's right and Henry Martin and Mati Currie to Olivia's left. Reporting by Stella Shenkman. Photo by Risa Darlington-Harta.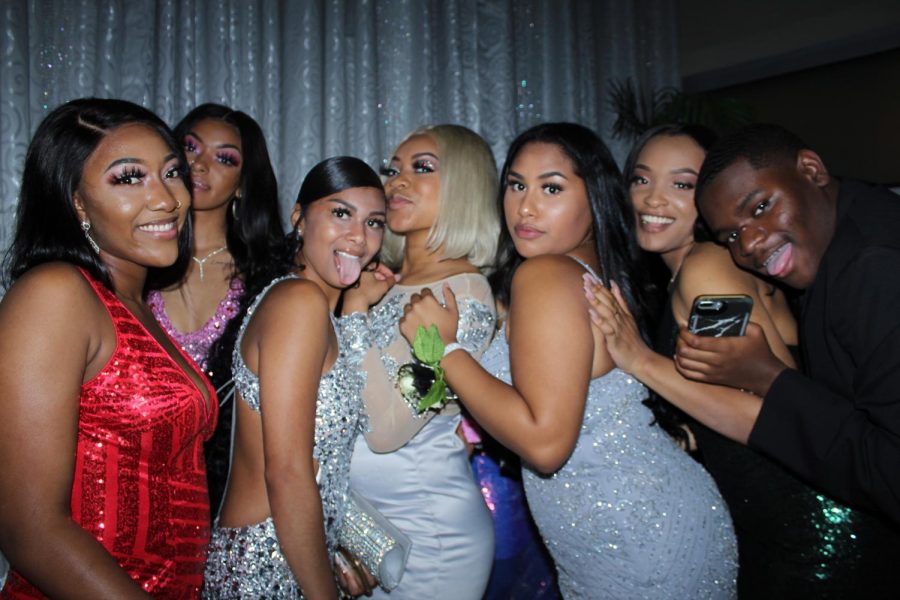 QUICK PAUSE AND PIC: Raymya Hardeman, Alexandria Wilford, Zamoria Reeves, Madison Parks, Sarah Herrera, Kaylan Evans and Jon'ta Wingwood pause from their regular prom activities to smile for the camera. Wingwood recalled spotting the camera and exclaiming, "Guys! Group picture!" He said he and his friends had a blast at the prom. "We were just living it up," he said. "We saw the flash and wanted to make memories." He said prom was memorable because he saw people in suits and dresses that he normally sees dressed casually. Reporting by Kelsey Tasch. Photo by Risa Darlington-Horta.
Our complete prom 2019 galleries
Photos by Risa Darlington-Horta
Photos by Tobin Wine