Serving up a gallery
Recapping spring season tennis tournaments and victories
The McCallum tennis team traveled to several tournaments at schools around the Austin area during the spring season and brought home many victories.  Coach Oakley Barber and assistant coach Chris Purkiss were very happy with the success of both the fall and spring season and are excited for the future of the team. "I'm excited about the team because it's young [and] there aren't many seniors," Purkiss said. "We'll definitely miss Steven [Tibbetts] and Vivian [Williams], [but] it's exciting to see a lot of new players getting excited about tennis."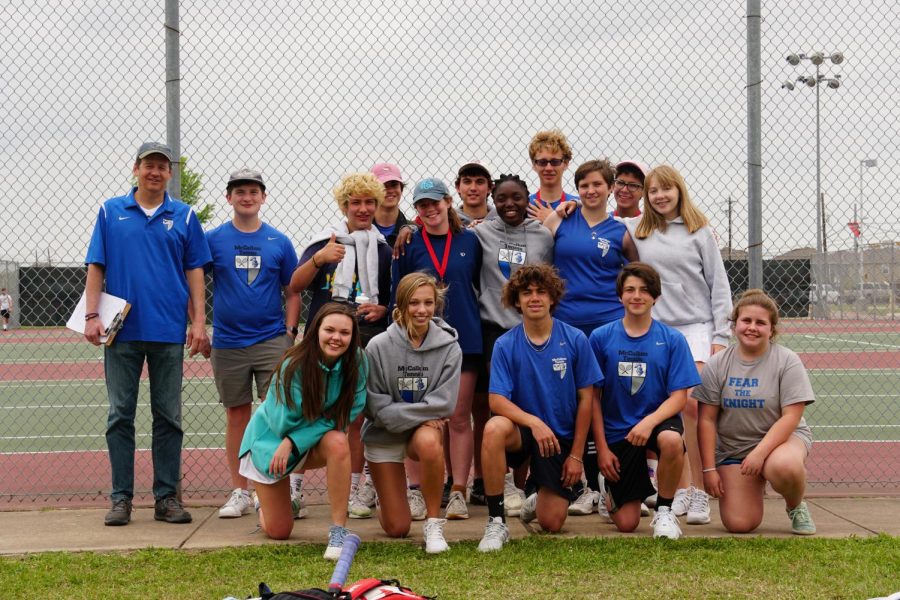 The team traveled to Del Valle Middle and High Schools on March 29 for their last tournament before districts. Photo by Oakley Barber.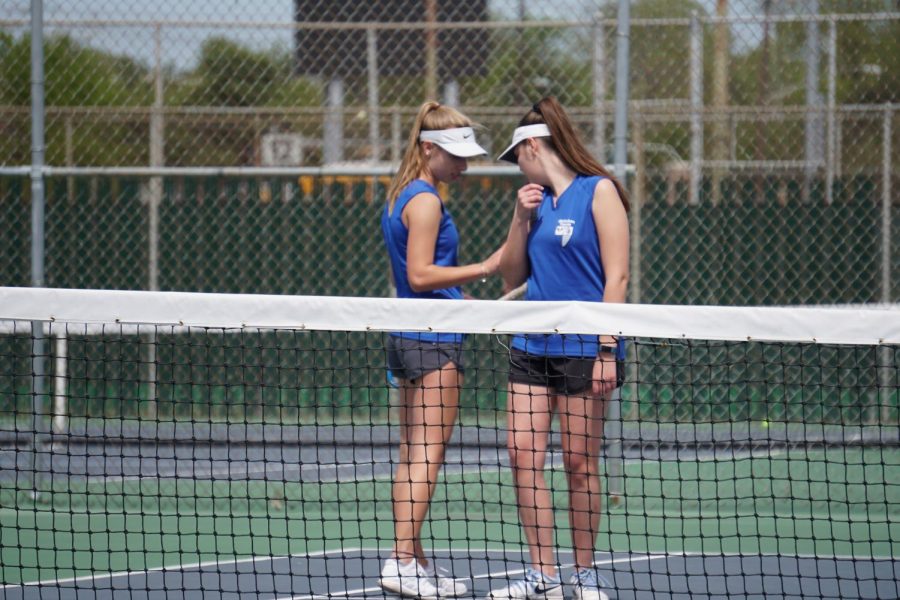 Senior captain Vivian Williams and freshman Peyton Casey converse during their last doubles match together. They won their first set (6-3), lost their second (4-6), and won their tiebreaker (6-5). The pair, shown in this image competing at Districts on April 2, lost to Dripping Springs in their final match (6-0, 6-0). This was Williams' last tournament before graduating in May. "Overall, I'm pretty happy with my performance," Williams said. "Winning my first match was a good way to go out senior year. And these are some of the best players in the state so being able to get a few points off Dripping Springs was still an accomplishment." Photo by Elisha Scott.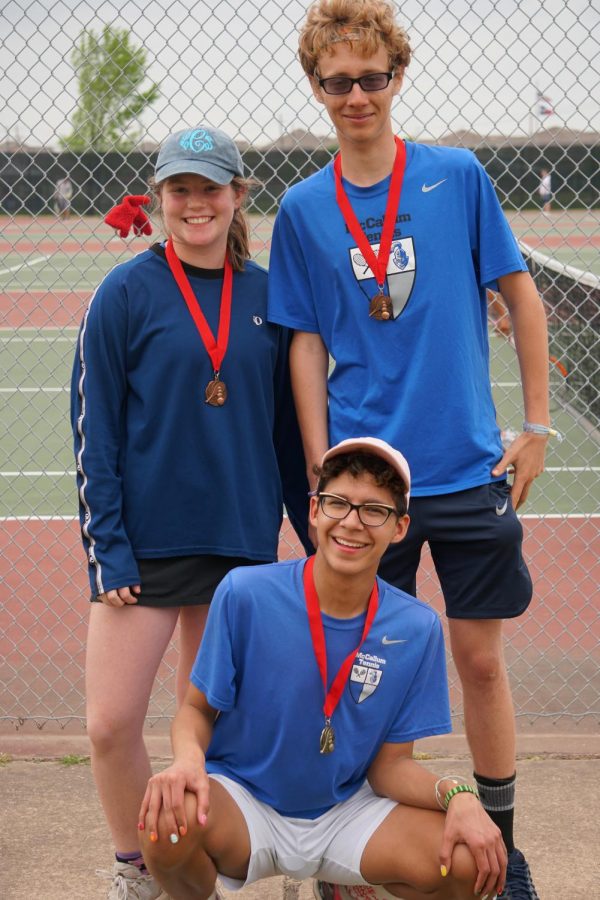 Freshman Lily Christie and junior Wyeth Purkiss won the mixed doubles consolation bracket, earning 3rd overall at the Del Valle tournament. Freshman Bobby Currie won the A boys' singles bracket and took 1st place for the entire tournament. Photo by Elisha Scott.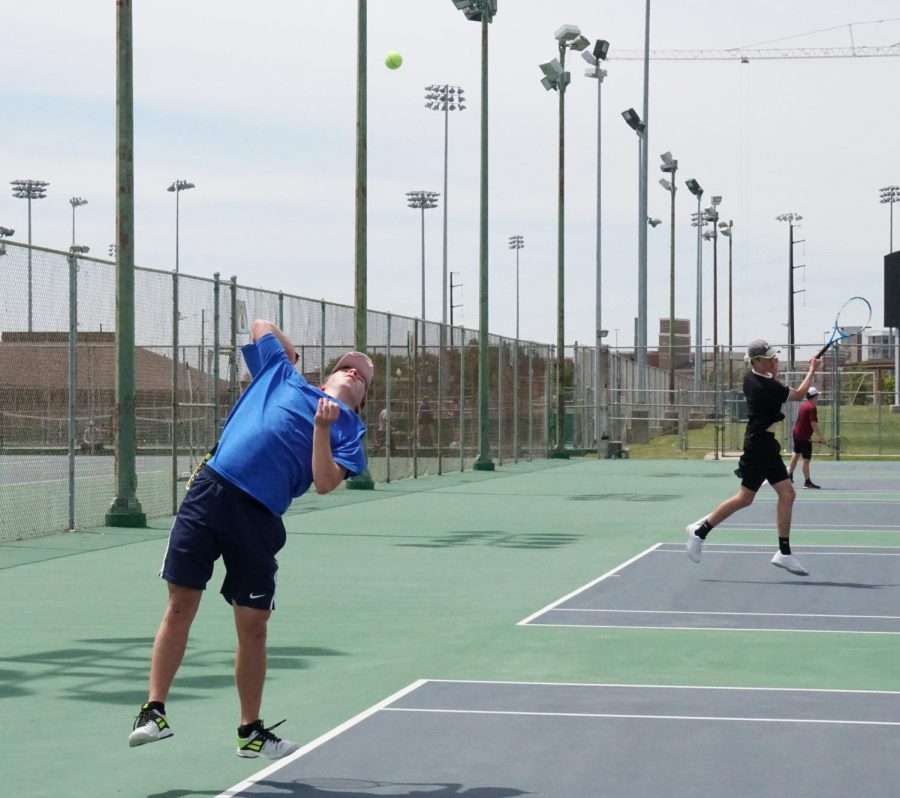 Senior Steven Tibbetts won all three of his matches (6-0) (6-0) at the district tournament. He later went on to achieve third overall at the 5A Region IV tournament at Blossom Tennis Center in San Antonio after winning his first two matches (6-4), (6-1) and (6-0), (6-0) and then losing his semifinal match two sets to one and winning his last. "I was impressed with Steven's performance, no opponent won a game off of him," Purkiss said. "From Steven, who is the most experienced, all the way to the new players, everyone played really hard and tried their best. It was a great performance overall for the team." Photo by Elisha Scott.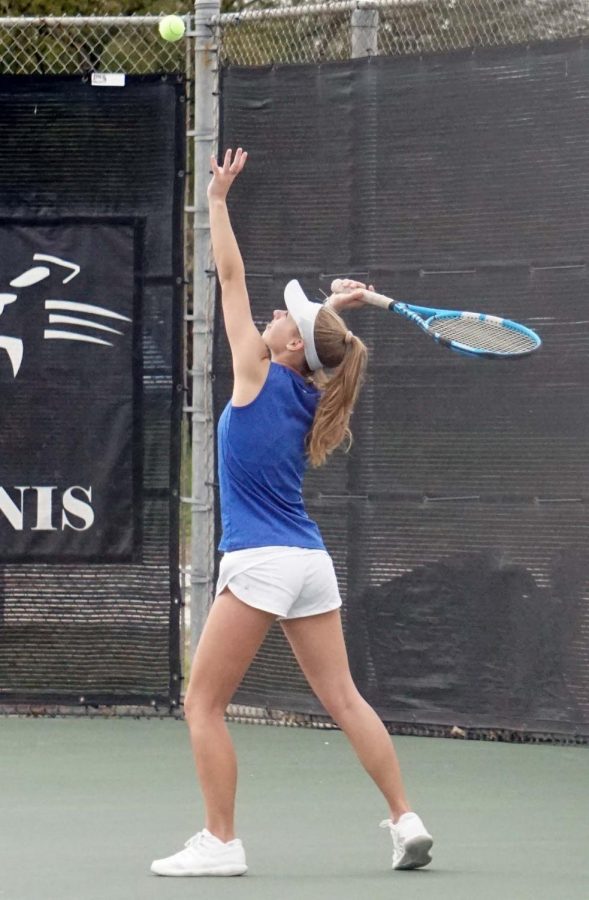 Casey prepares to serve the ball during her doubles match with Williams at the Connally High School tournament on March 8. Photo by Elisha Scott.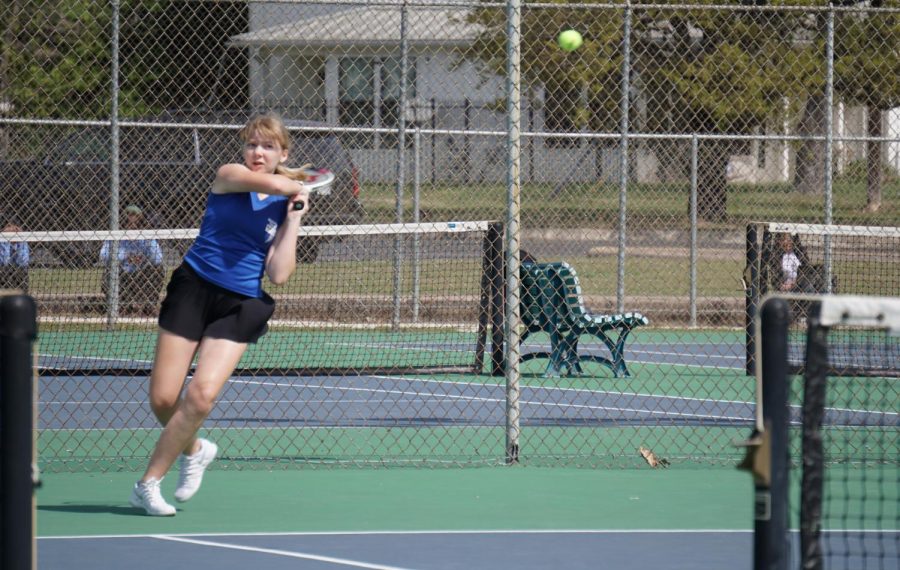 Freshman Evelyn Griffin follows through on her return shot during her first district match. Photo by Elisha Scott.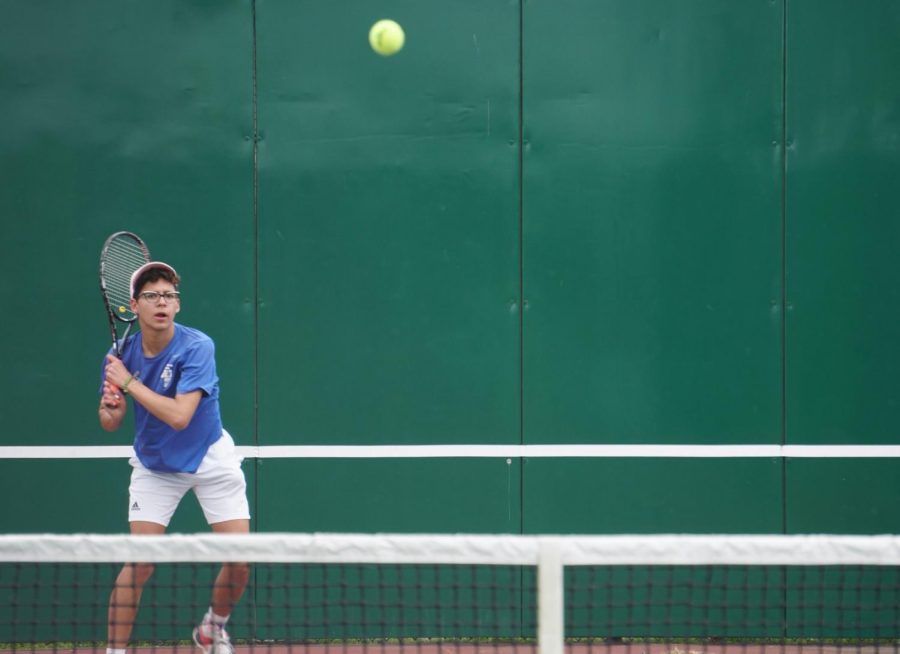 Currie returns the ball during his semifinal match against Akins High School at the Del Valle tournament. "Bobby's performance at Del Valle was one of the best matches of the year for MAC tennis," said Purkiss. "He won the first set, lost the second, and then came back with an extraordinary performance for the third set, and it was a tie break and he was down 8-5 and he fought back and he won." Photo by Elisha Scott.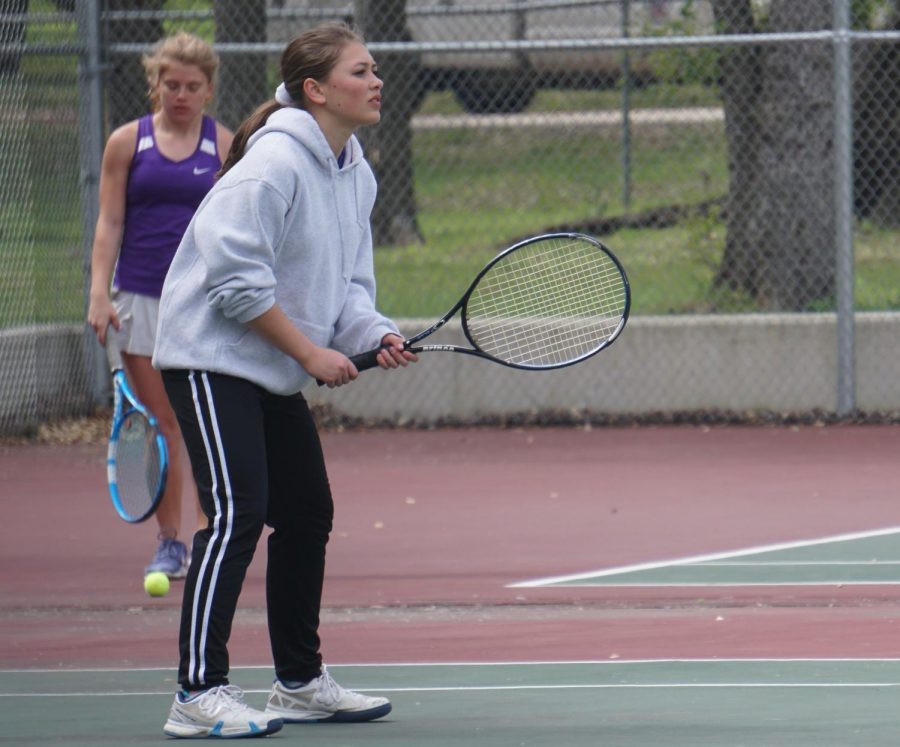 Sophomore Lorena Gonin readies for a return during a match against Crockett on March 15. Photo by Elisha Scott.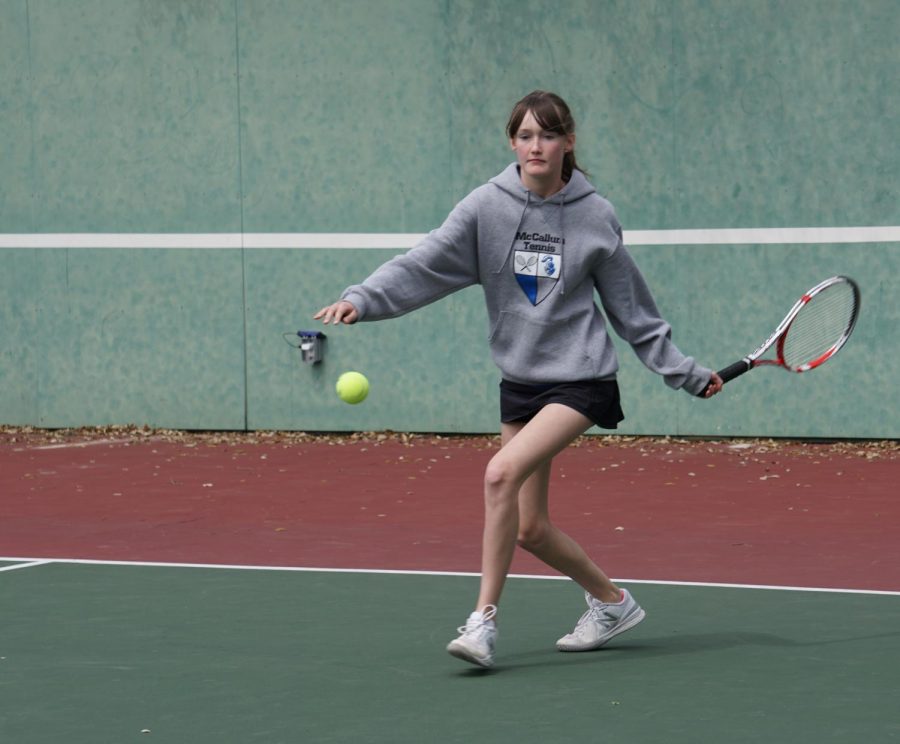 Freshman Jewel New returns the ball to her opponent at the Crockett High School tournament on March 15. Photo by Elisha Scott.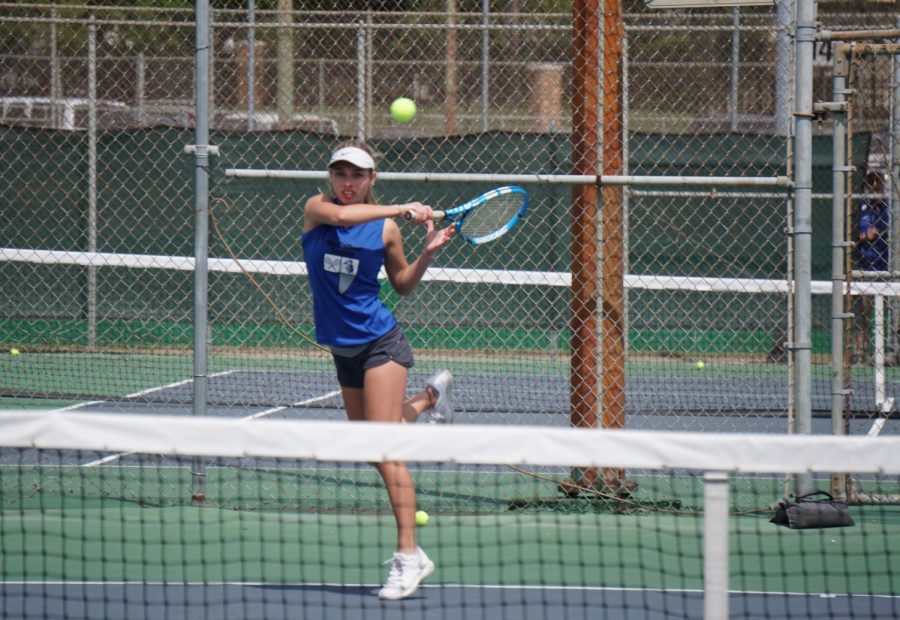 Casey hits the ball to her opponents during her and Williams' match against Dripping Springs. Photo by Elisha Scott.