A Knight at the MAC
Highlights from the Blue Brigade spring dance show
Hang on for a minute...we're trying to find some more stories you might like.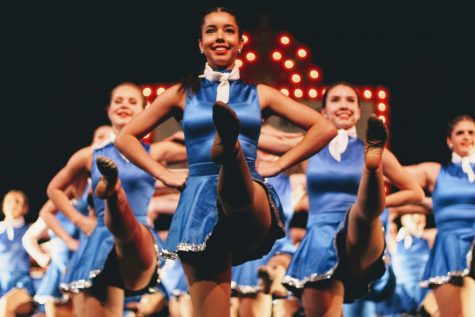 ON POINT: Captain Chanyn James and the Blue Brigade officers perform in the shows opening number "Let's Go To The Movies". The shows opener was one large dance that contained different small dances within it, showcasing different groups such as the team officers and different grade levels. Photo by Risa Darlington-Horta.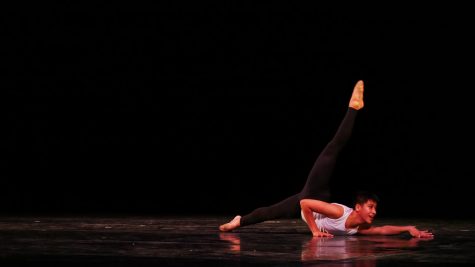 AT FULL STRETCH: Sophomore Matthew Vargas performs his award-winning solo to  "I'll Never Love Again" as the audience bursts with cheers and applause. At the Westwood Competition in February, Vargas achieved a near perfect score of 199/200 with this dance, ranking first in his division.  "To be able to showcase my solo to the school was a really amazing experience, sometimes I feel like people underestimate me and to be able to show what hard work I have put in feels amazing," he said. Photo by Madelynn Niles.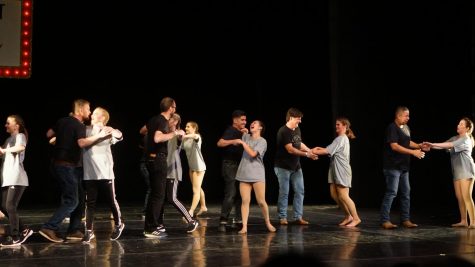 DANCE DADS: The Blue Brigade dancing dads perform duets with their daughters during both nights of the show. The BB Dancin' Dads is a tradition during the spring show every year. Photo by Madelynn Niles.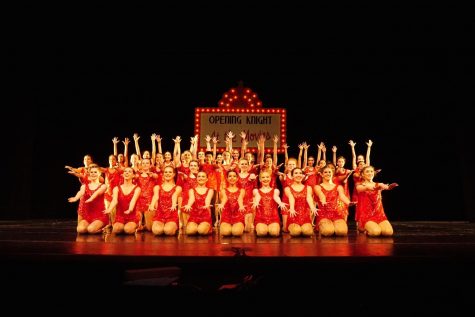 FLASHY FINALE. The 2018-19 Blue Brigade poses at the end of their spring show. The performance was quite emotional as the senior members were dancing together for the last time. "It was really surreal. I had spent the last three years watching the other seniors dance their dolo part and never thought that my time to do that would ever come," senior Sophia Salo said. "When ever I listen to last dance, I will always remember the dance and my amazing experience on Blue Brigade." Photo by Caleb Melville.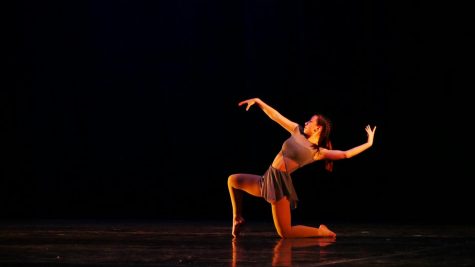 STRIKING A POSE: Maddie Cevallos extends her arms as she performs her "Senior Solo", a tradition that has been around at MAC Blue Brigade for many years. It was an emotional night for the senior members, as it was their last performance with the group. "It was bittersweet. I was happy to close out my last year on Blue Brigade by performing my solo that I worked hard on. But it was also very sad realizing that that was my last time ever dancing.," Cevallos said. Photo by Madelynn Niles.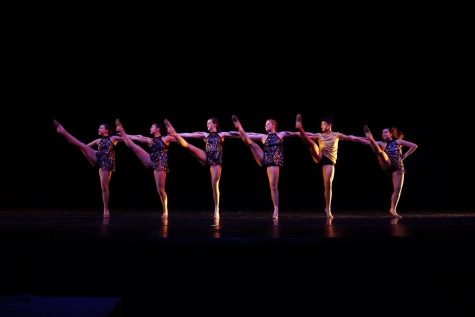 UP AND COMING. Officers for the 2019-20 season perform their first dance together. The dance was to the tune "Dreamgirls" and was the same dance as they performed at officer tryouts.  The 2019-2020 officers consist of Juniors, Addie Secker-Martinez, Matthew Vargas, Valentina Paredes, Andrea Paredes, and seniors, Lilly Brown and Amelia Paul. "I am so excited to lead the team next year as an officer because I have always loved Blue Brigade and I'm thrilled to get to share my love with the team as well as lead us to success as one big family," sophomore Addie Secker-Martinez said. Photo by Caleb Melville.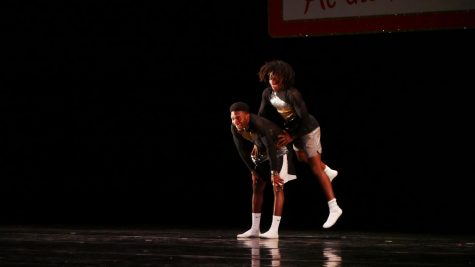 PRINCES OF PAGEANTRY: "Opening Knight at the Movies" Deron Gage and Gabe Williams perform their duet "River", previously seen at the Mr. McCallum pageant where Williams won the title of Mr. McCallum. Both Gage and Williams, members of the Varsity Football team, were the MCs of the show. Photo by Madelynn Niles.
FLOWER POWER: During the final performance of "Opening Knight at the Movies", prior to the closing number "Last Dance"  senior Ellie Stites gives her mom gives her mom a rose and hugs her during a bittersweet moment. As a senior, this was Stites last performance with the Blue Brigade. Senior members each perform a solo as their individual goodbye to the team. Photo by Dave Winter.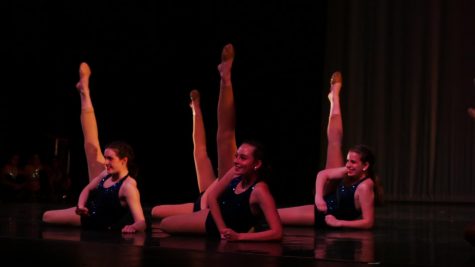 A LEG UP: Smiling brightly, Amelia Paul, Sydney Buford, and Ella Irwin perform their junior dance — a recreation of the pep rally performance to "Born this Way" by Lady Gaga. Each grade level was featured in their own showcase dance, alongside mass group dances and senior solos. "Working in a small group let us show off our skills in a fun way," Buford said. Photo by Madelynn Niles.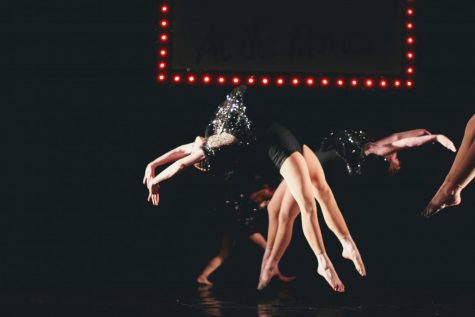 SPRINGING INTO ACTION: Junior lieutenant Amelia Paul does a back handspring. Paul and fellow junior Lilly Brown, who performed a duet together later in the show, will be the senior co-captains next year. Photo by Risa Darlington-Horta.