Protesting for the planet
"Baby boomer" generation speaks on generation "Z" participation in climate change activism.
EDITORS' NOTE: The caption which begins with the lead-in "Morality over Money" that appears in this version of this post is a correction of the original caption that appeared when we first published this story. The original caption read as follows: "SCREAMING SASHA: Junior Sasha Ashton, who attended McCallum her freshman year before transferring to the Khabele School, used her diary when speaking at the rally. 'I definitely hold a lot of anger and resentment for the actions that have been taken … to gain wealth and to live a comfortable life in the face of what's immoral,' Ashton said. 'I have to use that anger and channel it into action.'" We would like to apologize to Sasha and to all of our readers for publishing that original caption. It was wrong because it focused solely on her anger, an anger that was shared by virtually all of the speakers at the rally. The caption therefore misrepresented her statement in a superficial and stereotypical manner that failed to convey the full context and meaning of her remarks.
At McCallum, it is not out of the ordinary for the student body to participate in organized walkouts to fight for topics in which they believe. Last year, it was gun control, but this spring, it was climate change. On the Friday before spring break, high school students from all around Austin walked out of their first-period classes to meet on the State Capitol lawn alongside activists, young and old.
The event featured many guest speakers such as Dr. Pritesh Gandhi, who is running for the District 10 seat in the Texas House of Representatives (District 10 includes a strip of north Austin and expands east all the way to Cypress and Tomball). Gandhi was the first speaker to address the crowd.
"For a long time," Gandhi said, "Young people like you all have relied on adults like us to take action, to safeguard our air, to safeguard our water, to safeguard our soil… but in many respects, we have failed you."
The candidate went on to discuss his concerns regarding climate change.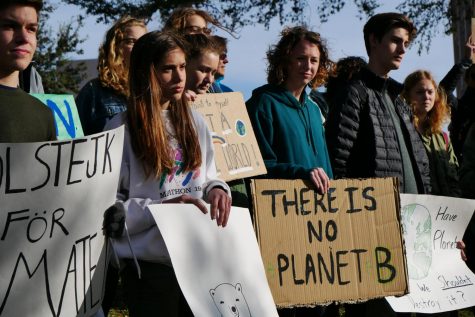 "We have not done enough," he said. "Now we know that we must address global warming. We know that we must address it now and within this decade. We know that we are seeing many once-in-a-lifetime events such as hurricanes and natural disasters every other year. We know that the economic impact of climate change will disproportionately affect our communities right here and rural communities right down the road, where farming is the major industry."
Gandhi went on to address the rally organization directly, praising them for their action.
"You all know that we have to move forward now," he said. "We can't wait for action, and that's why we are here today."
Gandhi was followed by speakers including students, parents and representatives from 350 Austin, an anti-fossil fuels organization. 350 Austin's Barbra Fetonte said she believes that climate change is not only an environmental concern, but a political conflict as well.
"I want young people to have as long of a life as possible," Fetonte said. "Global warming is the key. It causes drought, flooding and fires. With that, you get fires in Syria and civil wars that cause refugees, which causes people to not want to accept refugees at their borders."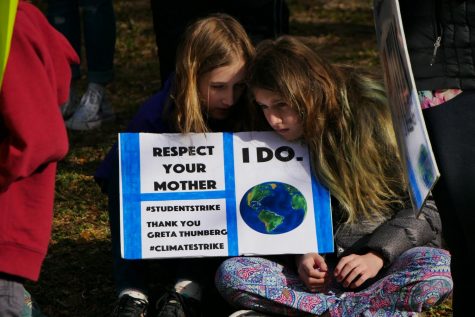 Fetonte expressed frustration that climate-change policy is so often weighed in business terms when in fact it's a quality-of-life issue.
"It's not about the money," Fetonte said. "It is about people wanting to be able to just live a good life. We don't want mansions; we just want to be able to feed our families, to be able to take pride in our world, and to care for each other."
This wasn't Fetonte's first rodeo either. She has been an activist in the community her entire life, dating back to the Vietnam War protests and civil rights movements.
"I have fought for things all of my life," Fetonte said. "But this just seems to be one of the most important. It's not like we need a 10-bedroom house. I just want a place where I know my family will be safe. I am not asking for a lot."
Fetonte's life has been devoted to activism, even her marriage depended on it, according to her husband Danny Fetonte.
"[Barbara] would not go out with me until she saw that I was serious about activism," he said. "It took me sixth months to get a date with her, but now we've been married for 40 years."
Activism has played an important role in Danny Fetonte's life, and he said he is glad to see younger generations continue the fight.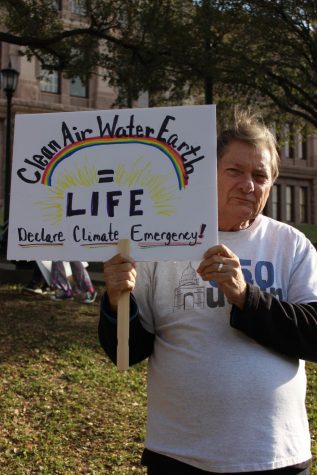 "This is wonderful, seeing high school and college kids stand up," he said. "My wife and I did it back in the day too. People think that activism doesn't do anything, but you can change things if you stand up and fight."
He added that he hopes that younger generations of activists do not lose hope.
Danny Fetonte also works with 350 Austin, an organization that protests corporations that it believes are polluting the environment.
"The Fayette Coal Plant is leaking coal lash," he offered as an example of corporate negligence. "The main products of coal lash are lead, mercury and arsenic."
Fetonte went on to explain his frustrations with the policy changes that "The people here are perfect examples," he said. "Don't become cynical, don't give up, it's our planet. The young people have the right to fight as much as anyone, you still have a whole life ahead of you here."occurred following the transition to the Trump administration.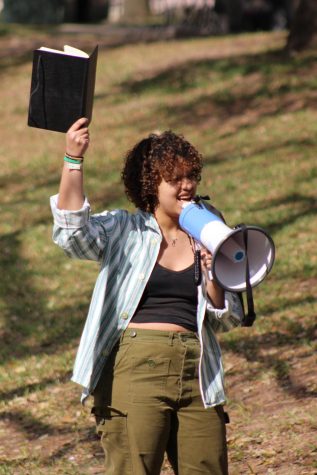 "The Obama administration cited [the plant] for having massive piles of coal lash around," he said. "Because every time it rains, it leaches into the groundwater. When Trump came in six or eight months later, he got rid of the fines and he got rid of the regulations. I talked to [officials at the Fayette Coal Plant] recently, and they said 'Well we are following all of the regulations,' but there are not even any regulations on monitoring the lead content."
Danny Fetonte, among with many others at the rally, claim that the City of Austin is not doing enough to ensure that pollutants are disposed of properly.
"They're not enforcing that these things are supposed to be sealed," Fetonte said. "So it does not go down into the ground."
According to a Jan. 20 Spectrum online news article, the Environmental Integrity Project tested water near the 16 coal-fired power plants in Texas and found that the water tested did not comply with standards established by the Safe Drinking Water Act. In the same article, the Sierra Club's Chrissy Mann claims the water was contaminated by poorly stored coal ash.
Danny Fetonte added that he believes the health risks that come with chemicals being leaked into drinking water are extremely serious and that local government should do more to address gaps left by weakened federal laws.
"This country is crazy with making money fast and being irresponsible," Fetonte said. "Just because Trump got rid of all of the regulations on how to handle coal lash does not mean that City of Austin or the LCRA [Lower Colorado Authority] should go along with it."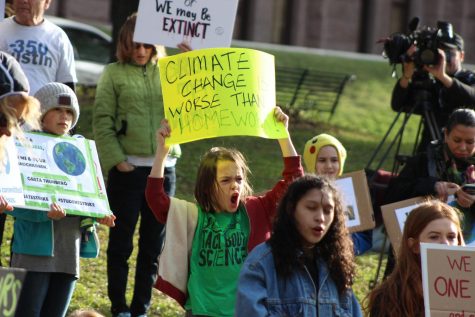 LCRA spokeswoman Clara Tuma said in a statement to Spectrum news that the claims that coal ash from the Fayette Power plant is polluting the nearby water supply is simply false.
"Fayette Power Project's monitoring and reporting confirm that FPP is appropriately… monitoring [the safety of the water and] is in compliance with EPA's Coal Combustion Residuals Rule. Repeated testing has not indicated that groundwater at FPP poses a public health risk, and EPA rules do not require LCRA to take further action at this time."
The larger issue the Fetontes say is the misplaced priority of profits over people.
"The money should not be a question when you're dealing with people's lives, especially children," he said. "We're telling LCRA and the City of Austin that no kids' lives are worth the money."
For some participants, this issue is deeply personal. Activist Richard Halpin has had climate change affect his life in a big way.
"My father-in-law and mother-in-law were swamped in Houston with the flood of Harvey," Halpin said. "[My wife and I] had to go down there in the flood and move them out of [Houston] in a wheelchair, then move them into our home where my father-in-law died from results of the flood."
Halpin has been protesting against climate change for more than 40 years and believes that results will come from education.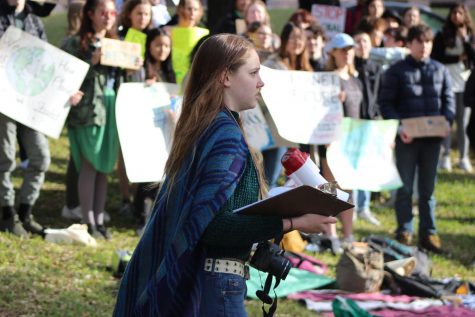 "I want to see that the biggest change is more people who are educated to act," Halpin said. "I want more people to realize that their lives are at risk, their children's lives are at risk and the whole world we live in is at risk. I want them to take the solutions that we have at our fingertips and make them pervasive."
Underscoring the event was a sense of desperation, with students skipping school to beg lawmakers for action and older protesters articulating their deep concern for the future.
"It feels like we are all frogs in a pot," Halpin said. "And the heat it turning up."