Right On Target
Archery team hosts competitors big and small in Mac gym
Students have grown up with heroes donning a bow-and-arrow on the big screen, from Katniss Everdeen to Hawkeye, but now some are themselves taking to the shooting range. Within the last year, McCallum's archery club has grown in hopes to become an established competitive team, as incoming students from Lamar will be the "real deal," according to McCallum parent and Highland Park coach Jim DeLine.
Sophomore Mariana Torres DeLine has brought the sport to the school, with a seven-year background, in hopes of sharing her passion with other Mac student archers.
"I've been wanting to start up a team since last year, and this year we actually got something started," Torres DeLine said. "What I really want is to go get people to try something new… it takes courage to try something different."
The archery blub is tied to Highland Park Elementary school's nationally-ranked archery program, led by Torres DeLine's father. As the Highland Park Elementary Scottie Shooters who finished in fourth at nationals in Louisville will be moving to Lamar, the Lamar students who finished 11th at state will need a space to compete at the next level.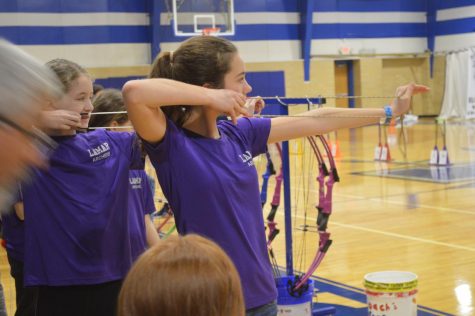 A majority of the archery club members had never shot before but have nothing but good things to say about their experience.
"My favorite part about archery is being able to learn every single practice," sophomore Andrea de Poo Lamadrid said.
Torres DeLine spoke about one of her proudest moments with the team: the first time they all shot from 15 meters.
"Fifteen meters is always a little unpredictable, so it was actually a huge achievement that all the arrows made it on the target."
Starting with about 13 people, the team has narrowed down to about eight regulars. Though the students vary in personality, they have "really become friends," Torres DeLine said.
"We're all dorky in our own way," she continued, describing how the club has brought together even the shyest of members. "People I hadn't even known well before are a part of something we all look forward to on Thursdays."
Coach Nancy Nitardy agrees with this assesment of the team.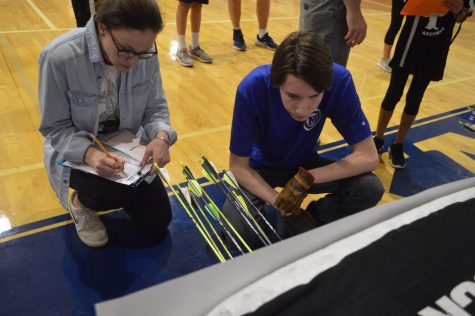 "It's competitive, but they're encouraging and supporting each other all the time," she said. "Quite a few didn't even know each other, and now they're all friends. It's a fun sport, and in my opinion, underrated. It's not as flashy as other sports, but it teaches you the importance of technique and practice and patience. It makes you set goals and learn how to achieve them. It's different and unique. I wanted to share that with people."
The team meets every other Thursday, welcoming and practicing with members at every level.
"It takes time, practice and patience," de Poo Lamadrid said, a mantra apparently used by many members of the team.
"Be patient and practice," Torres DeLine said. "I can't promise wins or medals or first places, but I can promise an unforgettable experience and memories. … I've shot thousands of arrows to get to where I am, and there's still work to be done. One arrow can change the way you shoot. The greatest strength you can have is to be patient."
The qualities that make a good archer are qualities you can choose to have, Nitardy said.
"Anybody and everybody can learn how to shoot," Nitardy said.
At the McCallum archery tournament on Dec. 15, archers from 13 schools competed along with eighth McCallum shooters. Garrett Michulka won first place in the ninth-grade boys division.
"Shooting is a time for anyone to just push everything aside and just focus on your target," Michulka said.
Archers new and experienced competed.
"It's a mental sport," Torres Deline said. "That's what makes it so competitive. Anyone can do it; it just takes a bit of focus."