SIPA awards MacJournalism 20 Best Writing honors
Newspaper, yearbook earn distinction competing against the best journalism programs in the South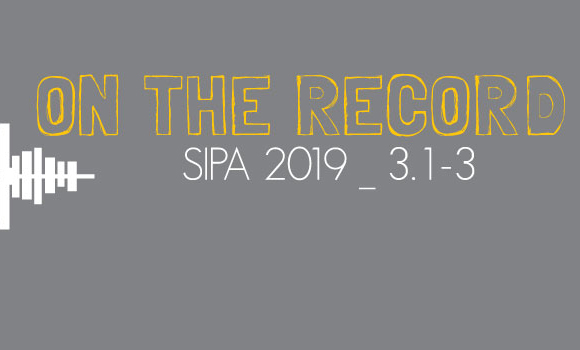 Macjournalism news team
March 4, 2019
The staffs of the Knight and the Shield together captured 20 individual awards in the Southern Interscholastic Press Association's 2018 Best Writing Contest. They were announced yesterday at SIPA's National High School Journalism Convention at the University of South Carolina in Columbia.
Shield co-editor-in-chief Sophie Ryland attained four awards including first-place awards for print feature story, print news story and online investigative story, plus third place in online features.
"It's always nice to receive recognition for our work, considering the hours and careful thought we try to put into it," Ryland said. "It's definitely a good feeling to have that validated, but overall I'm just proud of the staff for consistently producing really quality stuff that is award-caliber."
Steven Tibbetts, co-editor in chief of the Shield Online, won third place for print sports column, and assistant editor Kelsey Tasch won two third-place awards in online investigative story and yearbook community copy. Shield staff member Olivia Watts also captured two awards, a second place for staff editorial and a first place in yearbook community copy that she shared with 2018 yearbook design editor Grace Brady.
In addition to that first place award, the Knight won first place in three other categories: groups copy, student life copy and news cutline.
The complete list of McCallum winners with links to their award-winning work is below.
Newspaper
Staff Editorial
Second Place – Olivia Watts, The Shield, McCallum HS
Feature Story
First Place – Sophie Ryland, The Shield, McCallum HS
Judge's comments: "It's not a "sexy" topic, but this piece on Community College is so well-written and researched. The story is personal with excellent quotes and yet informative with expert sources and national stats to give the big picture. With rising costs of college, this story is a real service to readers. This journalist knows how to do the legwork, pack a story with valuable information, and also how to tell a story – not just write an article – which is tricky sometimes with a topical feature. Nice job on AP style as well. It's this attention to detail and a feel for how to grab a reader and make them care about the topic that sets this story apart. Very professional."
News Feature
First Place – Madison Olsen, The Shield, McCallum HS
Judge's comments: A wide variety of student perspectives and personal connections to the issue make this story stand out.
News Story
First Place – Sophie Ryland, The Shield, McCallum HS
Sports Column
First Place – Julie Robertson, The Shield, McCallum HS
Judge's comments: You do a nice job here of diving into a complicated issue with a great scene-setter style of lede that explains WHY what you are about to argue about is so important. Great job!
Third Place – Steven Tibbetts, The Shield, McCallum HS
Online
Alternative Storytelling
Second Place – Charlie Holden, The Shield online, McCallum HS
Features
Third Place – Sophie Ryland, The Shield online, McCallum HS
Investigative Story
First Place – Sophie Ryland, The Shield online, McCallum HS
Third Place – Kelsey Tasch, The Shield online, McCallum HS
Personality Feature
First Place – Bella Russo, The Shield online, McCallum HS
Sports
First Place – Julie Robertson, The Shield online, McCallum HS
Judge's comments: "This is a wonderfully detailed story with tons of quotes that let people tell the story about the coaching change."
Photo Cutlines
News Cutline
First Place – Madison Olsen, The Knight, McCallum HS
Yearbook
Ads/Community Copy
First Place – Grace Brady and Olivia Watts, The Knight, McCallum HS
Third Place – Kelsey Tasch, The Knight, McCallum HS
Groups Copy
First Place – Georgia Boutot and Celeste Montes de Oca, The Knight, McCallum HS
Second Place – Ella Irwin and Abby Robison, The Knight, McCallum HS
Student Life Copy
First Place – Delaney Carter and Audrey Sayer, The Knight, McCallum HS
Third Place – Ella Jane Larrimer and Karel Tinkler, The Knight, McCallum HS
Theme Copy
Second Place – Elena Henderson Kennedy Schuelke and Madison Olsen, The Knight, McCallum HS