Point break
Playing a myriad of styles on a myriad of instruments, dynamic duo has become a local music mainstay
The Point at the Empire Control Room on July 13. Reposted from The Point's Facebook page with permission.
Bands are common at McCallum. From Coffeehouse to Battle of the Bands, students are encouraged to share their talents and branch off from the classical training they might receive in one of the Fine Arts Academy music strands. Jack Montesinos and Joe Roddy are no exception. Performing together under the name, The Point (based off of their favorite album, The Point! by Harry Nilsson), the two juniors are making waves in the local Austin music scene, with monthly gigs at Monkey Nest and their own recordings, sold as cassettes at Antone's Records and Breakaway Records on Guadalupe and North Loop respectively. They also sell CDs out of pocket.
"
Our music just takes a little bit from everything; we mesh the genres together, it's all over the place."
— Joe Roddy
So far, this seems clear cut for a teenage band, pushing merch and occasional gigs, but one major selling point The Point has going for them is their ability to write their own, original music.
"We write 90 percent of our music," Montesinos says. "When we write we usually sit down at one of our houses with a lot of coffee, and try to start off with drum beats on the drum machine. Then we can record over that or sample other music and alter it to our needs."
Where did the drive to write music come from? Montesinos and Roddy both attended Lamar Middle School and have been working together on other projects since seventh grade.
"We started doing this because we love it," Montesinos said. "It doesn't hurt to get paid or get shows, but we really just care about having fun and making stuff we are proud of."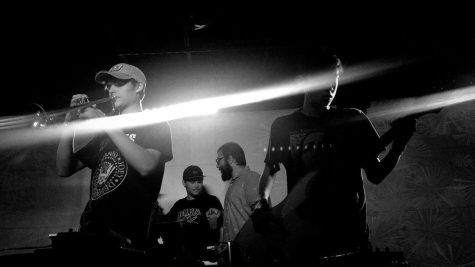 Reprinted from the Point Facebook page with permission.
Both Roddy and Montesinos cited their similar music taste as the basis for their success as partners, saying they enjoyed many different styles and writing and performing many as well.
Roddy describes "most of [their] past projects [as] hip hop and jazz influenced, but they don't put a label on it," and goes on to explain that they "have many styles and genres that we're constantly exploring, such as our other band, called The Airliners, which is mostly rock and rockabilly music."
"
We always had a lot of fun playing together and had a lot of common interests so we [Joe and Jack] thought it would be cool if we started a band."
— Jack Montesinos
Despite their penchant for songwriting, they do often perform covers. The two thoroughly enjoy covering anything from before 1980, ranging from "Sally's Tomato" by Harry Mancini to "Night in Tunisia" by Dizzy Gillespie to "O Pato" by Stan Getz.
"I wish I could play accordion," Montesinos says, on what instrument he'd like to incorporate into their music, as if they don't play enough between the two of them already. They each play a multitude of instruments, from upright bass to guitar to piano to trumpet to drum machine.
The Point has just finished a string of 25 shows, lasting all through the summer and stretching all over town. Feel free to ask for a CD, sticker or pin if you see them in the halls.
— with reporting from Aranza Sanchez