Two 2018 grads survive serious car accident
Families launch GoFundMe page to cover rehab costs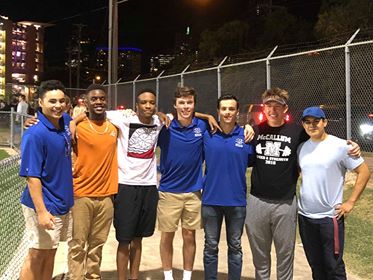 September 3, 2018
Filed under News
Hang on for a minute...we're trying to find some more stories you might like.
Class of 2018 graduates Josh Leviston and Tyrell Washington suffered injuries after they were in a serious accident when the car they were in drove into the back of an 18-wheeler on North I-35 near Braker Lane at 11:30 p.m. Thursday night.
Doctors are hopeful that both Leviston and Washington will recover from their injuries.  Jennifer Jenkins Carson, a former McCallum parent and football booster club member, posted Sunday night that both graduates had been released from the hospital. Tonia Leviston, Josh's mom, has started a GoFundMe page to raise money to pay for their rehabilitation expenses. If you would like to donate, please click this link.
The accident occurred after the two 2018 graduates left the Taco Shack Bowl football game at House Park.
All of us at MacJournalism join the entire McCallum community in wishing Tyrell and Josh a full and swift recovery.