Cookie monsters?
Privacy issues become a concern in wake of Facebook data-mining controversy
Facebook, the international social media platform, is in hot water ever since news broke that Cambridge Analytica has been taking people's data without their knowledge. Cambridge Analytica is a British political consulting firm that uses data mining, data brokerage, and data analysis for the electoral process. Cambridge Analytica's clients include then-presidential candidate Donald Trump and Facebook, who used the company to secretly collect the information of their users.
As social media evolves, true privacy is slowly slipping away. A small-scale example of the way privacy is compromised day to day involves cookies, or pieces of browsing data that are saved to your computer by your browser. For example, when you visit a website to buy something and then you visit another site, ads will appear for whatever it is that you were interested in buying because of cookies.
In addition to cookies, the information users provide to online services can become a privacy concern. Although uncommon, breaches are on the rise—according to global cyber security company OPSWAT, 10 of the 11 largest data breaches of all time occurred in the past decade.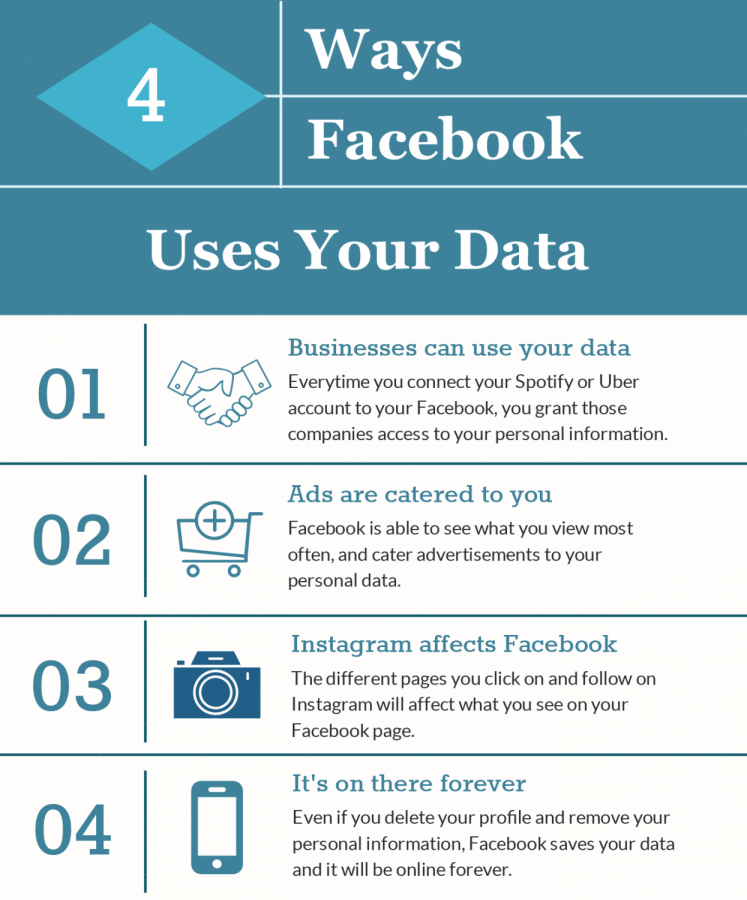 Breaches of privacy affect students at school as well. The Chromebooks that were rolled out in January monitor student search activities through Google. In 2015, the Education First Foundation filed a complaint to the Federal Trade Commission alerting them of this practice. The EFF argued that Google had violated the agreement they had signed earlier that year that said they would "not collect, maintain, use or share student personal information beyond that needed for authorized educational/school purposes, or as authorized by the parent/student." Despite the complaint, the FTC did not stop Google's data collection because the company was only using the data for its own purposes.
Many companies, including Facebook, Google and Twitter allow users to view the data stored about themselves and even download it, but other companies are more protective of that data.
Curious about what they have on you? On Facebook, go to "Settings," and at the very bottom of Account Settings, there should be a link to "Download a copy of your Facebook data." If you follow the instructions on the link, it will send you a document detailing everything they have on you. A quick Google search will show you how to complete this same process for Twitter and Google.