The struggle to legislate gun safety
The long legal road from the 1966 UT Tower shooting to the present is filled with many turns
Hang on for a minute...we're trying to find some more stories you might like.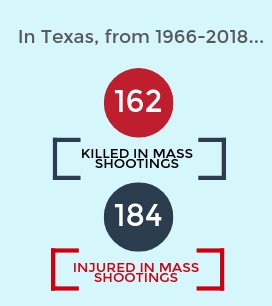 To understand Texas's relationship with guns and gun control it is necessary to understand the historical context of the issue, and that history is a long one. Laws regulating the sale and use of guns are not new to the state: the right to bear arms, granted in Article 1 of the Texas Constitution, gives congressional authority to regulate gun use. This clause is more restrictive than the Second Amendment in the National Bill of Rights, which intends to deny the federal government any authority to regulate guns.
Texas law has to adhere to federal restrictions, but it also may place establish its own restrictions on gun ownership. Before the 1966 UT tower shooting, which is considered one of the first mass shootings in U.S. history, there were little to no restrictions on gun ownership and the purchasing of firearms. After the shooting, however, the federal government passed the Gun Control Act of 1968, which prevented the sale of firearms to felons across the country. The act, which was passed as a reaction to the high profile shootings of John F. Kennedy, Martin Luther King Jr., and Attorney General Robert Kennedy was among the first actions taken to regulate the possession of firearms. State gun laws in Texas continue to be less intrusive than federal gun laws, but over the years there have been many regulations put in place, among them laws that affect gun licenses, the right to conceal firearms and the right to carry them openly.
Some gun-control opponents argue that laws banning specific types of guns do not stop their usage in mass shootings. For example, a federal gun law effective from 1994 to 2004 known as The Public Safety and Recreational Firearms Act banned assault weapons as well as large capacity magazines. Even though semi-automatic firearms were federally banned, two of the three mass shootings that took place within the 10 years the law was in place involved the use of different types of semi-automatic handguns.
Texas law requires that an individual must be at least 21 years old to be licensed to carry a handgun. There is no license required to purchase a handgun, but a specific license is needed to carry one. Those equipped with a permit are allowed to open carry in areas not specified as gun-free zones. In order to obtain a handgun, individuals must submit an application, go through classroom training and pass a written exam and a shooting test. The original bill was passed in 1975, and has since been revised to change the requirements of the application process. All of the handguns used in Texas mass shootings were purchased legally; however, the shooters in each instance suffered from some mental instability. Out of the 17 shootings in Texas that have taken place over the last five decades, six of those shootings involved the use of a handgun.
"
All of the handguns used in Texas mass shootings were purchased legally; however, the shooters in each instance suffered from some mental instability."
Even though there are many laws regulating handguns in Texas, there are few dictating the regulation of other types of guns. Texas has no laws pertaining to the registration of firearms, the regulation of magazine capacities and assault weapons or background checks during private sales. Texas does have, however, concealed carry laws. Concealed carry of handguns wasn't legal in Texas until 1955, and it wasn't until 2016 that open carry became legal (but only with a license). It has always been legal to open carry long guns. Long guns like rifles and shotguns are less common in Texas mass shootings compared to pistols and automatic rifles. Out of the 17 mass shootings that have occurred since the UT Tower shooting, seven have involved long guns.
The perpetrators of the majority of mass shootings in Texas have displayed multiple behavioral warning signs leading up to the attacks. In the case of the 1980 Daingerfield Church shooting, Alvin Lee King III killed five people and injured 10 with a semi-automatic rifle, a M1 carbine rifle and two revolvers. King was on trial at the time for the rape of his daughter and had asked multiple members of the church to testify on his behalf. None of them agreed to testify, which led him to decide to storm the church that Sunday. In the 2015 Tennessee colony shooting, William Mitchell Hudson shot six people who were camping on land neighboring his property. Hudson, who believed their land was rightfully his, separated the family in the woods, shot five, and stabbed one. In his trial, Hudson's lawyers argued for a lesser sentence based on his personality disorder, brain damage and an abusive home life. Hudson's ex-wife, Catarina, filed a protective order against Hudson in 2004 on grounds that he threatened to kill her and her daughter. This order banned him from owning any kind of firearms or ammunition. Just a week before the shooting, Hudson was arrested at a convenience store for assault. When the police officer arrived, he discovered a handgun on Hudson's person, and two other revolvers in his pickup truck. Hudson's possession of firearms on multiple occasions illustrates how Texas gun laws already in place can't always prevent shootings because they are not consistently enforced.
Mass shootings in Texas are statistically most likely to take place either at a church or in another public space. In the 2005 Sachse Assembly of God shooting, A. P. Crenshaw had a verbal dispute with a parishioner in a church parking lot. He left and later returned to fatally shoot the parishioner and the pastor in an area next to the parking lot. He then got in his truck and drove to a horse trailer at an intersection, where he fatally shot the two women inside. According to neighbors, Crenshaw often yelled at them and fired guns on his property, and would also leave exclamatory notes on the cars of churchgoers. In most of the mass shootings in Texas, including this one, the perpetrator exhibited prior signs of mental instability.
With the amount of mass shootings that have occurred throughout the nation in the past decade, supporters of the Second Amendment fear that their right to bear arms might be curtailed. Partly in response to this constituency, Texas lawmakers have passed more lenient laws regarding gun ownership and use. On the 2016 anniversary of the UT Tower shooting, the Texas legislature passed Texas Senate Bill 11, which allowed for the concealed carry of handguns on college campuses. The issue of gun control has been a difficult one for legislators to tackle as there are constituents who wholly disagree on what gun policies should be in place.
"
On the 2016 anniversary of the UT Tower shooting, the Texas legislature passed Texas Senate Bill 11, which allowed for the concealed carry of handguns on college campuses. "
Sen. John Cornyn, R–Texas, the Majority Whip in the U.S. Senate, is working closely on the issue of gun control to draft and pass legislation upon which both parties agree.
"Like every Texan, I want to prevent violent crime, and I believe this begins with fully enforcing existing gun laws," Cornyn said in an exclusive email interview with The Shield. "The federal government has not adequately enforced the 2007 NICS Improvement Amendments Act (P. L. 110-180), a law that is supported by organizations ranging from the National Rifle Association to the Brady Campaign. Passed unanimously by Congress, this law requires states to submit criminal history and mental health records of individuals who are adjudicated as a danger to themselves or others in order to prevent them from legally purchasing firearms. This includes felons, domestic violence perpetrators and other dangerous individuals."
The Brady Campaign to Prevent Gun Violence is a nonprofit group dedicated to the prevention of gun violence founded in 1974. The campaign strongly supports stricter federal gun laws.
The NICS Improvement Amendments Act accesses three databases that are monitored by the FBI. According to the law's provisions, states provide information so that individuals that fall under the restrictions outlined by the NICS are not be able to buy firearms, but unfortunately, information pertaining to mental health and domestic violence convictions is not always reported to FBI databases. Texas is not a point-of-contact state for NCIS, which means that there is no state system of background checks; instead, sellers need to abide by federal requirements for background checks established by the FBI. In the case of the Sutherland Springs shooting, Devin Patrick Kelly, who was tried in court marshal in the U.S. Air Force for domestic violence, was able to buy a Ruger AR-556 semi-automatic rifle when records of his conviction were not transferred to the correct FBI database.
"This failure to share information had tragic consequences in multiple mass-violence events, including Blacksburg, Va., (2007); Charleston, S.C., (2015); and Sutherland Springs, Texas (2017)," Cornyn said. "In each of these cases, a dangerous individual who was prohibited from purchasing firearms was able to pass a NICS Background Check despite criminal or mental health records that were not uploaded to the system."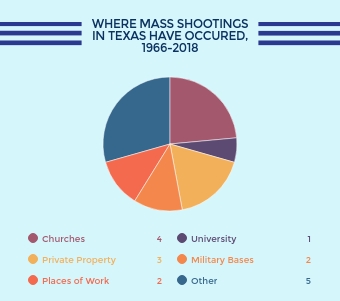 Two out of the 17 mass shootings that occurred in Texas since 1966 took place in a personal residence, and in both cases the perpetrators were previously arrested on charges of assault and domestic abuse. Texas laws concerning gun ownership in case of domestic violence convictions do not require the state to remove firearms already in the possession of the perpetrator, but do limit their ability to purchase firearms. In the 2014 Harris County shooting, Ronald Lee Haskell killed six people, including two children. The victims were related to Harris's ex-wife, Melanie Stay, who had divorced him in 2014. Prior to the divorce, Haskell had been arrested in 2008 for assault and domestic violence, leading Stay to file a protective order against him. Haskell found the victims' house while searching for Stay, whom he had followed from Utah to Texas. Just a year later, another even deadlier mass shooting took place in the same county. David Conley fatally shot six children and their parents at their home. Conley was in a former relationship with the mother, Valerie Jackson. Conley's prior criminal record, which dated back to 1988, included a five-year prison sentence in 2000 for assaulting his girlfriend with a knife and nine more months served in 2013 for threatening Jackson with a knife. In addition, he had a warrant for his arrest at the time of the shooting for another assault charge. Conley purchased his gun online, which has different laws in Texas than in-person purchases. When buying from a website of a Federally Licensed Firearms dealer, the seller mails the gun to another FLL location near the buyer, where they conduct a background check. If a seller privately auctions off a gun to a buyer in the same state, however, no background check is required. According to the Gun Control Act of 1968, a federal law, firearms dealers must be licensed and therefore require background checks in all sales. The act, however, directly excludes anyone who "makes occasional sales, exchanges, or purchases of firearms for the enhancement of a personal collection or for a hobby, or who sells all or part of his personal collection of firearms." This provision allows for unlicensed dealers to sell firearms without the use of a background check. Some states have passed laws alongside federal law that make background checks necessary for both licensed and unlicensed dealers. Texas has no such law.
"
Two out of the 17 mass shootings that occurred in Texas since 1966 took place in a personal residence, and in both cases the perpetrators were previously arrested on charges of assault and domestic abuse. "
One of the ways that gun control is being addressed today is by placing more regulations on the sale of guns to the mentally ill. Even though guidelines for purchasing handguns in Texas address this issue, more regulations on all types of guns are being proposed nationally.
"I believe improving mental health is another way to prevent violent crime. On Aug. 5, 2015, I introduced the Mental Health and Safe Communities Act of 2015 (S. 2002), which was later included in the 21st Century Cures Act of 2016, and was signed into law last year (P.L. 114-255)," Cornyn said. "This legislation enhances the ability of local communities to identify and treat potentially dangerous, mentally-ill individuals. The law also includes reforms to increase the use of treatment-based alternatives for mentally-ill offenders, and improve crisis response and prevention by state and local law enforcement officials."
Even though Texas continues to be one of the strongest proponents of the right to bear arms, many Texans support passing laws that would provide for more background checks. "This is the debate we should be having—a debate that focuses on the root causes of mass violence, fully enforcing current law, and addressing improvements for mental health care in America," Cornyn said. "We can tackle these problems without curtailing Second Amendment rights."
As legislation moves forward in Texas and nationwide, the debate over gun control rages on as politicians and their constituents try to find common ground and come up with solutions to one of the defining issues of our time.
"
This is the debate we should be having—a debate that focuses on the root causes of mass violence, fully enforcing current law, and addressing improvements for mental health care in America."
— Sen. John Cornyn, R-Texas