Page of the month: February
Hang on for a minute...we're trying to find some more stories you might like.
This month: February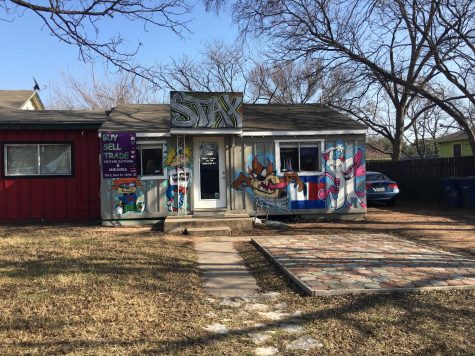 Change up your shopping: Stax Vintage
Started by a McCallum alumnus, Stax Austin is a clothing store in the North Loop neighborhood. It boasts shirts, sweatshirts, shoes and other uncommon clothing items from brands such as Supreme and Air Jordans, to name a few. Stax was recently featured in the annual McCallum fashion show with their own line of eight outfits modeled by the male student models. You can either head to their location (pictured below) and see the newest selection of clothing or visit their website and order certain pieces of clothing online. The store is open Monday-Saturday 11 a.m. to 7 p.m. and Sundays noon to 6 p.m. They're located at 701 E. 53rd St., Austin, 78751.
Eat out: Haymaker
Haymaker is a cozy restaurant in Cherrywood, specializing in "regionally inspired comfort sandwiches." One such sandwich is the Louisville Slugger, which is thinly sliced oven-roasted turkey breast, peppered bacon, tomatoes and parmesan cheese on two open-faced sliced of Texas toast. All of this scrumptuousness is covered in a thick and rich cheese sauce, or Guerye sauce, that can be found on a good amount of the menu items. If you're looking for a lighter fare, they also have grilled sandwiches like the BLT CA, which is a spicy twist on the classic BLT. It has peppered bacon, mixed greens, tomatoes, avocado, cheddar cheese and jalapeno ranch. The atmosphere of Haymaker is relaxed and the wait staff are friendly and helpful. The food and its presentation rivals that of higher-priced restaurants in Austin serving the same fare. This family-owned restaurant should be your go-to spot for a night out with friends or a lunch any day of the week. And of course we can't recommend Haymaker without mentioning their poutine. Poutine is a popular Canadian dish consisting of fresh fries covered in brown gravy and cheese curds, and Haymaker has made it their signature–some wait staff even wear shirts that simply say "poutine."
It's strange sounding, and even stranger looking, but it's definitely worth a try. Order your poutine "southern style" and replace the brown gravy with peppery white gravy or, for the more adventurous soul, add bacon.
Things to do in Austin: Study at the Central Library
If you're needing a new place to tap into your creative juices and get inspired to study and get homework done, look no further than the new Central Library in downtown Austin. With multiple floors each catering to a different crowd, you are sure to find a floor to study and crank our hours of work. You can check out laptops, tablets, virtual-reality headsets, and of course, books. If you're coming with a group to work on a project, you can head to the library's website and book a private room that is equipped with a flat screen TV, a large table, and rolly chairs. You can hook up your tablets and laptops up to TV to be able to project powerpoints or videos. A pro-tip is to not go on Sunday afternoons because the library will usually be packed, and it will be hard to find parking. The library is usually a lot less crowded on weekdays. You can park either in the parking garage at the library or the Trader Joe's parking garage a couple of blocks away. The library is open 10 a.m.-9p.m. Monday through Thursday, Friday and Saturday 10 a.m.-6 p.m. and Sundays noon-6 p.m. Photo by Julie Robertson.