Perez passes towards perfection
Hang on for a minute...we're trying to find some more stories you might like.
Senior quarterback Max Perez leads undefeated Knights
to potentially historic run
The Shield: How have you been feeling about how you have been playing this football season?
Max Perez: I think I have been playing pretty good. This is definitely my best year out of the past three years that I have been playing on varsity. I think now that I have developed as a player, it is all just coming slower, the game doesn't feel like it's going 100 miles per hour like it did when I was a sophomore. Physically I feel like I have gotten better. I am just bigger, faster and stronger than I was last year which has definitely helped me. I saw I was totaling 1,300 yards, which is really impressive, because this is my first year doing that. So, I just feel like I am doing good.
TS: How do you think the team has been playing as a whole?
MP: I can't even begin to explain how proud I am of everybody. I knew that this group was special and that we could do something good. Everyone has been executing their assignments and they are doing exactly what they have been told by their coaches. I never knew AJ [Alexander Julian] was going to rush for as many yards as he has. If you told me sophomore year, I would have never believed you. If you said that Jack Switzer was going to play on the defensive line, I would have never believed it. We just do it for each other. As a team, we have just been playing extraordinarily well.
TS: Do you guys get along pretty well and how does that help you on the field?
MP: Since the majority of our team is seniors, we have all been together for four years, and we have always talked about the success that we were going to have in the future, and I feel like it's finally here now. We hang out a lot after football, and team dinners are always a blast. We joke around with each other a lot and we sometimes argue, but we always end up fixing it and just moving on.
TS: How do you feel going into playoffs?
MP: Playoffs are a different game, but I feel like we are very ready. We need to keep preparing more and more. I feel like I won't know exactly what we should be expecting until we see the team. I know I will be prepared though. Same with my offensive line, AJ, we are all ready to just make a run for it. That's what we have been saying since the summer. I feel mentally ready, but it is going to take time for everything else to come together.
TS: Are you doing anything special to prepare for the state playoffs?
MP: We just stick to our normal routines and go through our practices. Then on Thursday we have a walk through. We just like to stick with that. Our coaches don't want to mess up anything because they do not want to mess up our vibe.
TS: How do you feel going into the next game?
MP: Luckily we have a bye week this week, so having some time off will be nice. But then we play Lanier, which should be another good win for us. We will have this time to prepare for what is to come.
TS: Is there any significance behind your number?
MP: I have gone through a lot of numbers. I looked up to a quarterback in the NFL named Andy Dalton who was No. 14. I feel like I play like him; the way I throw is like him. I wanted to change it, but my family told me that I changed my number too many times.
TS: What is the pressure like playing a game that most of the student body comes out to watch?
MP: The LBJ game was probably the most nerve-wracking thing I have ever done, when I was a sophomore. This is my third year doing it, so now that the game has slowed down a little bit, I feel a little better. I am not all jittery, and I don't get butterflies anymore; there are no nerves. I just know what I am there to do, and I just try to execute.
TS: Anyone to shout out for all your success?
MP: Shout-out the offensive line, shout-out AJ, all the coaches, especially Coach Shneider.
About the Writer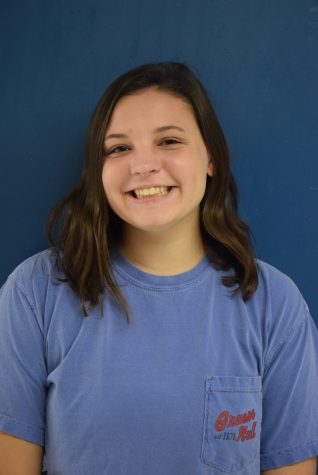 Maddie Doran, Sports editor
Maddie Doran is a senior and this is her third year in newspaper. This year she is the sports and design editor. She also plays softball and is in National Honor Society.