A Passion for Fashion
Hang on for a minute...we're trying to find some more stories you might like.
Senior Gaby Fagelman always wanted to be an actress. She loved the Red Carpet coverage, the Oscar outfits and the crazy fashion statements associated with the industry. That was, until she realized that was the only part she liked about being an actress: the fashion. Ever since that realization, Fagelman has rejected the red carpet for the runway, leading Fagelman to organize her own benefit fashion show, featuring 18 pieces of her own design.
"I came up with the idea in April, and it's been really fast-paced," Fagelman said. "My stepmom co-owns a boutique called Found, and she inspired me and pushed me to do my own show. My parents were really supportive of me, but I've planned this whole thing by myself."
The event took place Sunday, Sept. 24 at the Peached Social House, and all the proceeds from the event went to benefit Dress for Success, a charity that's especially close to Fagelman's heart.
"[Dress for Success] takes women who are going through a really hard time in their lives, financially, and gets them a custom-fit outfit, like a suit with a handbag," Fagelman said. "The [charity] gives them makeup and jewelry, then takes them through training so that they can be ready to go on job interviews. They do mock interviews and basically get these women jobs."
Fagelman was drawn to Dress for Success when the charity helped someone she admired and loved. The charity's main goal is to help people in the community through fashion, which Fagelman hopes to do with her designs.
"My boyfriend's aunt went through this process when she was going through a hard time, and they helped get her on her feet and get her a job," Fagelman said. "I know people who have been personally affected by this charity: it's really close to my heart. I chose it because my brand, Gaby, is about embracing being yourself as a woman, and I love how this charity inspires women and helps them through fashion."
The combination of ticket sales, a GoFundMe campaign and a silent auction at the event allowed Fagelman to raise more than $4,000 for Dress for Success.
"I really want to make sure that whatever I did was going to benefit someone else because I'm not doing this for the money," Fagelman said. "I'm not making a penny from this: it's all going to them."
While she hasn't gained financially, Fagelman said she he has gained valuable experience that will help her in the fashion field. Dress for Success even offered Fagelman an internship, which she had to turn down because of her school schedule.
"I've learned how to negotiate prices and talk to all these people," Fagelman said. "Since it's a benefit show, people were really willing to help me and donate their services to support the charity."
The theme of the show was Bohemian garden, but according to Fagelman, her line was not the average take on the Bohemian style. She incorporated vibrant colors and patterns in her designs to give the show a modern twist.
"I think when a lot of people think of Bohemian, they think really toned down colors," Fagelman said. "All the laces that I'm using that have Bohemian touches are vibrant and colorful patterns. It's way different from anything I've done before, since normally I make monochromatic, simple clothing."
When Fagelman took a trip to Spain over the summer, she noticed people were wearing extremely exotic colors and had a bold sense of fashion, which inspired the bright floral patterns evident in the designs in the show.
"A lot of times in Europe, people wear very neutral colors," Fagelman said. "In Spain it's a lot more colorful and I got really inspired by the fabrics that people wore. I'm importing a ton of different fabrics from Spain, Canada and New York, so it's very worldly."
Fagelman used her experience abroad to inspire the theme for her collection, which uses colors and fabrics to express her life and her experience growing up. The collection progresses from warm colors to cool tones to neutrals, symbolizing the journey to adulthood and expresses the changes in Fagelman's personal style as she matured.
"The collection is the modern girl's journey from adolescence to adulthood," Fagelman said. "I used to wear super bright colors, and I didn't have a care in the world. As I got older, I [began to] dress more neutral, and got more serious, more focused. I'm expressing my life and my emotions through that girl's journey."
Fagelman believes she can use her pieces to inspire other women, which is one of the reasons she chose to raise money and awareness for Dress for Success. She believes her feminist line of clothing will make women feel comfortable and confident in themselves and empower women through fashion.
"I think fashion can be a really cruel industry, and I really want to change that with my brand and make [the world] a really positive place for people to wear beautiful clothes," Fagelman said.
"My mission wherever I go is to [make] you feel good in whatever you wear, whatever body type, skin color or orientation you are."
About the Writer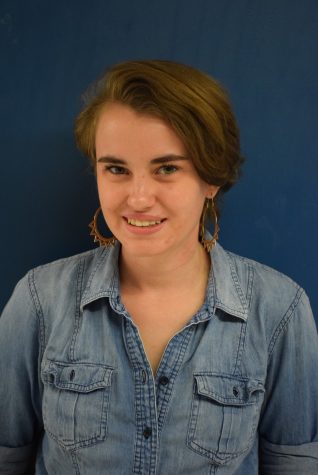 Madison Olsen, Photo editor
Madison Olsen is a senior at McCallum. She is the photo editor of the Shield and the Knight, and is also responsible for posting on the MacJournalism Instagram. Her homes away from home are the rock gym and the journalism room— where she tests the boundaries of time, mental health, and Mr. Winter's patience working...