Coffehouse combines Halloween theme with original poetry, music
Hang on for a minute...we're trying to find some more stories you might like.
McCallum's literary magazine, Excalibur, held its fall Coffeehouse, a fundraiser to raise money for the publication, last Friday in the library during fourth period. The fundraiser was Halloween themed, and the library was decorated with fake candles, spider webs, cutouts of stars and moons hanging from the ceiling. The set list included poetry, original songs and even a double bass.
Junior Cole Duro Landry was on the Excalibur staff last year. At Coffeehouse, Duro Landry was one of two students to perform pieces of writing. Landry admitted he was apprehensive at first about reading aloud on stage.
"I had to think about the concept of finding my center," he said, "because you have to acknowledge who you are and what the core of what you're saying is when you perform something live."
Many of the Coffeehouse participants performed original music. Senior Nickie Cohen played her song "Counting Sheep."
"I was inspired by relationships, particularly friendships, where I really cared about the person, but knew I could never trust them and that they would never treat me the way I deserved," she said.
Coffeehouse didn't only consist of solo acts. Seniors Matan Bos Orent and Jimmy Reyes, playing the guitar and drums respectively, performed their new song "Chastity," which was inspired by Latin music.
"I had just learned this new Afro-Cuban rhythm, and I thought it was really cool, and I always show Matan whenever I learn new stuff. He was like, 'OK, we should write something,' and then we got together at lunch one day. We used that rhythm, and we wrote it in like 20 minutes."
Senior Jackson Brooks, who sang and played the keyboard, performed at Coffeehouse for the first time two years ago, and has been a regular ever since.
"As an artist, my inspiration comes from focusing on the instrumental," he said. "I'm an audio engineer in training. I like synthesizers a lot so I work a lot with [them]. It's all about textures."
Coffeehouse provides students an outlet to showcase their creativity and passion for the arts, a trait that speaks to the character of McCallum as a whole.
About the Writer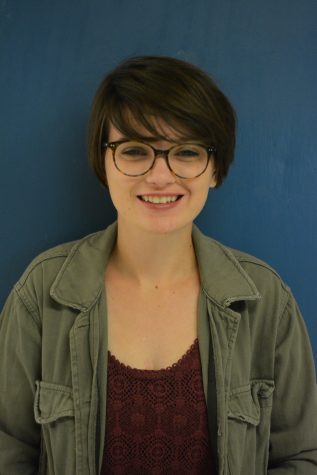 Emma Baumgardner, Staff reporter
Emma Baumgardner is a staff reporter and a senior at McCallum high school, and a vocal major in the fine arts program. She enjoys hiking with her family and friends, and likes to read mystery books in her spare time. She is also a part of the Excalibur staff, and loves to write. This is...