Sharing Opportunities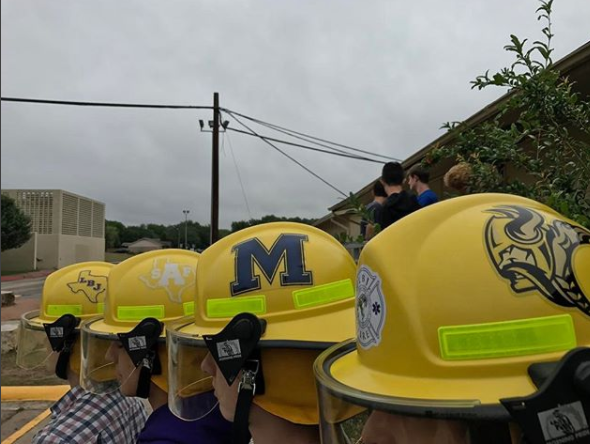 Hang on for a minute...we're trying to find some more stories you might like.
HONORING THE FALLEN: The students of the LBJ Fire Academy, including McCallum junior Sutton Ballard, joined firefighters all across the nation in honoring the 343 firefighters who lost their lives on Sept. 11, 2001. Ballard said that the fire academy students did nine different exercises 11 times to observe the 16th anniversary of the date of the attacks. They also carried hoses up 110 flights of stairs to match the 110 flights of the World Trade Center buildings that fell that day. The grisly day also left 91 fire trucks buried in the rubble. The loss of experience and the emotional anguish of that day has stayed with the FDNY for a generation. Video courtesy of the LBJ Fire Academy.
AISD students expand their horizons beyond home campuses
Every morning, junior Sutton Ballard wakes up and drives through Austin traffic to a school that isn't hers. She is a McCallum Knight, but once she arrives at the firefighting academy portable on LBJ campus, she is just a fellow student to the Jaguars, Maroons, Trojans and Vikings around her.
"It's cool to hear what everybody else's classes are like, especially the LASA people," Ballard said. "They have such weird class situations going on because of their magnet thing. But it's not that different. Everybody still talks like they know each other."
These students all come from different backgrounds, but each one went through the same extensive admissions process.
"You had to get teacher recommendations, turn in your transcript to make sure all your grades were good, and you had to turn in an essay [to get into the Fire Academy]," Ballard said.
Ballard is able to be a part of the firefighting academy because of AISD's student sharing program, which is in its second year. Student sharing allows high school students from across the district to take classes not offered at their home school. Most student-sharing courses are much easier to enroll in than the Fire Academy. In order to take classes such as cosmetology, law enforcement, automotive technology, culinary arts and various foreign languages, students simply have to sign up and take a bus or personal vehicle to the school offering their class.
"It's easy," sophomore law enforcement student Amber Arambula said. "Every morning at 8:50 we go out to the busses and they take us to Lanier, and then at around 10:30 they take us back. They just drive us, we don't have to do anything about it."
Arambula's class is similar in makeup to most student sharing classes— it has students from Lanier, McCallum and Anderson— but the school itself has an atmosphere that contrasts Arambula's home school.
"[Lanier is] really different," Arambula said. "There's a lot of plants and trees everywhere. They also have pigs and stuff, they have farms and gardens. It's really cool, and it's really big. It's different."
Student sharing has served as a way for schools across AISD to expose students to these new and different experiences, but so far its reach has been limited.
"We have about 20 [students] from McCallum going to [other schools], and then we have about five that are coming to us," assistant principal Gabe Reyes said. "[The program is] a little bigger, actually, than last year. I think last year we only had six kids finish the program, go through the whole year. It's not a whole ton of kids."
These low numbers have allowed administrators like Reyes to work out the logistics of the program, which have proved to be the most difficult part of student sharing.
"The logistics of making sure that we set up and that other schools set up at the same time, making sure busses are here… all the logistics are pretty much the tough part about it," Reyes said. "[Changing the school schedule] was part of it. All the schools need to be aligned, which means that we need to all share the same schedule. And really, once you get into it, it makes it where those kids can go [to their student-sharing schools] on an A day or a B day. It's just so those kids get that opportunity."
Opportunity is the name of the game, and as the program matures, it is also expected to expand— but that doesn't mean it won't be without growing pains.
"We're still working out some of the kinks, but I think it has an opportunity to be successful," Reyes said. "And who knows what it'll morph into, or what will be available as time goes on. It's kind of like the dual-credit program with ACC. When that first started way back when it probably was small, but it's gained momentum and now it's part of what we do."
Reyes invites any students interested in being apart of the student sharing program to sign up for those courses in the spring, and Ballard has an invitation of her own to extend.
"I definitely would recommend student sharing," Ballard said. "If you're interested in the [fire] program, you apply as a sophomore, and it's a two-year program for juniors and seniors."