Easier said than done
Julia Robertson
October 28, 2015
Filed under News
Hang on for a minute...we're trying to find some more stories you might like.
As school shootings increase, so do safety measures within district
"This is only a drill." Students have heard this many times in their school careers. Everyone has done fire drills, tornado drills, and the big elephant in the room, intruder drills. It is necessary to talk about; school shootings are becoming a disturbing common occurrence. Sophomore Genevieve Temple can tell you exactly where she was when she heard about Sandy Hook Elementary shooting three years ago.
"The Sandy Hook shooting really scared me," Temple said. "I remember hearing about it when I was in seventh grade in art class."
 Senior Jack Vela said that Sandy Hook shook him up as well.
 "When I heard about Sandy Hook, I didn't really process it at the time," Vela said. "But then that winter break I was in New Heaven Connecticut, we were visiting family. I think once I was there and it really sunk in."
To Temple, it wasn't just another news headline that passes and goes; she was worried that it might just happen to her next.
"I remember thinking, 'what if this is going to happen to me next?'" Temple said. "What if they came into my classroom right now and shot us."
 AISD chief Police officer Eric Mendez explained that here in our district we do have a plan of conduct if an intruder were to come into any school.
 "Austin ISD and the Austin ISD Police Department do have a plan with addresses campus safety," Mendez said. "Included in the plans, are events such as an active shooter on campus."
Vela says that the intensity of preforming a drill depends on the teacher.
"During drills it depends on who the teacher is to see how much the teachers enforce it," Vela said. "Most teachers just go about their business and some just don't take it that seriously."
Temple said teachers are pretty calm for her drills as well.
"The teachers are usually pretty calm about drills," Temple said. "The teacher's classes that I've been in during drills for lockdown, basically just turn off the lights and lock the doors, but they say we can keep working. They didn't make us do anything in the way of 'hiding'."
In the case of a real intruder coming into McCallum, Temple says she wouldn't feel safe at all.
"If the real thing were to happen," Temple said. "I wouldn't feel very safe at all. But on the contrary I feel like if the real thing were to happen, it would be more safe, and the teacher's would be more prepared, even though they aren't exercising that caution in the drills."
Mendez said that every campus' security needs are evaluated. The security procedures are evaluated regularly.
Vela says he does not approve of keeping the doors unlocked if a school shooting were to occur.
"Certainly in the event of a school shooting, it wouldn't be safe for us to keep the doors unlocked," Vela said. "I don't think that keeping the doors locked at all times, specifically during school hours is not as important as leaving them unlocked for people getting into school late and so on."
Temple thinks there are other ways to keep the school safer.
"I don't think that it is very safe that the doors at school are unlocked all the time," Temple said. "It seems like the most safe and efficient way to be safe is that we use our student ID and scan to get into school."
Such security doesn't come cheap. One interior security camera can cost $500 to $700. An exterior camera can run up to $1,300. Those are on the lower end of the scale as well, the nicer the camera, the higher the price.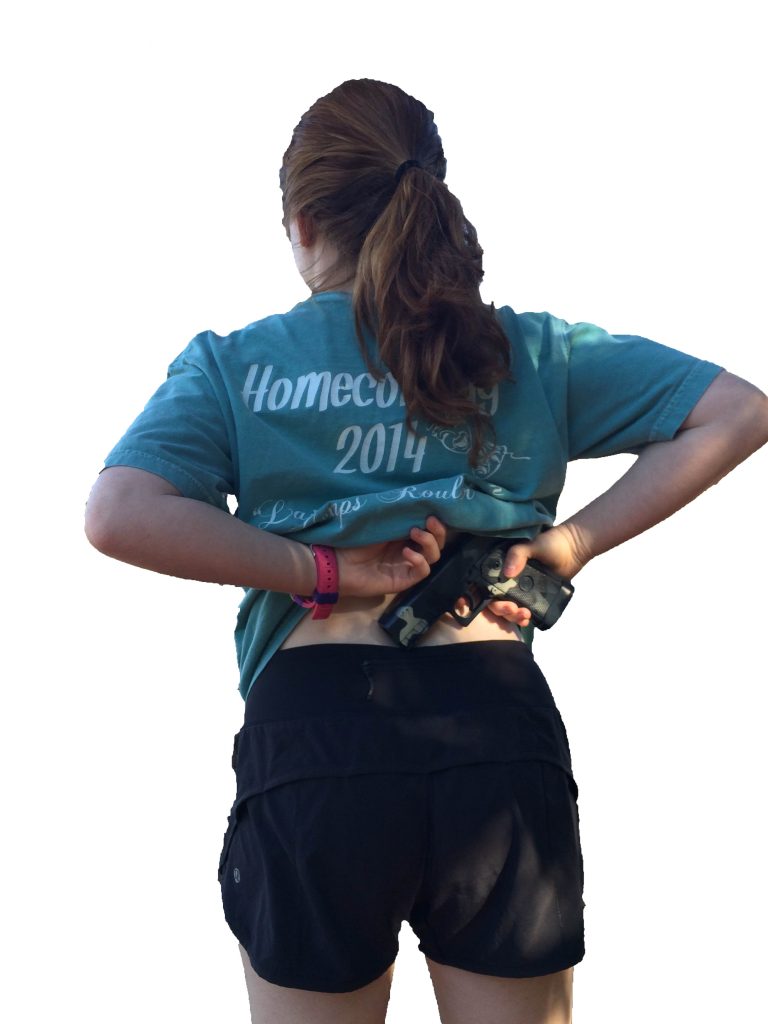 Mendez explains that whether a school is located in a rural or urban neighborhood, everyone should be equally prepared for a shooting to occur.
"All schools, regardless of where they are located, should take precautions to ensure the safety of the student," Mendez said. "It is a recommendation from the Austin ISD police department that all exterior doors be locked during the school day to limit access to the campus by unauthorized persons."
Vela says he would rather have everyone know exactly what to do, rather than panic.
"I think it is very important for student's to know what to do in the case of a lockdown," Vela said. "Because we need to know what to do in the case of an emergency, rather than everything being really hectic."
Temple said that the threat of a school shooting makes her view of proposed open carry gun laws an obvious no.
"I would definitely say no to high school open carry," Temple said. "It's so stupid that people are even thinking of that becoming a possibility. I don't care if they want to prove their right as an American. It's dangerous and should not be allowed."
A new law in Texas for open carry allows licensed Texans to carry handguns in plain view in belt or shoulder holsters. A provision was put on that would prohibit police from stopping someone to check for a gun license simply if that person was carrying a handgun openly, however police groups demanded that Gov. Greg Abbott veto the entire bill if the provision wasn't removed.
Vela said that there was a lot of commentary about the problem of gun control especially when Sandy Hook occurred.
"Having open carry laws allowing people to carry guns in schools was a hot topic," Vela said. "I know in Texas we recently passed SP1, which allows people to carry guns openly on college campus."
He said that there was a lot of argument about the certain bill because it would be "easier" to tell who was a threat and who isn't in a crowd of people. But Vela does not agree completely to that idea.
"I don't think that is necessarily true because if there is one gun in a true shooting then it is tragic," Vela said. "But if there are two guns then it would be hard to track the actual shooter."
Vela figures there will probably not be a serious school shooting at McCallum, at least while he's not hear. However he thinks that everyone should be aware of what to do during a school shooting, any unfortunate occurrence that happens during a school shooting is awful, Vela said.
"You know what they say, the death of one human is a tragedy," Vela said. "And the death of 1,000 is a statistic."