Key Club volunteers help with fall festival
Maya Coplin and Seren Villwock
November 4, 2014
Filed under News
Hang on for a minute...we're trying to find some more stories you might like.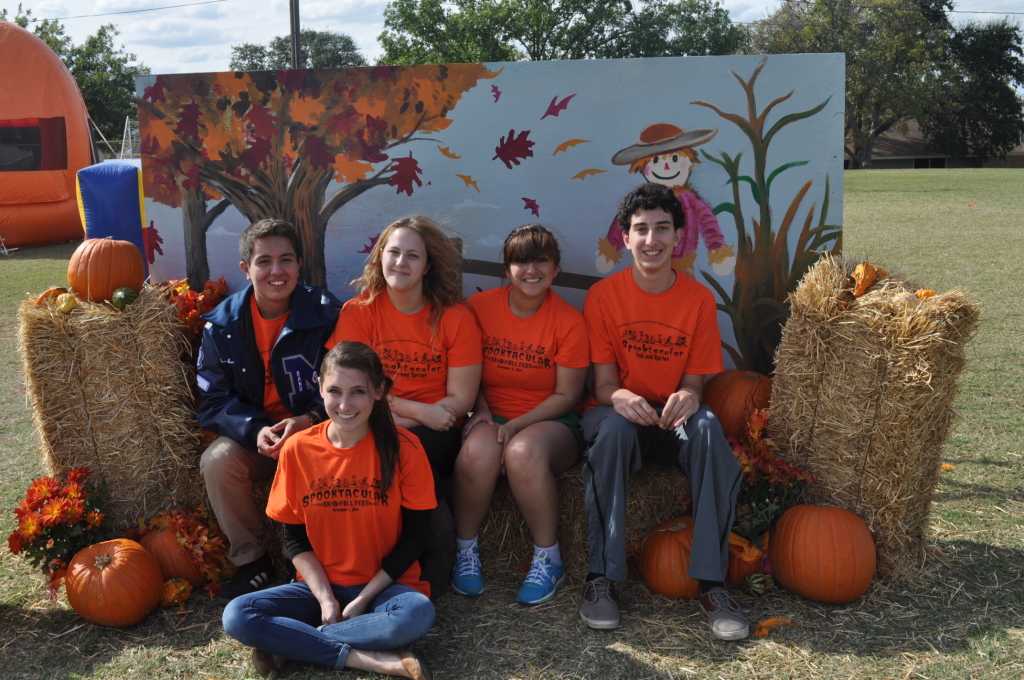 Key Club members reached out to little spidermen, Disney princesses, and Austin State Supported Living Center residents at the Spooktacular 5K and fall festival Sunday. McCallum volunteers helped run several festival booths, including the bungee run, temporary tattoos and pumpkin-shaped bounce house.
New club officers restart student volunteer organization
Senior Addie Carlson knew if she didn't become an officer and restart the Key Club, it might not continue.
"Last year it ended because we didn't have very many projects available for kids to participate in," Carlson said. "So this year me and a group of three other kids—Seren Villwock, Irie Corpus and Haley Hegefeld—are restarting it. This year I'm kind of helping people get involved in it and dealing with all the membership stuff."
Second semester of last year, the club was deserted because  students did not have any events at which to volunteer. Club sponsor Tim Bjerke said he is not going to let that happen this year.
"I am really hard on these folks because we have to make sure they really do it," Bjerke said. "We can't just drop the ball in the middle here."
Instead of having all four senior officers, this year two officers are juniors. Officers' roles have also been changed this year. Instead of having a president and vice president, all four officers have specific jobs.
"Membership is just going to worry about money and getting people signed up," Bjerke said. "Events [officer is] going to be our coordinator, so that's going to be our contact about any of the events we are going to participate in. Communications [officer] is supposed to promote us, and then our secretary is going to have a more narrowly focused job, so they will just deal with the applications. Then we are going to use a text reminder. That way everyone that gives us their number has a chance to go to any event."
For students to be more involved in the club, text reminders will be sent out and monthly meetings will occur. Communications officer Irie Corpus said she wants to make sure all the students involved can get their credit and will stay involved in the club.
"We are making it a rule," Corpus said, "where it's like three service activities and you get a pin. You have to put in certain hours to receive credit."
The Spooktacular fall festival event Sunday was one of the first few Key Club events this year.
Sometimes volunteer organizers contact Key Club with opportunities. In past years, the club has worked with KLRU, the Texas Book Festival and different homeless shelters.
Upcoming events for Key Club include volunteering at Lamarfest, Community First! at Mobile Loaves and Fishes, and a wilderness preserve.
"There is something almost every weekend," Bjerke said, "so you know if you can't do it for a while, you can still come back the next week and keep going."