Holbrook wins Mr. McCallum pageant
by Kendra Murphy
February 1, 2014
Filed under News
Hang on for a minute...we're trying to find some more stories you might like.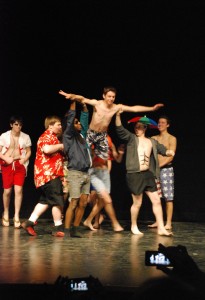 Senior Jak Holbrook was crowned Mr. McCallum on Saturday, January 25.
"I'm just going to go out there and destroy it," Holbrook said before the pageant. "Just like everything else I do. I'll wing it."
Contestant and senior class president Bobby Pellegrini said all the money raised in the mock pageant through ticket sales, calendar sales and vote money goes to the prom fund.
The contestants were judged on their formal wear, their talent, an interview with the hosts and a swimsuit competition.
"It [was] an opportunity for us to just make ourselves look silly and get away with it," Pellegrini said.
Photos by Mary Stites.