Theater students nominated for BroadwayWorld awards
Natalie Murphy
November 26, 2013
Filed under News
Hang on for a minute...we're trying to find some more stories you might like.
Six theater students were nominated for the 2013 BroadwayWorld Austin Awards. The students, senior Connor Barr, senior Annamarie Kasper, junior Jacob Roberts-Miller, junior Sage Stoakley sophomore Kendrick Lawson and sophomore Hannah McEvilly were recognized for their outstanding performances in categories including Best Actor/Actress under 18, Best Featured Actor/Actress and Best Local Musical.
Barr, Roberts-Miller, Lawson, McEvilly and Stoakley were nominated for their performances in MAC theater's production of "Bonnie and Clyde," Kasper was nominated for her performance in Tutto Theater Co's production of "Zeus in Therapy."
Stoakley said these awards are a unique opportunity for McCallum Theater.
"It's a little different than the awards [we're nominated for] in the spring, the Greater Austin High School Musical Theater Awards," Stoakley said. "This one is more like a worldwide thing. It's a pretty big deal. I don't think we've ever been nominated for these awards before."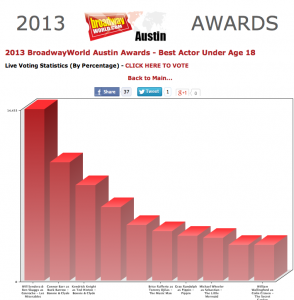 McCallum's "Bonnie and Clyde" production was also nominated for Best Local Musical. The show was nominated among 36 other musicals produced in 2013 in Austin and the surrounding area.
"Being a Texas premiere, the musical got a lot of recognition and people wanting to be a part of the production," Stoakley said. "We got a lot of public eye for it, so this is sort of introducing McCallum as less of a high school theater program and more of a community theater because we do such advanced productions and we're getting judged against things like ZACH Theater, the Austin Theater Project and theaters all around Austin."
According to Stoakley, the awards benefit MAC Theater students pursuing futures in performance arts.
"I think its really good as far as getting to know our school and getting to put our actors out there for recruitment," Stoakley said. "So people are starting to know us more and more, which is really good."
 Click here to vote on Broadwayworld.com