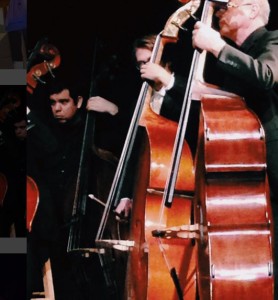 When junior Matthew Weinberg was told he would perform with the Austin Symphony Orchestra in front of his peers, instead of feeling racked by nerves, Weinberg was more relaxed than ever.
"Sitting up at the front of the string section and hearing the professional brass coming up overhead was a nice experience," Weinberg said. "But I wasn't nervous because I know actually a lot of the Symphony members really well. At the concert I was sitting next to my private teacher, who plays with the orchestra professionally. I also know the concertmaster who was there with us, and one of the other second violinists. Knowing so many people definitely helped create a good atmosphere."
Ten members of the McCallum Band and Orchestra programs performed with Austin's oldest performing arts group, the Austin Symphony Orchestra, on Jan. 19 as part of a high school concert tour. Senior Hannah McChesney, a flute player in the band, was one of these lucky students.
"Yeah, the orchestra and band kids came to rehearsal on Sunday at the Long Center to practice the piece we would be playing," McChesney said. "And then on Tuesday we performed at the end of the Symphony's program. I was a bit nervous because I didn't want to be out of tune in the performance, and I realized that some of the notes I had to play were like the highest a flute can make, so it was a little nerve-racking."
Though Weinberg said that the selection process for orchestra members was through volunteers, McChesney said band nominations were just a little more selective.
"I think my band director had just four or five slots that she could fill," McChesney said. "Everyone she picked was a senior, and went to UIL All-State last year."
The rehearsal process just a few days before the performance involved all schools participating in the Side-By-Side Student Performances program, however students were expected to know their music by that time.
"We got the music before winter break, but I looked at it the day of rehearsal," Weinberg said. "It was a very short rehearsal, which was kind of too bad. But they managed to do it in a way that didn't leave people behind. All of the schools first rehearsed together, then they took each school and had us rehearse with the Symphony privately. I like being able to work with the band at McCallum. The nicest music for any of orchestra's instruments is written for a full orchestra. The strings, brass, and winds all make for a fuller texture. Plus, there's just really nice people in the band. I wish we did more together."
The performance by the Austin Symphony was called Romeo and Juliet: The Nature of Conflict, and featured various excerpts from performances and depictions of the story written by different composers throughout history. When the McCallum students entered at the end to play their piece with the Symphony, McChesney said the experience was cool in more ways than one.
"I really liked playing up there with them because usually in band there's so many things that you don't notice that are different with a professional group," McChesney said. "Whenever we played with the Symphony everything was perfectly intune, which never happens in band. And I was pretty happy because my private flute teacher actually plays in the Symphony, so I got to sit next to him which was awesome. It was just really interesting to see the professionals in that setting."
Weinberg had a very similar experience as well.
"I really liked getting to play next to my private teacher," Weinberg said. "I'd say my favorite moment during the whole thing though was after the second concert, just right when we had finished our piece. I got everything right that time. Third time's the charm. And I'm done, and Kilmer, my teacher, looks over at me and says, 'Good job', then he shakes my hand. And I tell him I'll see him the next day, which was funny."
According to McChesney, playing with the Symphony made her think about what teh future will hold for her love of music.
"Seeing grown ups and how the rehearse and how efficent they are was really interesting for me," McChesney said. "Just looking at the contrast between their level of playing and behaviors versus those of a high school band made me think, 'Wow, I might actually want to do this someday'. I don't know if I want to play professionally, but I definitely want to keep playing."
Weinberg sees his experience with the Symphony as a memory that will motivate him in the future.
"Well, you see what level it is you need to be at," Weinberg said. "And sometimes when playing with professionals you get to see how close that is. It's really easy as a musician to always feel like you need to be better, but yu can really get down on yourself and it can be really frustrating. So it's always good to have some fun experiences to remind you how great it is to play music."