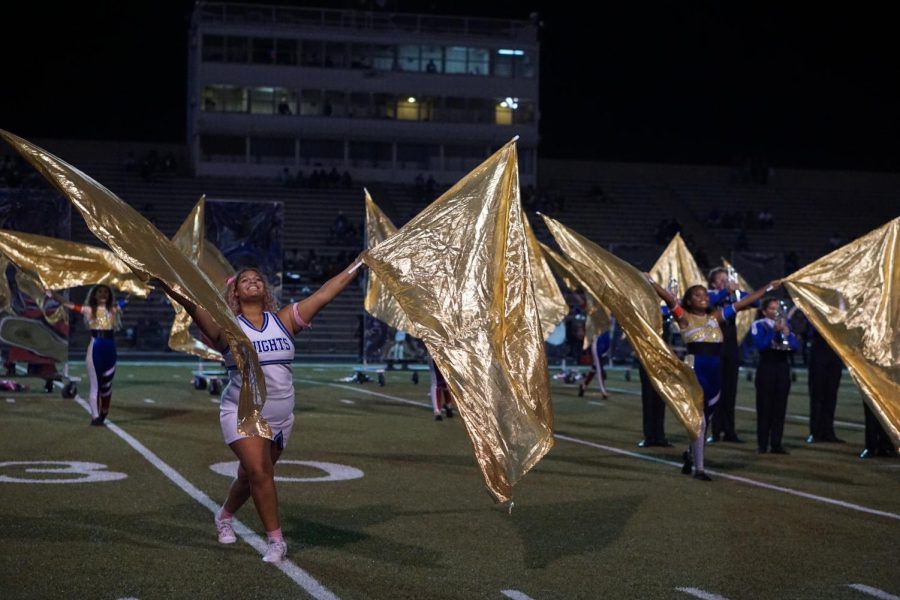 Genesis Ritcherson
Senior builds relationships, manages extracurriculars
Senior Genesis Ritcherson, color guard member and social officer on the cheer team loves the people in both groups.
After a childhood full of cheerleading, Ritcherson started school cheer in sixth grade at Kealing. Three years later, she discontinued it until her junior year at McCallum. This year, Ritcherson has taken on the role as the senior social officer. Her responsibilities include assisting the cheer team's appearance, designing posters and sweatshirts and boosting school spirit.
"
I have to start preparing the night before and to make sure I have everything I need for the whole day. Sometimes, I have to bring three pairs of shoes for cheer, color guard and regular school."
— Genesis Ritcherson
"My favorite part about being on cheer is being a leader," Ritcherson said. "I want to be someone helpful that people know."
During football season, Ritcherson's schedule is packed with both cheerleading and color guard. She joined the color guard as a freshman at Anderson High School, and the sport followed her to McCallum after she transferred last year.
"At my freshman orientation at Anderson, I met these cool people who told me to join color guard," Ritcherson said. "I said yes and I eventually got really good at it. It was a lot of fun."
Ritcherson's favorite aspect of color guard is working with the marching band.
"The people are so funny and nice," she said. "Marching band bonds people because it is so treacherous."
At football games, Ritcherson switches her roles. She spends a majority of the first half with cheer, before beginning to warm up with the color guard. Following Ritcherson's halftime flag performance, she rushes back to her fellow cheerleaders and picks her pom poms up again for the second half. Although football games are strenuous, Ritcherson has gotten used to the hustle and bustle of doubling up.
"Halftime can be really tiring," she said. "I make sure I'm drinking a lot of water throughout the day so I'm extra hydrated, but my stamina has gotten better."
While managing both activities, Ritcherson's busy schedule has also improved her communication and preparation skills.
"I have to start preparing the night before and to make sure I have everything I need for the whole day." Ritcherson said. "Sometimes, I have to bring three pairs of shoes for cheer, color guard and regular school."