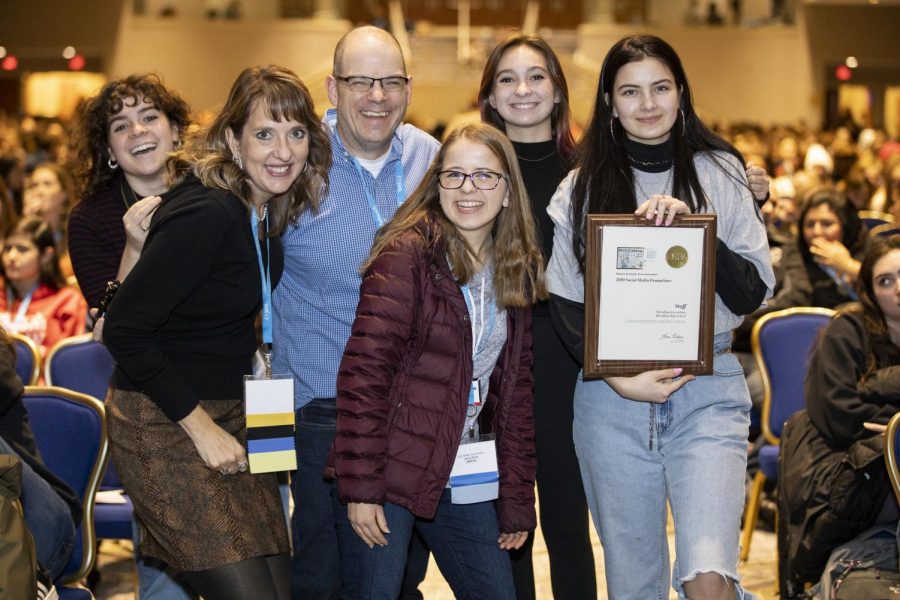 Mitchell Franz/NSPA
Back in plaque
WASHINGTON D.C.—MacJournalism had a very good Day 3 at the NSPA/JEA fall national journalism convention. After morning sessions and a tasty lunch at Duke's Counter, the group reconvened at the NSPA awards ceremony where MacJournalism defended its double national title in the Best Use of Social Media Contest.
The MacJournalism Instagram account won first place for best reporting and first place for best promotion. NSPA board member and ILPC director Jeanne Acton presented the awards. As it did last year, MacJournalism also had a publication place in the Best of Show competition held among staffs attending the convention.
The second issue of The Shield, which was published earlier this month, placed third in the nation among tabloid newspapers 17 or more pages. It was the second straight year that The Shield's print newspaper has placed in the Best of Show competition. Last fall in Chicago, The Shield's first issue of the school year placed eighth.
Prior to those two staff awards, seven current or former Shield staff members were announced as winners in NSPA individual contests.
Managing editor Stella Shenkman placed second in the nation in the Multimedia Journalist of the Year Competition, a portfolio competition for which she submitted one video and four podcasts that she directed during the 2018-2019 school year.
Class of 2019 graduate Townes Horbratschk and senior online editor in chief Max Rhodes placed second and third nationally in the Blog of the Year competition. Hobratschk won second for "Flavor Profiles," his food review blog, and Rhodes won third for "Rhodes Traveled," his travel blog. Both writers provided informative reviews of their subject in an informal humorous style.
Senior Kelsey Tasch, a 2018-2019 associate editor, won fourth place in the nation in the Design of the Year competition for her December 2018 cover depicting the possible cuts in the AISD budgets as carnival style spin-the-wheel game.
Junior Olivia Watts, a 2018-2019 staff member, won fourth place in the Digital Story of the Year competition for her September 2018 interactive graphic featuring the public art of Austin.
Junior visuals editor Bella Russo won fourth place in the News/Feature Photo of the Year competition for her September 2018 photo of Blue Brigade dancer Addie Seckar-Martinez performing a hoop routine at the Mac-LBJ game at Nelson Field.
2018-2019 Shield photo editor Gregory James earned honorable mention in the same category for his March 2019 photo of former Texas congressman Beto O'Rourke making his first Austin campaign appearance after announcing his 2020 presidential campaign.
Photos by Mitchell Franz, Bella Russo, Gabby Sherwood and Dave Winter.