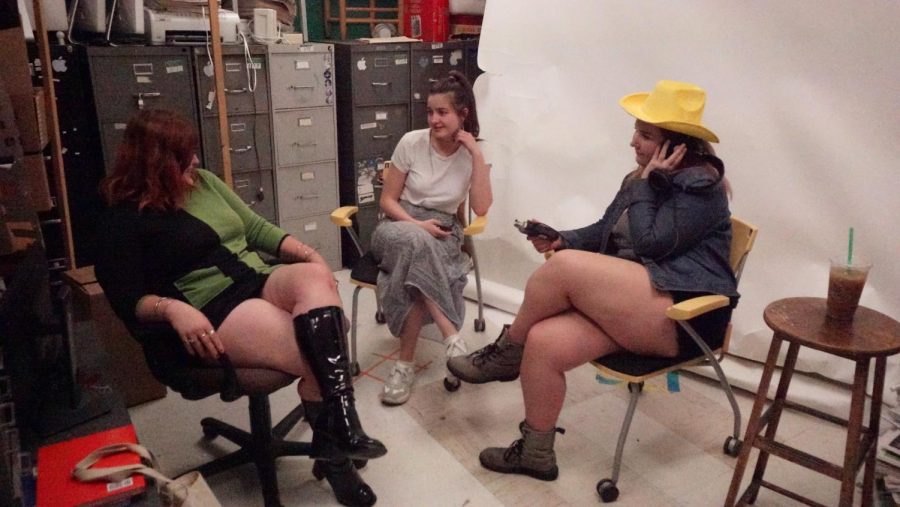 In the seventh episode of 'The S Word', senior Excalibur co-editor in chief discusses her story
From what she wears to what she writes in her daily journal, senior finds ways to 'feel better in her own skin'
In the seventh episode of The Shield podcast series, The S-Word, podcast host Alex Dowd, and producer Stella Shenkman sit down with one of McCallum's 2018-2019 Excalibur co-editor in chief's, senior Lilian Sease. Excalibur is the official McCallum literary magazine, which includes student-submitted art and writing and is designed, composed, marketed and sold by the magazine team. As Sease's third year as an Excalibur designer, she works alongside seniors Isabella Hernandez and Ardis Warrenfells as editors-in-chief. In this episode of The S-Word, Sease regresses her time being in Excalibur, as well as discusses her relationship with the arts, fashion, and her personal goals as a designer.
Despite her being interviewed in light of being in Excalibur, the discussion took a deeper turn and lead to Sease discussing the importance of having creative outlets. As Sease went more in depth about the process within the publication, Sease discussed her personal journey discovering herself through her love of fashion.
"Whenever I started getting more into how I was dressing, I found it to be a way to feel better in my own skin." Sease said. "…Which is one of the reasons I am such a huge supporter of individuality within your style." Sease was awarded the senior superlative of "Best Dressed" in the 2018-2019 year.
"A really long time ago, I threw out the word 'flattering." Sease said. "It's subjective. What's flattering on me, may not be on others. But, what I think is flattering on me, my mom hates it." Sease spoke on behalf of all of the Excalibur team as she welcomed incoming sophomores, juniors, and seniors to sign up for the class and to stop by Mr. Cowles room if they had any questions regarding the magazine. Any student may submit writing pieces and/or visual art to be considered for the magazine at [email protected].