Doing what they can to HELP
AISD, Austin face increase in youth homelessness
April 20, 2017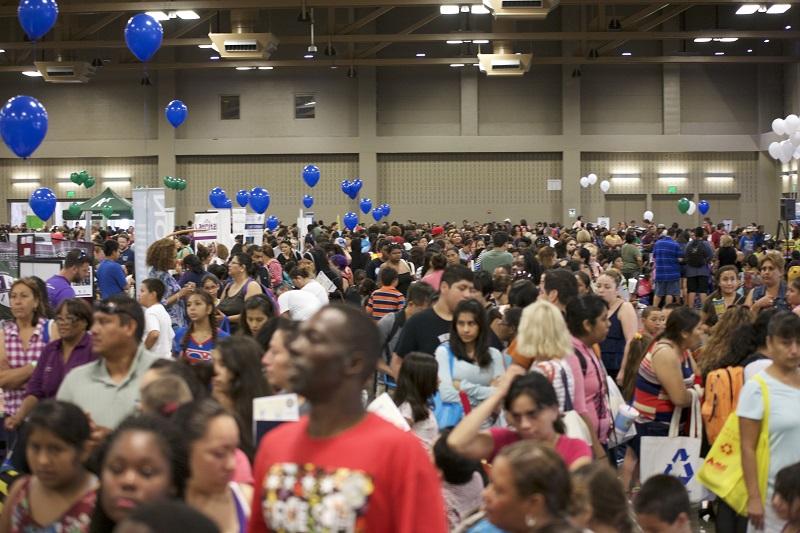 "What does a homeless person look like?" If asked this, chances are you'd have a specific image in mind: a man, perhaps a veteran, or possibly someone battling drug addiction, standing outside on the street with filthy and tattered clothes, clutching a sign and pleading passerby for spare change. Chances are you wouldn't picture a clean-shaven, well-groomed high school student who takes all AP classes and hopes to become a businessman.
But that is precisely the reality for one McCallum student. This junior, who wished to remain anonymous, was born an American citizen, but shortly after moved to Mexico with his mom. There he lived the fairly typical life of a teenager, but when his single mom married a new man, he began having problems with his stepfather. Eventually, he decided to leave the home in which he had grown up in and move to Texas on his own in search of a new life.
"I took a Greyhound bus to Austin by myself, and I contacted [a family friend] and stayed in his house for a couple of weeks," the student said. "I started to work since it was summer; I started to work in construction because the guy had contacts, but after that school started. I just lived with him for one month or two because he used to  drink a lot, all the time, and I couldn't sleep at night because he was making noise and playing loud music."
After he found himself with no permanent housing, he turned to a solution many unaccompanied youth find themselves in: couchsurfing from house to house, staying with friends or strangers.  
"One of my friends from school invited me to live in his house, and I started to live with him," the student said. "His parents were too strict, and I couldn't do my things, so I decided to move again. All the time it has been like that. I just find a place for a couple of months; I cannot study because I have to worry all the time about everything."
THE BIG PICTURE
The 18-year-old is one of the more than 2,600 students within AISD, and the more than 1.7 million teens nationwide identified as homeless. According to the McKinney-Vento Act, a law addressing homeless youth in the education system, homelessness is defined as living doubled up with other families, in a shelter, in a motel/hotel or out on the streets. This bill also stipulates that schools must eliminate obstacles, such as transportation, that may prevent a homeless student from continuing to attend school, and appoint a liaison to assist those students  who have been identified as homeless. AISD's Project HELP department is tasked with ensuring the district complies with the bill; the department identifies students in needs and then helps them alleviate immediate concerns and connects them to other programs that offer more long-term solutions.
In recent years, Project HELP has seen a significant rise in youth homelessness, with a 30 percent increase from 2014 to 2016. This jump in homelessness mirrors the overall rise in homelessness in Austin, which has seen a 17 percent increase from 2015 to 2016. Meg Mattingly, a Project HELP manager , attributes this increase to Austin's population boom and resulting affordability issues.
"The cost of living continues to grow," Mattingly said. "We're growing as a city, and with that there's a lot of positive economic growth that's occurring, but the housing is not able to keep up. Because it is such a 'cool city,' it's attracted a lot of young people with a lot of money, and the tech business is growing, which again is great for the city as a whole but is in turn leaving out, even pushing out, a lot of our lower-income families. And so they're having to double up; they're having to move out of the school district; in general, the sprawl is tremendous as far as numbers of families moving out to Buda, Kyle, Manor, Pflugerville or Round Rock."
Social worker Brooke Anderson, who has worked closely with homeless youth and families from all over the McCallum vertical team, agrees that conditions are worsening for lower-income families but also insists that challenges associated with unaccompanied and homeless youth
"The main challenge is the emotional impact, to be that young and be on your own, and the uncertainty, not knowing where you're going to be that night, having to shuffle between homes and not having much consistency," Anderson said. "You can only imagine how hard that would be, then, to make sure you have the homework you need when you don't even know where you can be doing homework. [Maybe] you don't have any lights, so now you can't do your homework. The emotional toll really does physically wear down on a youth."
A DIFFICULT LIFESTYLE
The homeless McCallum junior admitted that his life is consumed by these issues; balancing full-time school attendance with the need to earn a living and survive on his own.
"Right now, I am independent," the anonymous junior said. "No mom, no dad. It has its pros and cons. I am the only one who decides what things are important and what things are not. However, it's difficult since here I don't have any parents. Sometimes I eat, sometimes I don't eat. Since I don't have a car, I have to have to walk or run all the time. I don't have a bed; my room is just carpet because I am moving all the time, and if I have a bed it's going to be difficult to be moving. I don't have many things, just important things: my clothes and my backpack, which is the most important thing, and that's it."
In exchange for his independence and new life in the States, the 18-year-old had to sacrifice a normal high-school existence so he could focus on tackling responsibilities unimaginable for many teenagers.
"In Mexico, I had my friends," he said. "We used to hang out, because I knew that I had a home, and it was fine if I worked or not. But here, it's just work and survive. Coming to school; that's the most important thing. I cannot stay with my friends too much, because I do not have the time: it's either study or be with friends. Also, I find it kind of difficult sometimes being with friends because I'm not a great speaker yet. I have to use [my] time to work on myself for now so that I can finish high school, and if I want to go to the university, then I have to study a lot, a lot, a lot, because I feel that I'm not going to make it with just two years of studying English."
Anderson, who has worked with the student, expresses amazement over how driven he and so many of the youth she helps are despite their circumstances.
"I give them so much credit," Anderson said. "They want to work, because they need to support either themselves or their families, but they see the value in education; the fact that they are staying in school and striving towards their long-term education is huge."
The junior, despite his optimistic, determined demeanor when talking about his living situation, stressed just how exhausting it is for him to pursue his ambitions.
"I just want to study business," the student said. "All the time I am studying and trying to get AP classes and everything, but sometimes I find it difficult because I don't have the time to do my homework. I get home and I have to do stuff like wash my clothes, buy food, cook, do many things, and also because my English is not perfect yet, I need to study a lot."
AISD DOES WHAT IT CAN
Though living alone is hard work, he does benefit from both Project HELP assistance (for example, receiving a bus pass) and other government programs; however, this assistance is not without its challenges
"I'm getting help from the government with food stamps and healthcare, which has helped me a lot, but it was very difficult to get it," the student said. "All the time I don't have an address, which is the most important thing, with all my documents, so they're like, 'Where can I send you the papers?' and I'm like, 'I don't have an address.' It's really difficult."
Under Project HELP, school liaisons can help identified students and families with education-related concerns, like transportation to and from school, and with certain emergencies. They can't directly help them with issues like housing, but they serve to connect them to organizations that can provide them with specialized assistance.
"For the students, especially the ones that are considered unaccompanied youth, [which] means they don't have parents supporting them, I make sure they have the services they need to ensure they can come to school," Anderson said. "So making sure they have a bus pass, making sure they have access to food, and I have helped students find emergency housing. We had a student in the fall who became homeless in literally one day when he was told he couldn't stay where he was staying anymore. I was able to connect him with an agency here in Austin called LifeWorks that has a transitional youth living program, and now I'm trying to connect a couple of other students here with them, but they have a waitlist of months. It is pretty rare I can get a student in there, so a lot of it is helping them navigate the challenging situation of finding housing in Austin."
The anonymous student was one of those who was unable to get into LifeWorks, and cautions against relying on external programs too much.
"It's not really reliable to trust in the government and things like that," the junior said. "I was trying to get a room from LifeWorks, but they are just really busy all the time. They're like, 'You're on the waiting list, call the next week,' but it's the next week, and the next week, and the next week, but you cannot wait that long. You have to find solutions earlier."
Though many students like the anonymous junior have benefited from their connection with Project HELP, the program does face some challenges with connecting with those who need their help.
"Identifying [homelessness] is a challenge," Mattingly said. "There's a lot of stigma around the term 'homelessness,' and we all have our own picture of what that looks like, so sometimes families don't necessarily feel homeless because they have a roof over their heads and so aren't quick to jump into identifying under McKinney-Vento because again there's a stigma that goes with that. Also, just education; there's a lot of youth and families who aren't aware of Project HELP: what we do, what services we provide, how we can help, that they don't have to move their kids to different schools every time they move. I think we could continue to find more creative ways to let the community know we exist and what services we provide; just overall more engagement with parents and youth."
For those wondering how they can help, both Mattingly and Anderson offer two suggestions: on a systematic level, you can either volunteer at or donate to local organizations helping families and unaccompanied youth experiencing homeless, or on a personal level, you can simply reach out to those living with this issue.
"I think there's something really powerful about peer support," Mattingly said. "Me, as a 30-year-old adult; of course I can do things to support youth and help educate them in this way, but there's something so powerful about youth and peer support, where the youth that are in a situation of displacement or instability with housing feel supported and understood and loved and cared for by their friends and peers and that it's not this stigma. I think there's a lot of power in being creative as a teenager in finding ways that make sense for your generation to be a friend to folks at your school that are experiencing this."
An example of the community coming together to provide assistance is the recently-formed Friends of McCallum Students, which began in 2015 to provide assistance to Anderson and all the identified homeless students within the McCallum vertical team. A parent noticed Anderson's request for donations to buy Cap Metro bus passes and gathered parents to help raise money for necessary items like bus passes, snacks and emergency support for students in need.
"All of the work FMS does is incredibly gratifying because it directly impacts the wellbeing of students and their families, which positively affects students' ability to be successful in and, hopefully, beyond school," FOMS president Stephanie Savage said.  "Mrs. Anderson especially wanted to be able to provide assistance to families in crisis, who had no other resources available to them, and I am proud that FMS was able to establish the emergency financial assistance fund.  Two of the families whose utilities we paid had young children and been without water or power for weeks.  I hear many sad stories from Mrs. Anderson and am so glad that FMS is able to help out in some way."
MAKING THE BEST OF A TOUGH SITUATION
A month ago, the homeless junior said that he was still looking for a job and had a limited time left on his lease. He was worried that he he wouldn't  have the money to renew; he was scared that he would have nowhere to go. When I followed up with him recently, however, he had found a job at Whole Foods Market and had enough money to rent his own apartment and was looking for a roommate to help who had also  experienced housing instability. He attributes his success to determination he had learned from his difficult circumstances.
"When you have your parents and you live with them, they don't let you grow too much," the junior said. "You're living at a house, but all of a sudden you just go. How do you pay, how do you find a place to live, how do you do everything? I used to listen to inspirational videos, and many successful people will tell you that you cannot succeed without failure. I was in a really bad situation. I had to think, and I found many ways to get out, I wasn't like, 'Oh, that happened to me, I guess I'll just stay here and not doing anything and maybe something will come and get me out.' No, I had to find a way to do it. [For] many people, it's high school, they don't care too much about [their] job; many people on my team are like, 'Dude, I hate this place and I don't want to work,' but I see it in a different way because right now I need to be a hard worker and be more responsible."
The junior offered this advice to homeless youth and to those wishing to help them: ask for help and give it whenever possible.
"Nobody can succeed alone," the 18-year-old said. "Many people can help in a lot of ways. I asked Brooke Anderson [for help]. I told her that I got the apartment and she had contacts, people who wanted to donate things, and she helped me get everything for the apartment like a bed, a microwave, soap, and other housekeeping things.
"I feel really blessed when I get something," he continued. "The more you give, the more you receive; it's important to help people."