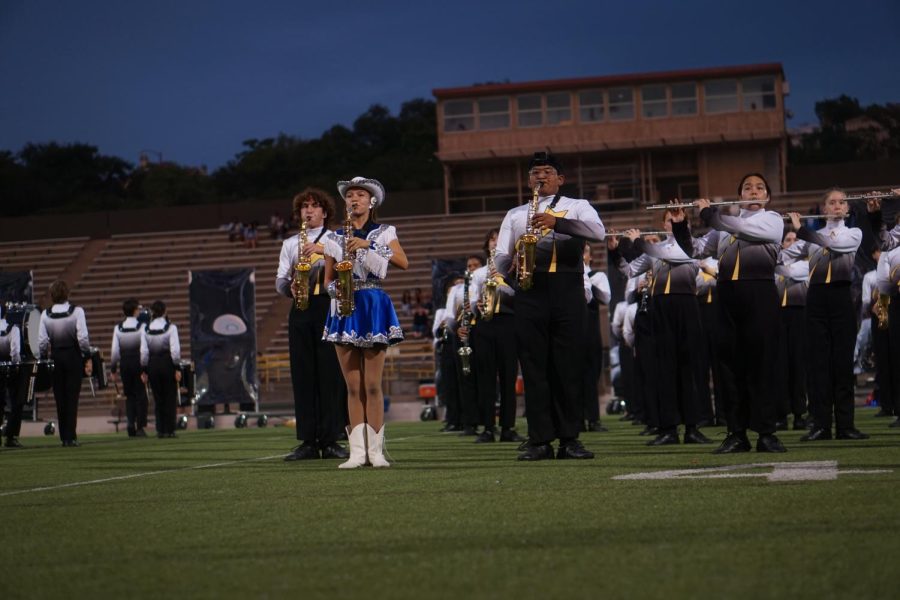 Lili Escamilla
Thanks to carefully planned transitions, freshman manages to participate in Blue Brigade, marching band halftime shows
For freshman Lili Escamilla, trying out for Blue Brigade was an act of spontaneity. With only a year of Lamar ballet under her belt, Escamilla decided to take a risk and hoped that the team would take a chance on her despite her relative lack of experience
"I always loved dancing, but tryouts scared me because everyone was so talented," Escamilla said. "I went for it, and here I am."
"
A lot of times because of morning band practice, I miss learning our Blue Brigade dances. We learn about a dance a week, sometimes two, so when I get home I have to teach myself dances."
— Lili Escamilla
Before dance, Escamilla played the saxophone at Lamar for three years, and continuing music in high school was a priority. Upon starting high school, she found herself a part of both programs she was interested in—Blue Brigade and Marching Band. But there was an issue: both groups practiced at the same time. Overcoming the conflict, Escamilla was able to divide a packed schedule that left her without a dull moment.
"I go to band before school on A days because I have Blue Brigade class first period, then on B days I do band until 8 a.m. and then Blue Brigade until 9," Escamilla said. "For pep rallies, I change into my Blue Brigade outfit and then do the hall march with band. I stretch, play with the band before putting my instrument down to go to the Blue Brigade performance. For games, I spend the first half with band to go on with them at halftime, and then hand my instrument off to go dance with Blue Brigade."
Escamilla's complex routine did, however, present unforeseen problems. Missing one practice for another often leaves her behind, especially in fast-paced environments where performances are always around the corner.
"A lot of times because of morning band practice, I miss learning our Blue Brigade dances," Escamilla said. "We learn about a dance a week, sometimes two, so when I get home I have to teach myself dances."
Even with the pressure of both extracurriculars, she has learned to manage the hectic schedule and make the most of it.
"It does get stressful, there are so many things I have to remember," Escamilla said, "but I have learned to manage it, and now I don't have to stress about it."