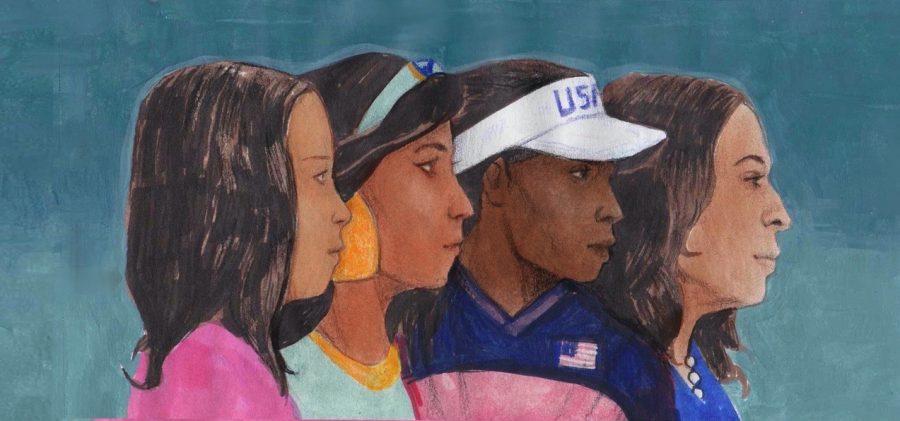 'We want a more colorful media'
March 1, 2021
Media outlets must strive for equal representation of women, fair representation of social justice issues
I'm a young woman and a young woman of color. Society doesn't make it easy to be either one of those things.
I'm proud to be who I am (don't get me wrong), but think about all the odds stacked up against young women, BIPOC (Black, Indigenous, People of Color), and people in poverty. It's taken us way too long to finally get a woman in a position of power. It's taken us way too long to address homelessness. It's taken us way too long to give women equal pay.
And the worst part is, two of the three issues I named really can't be considered "fixed" yet. Homelessness, especially among veterans, is still one of the biggest issues in the nation. Seventeen out of every 10,000 people in the United States were homeless in 2019. Women's homelesness is especially hard because of our menstrual cycle. This is often overlooked.
The women's U.S. soccer team has been fighting extremely hard for years to get the same pay as their male counterparts. We do have Kamala Harris, who is the first Vice President to be a woman, be Black, and be South Asian. However, she wasn't the one to bring herself to that position of power. A friend of mine pointed out that Joe Biden, a white male, brought her up to that position of power. It's a step in the right direction for sure, but Kamala Harris should've been able to do that herself.
My point is simple: America is changing. And it's about time the statistics change too.
How do we address the issue of overlooked homelessness and unequal representation of women? That's a great question.
Honestly, it starts with the media. How often do we see women's sports on TV (basketball, soccer, flag football, swimming, etc)? Not often, if at all. How often is a peaceful protest shown on the news? Never. How often does the media (social media, the news, articles, etc) show the injustices of our criminal justice system? Never ever ever. What's shown instead of women's sports? Pro-football, all of them males. What's shown instead of a peaceful protest? Riots, started by the very same law enforcement who are supposed to bring justice and protect us. How come injustices are never pointed out? Because no one has the guts to address the elephant in the room.
As a young woman and a young woman of color, I have dreams and goals. I want to see more "Kamala Harris stories" depicted on the news. I want to see women's college (or professional) softball played on ESPN. I want to see justice brought to the hundreds of black people who have been killed at the hands of law enforcement.
I leave you with this: When will the media start addressing simple issues like unequal representation or the thousands of homeless vets and women out on the streets?
These issues are sweeping our country, so when will they start paying attention and offering support?
View 1 Comment
Seeing fictional, real women of color as role models opens a whole new world of possibilities for young girls
When I discovered Princess Jasmine in Disney's Aladdin, I immediately became obsessed. I dressed up as her for three years in a row for Halloween.
As a young girl, Princess Jasmine was the first representation of a brown girl who kinda sorta looked like me, being a princess. The discovery of Mulan and Pocahontas brought me the same joy.
Looking back on it, Princess Jasmine's presence in my childhood was extremely important. For the first time in my young life, I saw a main character who resembled me. As an adult, when I watched Kamala Harris become vice president, I felt a surge of hope, pride and dignity. There sitting in the second highest position of power was a woman of color, someone I felt could represent me.
Growing up, I clung to any character who I felt could slightly resemble, me but was often left disappointed by the lack of representation in novels and movies.
I read frequently as a young child. If a description of the characters had not been given by the author, I would occasionally picture the female protagonist to resemble myself or my friends.
When film adaptations would come along, these same characters who I had imagined as BIPOC were cast as white, even if never specified in novels. Harry Potter, The Hunger Games, Percy Jackson–these are all unfortunate examples of the normalized white-washing in the media.
"
For BIPOC children, the experience of feeling underrepresented and unseen continues on with history textbooks, movies, media and even social media."
Seeing yourself in the media, in stories, in positions of power-all of it helps you shape a narrative of what someone like you can become.
Being able to picture yourself as the hero, the love interest, the leader; it's vital. For BIPOC children, the experience of feeling underrepresented and unseen continues on with history textbooks, movies, media and even social media. Many BIPOC people have yet to see representation of themselves within the media. Instead, minorities are often portrayed as stereotypes, and many of these portrayals are sadly inaccurate and even harmful.
View 2 Comments
'We want a more colorful media'