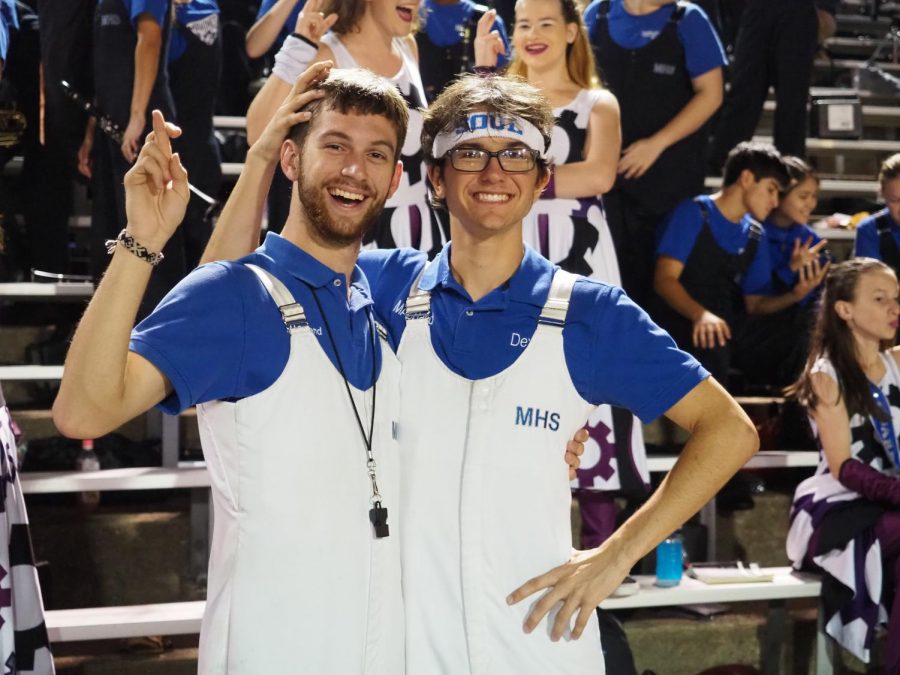 Artistically speaking: Jon Forbes
From piano to marching band, from musical theatre to music theory, senior is a true music man
Music has surrounded Jonathan Forbes since his earliest years. Forbes' father played the piano and horn for recreation, and his mother played violin and guitar and sang in the Duke University choir.
"They are big into music, and even had me and my sisters all pick an instrument to learn," Forbes said. "My older sister and I both chose piano, while my younger sister chose the violin. My sisters both ended up moving on and doing dance instead, but I kept with the piano."
"
It's a great feeling when the waving in your arms brings the power of music you imagine in your head."
— senior Jonathan Forbes
During his time attending Fulmore Middle School, Forbes discovered the marching band.
"It was a fine arts requirement, which you had to have during middle school." Forbes said. "I was actually started out playing the oboe, and then my dad was like, 'Ah, that's not really you; let's pick something brassy' and chose the trombone for me, which I've loved ever since. This is where I got really into classical music."
Forbes came to McCallum first as a piano major and later changed to a double major when he added band during his junior year. Forbes experienced something of a shock to his system when he joined McCallum's band.
"Band was kind of crazy at the beginning," he said. "I mean, even before school starts you jump in and hit the ground running. You're at school eight hours a day, five days a week in the hot sun working all the time to get the fundamentals cracked out. It got kind of hectic at the beginning of my time being a young person as one of five in band from my middle school, so it was kind of scary; however, it ended up being really, really fun to get to have a little family."
Junior Dexter Canning has been playing alongside Forbes in marching band since Canning's seventh-grade year at Fulmore.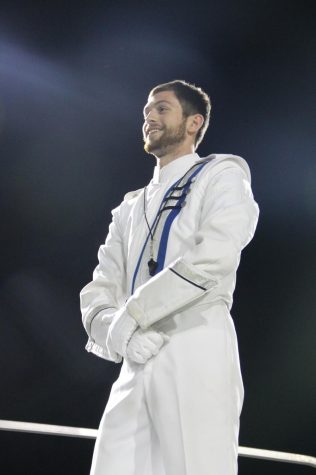 "We've gotten a lot closer as friends during band." Canning said. "When I came to McCallum, he helped me get used to the environment. The last season of the marching band was a huge bonding experience for us."
Within the band program, Forbes has built a reputation for being able to inspire his peers.
"He inspires me to want to be a better conductor," Canning said. "He always helps when you need help and kindly points out things that could help make the performance better."
Forbes began conducting the McCallum band his sophomore year.
"My favorite part is being able to bring forth the power the players wield and instruct the force through the passion in my hands and arms," Forbes said. "It's a great feeling when the waving in your arms brings the power of music you imagine in your head."
Although Forbes is known for being a fun-loving person most of the time, his demeanor shifts when conducting, according to Canning.
"Jon as a conductor was super fun to watch." Canning said. "He was always super serious while conducting. He was so invested."
Forbes said that his time at McCallum convinced him that music was an essential part of who he is as a person.
"
He inspires me to want to be a better conductor."
— Junior Dextor Canning discussing senior Jonathan Forbes
"High school band is a pivotal moment for a lot of people, because when you hit high school, especially for me, you're still in that prime developmental stage as a person." Forbes said. "It's a time where you're still trying as many things as you can to finally find the things that you love, and that's the moment when you can say, 'Stop looking at classical music this way. Look at it this way,' and it opens this whole new world of showing people what classical music is."
Forbes draws musical inspiration from composers such as Beethoven and Bach.
"I have a big connection with Beethoven," Forbes said. "I love his music. I actually have one or two original manuscripts of his. He's one of the greatest guys I have ever seen. He revolutionized music."
Forbes takes great interest in the construction of classical music, especially theory.
As the AP Music Theory teacher, Jeff Rudy has gotten the chance to work closely with Forbes and observe his leadership.
"He's very talented," Rudy said. "I think he comes by that naturally. He works hard; he has a real passion for it. I think that passion is what drives him to want to do well, and so he is successful because he has that in him. It's kind of a unique thing."
Rudy praises the growth in seriousness in which Forbes approaches his passions.
"The level of understanding he has about certain things, that has certainly changed from his freshman year." Rudy said. "He's just more mature about the process."
Despite this maturity, or perhaps because of it, Forbes takes an untraditional approach before he plays the trombone.
"
He's sincere about what he does," Rudy said. "He treats everyone fairly. … I think that has helped him become such an effective leader. People trust him."
— Associate band director Jeff Rudy
"I don't ever warm up, I just go," Forbes said. "I found that that works for me because I get really bummed out when I warm up. Going straight to playing, that's what keeps me in it. You know, it does still take five to 10 minutes to get into the music fully. But once your mouth gets all gooey and soft, you're good to play."
Besides participating in marching band and piano, Forbes has also participated in two MacTheatre musicals during his time at McCallum. He was the musical director of 2018's West Side Story, and he played the role of Oscar in the 2019 spring musical, 42nd Street, in which Forbes accompanied the show as a pianist while simultaneously acting on stage. West Side Story went on to win "Best Orchestra" at the 2018 Greater Austin High School Musical Theatre Awards ceremony, where Forbes accepted the award on stage.
"I actually got to teach most of the songs and got to really be in every aspect, like being in the pit and on stage." Forbes said. "We ended up getting best orchestra and ensemble, and that was really cool."
Forbes was surprised to play a scripted role in 42nd Street.
"I still wanted to music direct, but out of nowhere I got thrown on stage." Forbes said. "It was before I actually even got to audition as the pianist. [The role] ended up being kind of cool, because then I got to be onstage, and do my favorite thing which is play music, onstage, which people danced to it, for sold out audiences."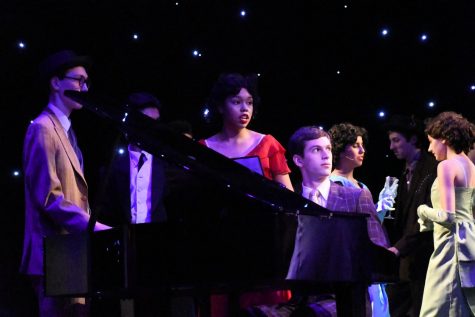 Forbes alternated from being in the pit to playing live on stage during the show.
"It was just a mind-blowing experience for me just to go, 'Wow, I'm collaborating with people in a way people don't normally see with a show.'" Forbes said. "I still got to act, people would talk to me and gesture to me, and I got to still kind of do the whole acting thing just without saying words. It ended up being one of my favorite things to do."
Forbes' directors praised his drive.
"What sets him apart from his peers is his passion for music," Mr. Rudy said. "He has that at a high level."
Rudy added that Forbes earned the respect of his band peers despite becoming a band major late in his high school career.
"I think that the students respect him a lot, because he is talented. He's sincere about what he does," Rudy said. "He treats everyone fairly, and doesn't necessarily play favorites or anything like that. I think that has helped him become such an effective leader. People trust him."
Next year, Forbes will attend the University of Houston for music education. He said he derived his inspiration to direct from his own musical directors: Matt Ehlers, Nelson and Rudy.
"Ms. Nelson was one of the people that opened my eyes to the world of music." Forbes said. "It changed my life. I want to be able to do that for others who don't understand music and help them see the power of music. I want to open the love that people have for music that they might have not experienced yet."
Artistically speaking: Jon Forbes