The original 10-0 Knights
Football team anticipates joining 1966 team tonight as only Mac teams to complete 10-0 regular seasons
November 10, 2017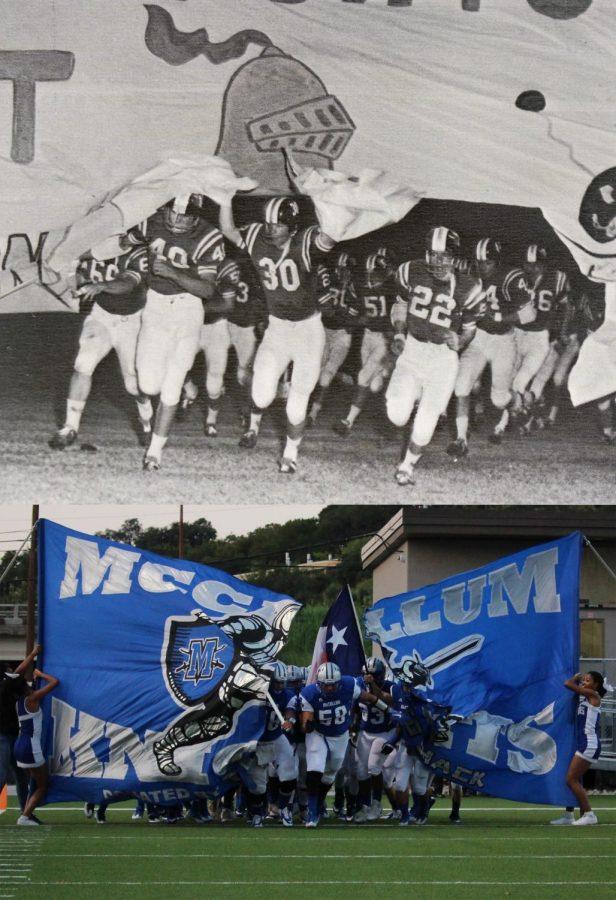 The McCallum Knights headed into their 13th season of varsity football in 1966 with great expectations.
"I believe we can start 11 boys who can stay on the field with anybody else in the state," Coach Curtis Shiflet told Austin American-Statesman football writer Fred Sanner just before the season started. The team had lost a few key players from the 1965 team that tied with Travis for the District 13-4A South Zone title the year before, foremost among them all-State tackle Tommy Rohrer and several other seniors who had made the all South-Zone team.
Despite these significant departures, Sanner boldly predicted that McCallum was clearly the team to beat for the zone title.
"I think it was the first time McCallum had been ranked pre-season in the top 10 in the state," said Bill Zapalac, the 1966 team captain. "We all expected to win a lot of games."
And win a lot of games they did. The 1966 team went undefeated throughout the entire regular season, an achievement that no McCallum team has matched since. The team's unique season might have an equal tonight at House Park, however; the 2017 varsity team is 9-0 and can finish the second perfect regular season in school history if it can beat Reagan (2-7). Interestingly, it was these same Raiders that the 1966 team defeated to complete their undefeated regular season.
Infographic by Sophie Ryland.
SIMILARITIES BETWEEN 1966 and 2017
If the Knights win tonight, it will mark the first time in more than half a century that the Knights have gone 10-0. Zapalac said that the 1966 team shares many characteristics with the current Knights team, beginning with the two teams' reliance on a deep and talented senior class.
"We had a lot of depth," said Zapalac, who played linebacker on defense, wingback on offense and punter on special teams. "We had two senior quarterbacks who both played. We had two premier running backs… as a junior, one of them had led the district in rushing, and he got hurt, and as a senior, his backup led the district in running."
Quarterbacks Steve Chrisman and Rick Nabors, both seniors, alternated as the team's Max Perez. In addition to teams being chocked full of talented seniors, the 1966 and 2017 teams also shared an embarrassment of wealth at the running back position and superior offensive line play.
The AJ and Deron of the 1966 running corps were two seniors, who battled each other for the zone rushing title all season long. Tailback Mike Robinson, who ran behind crushing strongside blocks of Zapalac, led the team and zone for most of the season, but his running mate John Dodgen ran for 161 yards in the final district game of the season to edge Robinson for the rushing title.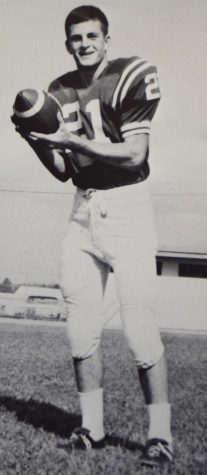 They had a third option: running back David Mueller, who so successful at the position the previous year that he earned the team's best nickname: Daz, short for dazzling.
"[The nickname] came from the first game I started in my junior year; we were playing Temple, who was a district opponent, and I had a pretty good game. The offensive line's blocking opened holes for me." Mueller said.
But Mueller's version of the story is modest. As Dodgen tells the story, the nickname came after an amazing punt return that he still remembers vividly.
"Mueller, who was a defensive back and a half back, fielded a punt and was running up the middle, and he ran into a huge pile, and we're standing there on the sidelines waiting for the officials to blow the whistle, and all of a sudden we see David backing out of this pile up," Dodgen said. "No one had a hold of him; he just backed out of the pileup and took off around the end and scored a touchdown, and he made some good plays. … The newspaper … mentioned that 'dazzling David Mueller did [them] in,' you know, or was awesome that ball game. And from then on his nickname was Daz, and very seldom did he get called David, it's always Daz. Even now."
For Coach Shiflet, the arsenal of running backs gave him multiple options when devising the game plan for the team's next opponent.
"[We] complemented each other," Dodgen remembered. "What Coach Shiflet would do like the first game of the season he'd run Mike Robinson, and I would do a lot of the blocking for him, so here comes the newspaper article saying Mike Robinson has a good game, has 100 yards, and so the other coaches will say, "Oh, we gotta we have to watch out for Mike Robinson and then he'd give me the ball next week, and Mike would block for me, and it'd just confuse them."
While Coach Shiflet's shifting strategy helped the team succeed, Dodgen was adamant that the key to the offense's success was the blockers on the front line.  It was a point he felt so strongly about making that he called The Shield back after granting two interviews that spanned longer than two hours.
"Our success was mainly from our offensive line because, you know, if you don't have blocking you can't run,' said Dodgen, who signaled out the starters on the offensive line by name: tight end Robert Morgan, left tackle Jimmy Duncan, center Mark Maneval, right guard John Toungate and right tackle Drake Farmer. "You have to throw Bill Zapalac in there. He was basically our wing back but it was his job, it was a lot of blocking and he did an awesome job at it. … I can't tell you how many times I was handed the ball, and I didn't run into anybody until I got to the secondary. And I was playing fullback, so you normally see a lot of defensive lineman in your face, but the guys did a great job of blocking.
PUTTING UP GOOSE EGGS
What might be even more impressive about the 1966 team is that the offense was clearly the second-best unit the Knights sent out onto the field. Dodgen said that while the offense was stout, the heart of the team was a defense that held every single district opponents scoreless throughout the 1966 season.
"As good as our offense was, our defense was much, much better," Dodgen said. "We had so much confidence in them that they would get the ball back for us or if the other team would start to move the ball, they would just shut them down."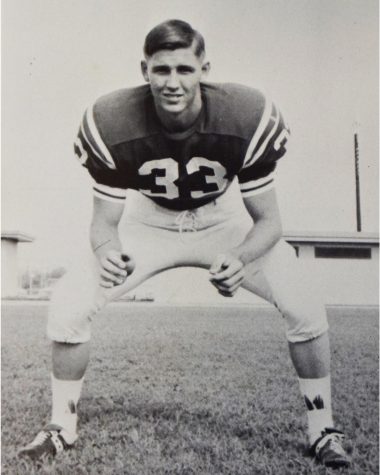 Dodgen started the 1966 season playing exclusively as an offensive player. Starting quarterback Steve Chrisman also played only on offense. According to Rick Nabors, another senior who also played a lot at quarterback, many of the team's players would play both sides of the ball.
"Zapalac played both sides," Nabors said. "David Mueller was a running back and a defensive end. Tom Radley played right end and defensive end. Drake Farmer played tackle. Pretty much everybody was going both ways a whole lot. There were only a few guys that specialized on just defense or offense."
Mueller said that the 1966 team needed to improve in places it had been weak in during the year before in order to achieve an undefeated season.
"We knew we had to get a little bit better at everything we were doing," Mueller said. "The team was the same as the year before. We had a very experienced line to protect the quarterback. We had Coach Shiflet to lead us; he got us fired up, especially when we played some tough teams out of San Antonio and Corpus Christi."
The team started out with three non-district wins, edging Corpus Christi Miller, 8-6, and Arlington Heights, 7-6, and then cruising by Victoria, 28-7.
The team then doubled its win total by blanking district opponents Killeen, Waco University and Lanier by an aggregate score of 98-0.   
AVENGING THE MUD BOWL
In the team's seventh game of the season, McCallum played one of its largest rivals, Travis, the team that at the time possessed a certain Victory Bell; they had upset the favored Knights the year before in a game that came to known around McCallum as the Mud Bowl. The torrential rain slowed McCallum's vaunted rushing attack and kept its talented defense from controlling play on the slippery field.
"You couldn't get any footing" Dodgen remembered. "Travis comes out with, back then something new called the shotgun, and they're throwing the ball 20-30 times in a rainstorm, and the receivers know where they're going, and the defenders don't, so it's hard to make cuts and stay with them."
The combination of talented skill players and pouring rain proved lethal.
"[Travis] had a really good quarterback [Tommy Cox] who ended up being the athletic director at AISD for many years later," Zapalac said. "It was a big disappointment for our seniors the year prior because our loss meant not going to playoffs."
Travis wideout Orville Jansen, who later played at Baylor, had a tremendous game in 1965 as did Cox. By the fall of 1966, Jansen and Cox had graduated, and the Nelson Field turf had dried out. Heading into the rematch with the Rebels, Zapalac said the team had only one goal.
"Just to win," he said. "Travis had a better team in '65 than they did in '66 and we had a more experienced team. We got the bell back, though."
"We got a good feel that night," Dodgen added. "It was dry, and we took care of business."
A week later the team defeated Johnston High 28-0, a game in which Nabors broke his leg, bringing an end to his season. The easy victory, however, set up another huge rivalry game against the team that at the time was the McCallum's No. 1 rival: Austin High.
MORE THAN A RIVALRY
However, Zapalac said there was more to the Austin High game than just a rivalry. Many of the players knew each other on opposite teams. The intensity of the rivalry was exemplified by the intense competition between two rival athletes in an entirely different sport: golf.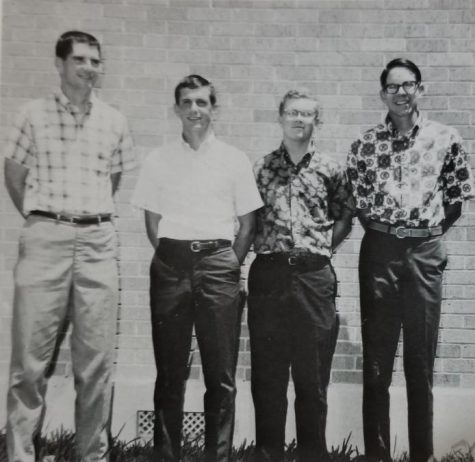 While the 1966 Knights were making history, two golfers who would later compete on golf's biggest stage were battling each other for district supremacy.  Tom Kite, who would go on to win the 1992 U.S. Open, was a McCallum junior in the fall of 1966. His counterpart at Austin High, Ben Crenshaw, would win the Masters in 1984 and 1995.
Dodgen remembered his classmate admirably as "a grinder. … He practiced and practiced and practiced and he'd practiced and then Crenshaw would just get out and play. Ben was a good golfer, he was … naturally blessed at playing golf. Tom had to grind at it. He was an awesome golfer. … I had no doubt that he was gonna succeed on the pro tour. He just, he had that mental acuity and knew what he wanted to do and he knew how to get there."
The duel between the golfers was a microcosm of the rivalry between the two schools.
"You generally know everyone on the other teams, growing up with them over the years," Zapalac said. "Austin High was undefeated in the district when we played them, and we played them in the second or third to last game of the year and we won 7-0.
Dodgen explained that the Austin High game was the tightest district game of the season.  
"Our closest game was with Austin High," Dodgen said. "They had us kind of bottled up until right there at halftime. Right before halftime, Chisman hit Robert Morgan with a touchdown; now you can't tell it in the annual, but they had a photograph that they had printed in the paper … he had his eyes closed when he catches the ball."
A KNACK FOR MOTIVATING PLAYERS

Their coach, Curtis Shiflet was celebrating his best season yet, much like Coach Charles Taylor is today with the undefeated 2017 team.
"He was a special guy," Zapalac said. "I think, just from memory, the '66 team was the best of his career. He had never gone undefeated, never had a state-ranked team. He was just really good to us."
Mueller agreed that Shiflet was more than just a coach to many of the players, including himself.
"Like head coaches are, he was a guide, he was a teacher, he was a mentor," Mueller said. "He expected us to come out and play hard every day, and the guys respected that. Everybody worked hard. It was a really great team that had a lot of camaraderie, and he and the coaches were the ones that were able to get that together."
According to Nabors, Shiflet was an excellent motivator, and he called the plays, keeping it simple for the players.
"He knew what he was doing," Nabors said. "We ran probably six or eight plays, probably like they do now, and you run the same one to the left as you run to the right, but it's just a matter of execution. We didn't throw much. I think I threw one touchdown pass my senior season."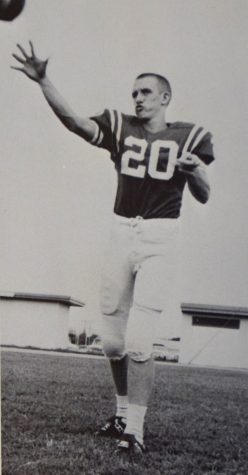 To illustrate the team's reluctance to throw, he relayed a memorable story of one of the few touchdown passes he recalled throwing.
"It was fourth down and 1, and I looked to the sidelines to Coach Shiflet and he gave me the signal," Nabors said. "Well, I didn't think we wanted to pass because he didn't do that, but I looked back over there again, and he gave me the same signal."
Nabors remembered that he faked a handoff to the fullback then stepped back a step and threw it over the safety's head to his tight end. Against a defense geared to stop McCallum's running attack, the tight end found no resistance in the 60 yards he ran for an easy touchdown.
"When I ran off the field, Coach Shiflet said, 'What were you doing?' and I said, 'Well, you called it, and I looked back and you called it again.' And he said, 'Well that's the best call that I never made.' He didn't get mad at me about it because I told him what I saw and I said 'You gave it to me twice.'"
According to Dodgen, Shiflet kept throwing to a minimum because of the risks that came with it.
"We didn't throw the ball that much," Dodgen said. "We only threw when we had the other team sucking eggs so that they were too close to the line of scrimmage. Like [legendary Texas Longhorn coach] Darrell Royal used to say: if you pass the ball, there are three things that can happen, and two of them are bad."
Although his team did win mightily in 1966, Shiflet never let the desire to win become more important than his concern for his players, Zapalac said. The team's star player suffered an injury in the team's 27-7 district championship win over Cleburne, leaving the team virtually out for the team's bi-district showdown against Alice the following week.
"I got hurt at the end of the 11th game, we were playing Alice [next, but] I hurt my knee," Zapalac said. "I was going to punt, that was all I was going to do, but I wanted to try to sneak into play, but he wouldn't tape my knee [so I could play] and told me I wasn't ready to play. This was at a time when this season was the biggest thing for his career. I'll always admire him for that. He wouldn't sacrifice someone else's injury for his own gain; he was a special guy."
He also had a special knack for motivating his players. On the eve of the team's district finale against upstart Reagan High School, only in its second year of playing varsity football, Shiflet reminded his team that it had not been scored upon in district play.
GETTING THE LAST GOOSE EGG
"No one had really paid attention to statistics in those days," Zapalac said. "But we were unscored on in the district, no one had scored on us, and Coach Shiflet just happened to mention it that week at practice, and at the game they got inside to the 20 on us, just because he had brought it up during practice. We won 23-0 and it probably wasn't as much of an incentive to create stops if we had not known that fact."
The closing series of the game revealed how motivated Shiflet was to put the last goose egg up on the board.
"We had the game in hand, but they were getting ready to score down there," Dodgen recalled. "They're down on about our 3-yard line, and coach put some of the bigger guys," said Dodgen, who entered the game at linebacker. "We were running a goalline defense, which was an 8-man, everybody had a gap. All I did was stuff a hole, and then [suddenly]  I saw this ball go rolling past me into the end zone. And here's Daz falling on the ball in the end zone to snuff out that drive. I was sure happy to see David fall on that ball because I didn't want to see a 7 go up in the last game. After that, we had pretty much under control."
After the Reagan game, the Knights were headed to playoffs and, according to Zapalac, it was one of the proudest moments of the season.
"We didn't make playoffs the season before, and getting to playoffs was a big deal," Zapalac said. "At the time we were ranked No. 2 in the state. I think we started at No. 8, and each week we would inch up as other teams got beaten."
ALICE BUT NO WONDERLAND
The district was organized into two zones, and only one team from each zone made the playoffs. The first round of the playoffs was essentially a district championship game between the two zone champions. To advance to the state championship game back then, a team would have to win three games.  The fourth game of the playoffs would be the title game.  Zapalac's perfect season was cut short, however, during the team's district championship win in its first playoff game versus Cleburne.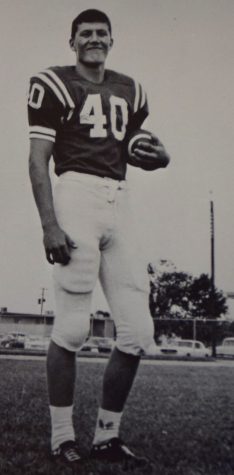 "I didn't even get hit," Zapalac said. "I was just moving laterally, and my knee buckled, and I tried to play twice after that, and I just couldn't go. We won the game, but not knowing whether I was going to be able to play; we had a good chance, we were ranked high, and we thought we could go really deep into the playoffs."
Zapalac wasn't the only one that was out for the season.
"I got hurt in the Johnston game," Nabors said. "I made a cutback on a punt return, and my leg got slammed between two guys, and then I got bowled over."
According to Nabors, several other McCallum players got hurt in the last couple of games, resulting in a big hole in the team.
"I was out, Zapalac was out, two of the starters, and that team we were playing (Alice) was a good team," Nabors said. "The further you go, the better the teams and the athletes that you're playing, and then of course, going from junior high to high school is a step up; going from high school to college is a major step up because there's just not that many kids, you know, moving up to that level of play. It's a lot faster."
The final matchup was between McCallum and Alice. It was a heartbreaker, with Alice only winning by four points. Dodgen remembered that there was no rule that the playoffs be played at a neutral site like there is today.  Instead, the 11-0 Knights boarded a bus and drove eight-to-10 hours to arrive in Alice, close to the Mexican border.
Dodgen remembered arriving at the main drag, where they were greeted by the local population.
"They were waving their hands, and they weren't using over fingers," Dodgen said. "These are adults."
Despite the hostile environment, McCallum's defense played well, holding the home team to 17 points. The McCallum offense took the field late in the game with a chance to score a touchdown and win the game.
"We had a few minutes to go and we got the ball," Dodgen said. "We ran it all the way down, I think to the 9-yard line," said Dodgen, who added that from there the team tried to pass three times for the winning score. After incompletions to Rick Denbow and Robert Morgan, the team fourth down with their season on the line. With 8 seconds left, a final, promising pass attempt from Crisman to David Johnson fell incomplete after defenders stripped the ball from Johnson's hands. Just like that, McCallum's season was over.
To this day, the loss is a troubling ending, because the game was so close and because McCallum was playing at less than full strength. Zapalac explained that multiple players were getting hurt in the Alice game, adding to the list of those that were out of play.
"As it turned out, in the next game we had two or three people get hurt during the game and that really turned out to be the difference," Zapalac said. "One of our players had a shoulder separation, one of them had a concussion, the only thing I was going to do was punt, but we did not punt in the whole ball game, and we lost. So, I never got in, and that was really disappointing. We were inside the 10 or 20 to score and we just couldn't That was the end of the ballgame."
It's inevitable for the last football game of the year to be an emotional one, but for many of the players, it was just one chapter ending and another one beginning.
NEW BEGINNINGS
"It was a disappointment," Zapalac said. "Most all of us played multiple sports; some us didn't, but most did, and so for the most part, it was the end of one sport and almost the next day you went to the next sport. There were three or four of us that played basketball."
The 1966 team ended up having larger numbers too, in terms of players that went on to play big-time southern college sports.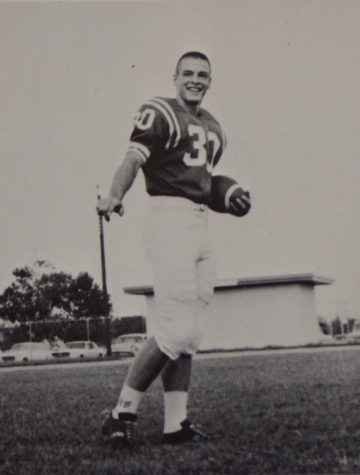 "We felt more depth and bigger numbers," Zapalac said. "Then, they didn't call it division one college; you went to the Southwest Conference, it was the top thing. Out of our class, we had five in the Southwest Conference schools. [John Toungate and Drake Farmer went] to TCU, John Dodgen went to Baylor, Andy Tewell went to A&M, I went to Texas, and Rick Nabors went to junior college then joined me at Texas his junior year."
Mueller went on to play at Texas Lutheran.
Injuries cut Dodgen's football career short during his freshman year at Baylor. After sitting out the game against Texas A&M, he took the field for his first and only college football game against TCU.  He found himself off to a terrific start running out the I formation instead McCallum's trademark Wing T.
"I think before the end of the second quarter, I had almost 90 yards of offense, and then I cut through the line and headed out towards the sideline, and the defensive line came up, but he tripped just before we got ready to hit, and I was leaning in, and he tripped and put his shoulder to me, and then I got hit by two guys behind me, and my foot was planted, and that just kind of tore up my knee pretty badly. And back then they didn't know what to do," Dodgen said.
After surgery and rehab, he returned to spring practice on to find that his knee was not up to the rigors of football. He asked his coach if he could be released from spring football training to try out for baseball.
He made the varsity team as a freshman center fielder, launching a successful career in a sport where he also excelled at McCallum. Even though he would eventually be named an all-Southwest Conference outfielder, his knee remained an issue for him every time he played.
"Every time I'd catch a ball running to my left, and I would have to make a quick throwback in without having to turn around my left knee. I could feel it coming out so I just kind of did a cartwheel. I'd just come off of that foot and take the pressure off of that knee, but I'd already made the throw, and everybody said, 'What are you doing that cartwheel for?', and I said, 'To keep my knees in place.' And I didn't really realize what had happened to my knee until about 10 or 12 years ago when my knees swelled up really bad; they looked like footballs."
FROM ROYAL BLUE TO BURNT ORANGE
While Dodgen was excelling on the diamond, Nabors was starring on the gridiron at Tyler Junior College and was able to transfer to Texas.
"I returned two or three interceptions for touchdowns and played split end and ran back punts and ran back kickoffs," Nabors said. "The only time I left the field was on kickoff returns. Other than that, I was playing all the time. Then I came to Texas and just played defense. I was second on the team in interceptions. Tom Campbell led, and of course he won the Cotton Bowl honor, and he's in the Hall of Honor. Bill Zapalac is also in the Hall of Honor at Texas, so we had some guys who had some outstanding careers."
He was able to sub in in one of the most renowned substitutions in college history at the Texas vs. Arkansas game when Nabors had to substitute in for Freddy Steinmark.
"I played both safety and both halfback positions, defensive back positions, and was actually the guy that came in once Freddy Steinmark went down and took his place," Nabors said. "My first game to actually start was the Notre Dame game. I played in the Arkansas game–the big shoutout–did punt returns, kickoffs and played defensive back, but I kept thinking, you know, I'm gonna be playing halfback my senior year, because Freddie's going to be playing safety."
Nabors even had someone play him in the 2015 movie, My All-American.
"I come up in the movie, towards the end," Nabors said. "They announce during the Arkansas game that I'm coming in for Freddie Steinmark, right after he grabbed a guy and got a defensive holding call, I went in, and then I played on goal-line defense, I was a little bit bigger than Freddie and I played goal-line defence, which was all man-to-man."
With Nabors having several moments in the spotlight highlighting his UT career, Zapalac explained that his decision to even come to Texas began with his family; his father was an assistant coach for the football team.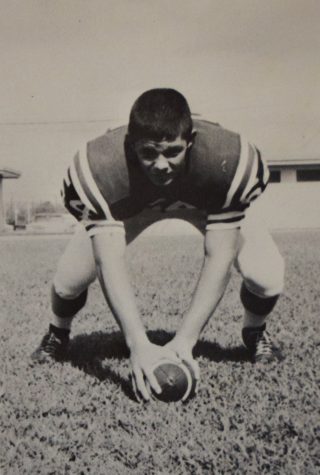 "I was the oldest child; I had a brother and sister," Zapalac said. "I was around college football all my life. My dad was coaching at A&M when John David Crow was the Heisman Trophy winner, and I was around that. College football was a big part of our lives, and I really enjoyed what he gave us, the experience around football."
So when it came down to deciding between Alabama and Texas, Zapalac said that going to Texas was not the easiest decision he had to make.
"It was football, and with my dad being in the football business and being a college coach, it was really kind of difficult in a way because there were some college coaches that would stay away from me because they knew my dad was a coach at UT," Zapalac said. "I didn't really know what I wanted to do. Frankly, the cheerleader that I married here at McCallum [Michelle Vilcoq], she was going to Texas and that was probably more reason to go to Texas than anything else."
But as it turned out, signing to Texas was the best decision he made, according to Zapalac.
"My time at Texas was absolutely unparalleled with anything," Zapalac said. "Alabama was down a little bit when I was in college in the early '70s, and I was on a team that won 30 straight games at Texas. Two national championship teams, three conference championship teams; it was a tremendous era."
Zapalac thrived at Texas and was starting game after game, perfecting skills he had been working on his entire life.
The back-to-back national champion Texas Longhorns wore burnt orange, but the team also had a dab of McCallum royal blue.
"Three of us were on the team from McCallum; Jeff Zapalac, Bill's brother came on in after us," Nabors said. "He came straight from McCallum to Texas, and he was the starting center there. Bill played defense. He started out at defensive end and then he played outside linebacker and he played a little bit of rover."
Zapalac remembers his Texas years as a special time.
"I did have the opportunity to start for 33 straight games at Texas," Zapalac said. "Every one of my games I would start, and I got to do that because of injuries. If a senior ahead of me as I was going to be a sophomore got hurt in spring training and wasn't ready to go, I got to play and because of that, I got the opportunity to play. One of my teammates was inducted into the college football Hall of Fame which is very special."
JETTING TO THE PROS
Zapalac's talent at Texas was enough to earn him a spot in the fourth round of the NFL draft with the New York Jets.
"My college roommate was drafted in the seventh round by the Jets," Zapalac said. "We had known each other for years before college and then we both got recruited to play at Texas and we were roommates for three and a half years. Then we were both drafted by the Jets. In my senior class, we had four or five drafted in the NFL."
Zapalac spent three years with the Jets, then retired and had knee surgery. At that point, he was married to the same cheerleader from McCallum, Vilcoq, and had one child. He went into the construction business and has been in it ever since.
Zapalac describes the NFL as being something completely different from what it is today as there would only be a couple of NFL games a week, depending on where you were. The draft was also never televised as it is today.
WORDS OF WISDOM
With decades of football under Zapalac's belt, he says that one of the most important things the 2017 McCallum team can do for the playoffs is to just try and enjoy it.
"You will never have that whole group of people together again after you finish high school," Zapalac said. "Try to make the best of playoffs; it is an enjoyable part of life. You're constantly thinking what's going on next, not dwelling on what's happening then. As far as the team, moving into playoffs, make the most of what you can. It won't be duplicated again. There will be one time, and there are some miracles that go on in high school playoffs. Many times, the underdog wins. But it's not because you happen to stumble into something; the people who are best prepared and the individuals that want to win the most will."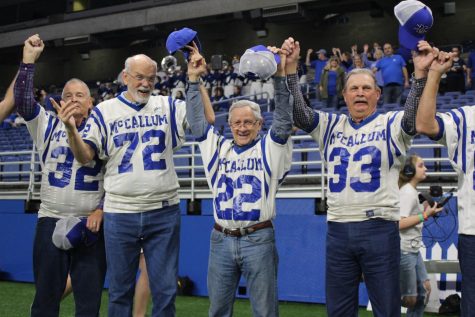 Nabors explained that the best advice he could give to the 2017 team would be to focus up.
"We'll start with the guys that are non-starters," Nabors said. "If they're in the game as much as the starters are, and they are learning every day where they're supposed to be and what they're supposed to do, if somebody goes down and you have a guy that can step up or take over, then you don't really lose that much."
It is also incredibly important to stay tuned as to how your body is, said Nabors.
"I'll also tell them that focus and being in shape are two of the main points of winning," Nabors said. "If you're focused on what you're doing and you don't make mistakes, then you're still going when the other team is starting to fall back. If you think about it, you see the records of the guys you're playing and you think, 'Oh we beat these guys handily,' and all this, and then you don't get ready and you don't focus, that's when you get hurt or that's when you get things that happen to you from an offense of defensive standpoint, but you still gotta keep the pressure on and doing what you're doing and make that go forward for you when you get to the playoffs."
   While a potential playoff run lies ahead for the Knights, Dodgen urged the current Knight team to focus on the immediate obstacle: the same Reagan Raiders the 1966 team defeated to reach the 10-0 pinnacle the 2017 team is trying to match.
   "Being the No. 1 team that you are, everybody's going to be trying to knock you off no matter what their, their record is," Dodgen said. "Just be prepared and do what you're supposed to do. Don't get lackadaisical because they've only got two wins, because all they have to do is play way over their heads, and I've seen it done before. Don't get too overconfident. … Just go out, take care of business."
If they do, they will enter a club with currently only one member: the greatest McCallum football team in its 64-year history.
Additional reporting by David Winter, Gregory James, Emma Baumgardner, and Madison Olsen.
Photos by Madison Olsen and Julie Robertson.