'The Outsiders' a must-read classic
A masterpiece of American fiction, S.E. Hinton classic offers blast from the past, glimpse into themes of the present
The tale of a 14-year-old boy and his friends and brothers living in Oklahoma was published in 1967 by S. E. Hinton, who wrote the book when she was in high school.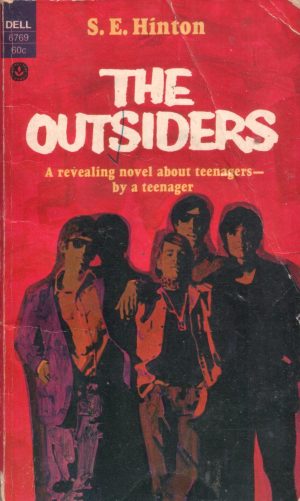 She started writing it at the age of 15, calling it "a short story about a boy who was beaten up on his way home from the movies." The book is proof that young people can write relatable stories for other young people and readers of all ages, as it became a massive hit and was adapted into a movie with famous actors such as Tom Cruise and Patrick Swayze.
Many readers of today, however, have fallen out of touch with the novel, turning instead toward more fantastical books or ones that are set in current times, if they choose to read a book at all. More young people should read The Outsiders because of its themes that can still apply to life for anyone today and because it's a great book that both captivates young people as well as provokes their thoughts and emotions.
The book captures the topic of poverty very well, describing the life of Ponyboy (the main character) and his surroundings, including how wealth impacts social standing in his city. This is still an important aspect of life today, as we constantly see, especially in cities such as Austin, how homelessness and poverty affect people. The Outsiders also, without any major spoilers, encapsulates the feelings of grief and loss and more specifically how death of loved ones impresses upon children. Young people today who have gone through similar sorrows could find comfort and validation in this book. Though the story does cover these heavier topics, it also highlights the importance of friendship and brotherhood, and how we can create connections with people who are different from us.
Director Francis Ford Coppola said he made the 1983 feature film The Outsiders because some teenagers wrote him asking to make a film about the 1967 novel. Coppola unveiled a 2021 4K restoration of the film. He said that project was also in response to students over the years who asked him why some scenes from the novel were not included in the 1983 version of the film. Video preview embedded from the StudioCanalUK YouTube Channel.
This book is a great read for any enjoyers of realistic fiction, but readers also must be able to appreciate the time period in which the story takes place. It has elements of several different genres in it, including but not limited to mystery, romance (briefly), and thriller. Those who liked West Side Story and similar movies or books would like this one. The Outsiders has the same gangs and violence as West Side Story but with less singing and less romance. Both movies display social division quite well, but The Outsiders does it in a more unique and personal way with deeper characters.
"
Though the story does cover these heavier topics, it also highlights the importance of friendship and brotherhood, and how we can create connections with people who are different from us."
If reading isn't your thing, the movie adaptation is excellent as well, though it can't match the power of the words in the book. The movie has an outstanding cast and is directed by Francis Ford Coppola, but however moving the acting and direction may be, the strength of a person's imagination while reading a book will raise the entertainment factor.
Overall, The Outsiders is an incredible book, a true tearjerker and a deep look into the mind of a teenage boy in a complex world. I think that reading this book can really impact other young people if they can relate to it, or just help a young person to better understand people who were a little unluckier in life. The Outsiders tackles tough subjects with a creative story and interesting characters, and everyone should read it even if it doesn't include modern-day problems that have come along with technology and other advancements. The book is both a masterpiece, both a blast from the past and a fresh way to view the present.