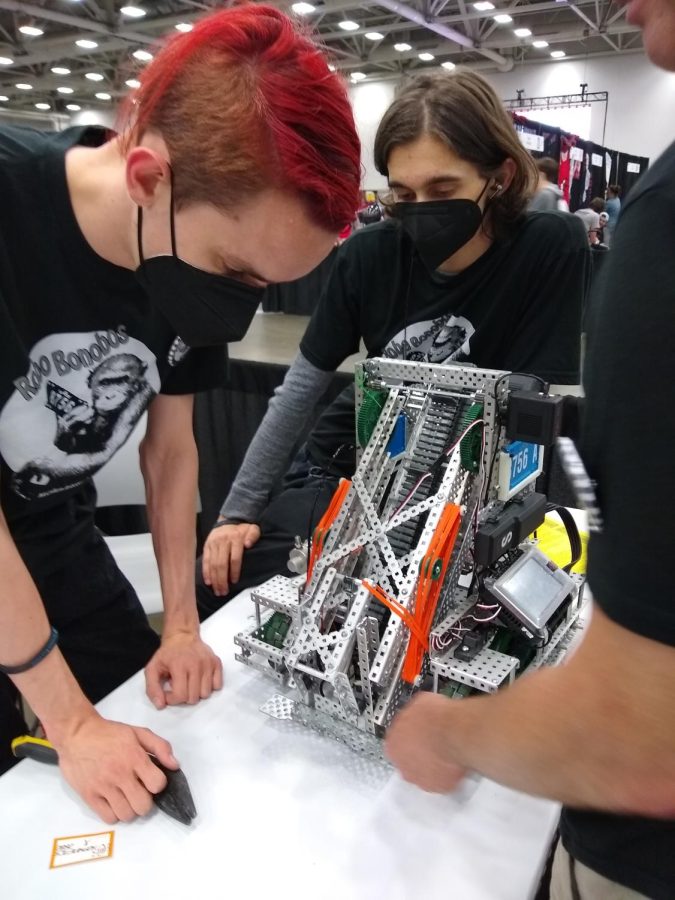 Audrea Moyers
For senior Miles Bourgeois, it's not about looking for the right answer. It's about asking the right questions.
Bourgeois' curiosity guides his interest in robotics. His robotics team recently made it to the Worlds robotics competition, a first for Mac in over a decade. Bourgeois attributes their success to their ability to work together.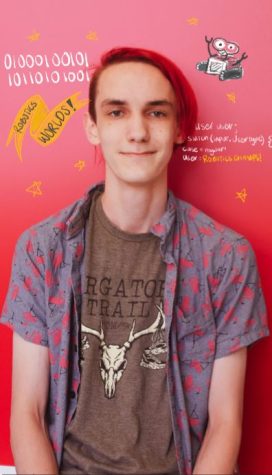 "This year, my team was so coordinated, and at the end of it, we ended up basically being able to finish each other's sentences," Bourgeois said. "We were all kind of on the same wavelength, and we trusted each other. That's the biggest thing."
As a programmer, Bourgeois has worked on a lot of projects. He recently coded the McCallum-themed "Wordle" spin-off "Shieldle," resulting in close to 10,000 lines of code.
"Conceptually, it's a very simple thing," Bourgeois said. "You take a five-letter word, and you break it into blocks, and you fill in those blocks on the screen. But that ended up being so much harder to do, especially because it was a different type of language than I'm used to. It ended up taking so much longer than I thought, but I learned so much, and I got to kind of get into web development for the first time, so it was really fun and really interesting."
When Bourgeois encounters obstacles, he usually just puts on an album, settles down and sees where his thoughts take him. In these situations, he says, the key is patience.
"I remember one night, I was just kind of laying there thinking until 2 a.m., and I realized, 'Wait. There's a way that I can optimize our gear train in robotics,'" Bourgeois said. "I think I started off thinking about the cheese that I had for dinner. It's like, you start off somewhere, and if you don't restrain your thoughts, you'll end up eventually going somewhere productive. I don't know if it will be in five minutes or five hours, but you'll eventually get there."
When he's alone with his thoughts, Bourgeois enjoys listening to music. His all-time favorite bands are Rush and Dream Theater, but lately he's been getting into something new: pirate metal.
"It sounds dumb, and it is," Bourgeois said. "But sometimes you're just in the mood and you need to hear about people drinking exorbitant amounts of alcohol and shooting large weapons. It's fun."
Whether he's sitting and thinking, going for a run, or trying out a new programming project, Bourgeois is never results-oriented. A true scientific mind, what matters to him is the process.
"Recognizing failures is oftentimes the biggest thing because people fail in everything," Bourgeois said. "We are not perfect. There are so many daily things that I and everyone can learn from, and that's something that I'm trying to do now—recognizing when I mess up, owning up to it, and growing from that."
Bourgeois is thankful for the maturity he's gained during his high school experience. Next year, he'll start at Trinity University with a major in mechanical engineering and a minor in computer science, and after that, only time will tell where he'll be. Wherever he ends up, though, he plans to guide himself with a cool head and a kind heart.
"Generally, having a smile on your face and just saying hello to everyone—I know from experience—it can turn someone's day from a bad day into a good day," Bourgeois said. "The slightest bit of kindness to someone just walking in the halls can make a big difference."