Triplets take on a triple rivalry
If you think it's impossible that three siblings could become ultimate college rivals and still love each other, then you haven't met the Russos.
December 9, 2021
Early in his triplets' senior year, Bill Russo recognized the possibility of them attending three arch-rival schools. But he never expected them to actually follow through with it. 
Three triplets: an Aggie, a Longhorn and a Sooner. 
"I knew all the colleges that were in play," Bill said. "But when I saw those three, I kind of recognized that right off the bat. I thought 'that would be a crazy combination,' because look at all the different colleges they applied to. You could have 25 or 30 different combinations of schools." 
Yet Will ended up at Texas A&M, Bella at UT and Bridget at OU.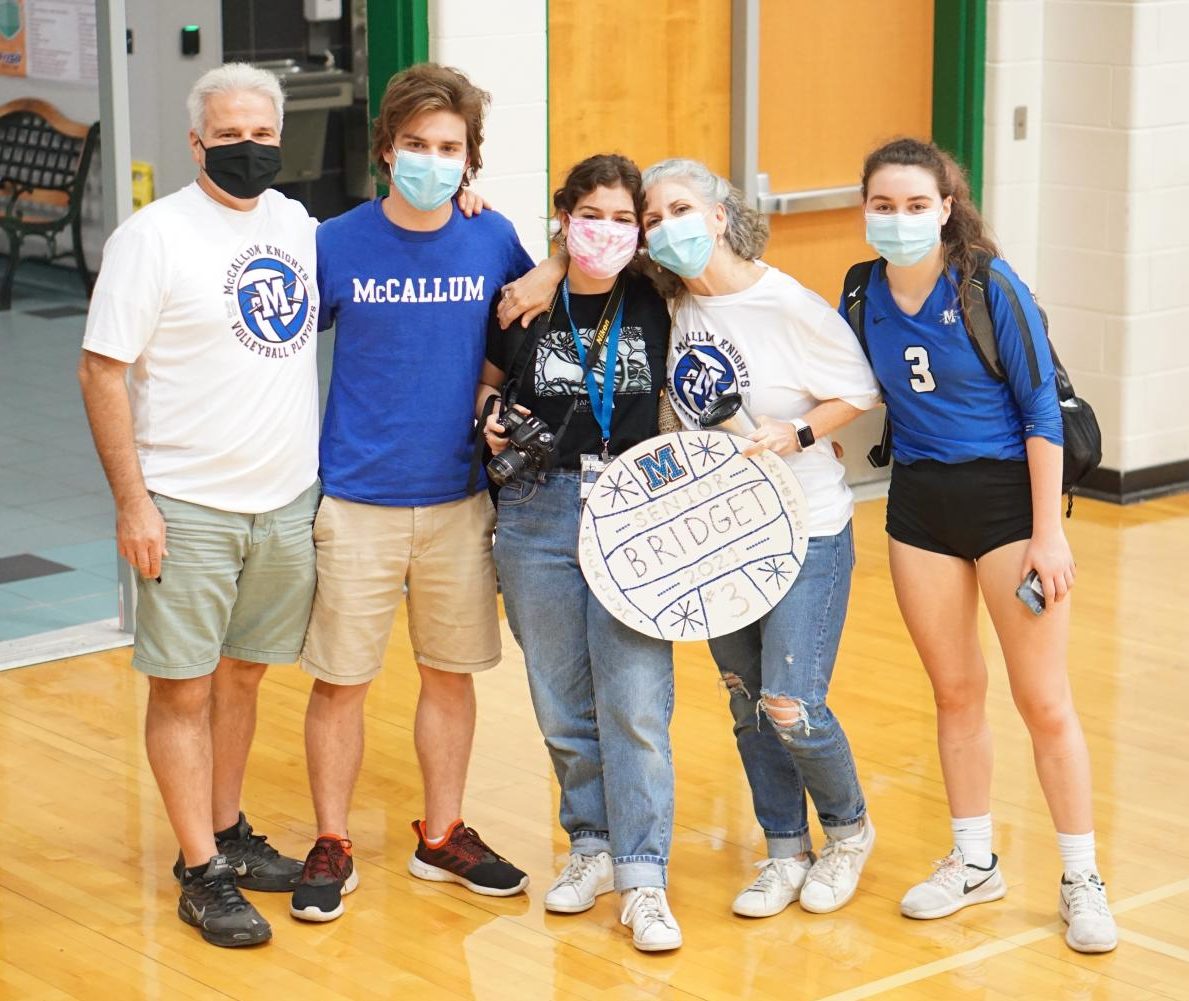 Going their separate ways
Will attending A&M came as no shock to the family. 
Texas A&M had been Will's top choice from the start. It was Christmas Eve 2020 when he got his acceptance letter.
"Will really loves community and traditions and school spirit and A&M is so big on that," Bella said. "That's kind of their whole thing. Everything revolves around school spirit."
Bridget and Bella were still unsure on where they wanted to go. Then, Bella got her acceptance letter from UT in February. While she was initially hesitant to stay in state, she ultimately couldn't say no to all that UT had to offer. 
A couple of weeks later, Bridget got her letter from OU. It was right before spring break, during which the family had planned to go skiing in Colorado. They decided to make a detour so Bridget could visit the OU campus.
"I expected to go, visit Oklahoma, and cross it off the list, but then when we got there and took a tour, Bridget really liked it," Bill said. "And I thought it was really a nice school campus." 
"
The possibility of us going to rival schools, added incentive [for me] to go to OU because I thought the rivalry was the coolest thing ever.'"
— Bridget Russo, OU freshman
On top of a scenic campus, OU fit all her requirements. It was exactly what she was looking for size-wise. It offered a thriving Greek life. And then, there was the rivalry.
"Triplets are already really rare," Bridget said. "The possibility of us going to rival schools, added incentive to go to OU because I thought the rivalry was the coolest thing ever."
But none of the triplets understood the full extent of football's oldest rivalries, which they were now getting themselves personally involved in.
"I don't know that the kids actually even appreciated that they were going to rival schools [when they first decided]," Bill said. "They didn't really realize that if you ask any UT fan if they could only win one game a year, every UT fan would say that they want to beat Oklahoma. It's likewise for OU and A&M. [Only after attending the schools did] they realize that there was that much emphasis on those singular games and that it was that important to the school and student body."
The siblings find the rivalry as an excuse for friendly family competition. Will and Bridget team up on Bella. As two schools with direct rivalries to UT, they enjoy chanting "Horns down." 
"I don't see them actually hating each other over the rivalry ever," Bill said. "I think it'll be an interesting thing that they can distinguish themselves from each other by." 
The triplets' parents, Bill and Melissa, enjoy being part of the rivalry. They recognize it as friendly. Maybe that's why they're not afraid to lean into it. 
"We're really bad because we actually encourage the rivalry," Melissa said. "Before they went off to college, we all sat down and watched each other's school's football hype video. [We said,] 'We need to start this rivalry going for real and this is a good start.'"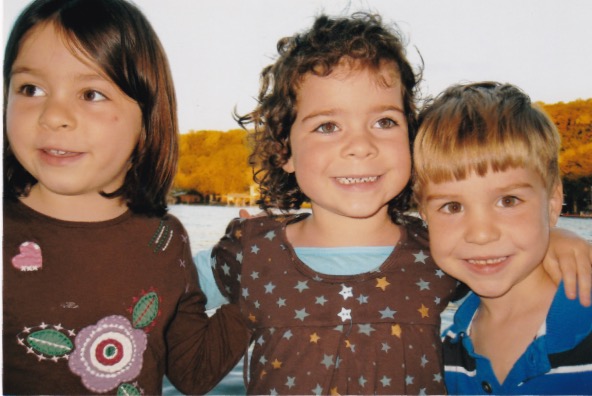 Heading to home base
Bridget left first. All five Russos drove up with her to OU to say goodbye. All five of them crowded into her tiny dorm room, helped her unpack her clothes, set up her room, make her bed and settle in. After that they spent the next two days with her, hanging out and exploring the area. During that time Bridget was trying to mentally prepare for when her family left. 
"Saying goodbye to me was really sad," Bridget said.
A week after Bridget, Will left. Melissa drove him up to A&M, but it was a quick goodbye. Melissa was quickly ushered out after Will decided to hang out with his roommate.
Bella left that very night. She took her car with her and drove off to UT. 
"I stood out in the street and watched her drive away," Melissa said. "We actually took a video of it, and I was crying. It is such a symbolic thing to watch your child drive away. It brought back memories of when I watched my parents leave me at college for the first time. You're so excited to go and then all of a sudden you're sad to see your parents leave but excited too. It's a mix of emotions for sure."
Each kid has been adjusting differently to their respective schools. Each of their colleges is so different, they couldn't possibly have the same experience.
Bella has been experiencing a whole new side of Austin at UT. She's flourishing there. She goes to a lot of shows and is a part time campus DJ on Thursdays under the name "DJ Libel."
"
I was crying. It is such a symbolic thing to watch your child drive away. It brought back memories of when I watched my parents leave me at college for the first time."
— Melissa Russo, mother of triplets Bella, Bridget and Will
"Bella is experiencing Austin in a whole different way because she's independent," Melissa said. "She's going to do whatever she wants, to go to see different bands and concerts. In the beginning, she wanted to move far away, just to have that unique experience. And then she ended up deciding on UT, and she's loving it because she loves Austin. She used to tell me she wished we didn't live in Austin so she could go to Austin for school. But she seems to be thriving."
Even though Bella stayed in Austin, her hometown, the biggest adjustment for her has been being away from home. 
"It feels like a new city just because the campus is so contained," Bella said. "It's almost a city within Austin. There's always something to do … and concerts and shows and interesting people to talk to."
Bridget at OU has also been struggling with being so far from home. She misses Austin and feels homesick, but she's still confident that she has made the right decision.
"I miss Austin, I missed it all being familiar, but I love it here," Bridget said. "The campus is beautiful, and I'm a business major, and I really like business, so I think I've picked a good major."
Beyond missing Austin, Bridget misses the people in Austin. She says that she doesn't fit in at OU in the same way that she did back home.
"The people at OU are just different [than the people] from Austin," Bridget said. "Austin is like a high level of awesome. I love people from Austin, but people are different from different places, and it's not that I don't fit in, there's just like a lot of different people here. I feel like it has been hard finding people that I do love just because there's a lot of people here and a lot of people from different places."
Will has also realized just how different his new hometown, College Station, is from Austin.
He decided to join the Corps of Cadets at A&M, a military prep group focused on preserving Aggie traditions. He says that the experience has been really different than anything in Austin.
"
It was like my first time being out of the house alone, and that coupled with being yelled at was weird."
— Will Russo, Texas A&M freshman
"I enjoy it, but it's not for everybody," Will said. " I didn't like it at the beginning, but I have come to enjoy it a little bit."
Will said it was hard at first, going off to college in another city and joining the corps. Both were very different from anything he had ever experienced, which made the college transition harder.
"It was like my first time being out of the house alone, and that coupled with being yelled at was weird," Will said. "It was just like a different environment. There's definitely been a lot of homesickness and a lot of culture shock in a way."
The Corps hasn't allowed for a very flexible schedule for Will. He only gets three chances to go home in the fall semester. Because of his schedule, he hasn't seen a lot of his family recently. 
"I haven't been back home once since the start of the school year," Will said. "I know it's kind of depressing, but I'm going back in a couple of weeks. I've been busy."
He's been keeping in contact through phone calls. He calls his parents every weekend, but keeping in touch with his siblings has been harder.
The last time they talked was on Oct. 9, just after the OU and UT game.
It was there that his sisters experienced the Red River rivalry up close and personal.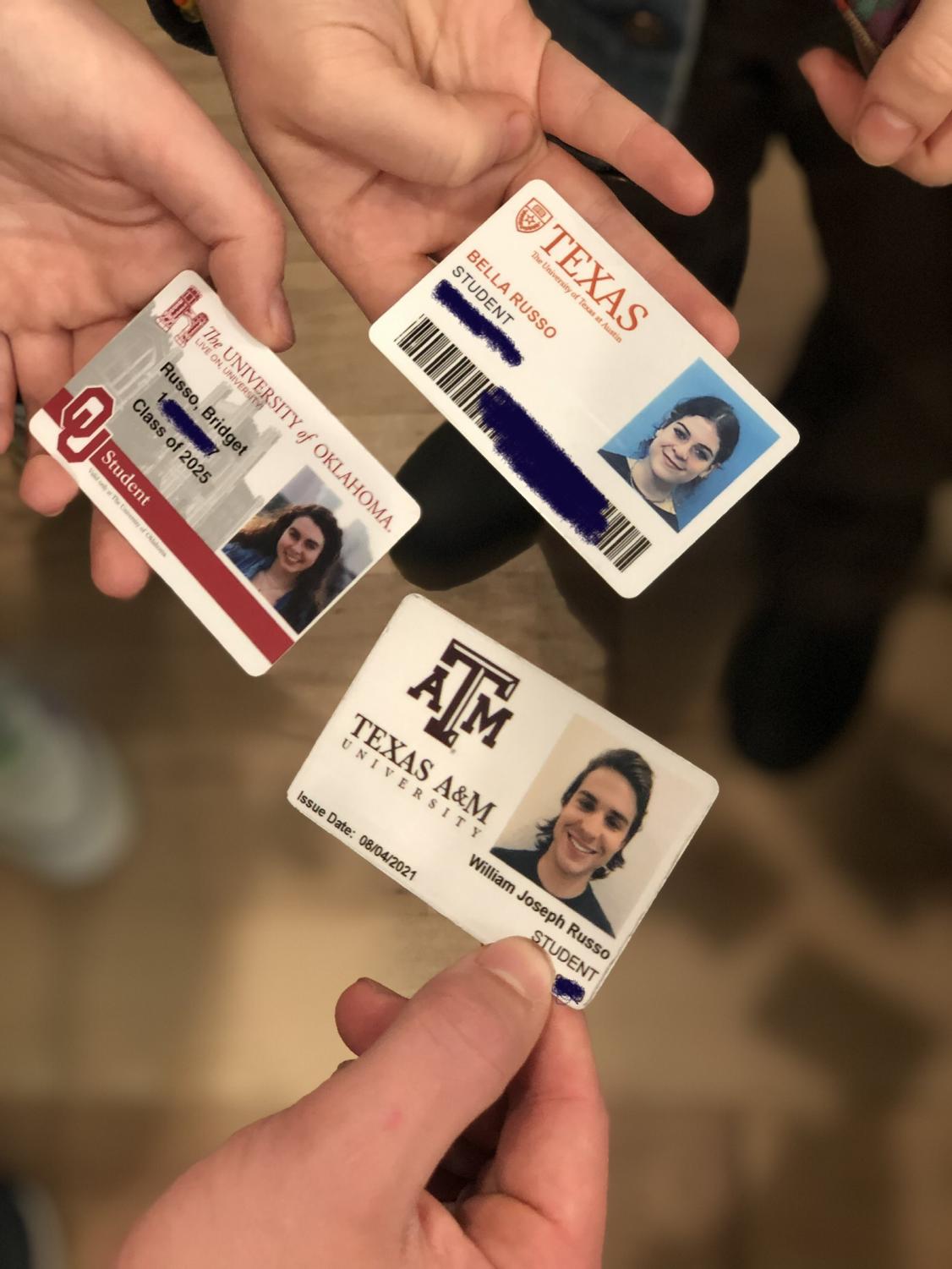 The Russo Red River rivalry
Both Bella and Bridget drove to Dallas to meet for the OU and UT football game.
They didn't get tickets—they were sold out by the time the siblings got there—but they wanted to catch up and Dallas was stationed perfectly in the middle between them.
Before this weekend, Bella had never really followed football. But now she had a personal stake in it and after seeing that UT had a chance, she was invested.
Bella was the only one cheering for UT in their group. Bridget had gone with her OU friends and was celebrating with them.
"I couldn't share in the win, but I was still happy for them," Bella said. "But [the loss] still hurt."
Afterwards they called Will to talk about it. A&M had just won a game against previously undefeated No. 1 Alabama, and being in the corps, he got a front row seat to it. Even Bella got to celebrate despite the loss.
"Will and Bridget celebrated together this weekend," she said. "I was so happy for them because I was just crazy that they won, and Will was in the center of the action when they won. It was so excited about it, and he called me and told me all about it. And so we like to celebrate the win together."
That said, the rivalry hasn't come between their relationship at all.
"
I couldn't share in the win, but I was still happy for them. But [the loss] still hurt."
— UT freshman Bella Russo on being with her sister, OU freshman Bridget Russo and her friends in Dallas for the 2021 Red River Rivalry
Their first allegiance will always be with each other, not to their schools.
"It's awesome," Bella said. "It's insanely fun being the same age and having the same experience. The weird thing about being in college is not seeing them every day. But they're not too far away."
After growing up side by side for the last 18 years, it was hard for the triplets to separate. 
All three siblings struggled with this. As the farthest away from home, Bridget even wanted to transfer for a while.
"I was super sad I had to leave them," Bridget said, "I hated moving away from home. I miss them."
And Bella, in the same hometown that she grew up in, felt this separation just as strong. 
What struck her especially was the fact that they might never live under the same roof again.  
But Bella also knows that they are triplets, and after realizing that they are stuck with her, she felt a little better.
"We are going to be siblings forever," Bella said, "We are always going to see each other. I will force them to hang out with me. you know, they're stuck with me. We're stuck together. And realizing that helped a lot."
That said, she is nostalgic of times when they were together.
"Whenever I call them and they say something really funny to me, I'm like 'Dang, I missed that,'" Bella said. "I miss them whenever I see them and, you know, I'm reminded of how much fun we have together. But we stay in touch. And I think that helps that we stay in touch and keep up with each other."
Bella is sad to see her siblings go their separate ways, but she can't help being happy for them.
"It's fun to see them live their own lives," Bella said. "We've always been so connected. And now they're really going off and doing their own things. And that's so fun to watch. I'm going to be here and watch them do their own thing and cheer them on."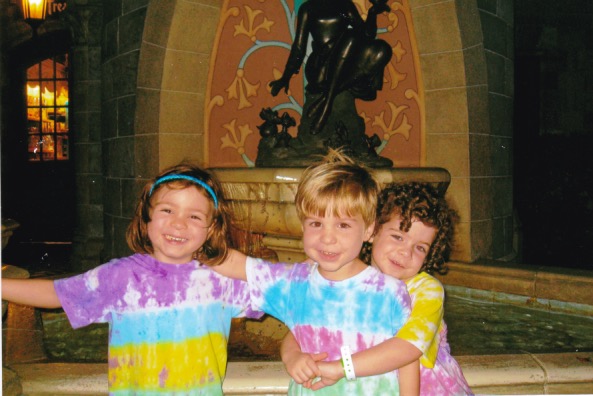 Homecoming Russo style
Bella was there to cheer Bridget on last October when she returned for an unplanned visit home from her college in Norman, Okla. Bridget was sick (both literally and homesick) and came home to be in the comfort of her family. 
"
They always had different friend groups, but, you know, they always were together, and, I guess they just missed that."
— Melissa Russo
When she walked in the door Bella was standing on the other side. It had been the longest amount of time either sibling had gone without seeing the other.
When Bridget walked in through the door she went straight to Bella.
"They hugged each other and just bawled and started crying," Melissa said. "They just missed each other and seeing each other. They always had different friend groups, but, you know, they always were together, and, I guess they just missed that. So it makes me feel good that they do miss each other."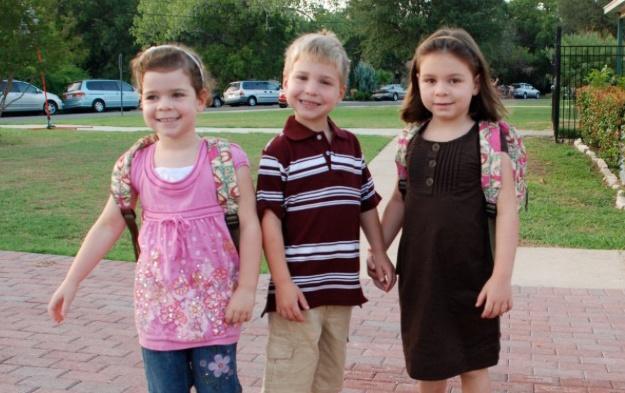 Family of five to empty nesters
Melissa has mixed feelings about the triplets going to separate schools. She thinks it's good for them to each do their own things, but it's hard for her. She misses them, especially with them being so far away. For her and Bill, the house is suddenly quiet. 
Melissa doesn't like the quiet. She came from a big family and she likes the noise more. Bill has also been struggling with adjusting to not having his kids in the house.
"They're growing into adults, so things are going to naturally change," Bill said. "It's just highlighted by going to college."
He struggled the most with not feeling needed by his children.
"
I know that they're never going to be middle schoolers or elementary schools again."
— Bill Russo, father of triplets Bella, Bridget and Will Ruso
"In middle school, you certainly rely on your parents, and then when you get to high school you rely on your parents a little bit less, especially when you start to drive," Bill said. "But then when you go to college, man, it's like you don't even rely on your parents at all anymore, but it's not something unique to me. It's something that as parents we have to adjust to. As far as me adjusting, I don't know if I really actually have yet or not. I'll still look forward to them being at home. but I know that they're never going to be middle schoolers again or elementary schools again."
But Bill knows he doesn't have to worry too much. Because the triplets have each other. And they have a rivalry, which provides a fun incentive to stay connected.
Bill has personal experience with family college football rivalries. He grew up in the environment of the Auburn-Alabama rivalry, and he hopes the triplets can make it the same way his family did.
"I think it'll be kind of a positive thing for them in a way where they can go to the games together and turn the rivalry into a fun competition," Bill said. "My family back home will go decorate somebody else's house, the night before the game, or do something funny and play pranks on each other around game time. It's all fun and everybody just gets a big laugh out of it. And I hope that the kids will kind of adopt something like that where they turn it into a fun thing like what I've seen my cousins do where they want to win every year, but they don't hate each other."
If Bella the Longhorn can be happy for her Sooner and Aggie siblings because OU and A&M won while she was surrounded by Sooners celebrating her Longhorns blowing the biggest lead (21 points) in the 117-year history of the Red River rivalry, you can rest assured that no college rivalry is ever going to come between these three. 
They may be a Longhorn, a Sooner and an Aggie, but they are first and foremost Russos, on the same team yesterday, today and for life.