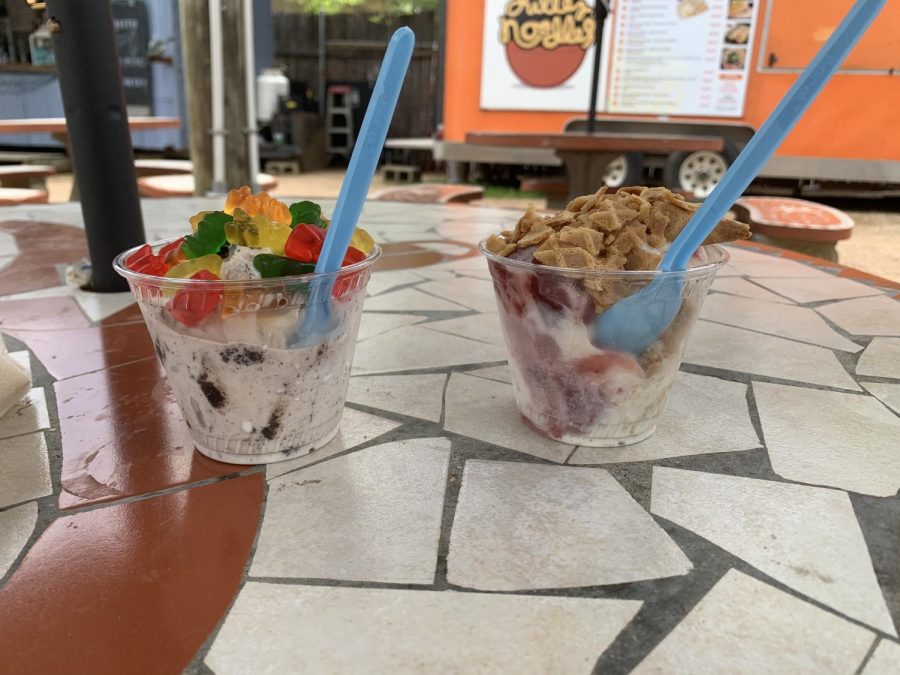 Josie Bradsby
For our most recent food-related outing, we headed to West Campus to try the Instagram famous Cold Cookie Company. They specialize in the "unshake", a deconstructed milkshake consisting of cookies, ice cream, a topping of your choice, and whipped cream. Another specialty of theirs is the cookie shake, consisting of the same ingredients as the unshake, but this time it's blended. They also offer multiple other frozen delicacies including ice cream scoops in a cup or cone, cookie sandwiches, and root beer floats.
Their offered flavors range from basics such as chocolate and vanilla to more experimental flavors like coffee cookie chunk and cold cookie deluxe. They also offer two rotating specialty flavors. There are also many free toppings available, which include chocolate and caramel drizzles. You can top off any of your desserts with a freshly baked cookie, costing up to 89 cents.
We each ordered a scoop of ice cream with toppings. We wanted to test their basics, and each settled on a different flavor. One of us got cookies and cream with gummy bears, and the other got strawberry cheesecake with crushed waffle cones. The ice cream itself was yummy, except really frozen which made it difficult to eat. The serving size was very large, especially for the $4 price. Overall the texture made it somewhat less enjoyable, but the flavor was there.
The strawberry cheesecake ice cream was fine, the strawberries weren't frozen all the way, making it easier to eat. Although it was good, the cheesecake was all at the bottom of the cup, and it was far too filling to eat the whole serving. Meaning that barely any of the cheesecake got eaten. Along with this, the texture was a little thick which, when paired with the large portion, made it even more filling. Needless to say, it was good strawberry ice cream and had lots of flavors, the waffle cone toppings were also delicious.
The cookies and cream ice cream was chock full of Oreos which was impressive and a welcome surprise. The ice cream was rather firm which caused the spoon to get stuck in it making it harder to eat. The gummy bears were a little frozen due to the ice cream, but they were tasty. The cookies and cream ice cream was creamy but it was a little too solid and unyielding, which was less good.
The Cold Cookie Company food truck is currently located at 2512 Rio Grande Street, within a miniature food truck park. It's open from noon to midnight on the weekends and midnight to 4 p.m. on the weekdays. The trucks are at a prime location near the UT campus and are in short walking distance from many of the shops on the Drag. The venue was a little grim when we went, but that could have been due to the cloudy weather. We arrived shortly after they opened and only a few other trucks had opened, we were two of the only few patrons there.
The dining area is completely outside, which is a plus, allowing for easy social distancing. Along with this safety provision, the employees were all wearing masks. The food truck park is a good spot to meet up with a few friends, especially if you also want to walk around downtown and maybe even shop.
The atmosphere was a little awkward, especially with all of the college students walking past. As we were sitting and trying to enjoy our ice cream, we got many strange looks which were rather disheartening. We also found a lock of hair on the ground which was stressful and mildly haunting. We decided to walk around while we ate, and that made our experience more enjoyable. Despite this, the food truck employees were very kind and full of smiles.
Overall the ambiance was a little off-putting, but the ice cream was relatively good. It was very firm, but that did stop it from melting quickly which is a plus. The people we encountered were friendly, yet there was an air of judgment from those we assumed were college students, which was stressful. We would recommend the Cold Cookie Company if you want a very filling serving of ice cream, and if you're willing to wait for the ice cream to melt a little to eat. It's a good outdoor space and is in an urban and affluent area, but we suggest getting the ice cream to go if you're socially anxious like us.