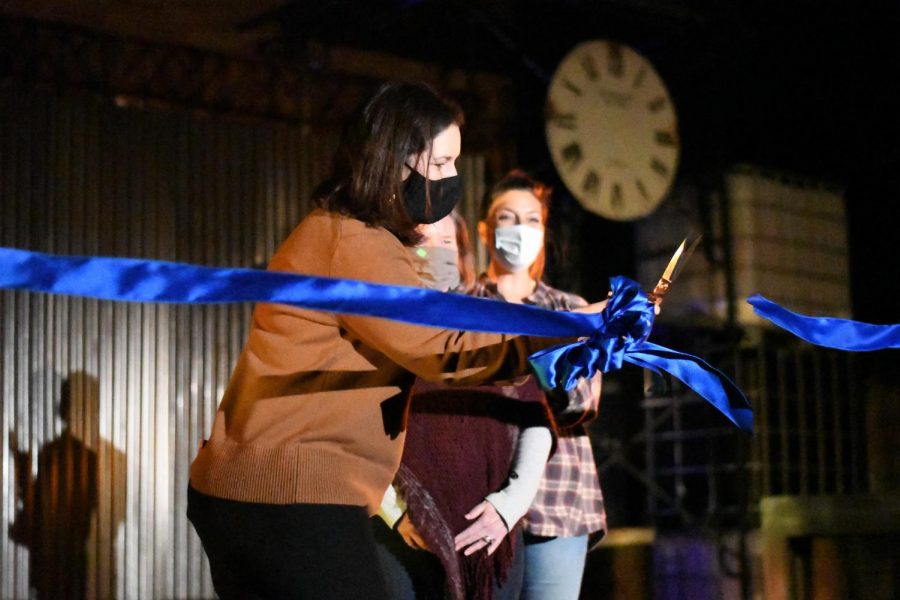 Bella Russo
The excitement in the air feels almost electric as family, friends and dedicated community members find their seats in front of the new McCallum outdoor stage. Bundled-up theatergoers greet each other in hushed voices as a cool breeze floats by and the stage lights cast a golden glow.
It's opening night of the Mac musical Urinetown, and the new outdoor stage is about to be broken in.
After months of careful planning, generous donations and many hours of work put in by the community, the McCallum outdoor stage is built to completion. The stage saw its first shows with the McCallum musical Urinetown, which ran from March 4 to March 7, and the Mac Dance student-directed show, "From the Ground Up," which ran from March 10 to March 11. Through safety methods like masks for the audiences and performers, temperature checks and COVID screenings, student performers were able to take the stage for the first time in almost a year.
Junior Princess Gant, who played Hope Cladwell in the Urinetown production, felt that this unique experience brought her closer with her fellow cast members.
"I've been stage-starved–that can be a thing," Gant said. "I've definitely been stage-starved, so I was really excited to be gifted this amazing role, and to be able to get back with my peeps and my community. I feel like, if anything, this has made us closer, because we all really missed it and we all really missed each other, so we bonded way more than we would normally in a school setting."
Gant did concede that her performance experience was far from a normal one, and some difficulties arose in the new format.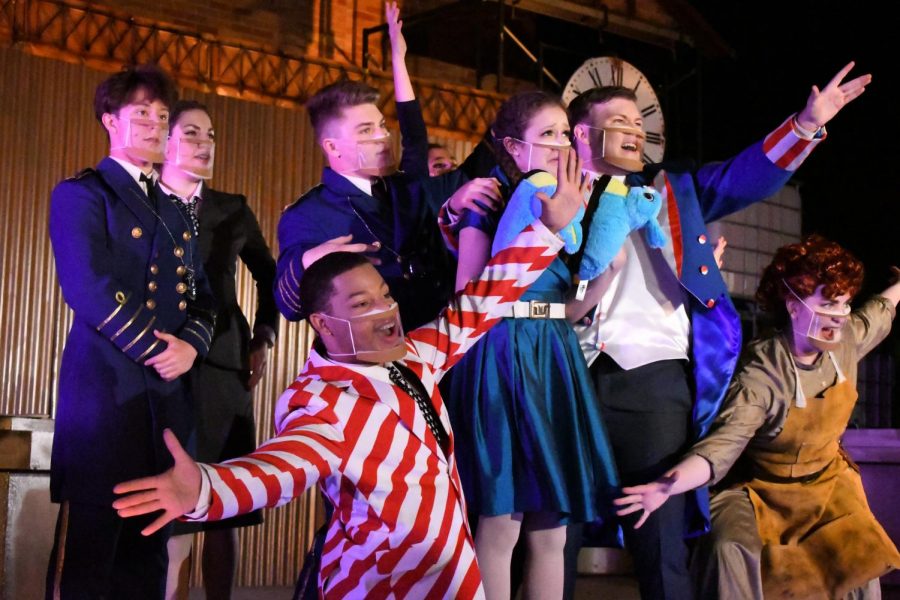 "If the mask was slipping, then we had an extra hard time trying to get our words out," Gant said, "because then the mask would press against our face instead of staying where it's supposed to be on our nose, which is not fun for a live show. But, we made it work."
There were also some audio constraints that, coupled with the difficulty of breathing and singing through a mask, demanded a lot of extra effort.
"We had floor mics, which was a bit of a concern at first because of our loud dancing feet, but we figured out how to do it," Gant said. "And there were some blind spots for where the mics would stop working, so we could only come so far to the front of the stage or so far to the corner before the mics would not pick you up. So we had to be very strategic as to where we were placed for the show, otherwise they wouldn't be able to hear us."
Gant said that although the performance formatting to accommodate COVID had its difficulties, it presented a new perspective for her.
"I suppose, working outside during rehearsal, it's given us more space to breathe and relax," Gant said. "Because normally, when we were inside, the only place we could go was to sit in the audience. But we could, like, take a breather, breathe in the fresh air, and then go back, which is something that I liked about rehearsing outside."
Sophomore Parker Mitchell, who performed in Urinetown and the student-directed dance show, agreed that performing outdoors presented a whole new set of challenges.
"It was much harder in a mask but after a while I got used to it," Mitchell said. "You have to be a lot louder because there aren't that many mics. There are also just a lot more things that can go wrong outside."
Mitchell said that the technical aspects of the dance show were somewhat different than Urinetown, but overall she was glad to be onstage in any capacity.
"The dance show didn't have lights so we had to perform before the sun went down," Mitchell said. "[But] I am very thankful for the community's help in providing a way to continue performing arts during COVID."
Senior Magnus Bohls starred in Urinetown, his last show at McCallum before he graduates. Bohls was very pleased with his final experience as a McCallum performer and is thankful that he was able to continue the arts during a pandemic.
"The outdoor stage and set came together great and I'm really grateful to the community for coming together so that we could continue to do what we love," Bohls said. "My favorite thing about the show was how positive and determined the cast and crew were throughout the rehearsal process. I'm incredibly happy that I had the opportunity to be in one last MacTheatre show and help build such a kind community during such trying times."